Guide
Small business marketing for newbies
Learn how to market your small business, with tips on strategy and planning, plus a list of proven ideas to choose from.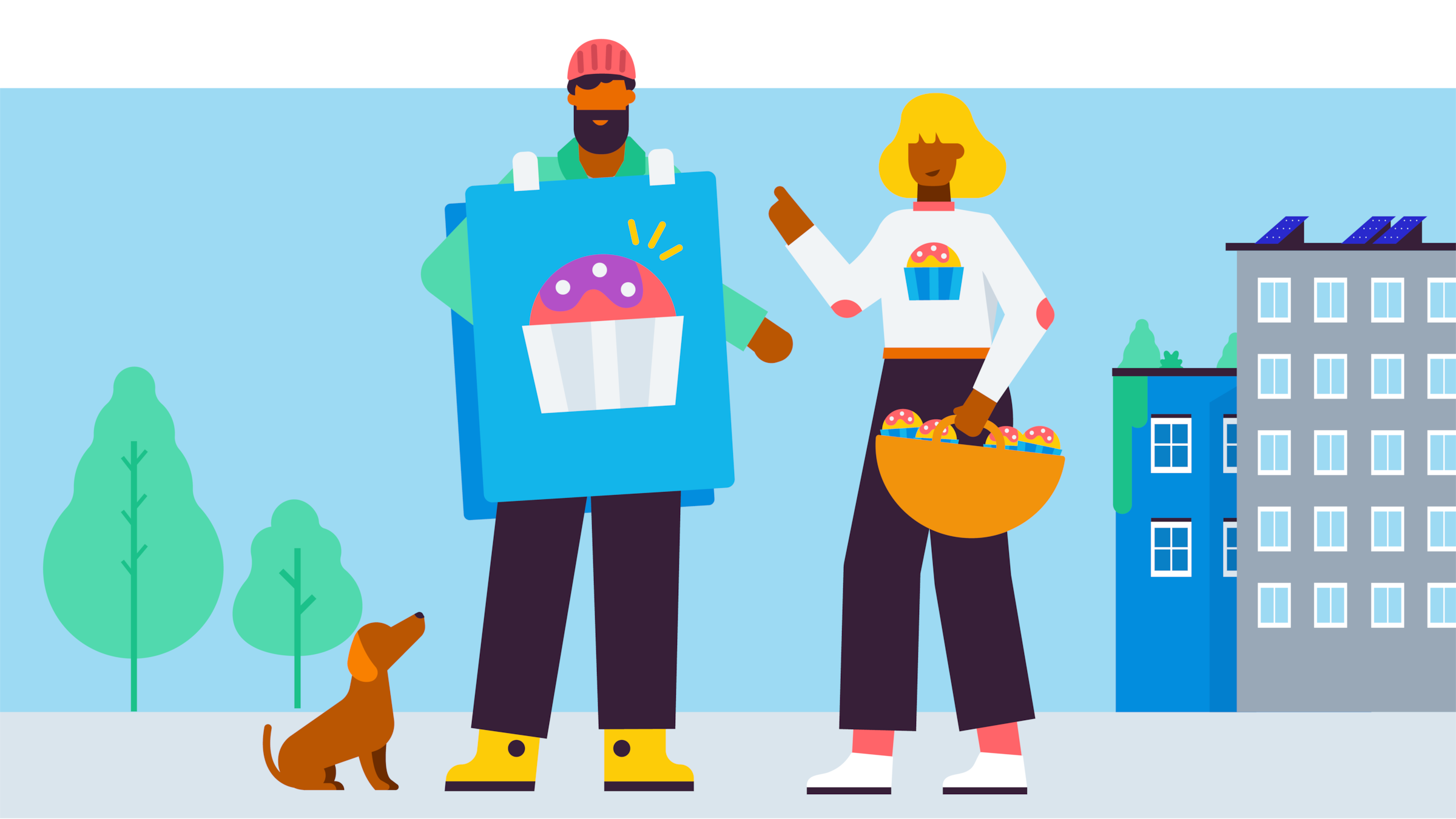 What is small business marketing?
It's common to think of small business marketing as advertising for new customers. But there's much more to it than that.
The ways you group, price and distribute your products or services are also marketing decisions. In fact any activity aimed at driving sales – either today or in the future – is a form of marketing.
So how do you market your products and services? It starts with a strategy, involves a plan, and hopefully ends in lots of new customers. Let's walk through it. We've thrown in some common small business marketing ideas at the end, for inspiration.
Small business marketing strategy for beginners
A small business marketing strategy will name your goals and outline roughly how you'll achieve them. It's rough because the main details go into your marketing plan.
When setting your strategy, it helps to remember there are four main levers you can pull on to drive sales. They're known as the Four P's and they go like this:
Product: make your product (or service) better

Pricing: make it affordable

Placement: make it available where and when customers need it

Promotion: make it better known
So your marketing strategy will consider which of these levers to reach for. You can go for more than one but try not to bite off too much at once.
How to create a marketing plan
A good small business marketing plan starts with some analysis of your business, your customers and your competitors. It goes on to restate your goals, then drills down into actions.
8 steps to a small business marketing plan
Find your place in the market

Learn what customers care about

Define your unique selling point

Track results and make adjustments
1. Find your place in the market
Jot down the strengths and weaknesses of your product or service. Now identify the opportunities and threats in the market. This is known as a SWOT analysis. Capturing the state of play on a page like this will help you plot a course forward. Consider doing a SWOT for some of your competitors, too, as it will help with step 3.
2. Learn what customers care about
You can't provide the product your customer needs, at the price they need, in the place they need…unless you really, really know what those needs are. Write down everything you know about your target customer and, if you don't know much, do a little digging. A cheap survey or even a few informal chats can help make sure your efforts are targeted.
3. Define your unique selling point
Because you now know what you bring to the table vs your competitors (step 1) and what your customer values (step 2), you can see what will set you apart in your customer's eyes. This is your unique selling point (USP) and it will be the cornerstone of your small business marketing. You will emphasize your USP/s in all your promotional material.
How will you know if your marketing is working? Start by making your objectives SMART (Specific, Measurable, Achievable, Relevant, Timely). Sales is one good objective, but there are other signposts of success such as visits to your shop or website, purchase value per customer, subscriptions to a newsletter or loyalty program, customer inquiries, improved customer reviews, repeat customers, and so on.
Figure out what you're prepared to spend on marketing. An established business might only spend 1% of revenue but perhaps you'll go higher if you're in growth mode or you want to run some experiments. Decide how much to invest in your small business marketing strategy.
Now decide what moves you'll make. Remember, it's not all about advertising and promotion. You might tweak your product offering, adjust pricing, improve placement (distribution). Check our small business marketing ideas section for inspiration.
Hit go and start making a noise. If you're sending out communications, put them into channels that will actually reach customers, using images and messages that will appeal. Be on standby to make adjustments if the response is not what you expected. It's common to have to tweak your marketing ideas and executions as you go.
8. Track results and make adjustments
Measure what happens. When setting your SMART objectives, you will have listed measurable aims for your campaign. Monitor the response (changes in customer behavior) and check them against your goals. If they didn't quite work, consider how you can tweak them. Work out what it costs you to tick off your goals. Small business marketing is all about finding the best bang for your buck. Focus on tactics that give you the best return on investment.
21 small business marketing ideas
So how do you make your small business marketing strategy happen? You'll need some ideas. Here are 21 to kickstart your brainstorm.
Improve your product or service
One way to sell more products is to make them better. Find out how you can better fill your customers' needs. A survey is one way to do it. Focus groups or even a few casual chats are other ways. Or if you make goods, maybe go and watch how customers interact with them.
Run pricing experiments (up or down)
A pricing experiment could unlock extra revenue. Dropping your margin 25% might be worth it if you double your sales. Experiment in the other direction too. If you put prices up 20% and lose only 10% of customers, you're still going to make more money. Introductory pricing, or entry-level products and services can also grow your sales.
Bundling multiple related products or services together at a discount can increase the overall value of each sale and drive up revenue.
Work on your fee structure
Businesses can get more sales by helping customers spread the cost of purchases. An installment plan might encourage more sales. Another option for service providers is to switch from hourly charges to a flat fee. Customers like the predictability of a known charge and, as a bonus, you automatically become more profitable anytime you get faster at your job.
Sponsor local teams, charities and events
Communities love supporting local businesses. Especially when that business supports back. Sponsoring an event isn't just about hanging a banner with your logo on it. The people who you enable want to reciprocate your goodwill.
Put on events for your community of customers and prospects. These could range from product previews to information evenings, depending on what your market wants. Start by asking them what they'd attend.
Trade shows can be a great way to put your business in front of people who are actively looking for solutions like yours. Use the opportunity to check out the competitors, too.
Build a customer database
If it costs you, say, $20 to get a new customer then why wouldn't you sell to them twice? Or 10 times? A customer relationship management system (CRM) can improve the way you engage with customers after the first sale. Use it to record their interests, tastes, needs, and purchase history then pitch relevant new deals to them.
Lots of retail businesses create clubs for their loyal customers, through which they offer discounts, special events, advice and any number of other perks. It can be a great way to make customers feel valued while keeping them engaged with your business.
If you provide a knowledge-based service then you can share some of those insights in a newsletter. A good newsletter can be useful for customers while also promoting your expertise and helpfulness, which is great small business marketing. You may only need to send three or four a year and it can just be an email if you don't have time for design.
Opening new locations can be expensive, but they may give you access to a whole new market. There are also economies of scale. A second location can often be smaller, with most of your operations based out of the original shop, workshop, or office.
Would people buy more from you if they didn't have to travel to you? Perhaps you can turn on more sales by offering delivery? It may be a simpler way to open up the placement side of your small business marketing without investing in a whole new shop.
You may be able to extend your reach (and hours of business) by opening an online shop. Retailers can start selling to out-of-region customers, 24 hours a day, without hiring front-of-house staff. Service providers can also find and serve clients remotely. Online can be especially effective if you offer niche products or services that people struggle to find in their area. Check out our guide on taking your business online.
Partner with other businesses
Approach other businesses about selling your products or services. This is a well-known strategy for makers of products but it works with services too. A house-painting business might sell your landscaping services to their clients. Or a marketing agency might sell your design services.
Do customers sometimes buy less simply because they're slow to order? If you sell a product or service that needs to be replenished, then see how customers respond to the convenience of a standing order – where you automatically supply goods and services at agreed intervals.
Do a good job (word of mouth)
One of the best ways to get new customers is through your old customers. Meeting and exceeding customer expectations will generate extra sales from your loyal fans, and get you introduced to their friends, family, and colleagues. Nail the basics of good products and services, but also figure out what little extra touches can help make your customers' day.
Ask existing customers to refer their friends, colleagues, and business partners. It sounds too obvious to work but it really does, and it's simple. What's even better is that customers tend to refer people who are just like them, so good customers send more good customers. You may even offer incentives or prizes for new referrals but you often don't have to.
Ask for a review or testimonial
In the world of small business marketing, nothing beats an endorsement from a real-life customer. Encourage them to post a review on your preferred review site. Even send them the link. If you have a really happy customer, perhaps ask if they'll give a testimonial for your website.
You (hopefully) know a thing or two about what you sell. That knowledge has a value of its own. Sharing your tips and insights can introduce you to new customers, or improve your connection with existing customers. A plant nursery can share gardening tips, a digital marketer can create and publish advertising stats, a furniture maker can offer advice on wood care. You can do this through in-person information nights, or you can publish insights in a blog or newsletter.
Make it easy for customers to find you online
It often helps to have a website (or even just a page) so people can find you online. Register (for free) with Google Business Profile to appear when people search for a local business. On your website, use keywords that describe your specific products or services, and your location as that will help you turn up in relevant searches. Listing your business in local online business directories can also help search engines find you.
Dive into digital marketing
You can try a lot of small business marketing ideas online. You can use blogs and content marketing to position yourself as helpful and knowledgeable. You can use search engine optimization (SEO) to turn up in searches when people are looking for businesses like yours. Or you can run ads (although you really ought to be selling online for this to work). You can learn more – including the art of running cheap experiments – in our article on digital marketing for small businesses.
Disclaimer
Xero does not provide accounting, tax, business or legal advice. This guide has been provided for information purposes only. You should consult your own professional advisors for advice directly relating to your business or before taking action in relation to any of the content provided.
Start using Xero for free
Access all Xero features for 30 days, then decide which plan best suits your business.