Guide
How to start a successful moving company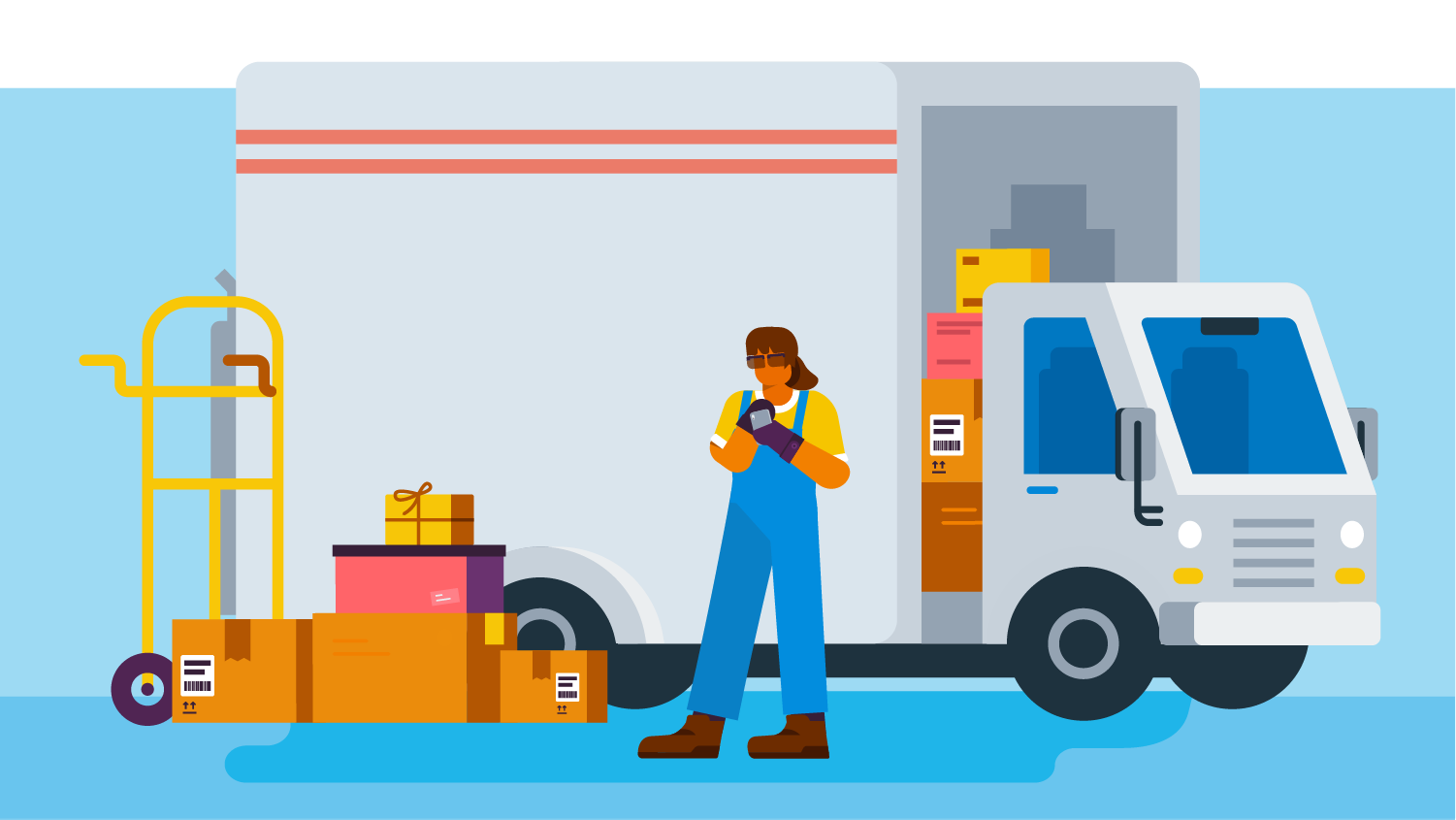 Starting a moving company begins with understanding the steps to take before opening your own business. Rushing into a new business venture without adequate knowledge and planning could set you up for failure. But once you've made your business plan and understand legal requirements, starting a moving business could be very rewarding.
Why start a moving company?
Starting a moving company can prove to be a profitable option, especially for people with experience in the moving industry. Owning your own moving business can allow you to be your own boss and offers flexibility that you might not have if you were working for someone else. You can start your business with just one moving truck or even a van.
There's more to know about opening your business than just driving a truck though. You'll need to follow your state's guidelines for registering as a business and obtain the correct permits and licenses to run the business legally and efficiently.
Other than licensing costs, you'll likely run into expenses for equipment, recruiting employees, daily operations, marketing, and more. Owning your own business often comes with a lot of stress and hard work too.
10 steps for starting a successful moving business
To give yourself the best chance for building a successful moving company, you'll want to have a clear vision of what you want your new business to become and how you want to operate it. Here are 10 steps to help you start a successful moving business:
1. Develop a business plan
A business plan guides you through the steps for starting and running a moving company. It helps you understand the needs of your new business, so you can confront challenges head-on before problems arise. When writing a business plan, you need to include some key components.
You'll start with the executive summary, the most important part of your business plan. It outlines the overall vision and goals of the company, as well as the strategies to achieve them. It should also include an overview of the market need for your services and the financial potential of the company.
Next up is the company overview. You might know you want to start a moving company, but you'll also need to decide what type of moving jobs you want to do. Here are a couple of moving company types you may want to consider:
Local moving companies restrict services to local moves (often between 25 and 100 miles from the company headquarters). This option may mean lower startup costs and fewer employees. If you're based in only one state, you'll have fewer permits and licenses to get. It may also mean less complex reporting requirements. You can focus on two types of moves: commercial and/or business. Commercial moving companies help businesses move their assets to a new location. Household movers help families move their possessions to a new home.

Specialty service movers offer niche moving services such as for art, pianos, or for fragile or valuable items.
You'll also need to do some in-depth analysis. An industry analysis examines the moving industry as a whole and identifies opportunities for growth. Then, a customer analysis looks at the customers you want to target, how you'll reach them, and how you plan to meet their needs.
The competitive analysis portion of a business plan examines your competitors – other moving companies targeting the same customers. Outline a strategy for how you can get and keep a competitive edge. One way to do that is through your unique selling point (USP) and how to plan to get your USP across to customers.
Finally, you'll move into your business operations and financial plans. Here, you determine your goals as a professional mover, how you'll achieve them, and how you'll finance the startup costs of the business.
2. Choose your business structure
Sole proprietorship: You can go into business as a sole proprietor, without forming a separate legal entity, if you own the entire business. However, if you are a sole proprietor, your personal assets may not be protected in case of a lawsuit. You may work under your own name or file for a DBA (doing business as) if you want to name your company something else.

C corporation: A corporate structure that creates the most separation between the owners (shareholders) and the business, and which can help both the business and shareholder protect their assets. If the owners work in the business they are employees, and the business files its own tax return and pays tax separately from the owners.

S corporation: Similar to a C corporation, an S corporation is a distinct corporate entity and any shareholders who work in the business are employees. This separation is helpful for protecting the personal assets of the shareholders. However, the income is reported and taxed on the shareholder's personal tax returns.

Limited liability company (LLC): Forming an LLC may protect your personal assets from business lawsuits, while providing more flexibility than a corporation. If you choose this entity type, you'll have options on how your business will be taxed; it could be any of the above, or taxed as a partnership depending on the number of owners and tax elections made.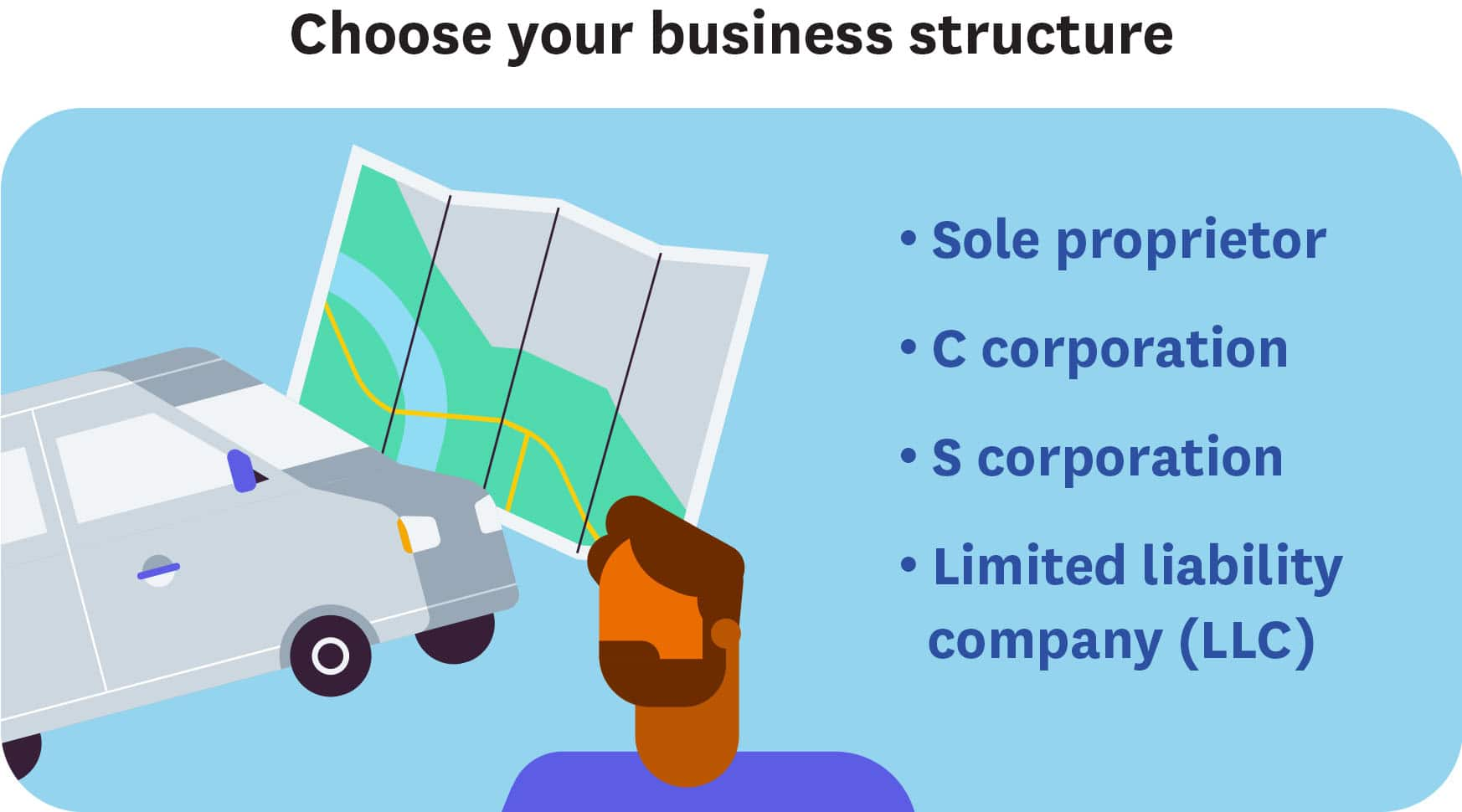 Most businesses need an employer identification number (EIN). You can apply for an EIN from the IRS, and it's fairly simple. You may also need to set up payroll taxes if you have employees, and collect local and state sales tax from your customers. You might also be subject to fuel taxes and trucking taxes. Check with your state government to see their regulations.
4. Apply for a business license
You may also need to meet licensing requirements, such as having a commercial driver's license (CDL), if you plan to drive any of the moving trucks. This doesn't apply if you're driving a moving van or hiring other drivers to operate your commercial vehicles.
5. Determine startup costs and equipment needed
Startup costs are an important consideration when starting a moving company. Aside from securing a location, you'll need equipment, and that can get pricey. You may need a pickup truck or van, packing boxes (ideally branded ones), dollies, rope, packing materials, moving blankets, tie-down ratchet straps, and ramps. And don't forget about services (for example, vehicle maintenance) and supplies.
Once you've worked out your startup costs, you need to come up with a way to fund them. Some common financing options are:
6. Define your target market
Your target market depends on the unique selling proposition (USP) that you included in your business plan. To narrow it down further, ask yourself:
what type of services you will offer

which locations and types of customers (commercial or residential) you want to serve

what sets your services apart from other moving companies with the same target market
Understanding your USP and target market is necessary for obtaining and keeping your customers. You need that information to market your brand effectively.
It's a good idea to understand your competitors' prices before setting your own. At the same time, you need to make sure your pricing structure allows you to make a profit. Understanding your costs is an important factor. Start small with your business. Take into account employee wages if you have anyone assisting you, daily operating costs, insurance costs, taxes, fuel, maintenance, and any other expenses you have, regardless of how small.
After calculating your expenses and investigating competitor pricing, decide how to price your services. Common methods used by moving companies to determine their prices are:
charging a minimum fee, to ensure you still make a profit for smaller jobs

charging by the hour or by the mile

a combination of weight and mileage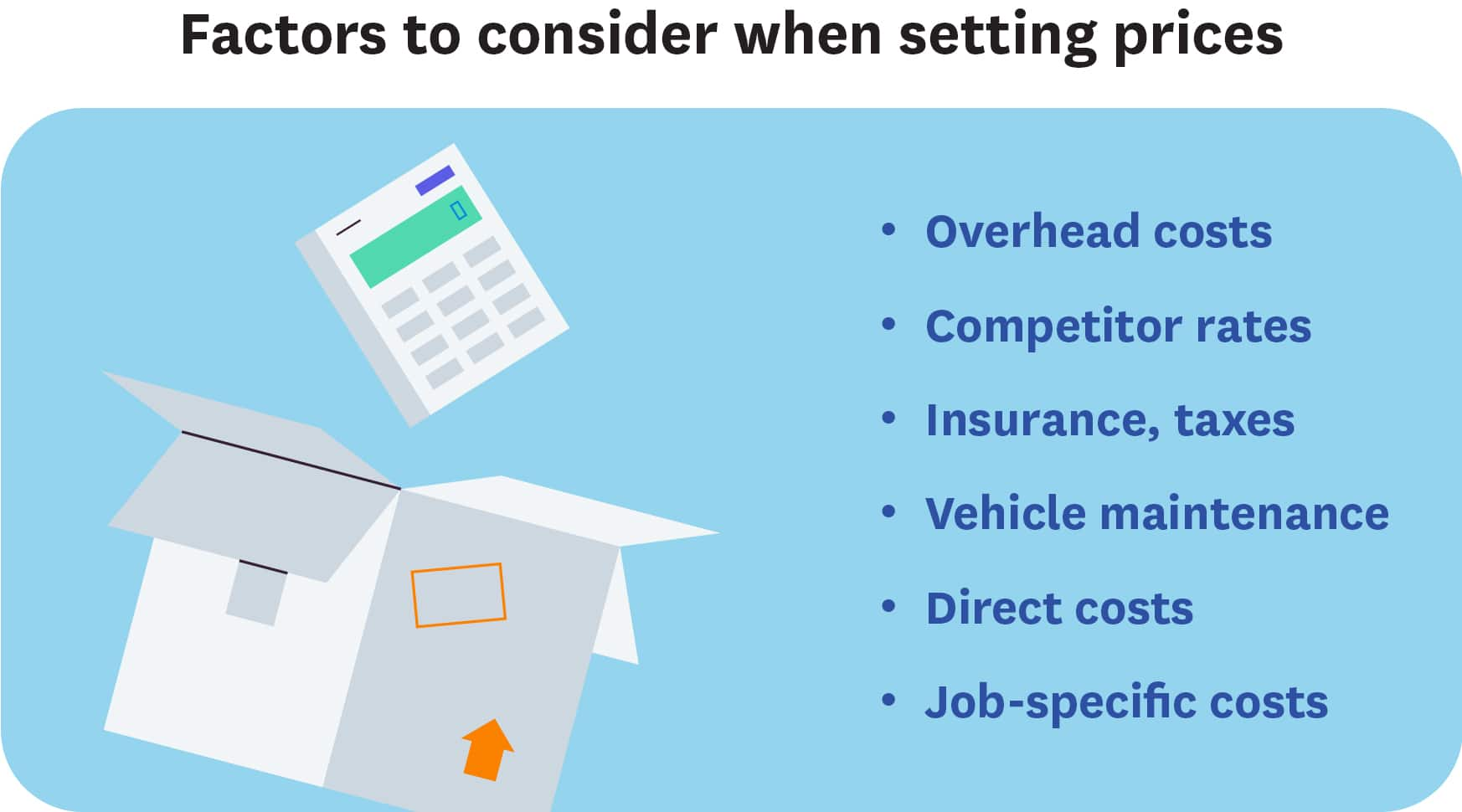 8. Develop a marketing plan and build your brand
Part of your marketing plan is to build your brand. It starts with a name for your company. Check to see if the website domain is available for the name you choose. An online presence can help your target customers find you. It also helps build trust in your brand. Don't overlook the importance of a good logo and adding customer reviews to your site. A search engine optimization (SEO) strategy can bring more traffic and potential customers.
Social media is another great way to reach your target market. You can use several social media platforms to market to several types of customers. For example, Facebook and Instagram can help you reach Gen X and Millennials, and TikTok is an optimal platform for reaching Gen Z customers. Other common channels for marketing that can drive business include:.
newspaper and/or radio ads

local business directories
9. Open a business bank account
To keep your company's finances separate from your own, a business bank account is a must-have. It makes things easier when filing your taxes. Plus, it's helpful if you want to eventually open a company credit card or take out a business loan.
10. Get business insurance
A business insurance policy is essential for most small business owners. You may need commercial auto insurance for your moving vehicle, cargo insurance to cover damaged or lost shipments, workers' compensation for potential employee injuries, and general liability insurance or a business owner's policy, too.
Insurance requirements can vary from state to state. Even if it's not required by law, it's a smart move to consider insurance coverage when starting your own moving company. When in doubt, consult with a lawyer.
Disclaimer
Xero does not provide accounting, tax, business or legal advice. This guide has been provided for information purposes only. You should consult your own professional advisors for advice directly relating to your business or before taking action in relation to any of the content provided.
Start using Xero for free
Access all Xero features for 30 days, then decide which plan best suits your business.