A guide to grants and funding for your football club
We explore everything small football clubs across the UK need to know about access to grants and funding.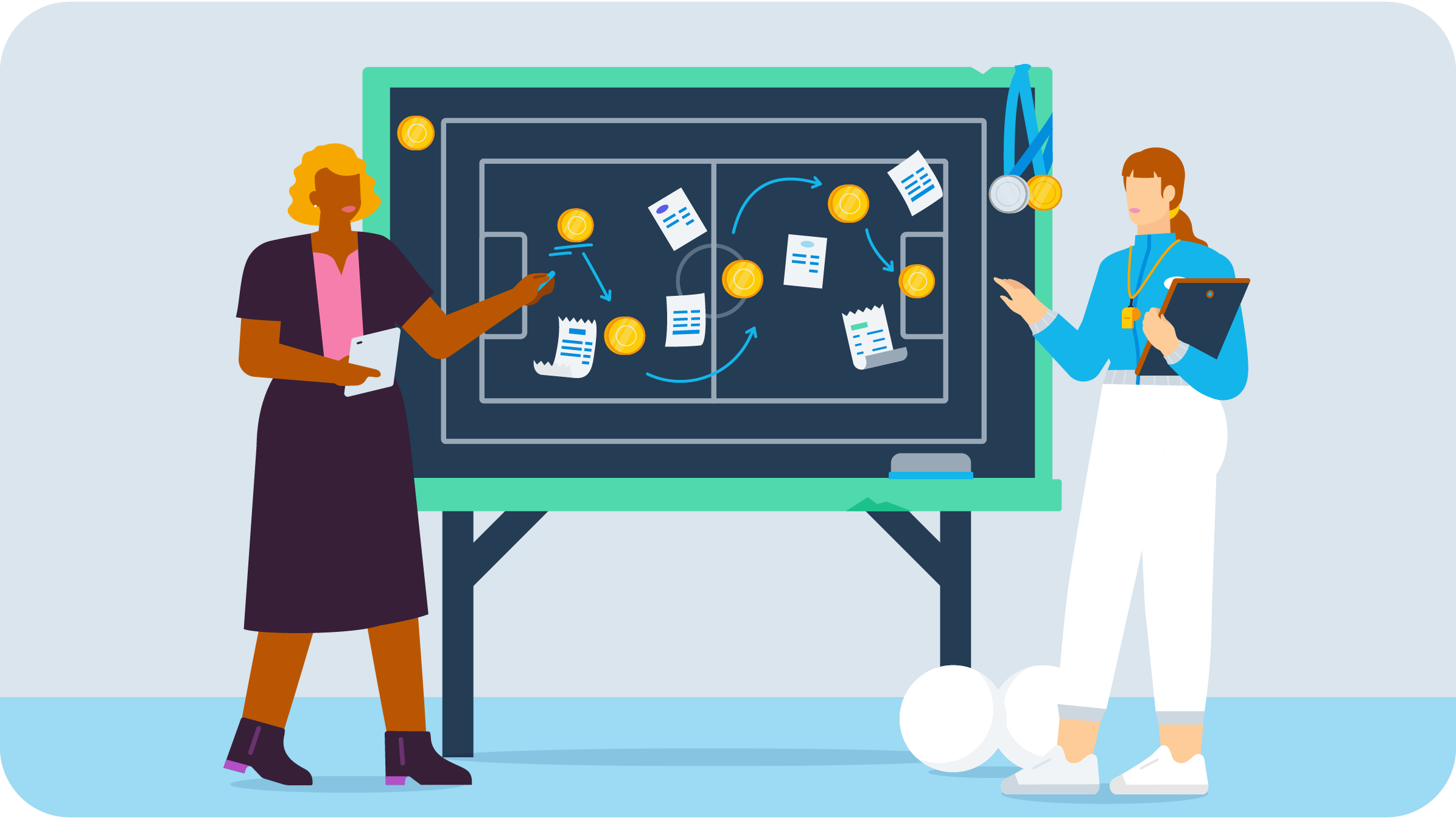 The importance of funding for women's football
Earlier this year, Xero announced a commercial partnership with The English Football Association (FA). The venture will see Xero work alongside the FA on a shared vision: championing the growth of women in football and highlighting the importance of financial viability for women's football clubs, on and off the pitch.
Xero also announced a new three-year partnership with Lewes F.C to empower the club to reach its objective of greater equality in the women's game. Alongside becoming the Official Partner of both the England women's senior team and England Football, Xero will work with the FA Grassroots Team, County Football Associations, and the FA Club Consultants to provide access to a comprehensive range of educational resources for clubs' financial management. With the growing participation of women in the game and its rise in popularity in recent years, Xero is excited to contribute to a positive change in women's football, small businesses, and communities worldwide.
During the partnership, you will see us refer to 'better numbers off the field, better numbers on the field.' This is because we believe that for women to thrive in football, support off the field is just as important. Many small football clubs are non-profit organisations that want to enable women and young girls to play football in their local communities. Accessing funding and grants can make all the difference to their financial viability and provide a platform for launching successful community-based women's football programs.
Is there financial support available for football clubs?
Football clubs rely on club income, including sponsorship, ticket sales, and merchandising. Yet, many small football clubs often encounter financial difficulties. According to FIFA, 70% of women's football clubs operate at a loss, and research from the FA suggests that almost half of clubs say they find managing the club finances a struggle.
The good news is that there are now a growing number of grants, loans, and other types of funding available to football clubs. In recent years, the world has seen sporting organisations pledge to increase funding for women's football. One good example is the announcement that The Premier League will increase its funding for FA Women's National League clubs to £4.5 million. To grow women's football clubs, the Premier League has also pledged £1.75 million to Girls' Emerging Talent Centres by the FA.
How do I find the right funding for my club?
There are many resources out there that can help clubs find the best funding or grant. The Amateur FA's website has a regularly updated PDF downloadable funding guide that mentions schemes and grants for football clubs of all sizes and demographics. Alternatively, here are four options for funding available to football clubs.
The Football Foundation has given over 60,000 grants worth £800m to clubs since 2000. Each year grants of up to £25,000 are available to help local community clubs to improve their game, on and off the pitch. This includes contributions for maintaining grass pitches and improving changing room facilities. Contact the Football Foundation with details and supporting documentation if your project is not listed. The Football Foundation has also rolled out a local Football Facility Plan, a joint effort with local authorities and the FA. Read more on finding funding with the Football Foundation and how to apply on their website.
Grassroots Fund Powered by Utilita Energy High 5
Team Grassroots has teamed up with Utilita Energy High 5 to launch the Grassroots Fund. The fund is open to grassroots clubs, leagues, or volunteers looking to make a change in grassroots football. You can apply by filling out the form here, and clubs can apply for multiple grants.
The National Lottery Community Fund
The National Lottery offers funding of £300 to £10,000 to support the local community. For larger projects, they can offer grants of over £10,000. Grants above £10,000 are provided to organisations rather than individuals and projects serving people across the UK. Check out their Community Fund page to find out more about the grants and how to apply.
Starling Bank & SportsAid Grassroot Grants
Starling Bank was recently announced as the national banking sponsor of the UEFA Women's EURO 2022. They have also joined with SportsAid to pledge the donation of £28,000 to emerging players and grassroots football clubs as they work to champion female football talent. There are twenty-three grants of £1,000 each available to clubs in each of the tournament's nine host cities.
However, their support for the women's game and small football clubs does not stop there. Clubs can also apply to the Grants in Partnership with SportsAid, which awards £1,000 to five young players under 16. This is a great way to gain sponsorship for a female player from a smaller football club.
Alternative sources of funding
Funding and grants from larger sports organisations are not the only funding options for your club. Many local authorities and communities also offer help to champion sport in the community. Community foundations are also an excellent resource for funding and often work with individuals or groups on their needs, such as grassroots football for women. Speak to your local community foundation for more details on any funding opportunities they may provide.
Sport England's Active Together programme is a match funding initiative that is aimed at supporting small clubs to run a crowdfunding campaign. While initially aimed at helping clubs with the loss of income due to the pandemic, it has now expanded to include other financial challenges small football clubs may face. Along with pledging funds, the programme also offers;
free 1-2-1 coaching by experts

advice and guidance on campaign improvements

access to free online courses

free 30-minute webinars, monthly
How Xero is supporting small football clubs
Start using Xero

for free
Access all Xero features for 30 days, then decide which plan best suits your business.