Emotional Tax Return Terms and Conditions
Terms and Conditions for Xero's Emotional Tax Return Competition 2022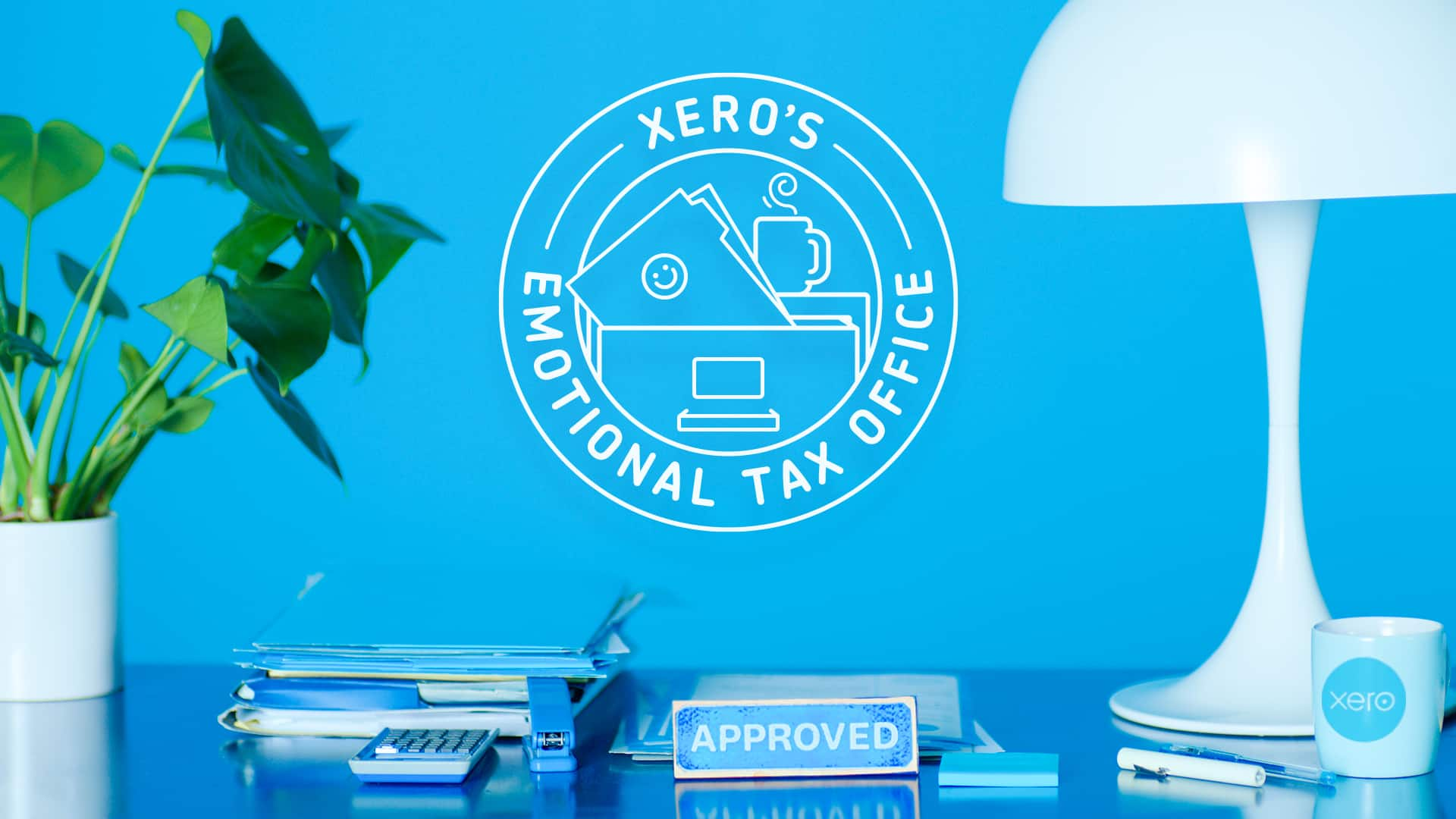 Emotional Tax Return - competition terms and conditions
1. This competition (Competition) is run on behalf of Xero Limited (Xero us, we, or our), and is open from 12:01am on 16 June 2022 to 11:59pm on 14 July 2022 AEST (Melbourne time) (the Competition Period). Xero may extend, cancel or amend this Competition and/or review and update these terms and conditions (Terms) on its website at any time, at its sole discretion. By entering the Competition, an entrant (Entrant, you or your) agrees to be bound by the Terms.
2. To be eligible to enter the Competition, Entrants must be:
2a. a resident of Australia prior to, and for the duration of, the Competition Period;
2b. over the age of 18 years old; and
2c. an owner of a small business (being a business with (i) an annual turnover of less than $10 million and (ii) less than 20 employees) with a registered Australian Business Number (ABN) which can be located on the Australian Business Register (ABR)
3. Xero employees, directors and their immediate family (including partners and spouses) are not eligible to enter the Competition.
4. In order to enter the Competition, an Entrant must submit:
4a. a response via xero.com/emotionaltaxreturn site to the following questions (the Competition Questions) during the Competition Period:
What's the number one emotional expense you're claiming this EOFY? (Select one from a drop-down menu)
041 - Lack of personal care
Tell us why you deserve to win a prize. (Free text - limit of 250 characters); and
4b. provide their name and contact details (including their phone number, email address and address); and
4c. the ABN of their small business.
5. Each response to the Competition Question (Response) must be submitted in good faith and based on real life experiences of the Entrant.
6. There is a limit of one (1) entry per Entrant. Any duplicate entries or entries received after the expiry of the Competition Period will be void. No purchase or payment of any kind is required to enter the Competition.
7. Eligible Entrants will have a chance to win one of the following prizes:
7a. 1 of 50 gift vouchers up to the value of $500 from various vendors including but not limited to Endota Spa, Good Food and Red Balloon (Minor Prize);
7b. A $15,000 Flight Centre gift voucher (Major Prize).
(together, the Prizes and each a Prize).
8. Winners are responsible for all costs not expressly listed as being included in the Prize (including the Major Prize), including without limitation, meals, entertainment, other travel and accommodation, incidentals, gratuities, services charges, optional extras, transfers, passports, visas, re-entry permits, spending money, freights, excess baggage, government taxes, departure taxes, ground transportation any tax liabilities, airport charges, any applicable surcharges and any other related costs. Travel insurance is not included in the Prize and will be the responsibility of the winner(s). Travel insurance is highly recommended to protect against the additional costs incurred in the event of unforeseen circumstances. The Winner acknowledges that the accommodation part of the Prize includes room charges only and no ancillary costs such as room service.
9. The Competition process and selection of winners from the Eligible Entrants (Winners) will be overseen and managed by judges from Clemenger BBDO (Melbourne) Pty Ltd (Clemenger). Being a customer of Xero will not increase your chances of winning. For the purpose of determining each Winner, Clemenger will evaluate each Response according to its creativity, originality, and alignment to the Competition Question (each criterion weighted equally). The Responses provided by the Winners will be ranked from 1 to 51 according to the criteria described above (ranking 1 being the best Response). The Winners ranked:
9a. 1 will be awarded the Major Prize; and
9b. from 2 - 51 will be awarded one of the Minor Prizes.
10. There is a limit of one (1) Prize per Eligible Entrant. The Winners will be notified by email within 10 days of the Competition Period ending and will be provided with details of their Prize and how the Prize will be made available to them. If a Winner cannot be contacted or does not respond within 7 days from the date on which they are first notified by email or phone, Xero reserves the right to withdraw the Prize (in which case the Winner will be deemed to have forfeited the Prize) and another Winner shall be selected having regard to the criteria set out above. Xero may also publish the Winners' names on its website. To the extent possible, Xero will arrange for the Prizes to be delivered to the Winners.
11. Xero's decisions on all matters relating to this Competition (including but not limited to selection of the Winners by Clemenger, awarding of the Prizes, the nature of the Prize and the operation of the Competition) will be final and no correspondence will be entered into regarding any such matters.
12. Xero does not warrant that the Prize will:
12a. meet the Winner's requirements;
12b. relate to the Winner's Response; or
12c. that it will be suitable for any particular purpose. To avoid doubt, all implied conditions or warranties are excluded so far as is permitted by law, including (without limitation) warranties of merchantability and fitness for purpose.
13. Prizes are not transferable, for sale, re-sale or auction and cannot be taken as cash. No Prize substitutions, except by Xero, who reserves the right to substitute a Prize with another Prize of comparable value for any reason as determined by Xero in its sole discretion.
14. To the fullest extent permitted by law, Xero, Clemenger, each of their affiliates and each of their respective directors, officers, employees, representatives, and agents, including without limitation any judges of the Competition (together, the Released Parties) shall not be liable in any way (including, without limitation, in negligence), for any loss or damage whatsoever suffered (including, without limitation, direct, indirect or consequential loss) or for any loss or damage or personal injury suffered or sustained in connection with the Competition, or acceptance, possession, or use or misuse of any Prize, and you hereby release the Released Parties from any claims or damages arising out of or in connection to your participation and/or entry in the Competition and/or your receipt, acceptance, possession or use or misuse of any Prize awarded in this Competition.
15. By entering the Competition, you:
15a. agree to participate in any publicity related to the Prize and the Competition;
15b. consent to Xero, its subsidiaries or affiliates using your name, image, voice (including photograph, film and/or recording), business name, brand and photographs in any media for an unlimited period of time, to promote Xero and any of its other products; and
15c. grant Xero, its affiliates and sub-licensees a non-exclusive, royalty-free, perpetual, worldwide, irrevocable, and sub-licensable licence to use, reproduce, modify, adapt, publish and display your Response for any purpose, including future promotional, marketing or publicity purposes, in any media, without compensation, restriction on use, attribution or liability,
in each case, without payment, remuneration or compensation being due to you.
16. Xero may be required to publish or make available details of the Competition, including the surname and region of each Winner. You can object to your details being published or made available, or reduce the amount of information published or made available, by emailing privacy@xero.com - note Xero may still be required to provide your details as required by law.
17. By participating in the Competition and by submitting your contact details, each Eligible Entrant consents to receive the latest news, special offers, promotions and information from Xero by email, TXT or other channels from time to time. If at any stage you do not want to receive this information then please let Xero know, or use the 'unsubscribe' feature on communications Xero sends you.
18. You Entrant warrants and agrees that:
18a. you are fully responsible for any materials you submit via the Competition including comments, recordings, documents and the Response (Content);
18b. you will not submit Content that:
18bi. is untruthful, unlawful or fraudulent;
18bii. contains viruses or causes injury or harm to any person; or
18biii. infringes the rights of any third party (including, but not limited to rights in copyright, intellectual property, privacy or other rights) or otherwise inappropriate.
18c. you will not tamper or attempt to tamper with the entry process or the operation of the Competition, including but not limited to, submitting multiple Responses;
18d. the Content is your original artistic work that does not infringe any rights of any third party, including, but not limited to rights in copyright, intellectual property or privacy;
18e. the Response will be based on your real life experiences;
18f. the Content must be in "good taste" and in keeping with Xero's brand image and must not be explicit or offensive, as determined by Xero, in its sole and absolute discretion;
18g. the Content must not in Xero's sole discretion contain any commercial content that promotes any product or service;
18h. to the full extent permitted by law, Xero will not be liable for the Content;
18i. Xero may remove, decline to publish or invalidate any Content or entry without notice for any reason whatsoever;
18j. you will comply with all applicable laws and regulations, including those governing copyright, content, defamation, privacy, publicity and the access or use of others' computers or communication systems; and
18k. you will indemnify Xero for any breach of the Terms.
19. By entering the Competition and submitting your contact details and ABN, you agree to the Terms. By entering the Competition, you consent to the collection, use and disclosure of your personal information by Xero and Clemenger for the purposes of administering the Competition. You acknowledge and agree that your Response and any personal information collected from you will be used by Xero in accordance with Xero's Privacy Policy. A copy of these Terms are available on request.
20. The Winner agrees that Xero may withdraw the Winner's right to their Prize if:
20a. Xero's name is, or is likely to be in Xero's reasonable opinion, damaged or brought into disrepute or ridicule by the Winner or by being associated with the Winner; or
20b. The Winner is involved directly or indirectly in any situation (whether the relevant situation occurred before, during or after the Competition Period) which brings, or in the reasonable opinion of Xero is likely to bring, any of the Winner, Xero or the Competition into disrepute, contempt, scandal or ridicule.
21. If there's any part or provision of these Terms that is declared illegal or unenforceable by a court of competent jurisdiction, then the remainder of these Terms shall remain in full force and effect. All dollar amounts expressed in the Terms are in Australian dollars.
22. The Competition and the Terms are governed by the laws of Victoria, Australia.
Start using Xero for free
Access all Xero features for 30 days, then decide which plan best suits your business.
Safe and secure

Cancel any time

24/7 online support