Free receipt template
Acknowledge payment for absolutely anything on this receipt template. Download it once, use it a thousand times.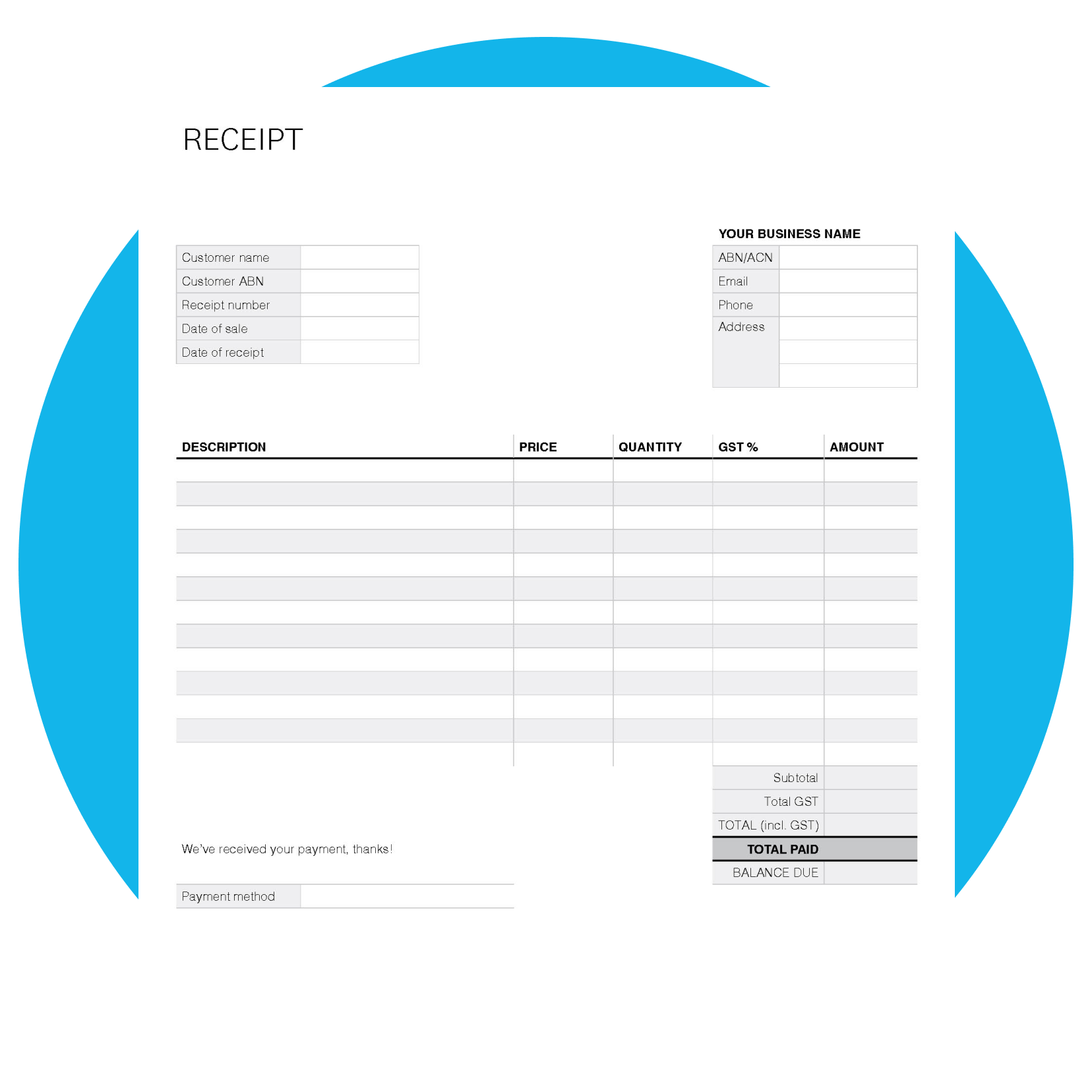 Versatile
Contains all the necessary rows and fields, so your customer gets all the info they need.
Trusty
Created by accounting experts, so all the formatting is bang on
Foolproof
It does the maths for you. Punch in costs and quantities, and the receipt generator template adds everything.
Download the free receipt template
Fill in the form to get a blank receipt template as an editable PDF. We'll also link you to an example on how to use it.
Why use this free receipt template
Built by accounting nerds
Xero knows receipts. And we made this free receipt template for you.
Formatting requirements checked with local experts.

You can fill it out and email paperlessly, or print it if you prefer.

Save it and reuse it, again and again.

We'll link you to tips to help fill it out.

Can be used for a multitude of transaction types.
Download blank receipt template
Using this receipt template
Just add prices, quantities, and payment amount and the template will do the maths for you.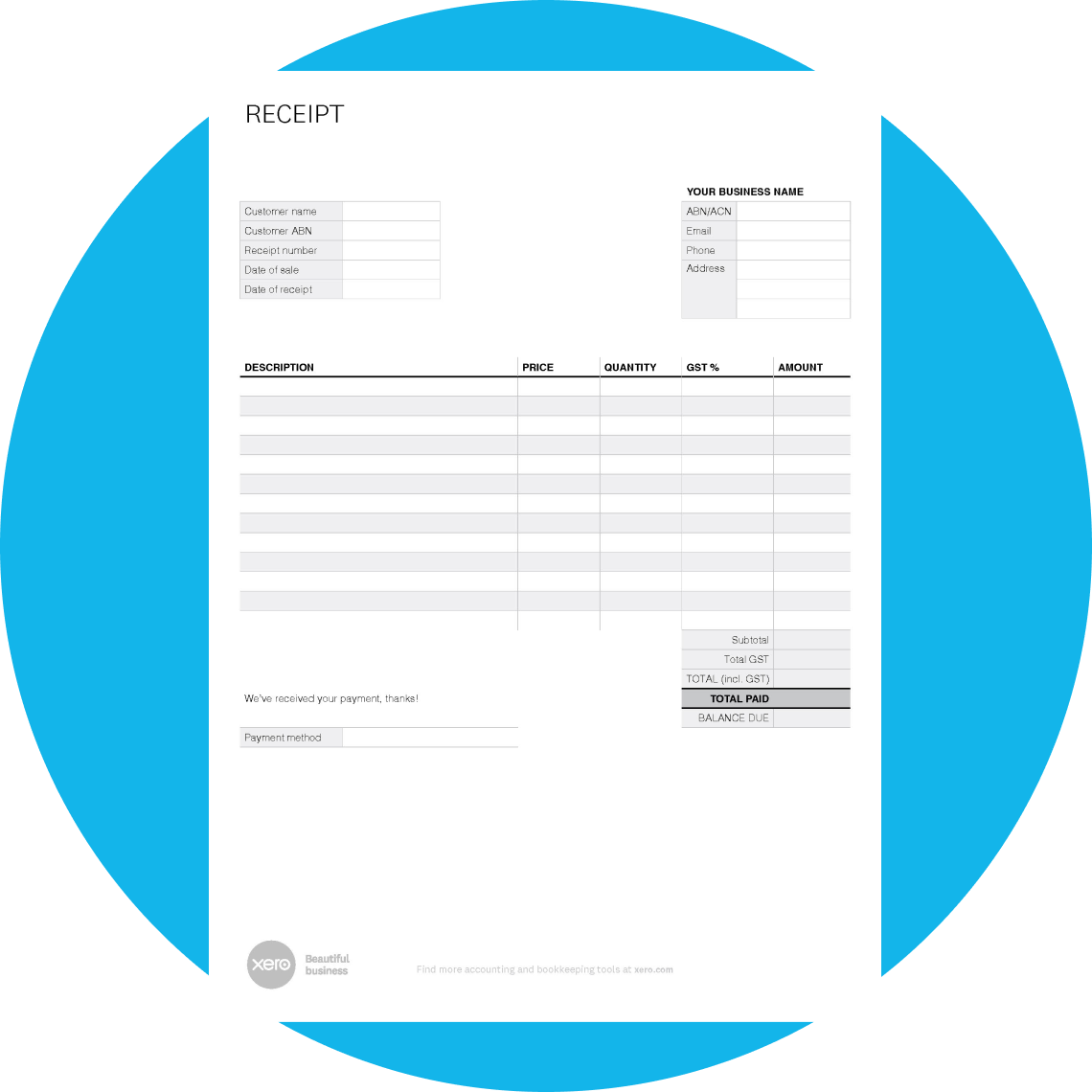 Room for two dates
Show separate sales and receipt dates if receipt is sent later.
Quantity and costs
List details of the sale, the price, quantity and any sales tax (if applicable).
Owed vs paid
Can be used to acknowledge part-payments and show what is still owed.
Type of payment
Show the payment method used eg, cash, card, bank deposit.
Using receipts
It's all in the timing. An invoice is a request for payment. A receipt is provided after payment has been made. Invoices can also act as receipts, but sometimes a customer may ask for a separate receipt for their records. Receipts are also a handy way to document a non-invoiced cash sale. That's why we've created this receipt template. Looking for an invoice template? We've got one of those too.

Check out our free invoice template.

Receipts are important for both you and your customers in case they have any issues with a product or want to return or exchange it, and you need to be able to check that their claims are correct. Customers also may need a receipt to prove an expense - for their tax return or for reimbursement.

Save a copy of receipts you send or give customers as proof of goods sold, services rendered, and payment made. Every receipt should include a unique number so it can be easily filed and found.
Using the template
Check what tax rate applied to the sale (if any) and add it to the appropriate boxes. If there was no tax, just leave it blank.

Put the payment details in the boxes provided. These will say how much your customer paid and what method they used. Add your signature if you're using the template as a receipt for cash sales.
Your multi-purpose PDF receipt template
Make invoicing simpler and faster
Invoices don't go in the post anymore. Invoicing software speeds up every step of the process so you get paid sooner.
Check out Xero invoicing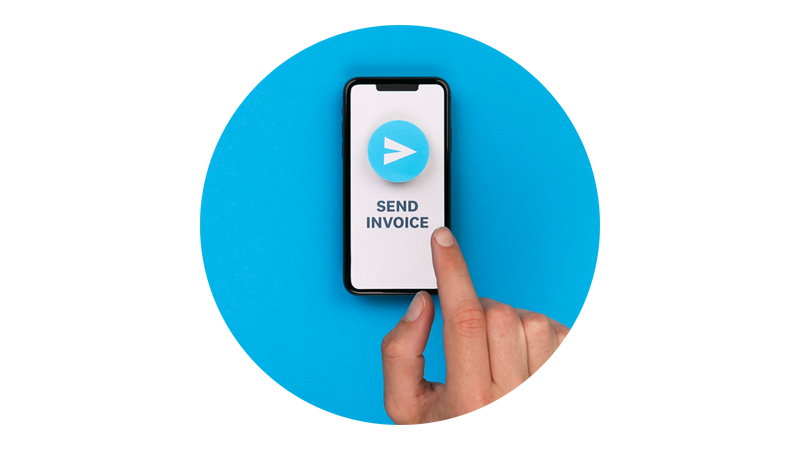 Disclaimer
Xero does not provide accounting, tax, business or legal advice. This template has been provided for information purposes only. You should consult your own professional advisors for advice directly relating to your business.
Start using Xero for free
Access all Xero features for 30 days, then decide which plan best suits your business.