Guide
What is dropshipping?
Dropshipping is a popular form of online selling. Learn more about how online selling without inventory works.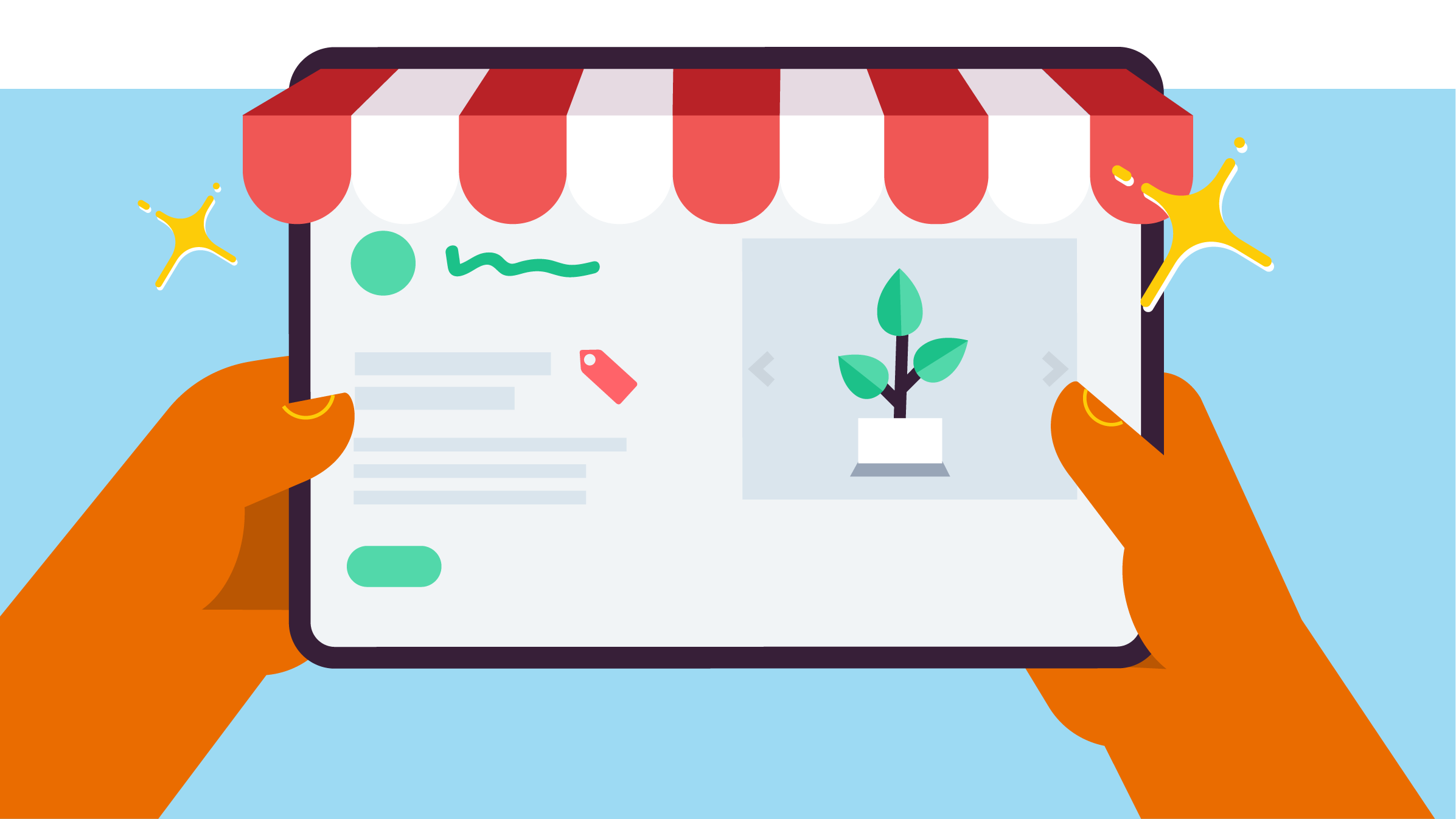 Dropshipping, as the name suggests, is a form of ecommerce where you drop a customer order to a supplier, and they ship it to your customer. You don't maintain inventory or handle shipping. You focus on managing your online store, marketing, supplier and customer relations.
Dropshipping's allure is its low barrier to entry and reduced operational costs. It's a popular choice for small businesses and individuals looking for a side hustle, as well as newcomers to online selling. It sounds fantastic, and is, but like everything there are pros and cons (not to mention actual cons).
A classic dropshipping example is retail dropshipping, for niche fashion, home décor or customized electronic accessories.
Another classic dropshipping example is print-on-demand – think T-shirts, or customized gifts.
Wholesale dropshipping involves partnering with product wholesalers, such as pet or beauty product suppliers, to secure items at bulk prices for profitable resale.
How does dropshipping work?
The dropshipping process:
You partner with a supplier, agreeing on price and shipping

A customer places an order and pays you

You forward the order to your supplier

The supplier ships the product to your customer

You pay your supplier and pocket the balance
The advantages of dropshipping
You won't need a stack of money to start. Dropshipping eliminates the need for large upfront investment in inventory.
You won't need a warehouse. You won't have to stack any boxes, because you won't have any. What you will have is more space for yoga (or your stretching of choice).
No warehouse, no worries. Because you're not holding physical inventory, you're not exposed to the risk of products not selling or becoming obsolete, or physical risks like fire or flood damage, or the need to insure everything.
It's scalable. You can test products in the market, with the ability to scale up or down. You can curate your products cleverly and manage your growth.
It's flexible. Because you can run it wherever you are, a dropshipping business can be as flexible as your yoga (or your stretching of choice). And you'll have more time for that, because...
You'll have more time. Since you're not handling inventory and shipping, you can focus on marketing, customer service, and growing your business.
The disadvantages of dropshipping
You can't control quality. There's a risk of low quality or defective items reaching customers, or suppliers facing inventory shortages.
You can't control delivery. Shipping times will vary with different suppliers, or one supplier may experience shipping delays.
You could be caught in the middle. Handling customer complaints is your responsibility, even if the problem is your supplier. For some help with this, take a look at our guide on How to handle customer complaints.
You'll profit, but how much? Purchasing inventory in bulk will likely get you a more discounted wholesale price. Smaller customer orders to the supplier can reduce your profit margin.
You're not the only one. Simplicity and cost-effectiveness is bound to be popular, and dropshipping is. To stand out from the competition, you'll need to focus on offering something unique, quality, great marketing, and exceptional customer service.
There may be actual cons. Be careful making arrangements with suppliers you don't know.
How to start a dropshipping business
Start strong with a clear business model and plan. Register your business, and learn the financial basics: pricing, margins, cash flow, tax. Seek advice, start comfortably, and grow steadily.
Get your time management mindset on. While dropshipping offers flexibility, you'll need to be responsive to customers around the clock. Allocate time for market and supplier research, building and maintaining your store, and marketing. Dropshipping suits a person with good research skills, to identify and seize opportunities.
Choose a niche that aligns with your interests as well as market demand. Find reliable suppliers for quality products. Establish strong relationships with them – they're crucial to keeping your operation running smoothly.
Build an appealing, user-friendly online store. Platforms like Shopify, BigCommerce, WooCommerce, or Wix are options. Once you're up and running, focus on exceptional customer service.
Get to know consumer protection laws, product safety regulations, intellectual property rights, and tax obligations in your region. Consult legal professionals or government resources for guidance. Make sure you have the right to use any trademarks, logos, or images associated with the products you're selling.
How to choose dropshipping suppliers
Prioritize reputation, consistency, and communication when selecting suppliers. You can also go through dropshipping companies for access to multiple suppliers.
When researching suppliers, consider:
location (overseas suppliers may mean costly shipping)

whether they sell to the public (possibly fellow dropshippers)

reputation(check reviews), returns/dispute policies, support speed

pricing, fees (suppliers often charge a drop fee per order, and account set-up fees for wholesale access; avoid those with added monthly charges)

minimum order size or revenue thresholds

processing, dispatch, and shipping times, and order tracking

quality product information and images

compatibility with your likely ecommerce platform
The advantages of dropshipping are flexibility and agility, but like any business, it takes innovation and attention to detail to succeed.
Here are five tips to remember on your dropshipping adventure:
Stand out: Be unique, research, know your customer
Be a stand-up store: Be responsive, trustworthy, great to do business with
Stand your ground: Maintain quality control with your suppliers
Stand firm: Keep on top of bookkeeping, admin, tax, and regulations
Stand tall (and stretch): Loving what you do makes business a pleasure
Disclaimer
Xero does not provide accounting, tax, business or legal advice. This guide has been provided for information purposes only. You should consult your own professional advisors for advice directly relating to your business or before taking action in relation to any of the content provided.
Start using Xero for free
Access all Xero features for 30 days, then decide which plan best suits your business.