Guide
How to accept payments online
Customers that are offered convenient online payment methods pay invoices earlier. Here's how to cash in on the trend.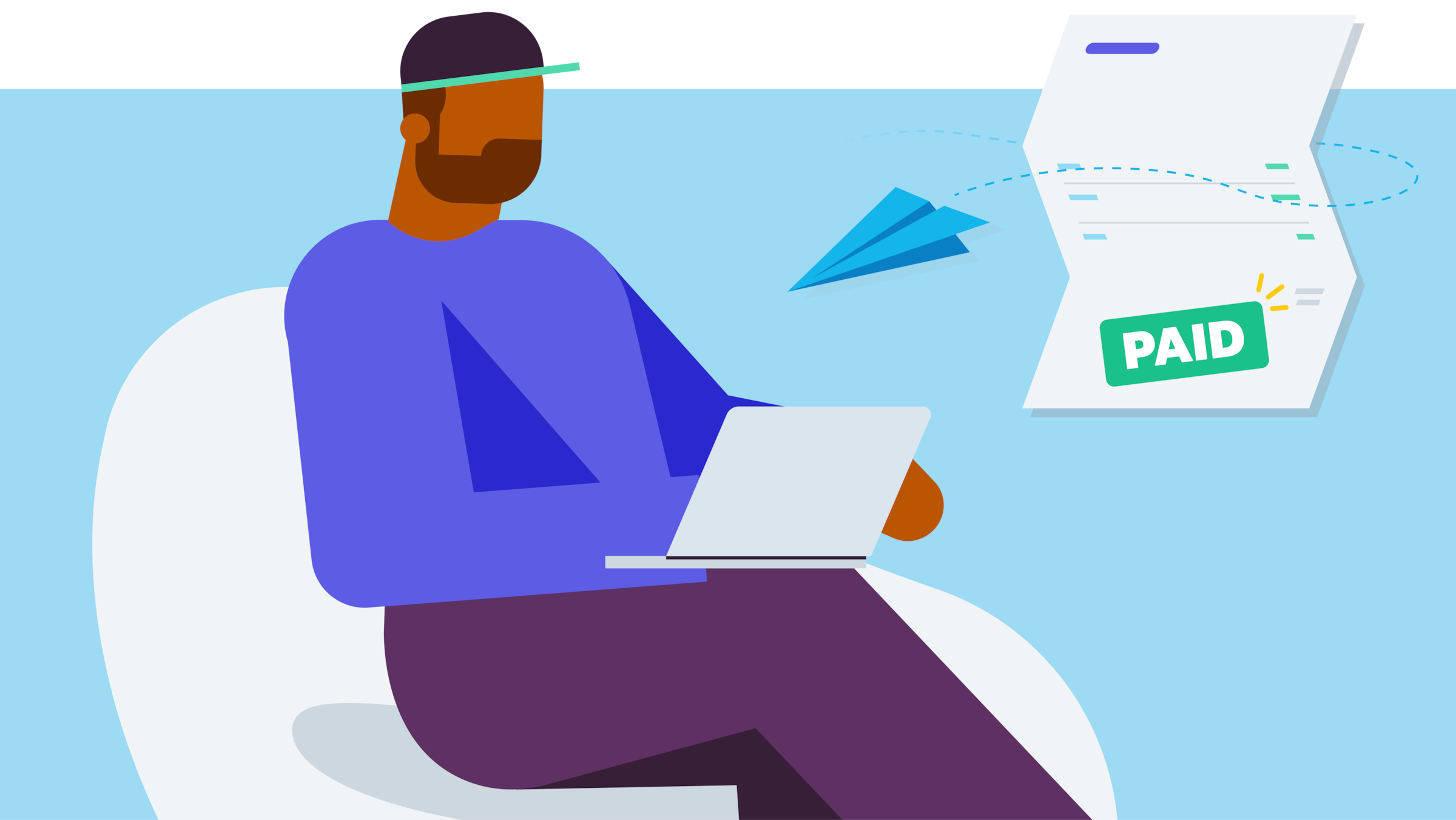 Popular online payment methods
If you've bought something online, then you've probably used an online payment method. The most common are credit cards, debit cards, automated clearing houses (ACH) like PayPal, and direct debit. These methods are generally instant and allow the customer to pay without visiting their bank website.
In the case of direct debit, the customer can authorize ongoing payments. This allows you to take money direct from their bank account whenever a bill is due.
Benefits of online payment
Small businesses get paid up to twice as fast with online invoice payments. In some cases, they get paid instantly.
Customers love online payment too, because it's quick and easy. Plus they have the option to pay by credit card, which gives them extra financial flexibility.
How does online payment work?
Businesses can accept online payments through a merchant service provider. There are many respected providers out there, and they shouldn't charge you anything to get set up (although there will be transaction fees).
Choose a merchant service provider that can integrate with your invoicing software. Most should. Once the service is switched on, a "pay now" button will appear on your invoices. When you email the invoice to a customer, they can click the button to pay you instantly.
What is a merchant service?
Merchant service providers are specialist companies that handle online payments for you. Generally speaking, some of them focus on debit and credit card processing, others focus on ACH processing, and a third category looks after direct debit. It's unlikely you'd need to offer all of these payment options.
You'll need online invoicing software to make it work. Just find the section for add-on apps and pick your preferred provider. There's generally a wizard to guide installation. Or if you have a tech-savvy accountant or bookkeeper, ask them to do it.
What are merchant service fees?
While it should cost you nothing to set up a merchant service provider and accept online payment, there will be transaction fees. For debit and credit cards, the fee works out to between 2% and 4% of the invoice value. For direct debit, the fee will depend on the size of the transaction but should never get any higher than about $2 per transaction.
Just because you know how to accept payments online, doesn't mean you have to do it every time. You can switch it on and off. To help keep costs down, businesses tend not to offer online payment on invoices of more than $5,000.
How do I account for the transaction fee?
When doing your business accounts, you'll need to treat the transaction fee as an expense. You'll want to match it with the payment so you can correctly calculate your profit on the order. Smart accounting software can do that for you, automatically.
Will everyone pay faster?
Not all customers will pay faster when you offer these "pay now" options. But other customers could pay you straight away.
That's the thing about using online payment services. You should find that you get paid faster overall, which is great. And you may just transform a consistently late payer into an always on-time payer. It's all about making it easy for them.
Jump in and learn how to accept payments online
If you use software to send invoices, it's easy to offer convenient payment options. It's a bonus for your customers, and it will get you paid faster.
Disclaimer
Xero does not provide accounting, tax, business or legal advice. This guide has been provided for information purposes only. You should consult your own professional advisors for advice directly relating to your business or before taking action in relation to any of the content provided.
Start using Xero for free
Access all Xero features for 30 days, then decide which plan best suits your business.