Guide
How your business can compete with large retailers
Sometimes it seems like the odds are stacked against small retail businesses. Here's how to level the playing field.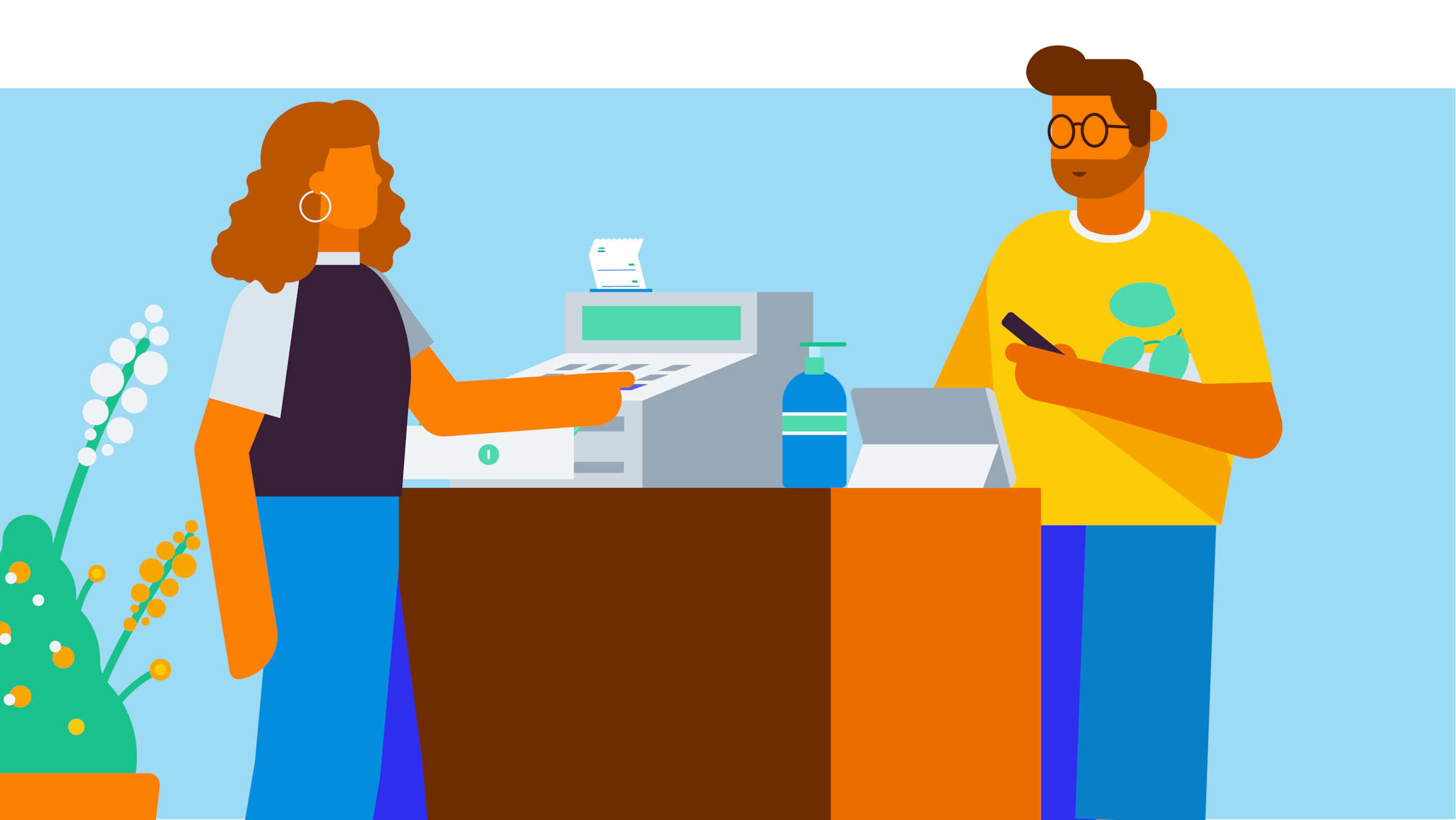 Choosing the best retail strategy
Competing with big retailers can be a daunting task, especially if you're new to business. Your competitors already have an established customer base, solid marketing campaigns, good store locations and well-trained employees.
How can you compete with all of that? Well, there are two main options when it comes to competing with bigger businesses – you can try to emulate what they do, or you can do things differently.
Both choices have their merit, so in this guide we'll look at each option in turn. This will give you all the information you need to successfully compete with large retailers.
Punching above your weight
If you decide to compete with larger businesses on their terms, you'll want to make your business appear bigger than it is. There are several steps you can take:
Build a great online presence
It costs less to create a stunning online shop-front than it does to build one in the real world. Ask for recommendations from other small businesses, then choose the best web designers, developers and content writers you can afford. Make sure you regularly post on Instagram, Facebook and other social networking sites too. Your business will soon appear much bigger than it really is.
Let customers pay the way they want to
Accepting a wide range of different payment methods will help make your business appear sizeable. Invest in a good POS (point of sale) system, preferably one that will integrate with your accounting software. These don't have to cost a fortune and will give your business a professional air.
You can create a professional-looking store environment on a small budget. If funds are tight, consider the minimalist look – after all, it works for companies like Apple. Get fresh ideas from design magazines, blogs and other stores.
Presentation, presentation, presentation
Everything you do must be executed to the highest standard. You and your employees should be well dressed and well presented, speak politely to customers and be helpful. Your brand should be visible everywhere, including on any packaging or carrier bags you give to your customers. This will all give the impression that your store is part of a larger chain.
An alternative approach is to make the most of your small business status. Instead of pretending to be bigger than you are, you could make a virtue of your size and turn it into a selling point.
You might wonder who would want to buy from a small retailer when they could buy from a large one. The answer is: lots of people. These days it's become cool to buy from smaller, local, boutique-style stores.
That's partly due to perceptions about big businesses, which will become clear soon. But also it's because the risk of purchasing from smaller businesses has been reduced, thanks to customer protection schemes and credit card insurance policies.
Your goal should be to get inside your customers' heads and understand what might appeal to them about your small retail business. Then you can offer it to them with clever marketing and good service.
10 ways that your business can compete with large retailers
If you're going to compete with bigger businesses on your terms, you need to think and act quickly. Here are ten tips to guide you:
1. Be agile when responding to your customers
Like a speedboat compared to an oil-tanker, smaller businesses can move faster than larger ones when market conditions change. Keep careful track of your customers' interests and preferences and you'll be able to anticipate their requirements. You can also take advantage of these relationships to check in with customers and prospects on a periodic basis. Ask for their feedback on your product or service, shop and website.
2. Don't slash your prices
Competing on price with the big players is usually a bad idea. Economies of scale mean that the larger stores have more purchasing power than you, and can drive down their suppliers' prices.
3. Negotiate with your suppliers
You might not be able to get their prices down by much, but you could negotiate other deals. For example, you could get a range of products in your shop before the big retailers. Or you might have some product lines custom-made for you.
In some retail sectors it's important to be seen as stable and predictable, but in others you can have some fun. Make the most of your different perspectives, get your employees involved, add quirky side-notes in your marketing material. This will help people remember your business.
5. Offer the personal touch
Deal with your customers on an individual basis – that's something big businesses can't easily do. Nobody likes dealing with a faceless entity, so give your company a personality that customers want to interact with. Reward your employees for thinking creatively about how best to serve customers. Think about setting up a customer relationship management (CRM) system to help manage your customers.
6. Use technology to stay in control
A few years ago it would have been difficult for one person to manage the accounts, inventory and point of sale for a retail business. Now it's much easier, thanks to cloud-based software that can be accessed from your smartphone, laptop or tablet at any time. Choose quality accounting software, POS tools and inventory management programs to save yourself time and money.
7. Be socially responsible
Be aware of the politics of corporate greed. Big business has a tainted reputation for many people. The perception is often that they ignore concerns about the environment, poverty, tax law and other legislation. Whatever the truth behind those beliefs, they can work in your favor as a small business.
8. Appeal to ethically-minded consumers
Small businesses can appeal to the large and growing market sector that cares about sustainability, fairness and ethical trading, while still making a profit. Think about where you source the products you sell and look into product labeling that shows customers how ethical you are.
9. Get the best employees
The appeal of smaller companies applies to employees too – so make sure to hire people who are passionate about small business. Many of the brightest young minds want to work in a fun, lively and challenging environment. That's more likely to be the case in a small business than a large one.
10. Get the best out of your employees
Employees of big companies are driven by their career and salary – the success of the business itself is less important to them, though it does still matter. Employees at small businesses have much more influence over their company's future – if you let them have it. Think about employee reward schemes and get your people involved. They'll reward you with hard work, creativity and good ideas.
Which approach will work best for you?
If you feel able to take on the larger retailers at their own game, then there's no harm in trying. Ecommerce has certainly made it easier for smaller businesses to behave like larger ones.
But these days honesty might be the better policy. There's no shame in being a small business. In fact, for reasons we've discussed, a lot of customers prefer dealing with smaller businesses than bigger ones.
If your small business strategy is good, your customers will even do your marketing for you. Take fashion, for example. "I bought this dress from a big department store," doesn't sound as impressive as, "I found a lovely little shop tucked away in one of the side streets. They have all sorts of interesting clothes.".
Use your passion to your advantage
We've covered the practical ways in which your business can compete with large retailers, but there's one other vital ingredient.
Above everything else, the big advantage you have as a small business owner is your passion. You didn't start running your retail business on a whim. You started it because you feel passionate about your market sector and because you know and care about the products you sell.
So make use of that passion. Your drive for success, your hunger for innovation, your deep knowledge of the things you sell – those are the traits that will give your business the edge over large retailers.
It doesn't matter whether you decide to compete directly or use your small size to your advantage. Whichever option you choose, if you do it with passion you'll have a much better chance of success.
Start using Xero for free
Access all Xero features for 30 days, then decide which plan best suits your business.