Business finance done differently
A new way for clients to take control of their cash flow.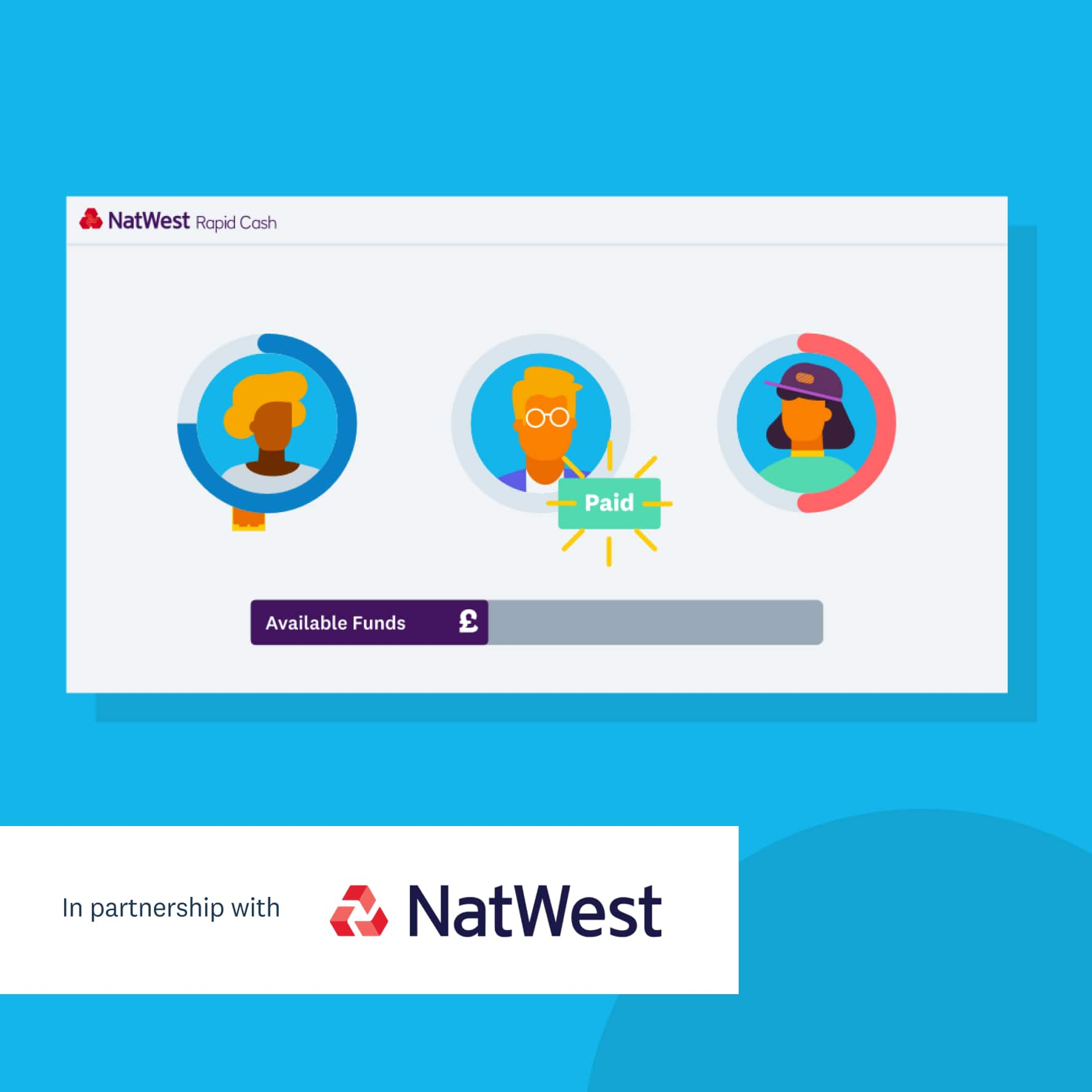 We've partnered with NatWest to offer eligible* small businesses the option to obtain an indicative quote and apply for NatWest Rapid Cash directly from within Xero.
NatWest Rapid Cash helps your clients access the money they're owed whenever they need it, enabling them to tackle cash flow bumps when they arise. Rapid Cash is powered by a revolving line of credit agreed by NatWest.
No data is shared with NatWest without permission.
*To be eligible to apply for Rapid Cash, businesses need to have been trading for a minimum of six months and have an annual turnover of at least £100,000. Businesses need to invoice other businesses and only when work is complete. Businesses need to be Limited Company or Limited Liability Partnership registered in England & Wales. Security and guarantee required. Fees may apply.
NatWest Rapid Cash could be best used for businesses that:
Regularly need working capital

Usually have over 30 day payment terms

May require additional working capital to fill orders

Have regular and reliable customers

Would benefit from a larger overdraft or may require an alternative option
Rapid Cash is powered by a revolving line of credit with a maximum limit agreed by NatWest.
NatWest uses data from unpaid invoices in Xero to determine your available funds
Available funds fluctuate as invoices of nominated customers are issued and paid, or when new debtors are nominated
Your client can draw down on the available funds as much or as little as they'd like, as often as they need
Once set up, repayments are made automatically as nominated customers pay their invoices
Invoice finance done differently
Hassle free application: When you're ready to apply you'll be able to share information from Xero directly with NatWest to support your application
Fair pricing: No drawdown fees or exit charges. You will only pay interest on the amount used and only until it's repaid.
No obligation: No fixed-term contract or obligation to use the service. You can stop any time, as long as the remaining balances are paid.
Your customer, your relationship: Rapid Cash won't contact your customers. The use of Rapid Cash is always discreet.
How are costs calculated?
Only pay interest on the amount used for the time used. There are no drawdown fees or exit charges.
For example, if a business draws down £15,000 for 1 day and their annual interest rate is 6.1% (including base rate) then it will cost them £2.51.
The interest rate is determined by NatWest based on a risk and credit assessment. Businesses will need to complete an application in order to see the interest rate NatWest could offer*.
*Natwest Eligibility criteria applies. Security and guarantee required. Fees may apply.
Rapid Cash is only available on invoices issued after goods or services have been provided to your clients nominated customers. Invoices that request up front or progressive payments aren't eligible.
Update the books: Make sure the books are up to date – reconcile transactions and record income received.
Get an indicative quote: Based on Xero data, Xero calculates an indicative quote for your client to review
Connect Xero with Rapid Cash: NatWest uses the data from your client's business to work out their indicative quote.
Start the application with NatWest: NatWest will ask your client to upload relevant business documents and do a credit assessment by phone.
Get their interest rate and offer: If your client is approved and chooses to set up Rapid Cash, funds could be in their account within as little as 48 hours.
No data is shared with NatWest without permission
Frequently asked questions
Will NatWest Rapid Cash contact your customers?
No. Your customer relationship always stays with you. NatWest won't contact customers and customers won't be aware that the business has obtained finance against their outstanding invoices.
Yes, NatWest requires a business debenture and a personal guarantee for 10% of their maximum borrowing limit.
The amount you could access is calculated based on a percentage of your invoices from nominated customers awaiting payment. In Rapid Cash, this is shown as their available funds and will vary over time.
What information will NatWest access?
Only when you have consented to sharing yourXero data, NatWest will access your business information and related financial information to assess your application and to provide you with a live view of available funds and to manage your drawdowns once Rapid Cash has been set up.
This information includes invoices, credit notes, bank transactions, payments, profit & loss statement and balance sheet. NatWest will treat this information in accordance with their privacy notice.
What happens if the nominated customer doesn't pay the invoice?
Remember, any of your nominated customers who pays an invoice will contribute to paying off your outstanding balance.
So, as long as your nominated customers keep paying their invoices and your outstanding balance doesn't exceed your maximum credit limit your facility will keep revolving.
How do I know if my business is eligible for Rapid Cash?
If you've been selected for the pilot, to be eligible to apply for NatWest Rapid Cash, you will need to meet the following requirements:
Invoice other businesses

Invoice customers only once work is complete

Have been trading for 6 months or more

Annual turnover is £100,000 or more

Your business is incorporated in England & Wales (e.g. a limited company or limited liability partnership)

NatWest requires security and a guarantee

Fees may apply
You might also be interested in
Xero's App Marketplace features app partners who offer a range of financial services including business loans and finance to help you run your business.
Five rules for managing small business cash flow
Get the tools you need to nurture healthy cash flow for your clients and learn about the right apps to use and how to promote yourself as an expert advisor.
Try Xero for free
Access all Xero features for 30 days, then decide which plan best suits your business.