Media release

Published on 24 February 2022
New Xero data shows the impact of Omicron on Australian small businesses after a volatile summer
The Xero Small Business Index declined six points in January as the 'shadow lockdown' hampered summer results
Melbourne — 24 February, 2022 — Xero, the global small business platform, today released its latest data on the health of Australia's small business economy during January from the Xero Small Business Index. Based on aggregated and anonymised transactions from hundreds of thousands of small businesses, the Index is produced in partnership with Accenture and is part of the Xero Small Business Insights program.
The Index declined six points during the first month of 2022 to 86 points, a dip largely attributed to the surge in Omicron cases across the country. The decline is a significant reduction from the high in November (107 points) and comes after two months of strong sales growth, when small businesses made the most of reduced lockdown restrictions and festive season spending.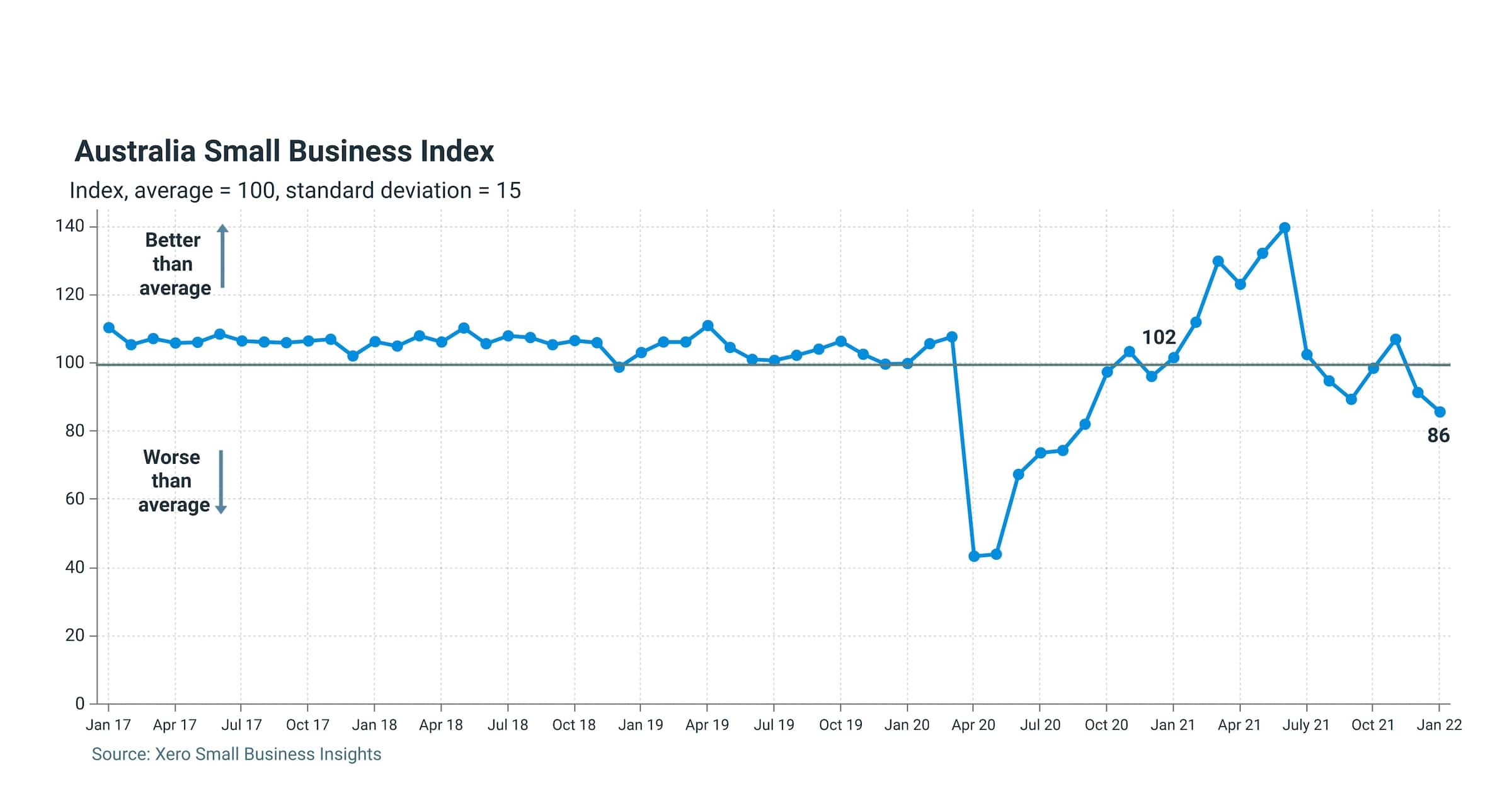 Joseph Lyons, Managing Director Australia and Asia, Xero, said: "Looking at January's decline after the highs of Christmas trading in November and December, there's no doubt this Index reflects the heightened volatility many small business owners have experienced these past few months."
"Xero's data tells us that small businesses can bounce back from tough times, and with COVID-19 restrictions easing, case numbers falling and national and international travel returning, there's cause to be optimistic."
Sales growth slows after December highs
In line with Christmas spending, December saw a growth in sales almost double its average pace at 15.1 percent year-on-year (y/y). Following the festive period sales growth slowed to 5.7 percent y/y in January - an expected dip as the number of Omicron cases grew significantly.
Sales in NSW (+6.4% y/y) and Victoria (+4.3% y/y) were well down on the growth rates recorded in December (14.8% y/y and 15.4% y/y respectively) as small businesses and customers were impacted by rising COVID-19 cases. Sales in Queensland also slowed, from 14.6% y/y in December to 7.4% y/y in January. The strong tourism focus on the state may have helped it to maintain a stronger sales growth rate than NSW and Victoria despite also having rising COVID-19 cases.
Industry data also reflects a significant divergence: industries such as financial services (+16% y/y) admin services (+15.8% y/y) and real estate (+11.7% y/y) recorded the strongest sales growth.
Meanwhile, sales in hospitality fell (-7.5% y/y) and retail (0.7% y/y) and arts and recreation (+1.3% y/y) saw the slowest gains, as potential customers avoided these types of venues due to concerns about rising COVID-19 cases.
January saw a weaker result in job growth, with jobs actually declining 1.5 percent y/y compared to a rise of 1 percent y/y in December. Spikes of COVID-19 cases across the country, isolation requirements and summer holidays resulted in fewer people recording the one hour of work needed to be classed as working in the Xero series. Of the biggest states, NSW was hit the hardest with jobs down 2 percent y/y, followed by Victoria falling 0.8 percent y/y and Queensland down 0.7 percent y/y.
Education jobs saw a sharp decline of 13.9 percent y/y, the largest drop in jobs for the sector since May 2020 when the first wave of the pandemic hit.
Louise Southall, Xero Economist, said: "The fall in jobs for the education sector could reflect the still comparatively low numbers of international students in Australia as the border reopening schedule was delayed by Omicron. However, as Australia's borders reopen, we're likely to see more of these students return to Australia which should support future jobs growth later this year."
The arts and recreation (-4.9% y/y) and hospitality (-4.7% y/y) sectors also recorded a fall in jobs. Conversely, sectors that enable working from home saw an increase, with administration (+4.8% y/y) and professional services (+2.8% y/y) able to better manage the disrupted period.
Wages rose 3.4 percent y/y, up from 2.5 percent y/y in December with hospitality (+4.9% y/y) and retail (+4% y/y) sectors seeing significant growth.
"The rise in hospitality wages is a direct reflection of the shortage of overseas staff that this sector normally heavily relies on. With borders gradually opening, we're expecting to see these figures stabilise over the year as small businesses have access to more workers," said Southall.
To download the full January results, including industry and regional breakdowns, go to the website here.
Media Contacts Xero Australia | Jessica Brophy | +61 431 268 549 | jess.brophy@xero.com
Xero is a cloud-based accounting software platform for small businesses with over 3 million subscribers globally. Through Xero, small business owners and their advisors have access to real-time financial data any time, anywhere and on any device. Xero offers an ecosystem of over 1,000 third-party apps and 300 plus connections to banks and other financial partners. For three consecutive years (2020-2022), Xero has been included in the Bloomberg Gender-Equality Index. In 2021, Xero was included in the Dow Jones Sustainability Index (DJSI), powered by the S&P Global Corporate Sustainability Assessment and in 2020, Xero was recognised by IDC MarketScape as a leader in its worldwide SaaS and cloud-enabled small business finance and accounting applications vendor assessment.
Accenture is a leading global professional services company, providing a broad range of services and solutions in strategy, consulting, digital, technology and operations. Combining unmatched experience and specialised skills across more than 40 industries and all business functions — underpinned by the world's largest delivery network — Accenture works at the intersection of business and technology to help clients improve their performance and create sustainable value for their stakeholders.
The Xero Small Business Index is unweighted and comprised of the following four metrics:
Sales - captures a core measure of small business health and a measure of the overall economic activity in the small business economy.

Time to be paid - captures how long businesses are waiting to be paid, providing insight on the financial health of their customers and small business cash flow.

Jobs - captures if small businesses are growing and how small business is impacting on the broader economy and community.

Wages - captures how benefits from small business performance are translating to employees-benefits flowing to the broader small business economy.
These four metrics were selected because they encompass the operating state of the small business (sales and time to be paid) and the contribution small businesses make to the community (jobs and wages).
Related

media and enquiries
For all media enquiries, please contact the Xero media team.
Media release

Xero Small Business Index rose six points in November, moving into above-average territory for the first time since July

Media release

Xero Small Business Insights report reveals small business digitalisation was supercharged by COVID-19

Media release

Xero Small Business Index rose five points in October as the post-lockdown recovery begins in NSW, the ACT and Victoria
Start using Xero for free
Access all Xero features for 30 days, then decide which plan best suits your business.