Guide
How to start an ecommerce business
Our extensive guide covers everything you need to know about setting up an ecommerce business.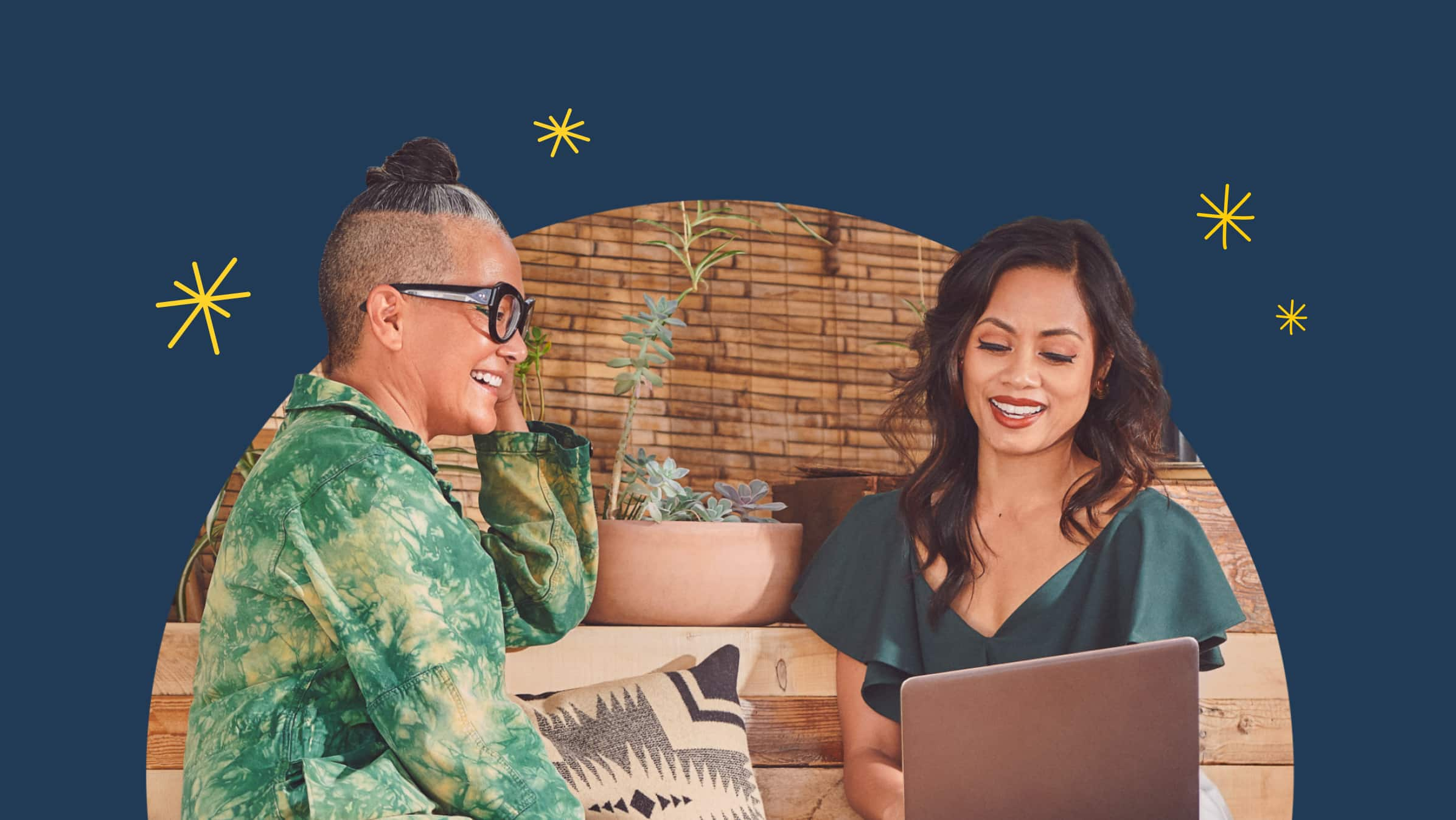 If you wanted to start a retail business 20 years ago, you'd probably look for the perfect bricks and mortar to set up shop.
Today, you can start selling to customers from the comfort of your own home. It's no surprise that UK ecommerce has grown exponentially over the last few years, urged on by widespread internet access and mobile devices.
But before you start your own ecommerce business, it's important to understand all the steps involved. This guide will walk you through each stage of the process, and provide a handy checklist for starting an ecommerce business from scratch. You'll learn how to set up ecommerce businesses that stand out from the crowd.
How much do you need to start an ecommerce business?
The cost for starting an online business and setting up an ecommerce website depends on many factors – your business model, product range and type, target market, marketing strategy, and operational expenses. There are some costs that almost all ecommerce businesses will need to cover, such as:
Stock and/or manufacturing

Marketing and advertising

Order fulfilment, shipping, and logistics

Staff (but only once you're growing)
Start by writing down all of the essential costs for starting your business. Total them up, to figure out how much you'll need to kick things off.
Separate the one-off costs from the ongoing costs (e.g. one-off costs like designing a logo, ongoing costs like an ecommerce platform subscription), and use the ongoing costs to develop a monthly budget. If you know how much you need to cover your expenses every month, you can work out how much you need to earn to stay on track.
How long does it take to start an ecommerce business?
The short answer is: it depends.
Once you've settled on an online business idea, you can start building your ecommerce website immediately.
Modern ecommerce platforms are incredibly intuitive – and many of them don't require coding skills to build a store. You can get a website live in less than a month and start drawing traffic.
In terms of building sustainable income, your ecommerce business can take a little longer to generate revenue. This is because customers need to know who you are and what you're selling before parting with their hard-earned cash. Marketing and advertising is an essential part of running an ecommerce business, and it usually takes at least a few months before you see a return on investment.
Many ecommerce businesses build up over time. Be prepared to spend a year honing your marketing strategy, refining your product line, and optimising your site before you enjoy the big wins. To make the financial side a little easier, explore software that pulls ecommerce platforms into your chosen accounting software. For example, if you're using Xero, A2X can be integrated seamlessly to automatically code transactions and speed up reconciliation.
Why start an ecommerce business?
More of us choose online purchasing over physical retail. According to an ecommerce trends report from Shopify, the market is projected to grow by at least 12% annually by 2025.
In many cases, you can start ecommerce businesses faster than physical stores, and with less investment. You don't need all of the costs that come with owning or renting a physical space, though bear in mind that you may still need a storage location for stock. You don't need to hire retail staff either (although you could need a helping hand for other digital aspects of the business).
If you have internet access, you already have access to many of the tools and resources that can help you make a success of online retailing.
Starting an ecommerce business: A step-by-step checklist
What do you need to start an ecommerce business? This checklist walks you through a simple approach to starting an ecommerce business, and setting up an ecommerce website.
Step 1: Market research and idea generation
Perhaps you're starting your ecommerce journey with a rough idea of what you want to sell. Market research can help you establish the needs of your target market, identify competitors, and understand how you can stand out from the crowd.
Setting up focus groups with your target market, and asking them questions about their needs and wants

Running an online search of your competitors, analysing their marketing campaigns, and digging into the research and resources they share online

Reading through market reports to spot trends, identify patterns, and explore gaps in the market
If you don't have the budget to conduct your own studies, look out for existing market research, trends data, and reports. Check out Shopify's ecommerce trends reports or head to Google Trends to see what internet users are searching for right now.
Don't be disheartened if your original idea doesn't work out. The best way to approach ecommerce is to come up with lots of different ideas, and test them out before committing. Bounce ideas around with trusted friends, your local coffee shop barista, or your work colleagues. Watch how they respond, and use their reactions to determine the strength of your idea.
Step 2: Write an ecommerce business plan
An ecommerce business plan is your roadmap. Without one, it's hard to know where to focus your attention. An ecommerce business plan helps you to align your actions with your goals.
Whether you send it to potential investors, or use it to navigate entrepreneurship alone, your ecommerce business plan is an essential resource. Here are some things you could include in your business plan:
Executive summary: This will be the first section of your business plan, and the last thing you write. An executive summary gives an overview of your business idea, the market, and what you're trying to achieve.

Opportunity: Here, you explain the challenge or situation, and how your business provides an answer or solution.

Business name, vision, mission, and values: These are the core details of your brand. They explain why you're developing an ecommerce business and how you'll go about it.

Overall business model: This explains how your business will make a profit. It's an overview of how and what you'll sell.

Products: Here, you'll introduce your unique products or line of products, how they're made, and what makes them stand out in the market.

Target market: This is where you define who your customers are. Explore their demographic, highlight their likes and dislikes, and the brands they shop with.

Market analysis: Here, you need to provide an overview of the current market. What's it worth, who the key players are, and the latest trends.

Competitor analysis: This is similar to a market analysis. You need to provide an overview of your competitor research – exploring their business models, revenue, what they do well and what they don't do well.

Sales and marketing channels: Explain how you'll get the word out about your brand. Will you opt for social media marketing, email marketing, or an SEO content strategy? Perhaps something else entirely?

Operations: This section explores how your business will operate day-to-day. Detail your equipment, assets, processes, premises, and people.

Financial plan: Your financial plan should explore how much money you expect your business to make, including projected cash flow, profit and loss, and revenue.

Milestones and timeline: This is the exciting part. Detail specific goals and targets you expect to reach, and when you expect to reach them. As you build your ecommerce business, you can map your progress against these original milestones.
Don't forget to research ecommerce business plans for your specific sector or market, to see if there's anything you're missing.
Choose your business name, and develop a logo and brand guidelines to establish your brand's visual identity. Your branding should give personality to your business, and guide how customers feel when they interact with it.
Step 4: Set up your website
Choose an ecommerce platform that fits your level of ability and integrates with your favourite tools and systems. Xero integrates with Shopify so that your ecommerce transactions and inventory levels are automatically loaded. This makes reconciling transactions and keeping an eye on your business cash flow much easier.
Next, secure your domain name. Select a domain name that's the same as, or as close as possible to, your brand name. Focus on making your ecommerce website as user-friendly as possible. Break up blocks of text so they're easier to digest, use high-quality images of your products, and pick fonts that are easy to read.
If you're not confident in bringing together an ecommerce website on your own, there are plenty of consultants online who specialise in optimising ecommerce stores.
Step 5: Set up payment processing and security
Your customers will have their own preferred methods of payment, so it's best to provide a few options at the checkout. Payment gateways allow your customers to pay using their cards without typing in their card details. Examples include PayPal, Stripe, and Worldpay.
Payment gateways use encryption and other security measures to protect customer payments. Whichever payment gateway you choose, making sure customer payments are secure is vital.
Beyond choosing a secure payment gateway, you can enhance your ecommerce site security by investing in an SSL (secure sockets layer) certificate. SSL certification makes encryption possible, and can help to boost your search engine ranking.
These certifications give you the little padlock in the search bar that reassures customers they're accessing a safe site. Make sure you research the different SSL certificates, so you can select the right one for your business.
Step 6: Establish order fulfilment and shipping strategies
Before launching your ecommerce business, you need to decide whether you'll handle order fulfilment and shipping internally – or outsource it.
There are positives and negatives for both. Packing, shipping, and delivering your orders to customers will require extra staff and resources. But you'll be able to deliver bespoke customer service, and manage the quality of your fulfilment and shopping process.
Outsourcing your order fulfilment and shipping means you won't need to hire a fleet of vehicles, or the staff to deliver goods. But you'll also lose oversight of the delivery process, and have less control over the quality of shipping and handling.
Where international shipping is required, you might need to find a separate company who can handle your deliveries overseas. Research outsourcing options to see if they fit your fulfilment requirements before making a decision.
Step 7: Market your business
Customers can't buy your products if they don't know about them – that's where marketing comes in. Building an effective marketing strategy for ecommerce is all about focusing on your target customer.
The more you understand their behaviours, needs, and wants, the more targeted your ecommerce marketing strategy can be.
Today, there are all kinds of digital platforms you can use to attract customers.
Writing SEO-friendly blogs can attract customers searching for specific answers or information. Posting on Instagram and TikTok can show customers a behind-the-scenes view of your brand, and help them build a relationship with you.
Partnering with social media influencers can help you build credibility, as their followers trust in the opinions of their favourite online creator. Engaging with your customers online can help to build brand awareness, and make them think of you next time they're in the market for products like yours.
A word of advice: you don't need to have a presence on every platform. Focus on one or two that are popular with your target audience. And make sure you've mastered those platforms before adding more to your strategy. Check out our free advertising ideas for small businesses for more inspiration.
Your marketing strategy should include the following points:
Channels you'll use – such as SEO content, social media marketing, and influencer partnerships

Content pillars or themes

Publishing frequency and engagement strategy
Learn more about running an ecommerce business
Now you know the steps to setting up an ecommerce website, it's time for the real work to begin.
Start using Xero for free
Access all Xero features for 30 days, then decide which plan best suits your business.