Free business plan template
Download a business plan template and start bringing your ideas to life. Choose a one-pager, or multi-pager. Or try Xero accounting software for free.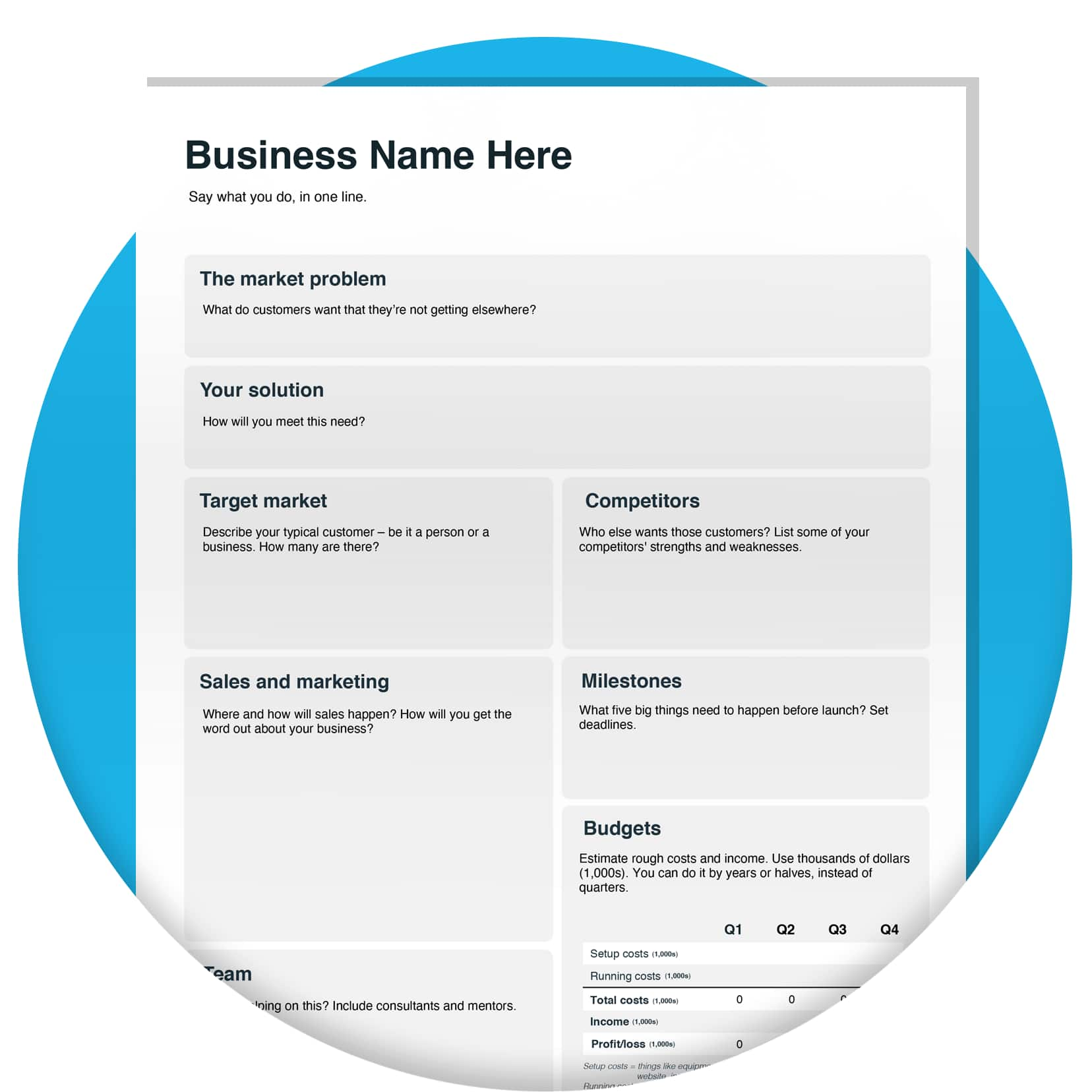 Download the

business plan

template
Fill in the form to get a free business plan template as an editable PDF. We'll send a one-pager and a multi-pager to choose from.
Getting started with the business plan template
We'll send you two types of business plan template – a one-pager and a multi-pager. Choose the one that's right for you. They come with instructions to help fill them out.

Doing a business plan will improve your idea. It helps you think about your business from different points of view. The process will flag up unseen risks, but also new opportunities. Aside from helping refine your idea, a business plan will move it forward. It'll give you a concrete set of steps to go from 'I should' to 'I did'.
One-page business plan template
Helps you pin down the main idea

Easy to update as things evolve
Multi-page business plan template
Ideal for nailing down the details

Required by most investors and lenders

Good if you face big startup costs
Tips to help with your business plan
Don't obsess over every detail to start with. That will make the plan long and hard to change. Keep it short and concise initially.
Financing your business
Need cash to get going? Check out our finance guide.
Starting a business
Check out our guide for information about getting started.
Find a bookkeeper or accountant
Accoutnants and bookkeepers can help build financial resilience into your business budgets.
Plan on making business fun
Are you looking forward to the bookkeeping and accounting that comes with a new business? Na, we didn't think so. Xero can automate a lot of that stuff away for you.
Check out Xero
Disclaimer
Xero does not provide accounting, tax, business or legal advice. This template has been provided for information purposes only. You should consult your own professional advisors for advice directly relating to your business.
Start using Xero for free
Access all Xero features for 30 days, then decide which plan best suits your business.