Xero Tax for accounts and tax compliance
Xero Tax lets you manage accounts and tax return preparation, filing and compliance tasks for all your business clients in the cloud.
Manage accounts and tax
Use Xero Tax for your Xero business clients.
Prepare tax returns and accounts
Use data from Xero accounts without re-entering it.
Work with Companies House
Prefill annual accounts with data and file them.
File returns online
Send annual accounts and tax returns from Xero Tax.
Manage accounts and tax
Use Xero Tax together with your client's data in Xero for a seamless end-to-end process.
Perform routine bookkeeping

Produce accounts

Prepare and file tax returns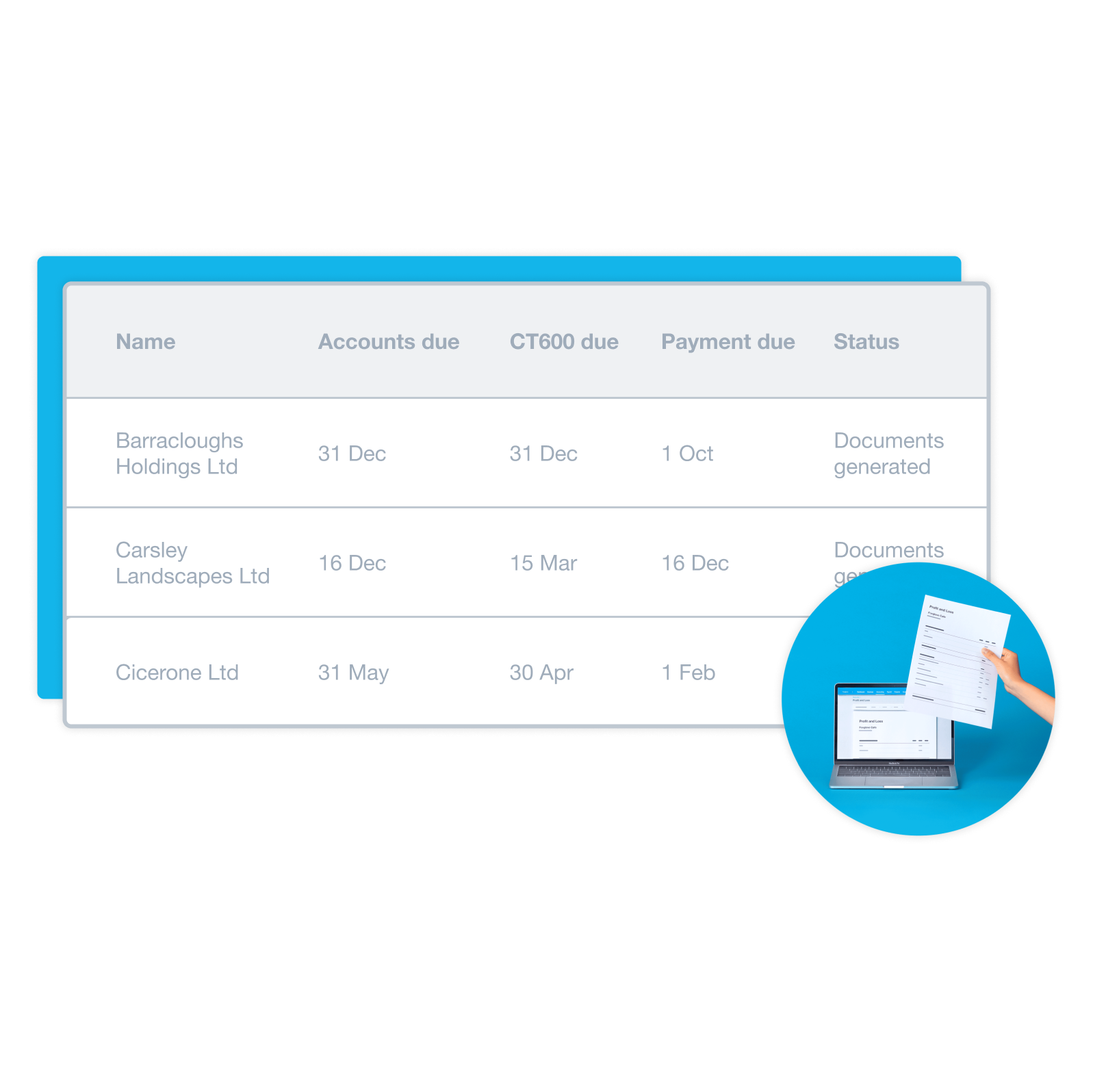 Prepare tax returns and accounts
Share client records between Xero and Xero Tax.
Client details and accounts data flow from Xero into Xero Tax

Import trial balance amounts from Xero accounts into tax returns

Generate email requests for clients to sign electronically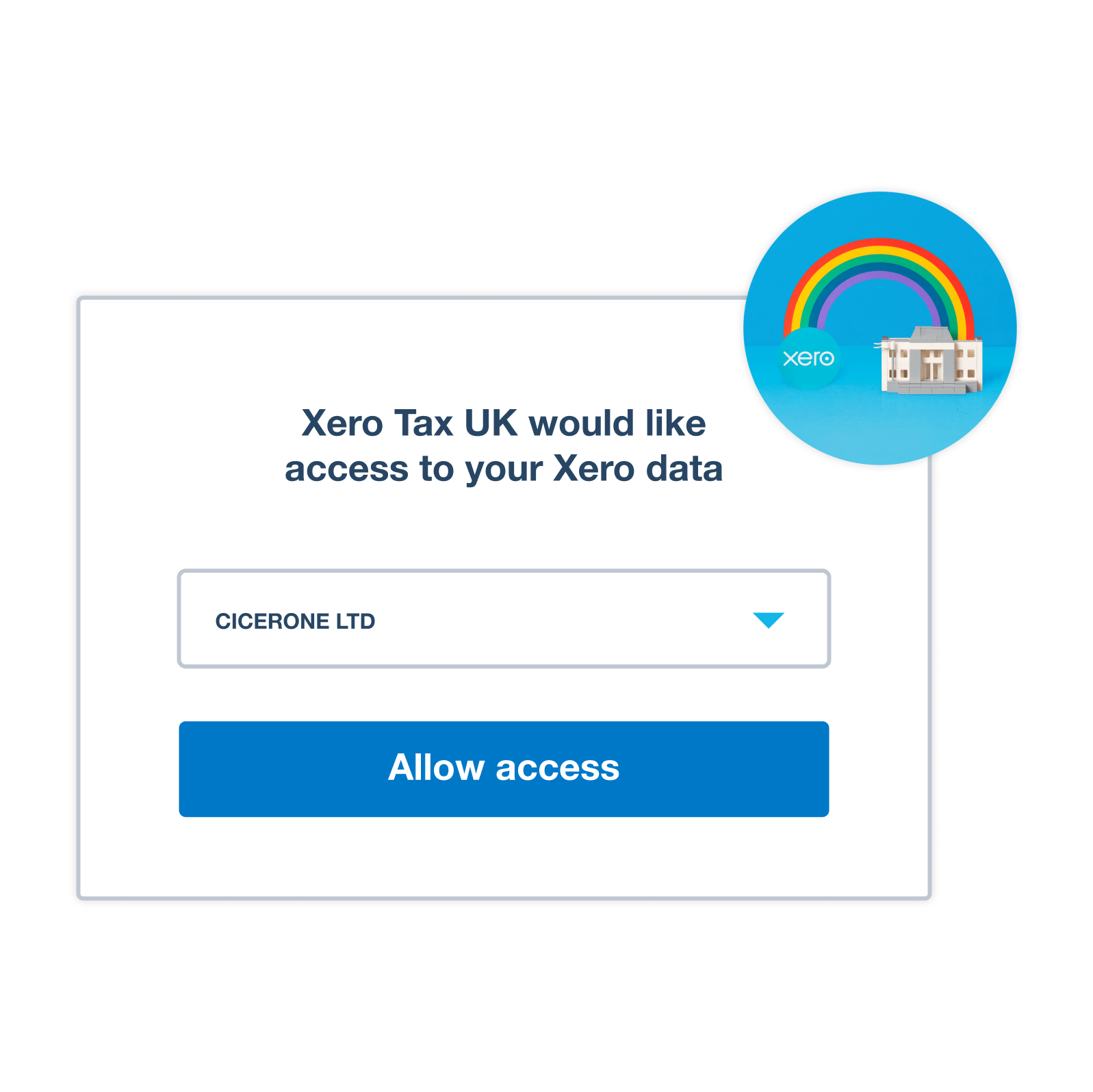 Work with Companies House
Collect data from Companies House to help with preparing annual accounts and file accounts to Companies House.
Populate company accounts and tax returns

Review and update the information that's retrieved

File annual accounts to Companies House from Xero
File returns online
File annual accounts and tax returns for small business clients directly from Xero Tax to HMRC.
Submit annual accounts and tax returns for micro-entities

File abridged accounts and tax returns for small companies

Future modules include personal, partnership, trust and estate tax
More about Xero Tax
Personal tax will be available to all on the Xero partner programme from the end of August 2021. We are currently in a closed testing phase with some of our partners, to ensure we're delivering you the best, most easy-to-use product. Get started on Xero Tax today, to be ready for this highly anticipated new experience.

No special connection is needed. Just enable Xero Tax in Xero HQ and give staff access. Xero Tax uses your existing Xero log-in details.

See how to set up Xero Tax

Xero Tax checks transactions in Xero for common problems. Just click through from Xero Tax to see the transactions that make up an amount in the accounts or tax return. If you make corrections in Xero, regenerate the annual accounts and tax return.

See how to edit generated accounts and reports

Clients electronically review and sign documents you send them. They simply sign online wherever they are, without the hassle of printing, signing by hand, and posting or emailing back to you.

See how to request a signature from a client

Xero Tax automatically tags any chart of accounts with the appropriate iXBRL (Inline eXtensible Business Reporting Language) tags. It uses the iXBRL tagging to format accounts for online company tax returns.
Start using Xero Tax for free
Xero Tax is included in Xero HQ. It's available to accountants and bookkeepers in practice – at no extra cost – as part of the Xero partner programme.