Xerocon London FAQs
Find out how to get tickets, how to get there, who to contact, and information about cancellation and refund policies.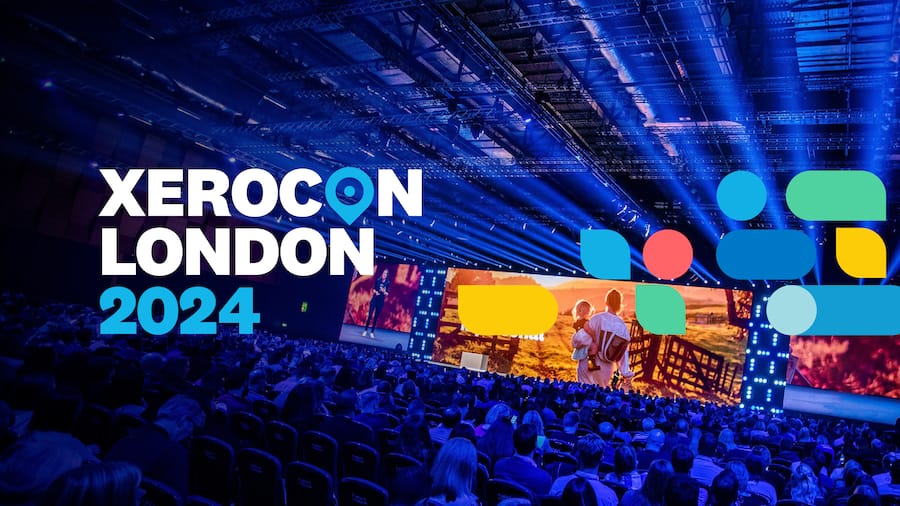 What's included in the Xerocon ticket price?
A: A Xerocon ticket includes the two-day conference on 12-13 June 2024 and entrance to the Xerocon party to be held on the evening of 12 June 2024
Can I bring a guest to the party?
A: Unfortunately not. Only people who purchase tickets for the full Xerocon experience can attend the party.
Does my ticket include an event T-shirt?
A: No, the ticket price does not include an event T-shirt. You can buy yours through the registration website £10 (ex VAT) each. All proceeds from the sale of the event T-shirts will be donated to Football Beyond Borders.
Can we split tickets between more than one person over the two days?
A: We do not offer split tickets because Xerocon is designed as a two-day experience.
Can we pay in instalments?
A: Unfortunately not. All tickets must be paid by credit card in full at time of purchase.
A: Invoice payment is possible if you are purchasing 10 or more tickets and cannot pay by credit card. Please email xerocon.london@xero.com
If I can't attend in person, can I still tune into Xerocon London online?
A: Xerocon is an event you really have to be at to experience. We aren't going to have a virtual option for Xerocon London.
Will Xerocon London be subject to any COVID-19 restrictions?
A: Our top priority is the health and wellbeing of staff and attendees so that you can focus on all the sights, sounds and fun of Xerocon. We will follow COVID-19 guidelines in the UK at the time of the event
Cancellations and transfers
What is the cancellation and refund policy?
A: Please advise us by email on xerocon.london@xero.com if you cannot attend Xerocon. A full refund (less a £35 administration fee) will be made via the original payment method and to the party who originally paid the registration fee, if we're notified by email at least 21 business days prior to the event.
Can I transfer my registration to another person?
A: Unfortunately not. Please email xerocon.london@xero.com and we will cancel your registration in line with our cancelation policy.
How can I get to the ExCeL?
Do you arrange travel and accomodation?
A: We don't arrange your travel or accommodation. A list of hotels close to ExCeL can be found here.
I have a question about Xerocon. Who can I contact?
I'm having trouble registering. How can I get help?
How can I become an exhibitor?
Become a Xero partner
Join the Xero community of accountants and bookkeepers. Collaborate with your peers, support your clients and boost your practice.