Guide
Embracing technology, talent, and change at Xero Talks
Accountants and bookkeepers joined our first Xero Talks event for a series of sessions exploring the industry's future.
Accountants and bookkeepers from across the country joined us for our first ever Xero Talks event in London on 15th March, where keynote speakers and industry leaders explored the future of work in the accountancy sector.
We were joined by Dr Anne-Marie Imafidon MBE, CEO of Stemettes, author of She's in CTRL and Trustee at the Institute for the Future of Work. As well as sharing more about her impressive education and career background, Anne-Marie shared insights touching on the importance of diversity in technology and the impact this will have on recruitment in the future.
Three things in life are certain: Death, taxes, and AI
Dr Anne-Marie Imafidon was a child prodigy. Her fascination with technology began at an early age when she'd take the VCR apart just to see how it worked. She became the youngest girl ever to pass A-level computing at age 11. And at just 20 years old, Anne-Marie received her Master's degree in Mathematics and Computer Science at Oxford University.
In her talk, Anne-Marie encouraged our audience to think creatively and holistically about technology use in the industry.
Attendees heard about hiring algorithms, targeted job ads, managing talent, and the risk of building bias into your operations through machine learning.
She asked the audience 'How do we ensure decisions we make create a future we want?' Here are her three tips:
1. Have a growth mindset: Be open to learning, and build tribes with others to learn together.
2. Recognise and use your influence: What legacy can you leave, and what norms can you challenge through the accounting industry?
3. Build, measure, iterate: Act on audits and assessments. It's a journey and there's no right answer.
We must seek out and learn to get comfortable with differences, according to Anne-Marie. Accountants and bookkeepers should foster time to experiment with new technology. Consider how you can build this exploration into your day-to-day operations, town halls, or performance reviews.

And when it comes to overcoming bias – inside or outside of technology – making sure diverse perspectives are at the table couldn't be more important.
Tackling the talent challenge
Xero's Managing Director for UK & EMEA, Alex Von Schirmeister, was then joined by Jo Copestake, Sales Director at Xero, and Nikki Adams, Joint Managing Director of Ad Valorem to discuss the talent challenge.
Both Nikki and Jo weighed in on remote work. Nikki explained how a management structure is essential for making a hybrid model work and Jo highlighted that hybrid work is less about working from home or the office, but more about increased flexibility.
Thinking creatively about technology and talent was a key theme, with Jo pointing out that hiring full-time isn't the only way to get top talent on your team. Embracing new technology can also aid talent attraction, especially in an industry such as accounting.
The roles of accountants and bookkeepers are changing in light of client needs, automation, and working practices. Alex suggested that the industry needs to share an image of accountants as personal advisors with the next generation of talent. This was echoed by Nikki, who spoke about the need for earlier intervention with students, and social mobility limitations.
To close off the session, the panellists reflected on the value of good external and internal relationships. Nikki shared that Ad Valorem began to thrive when they partnered up with others, and Jo emphasised the need to fully explore the talent you have in-house.
Showcasing the leaders of the future
Ash Gibson, Community Marketing Manager at Xero, led a conversation about salary, culture, side hustles, and tech integration in the future leaders' panel.
Salary isn't the only employment driver, according to Alicia Williams, Client Finance Director and Digital Improvement Lead at Shorts. Learning and development also play a role, as Alicia reflected on the data analytics course she took last year to complement her role.
Xero's Content Manager and newly published author, Jyoti Patel, echoed Alicia's comments on salary and emphasised the importance of culture. According to Jyoti, making the workplace 'more than a job' is essential for retention.
As an author, Jyoti didn't want to put pressure on creativity being her full-time source of income. Instead, she believes we need to consider how the skills employees bring from their side hustles can be leveraged in the workplace.
Max Whiteley, Head of Liverpool at Accounts + Legal also made the case for side hustles. Applying for a previous job, he was told he would have to give up his side hustle – so he quickly turned down the role. Max believes side hustle can provide invaluable insight into how businesses function, and lessons which can be used to advise accounting clients.
As far as technology goes, Max thinks the industry should explore use cases as much as possible. The team at Accounts + Legal are already experimenting with ChatGPT and encourage the wider team to suggest new technologies.
George Bruce, Head of Marketing at Ad Valorem, believes accounting practices need to view themselves through a broader business lens. So many traditional practices function without dedicated sales and marketing departments, but this is integral to growth.
To finish up, Ash asked all four panellists for one piece of advice:
Alicia suggested that practices explore the strengths of their teams, and treat individual talents as opportunities.

Max made the point that every team member is unique, and practices need to look for what their people are good at – and play to those strengths.

Jyoti recommended building diversity of thought in your teams to break down echo chambers and encourage new ways of working.

George advised going to industry events to pick up new skills and learn from peers.
Great employer brands help employers win the battle for talent
As accountants and bookkeepers continue to overcome a combination of industry challenges, Tracy Smithers, Head of Brand, Customer, & Partner Marketing at Xero shed some light on the role of employer branding.
To kick things off, Tracy asked attendees to consider how prospective employees might find their practices. Most accountants and bookkeepers will have client-facing websites, but incorporating information for prospective hires is important too.
Tracy shared examples of great practice websites, podcasts, and social media profiles to demonstrate how professionals can show up online. Exploring some of the reasons people leave, and plenty of reasons why people join a company, Tracy suggested how accountants and bookkeepers can appeal to potential recruits. From flexible working and purposeful work to 2-way-interviews and accessible company values, all of which help to build your employer brand.
Firms fit for the future of the industry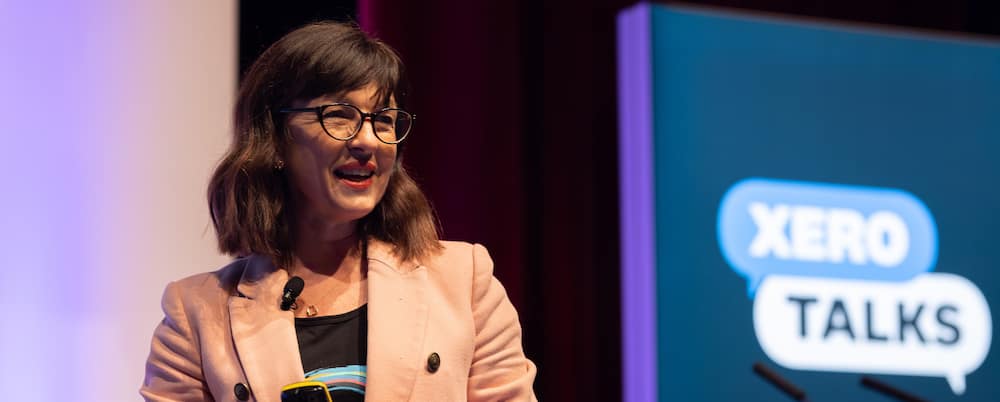 In the final session, John Coldicutt, Marketing Director at Xero, brought together a selection of unique firms doing employer brand differently.
Claire Markham, Managing Director at The Focus Collection, identified a trend in her hiring pattern – she brought in multiple gamers, by chance. Claire discovered that gamers have a unique way of looking at things and they're great with technology, which is handy in a fully-digital firm.
Leaders are sourced from the internal pool at The Focus Collection. Claire believes this helps maintain the existing culture – one that's relaxed, where decisions are made collectively.
Georgi Rollings, Founder and Co-CEO at Starfish Accounting, also sees patterns in her hiring approach. The firm is 100% women, and all staff members are within a similar age range. They understand the challenges of having children and balancing family and work life. As a result, Georgi has created a culture and working practices that fully support the needs of her team.
Stuart Hurst, Managing Director at Accounts + Legal gets the team involved in management decisions early on, so they have a stake in the firm's success. Everyone at Accounts + Legal can see profit and loss for the firm, as well as the margins. So transparency is spread throughout the business. The same is true for their recruitment process, where applicants get to see the interview questions and company values ahead of time to encourage success.
Watch all of the sessions from our first Xero Talks event, available on Xero Central exclusively for our UK accounting and bookkeeping partners.
Become a Xero partner
Join the Xero community of accountants and bookkeepers. Collaborate with your peers, support your clients and boost your practice.