Guide
How grassroots football clubs can help their local communities
We explore how grassroots football clubs can unite their communities and spark opportunities for local businesses.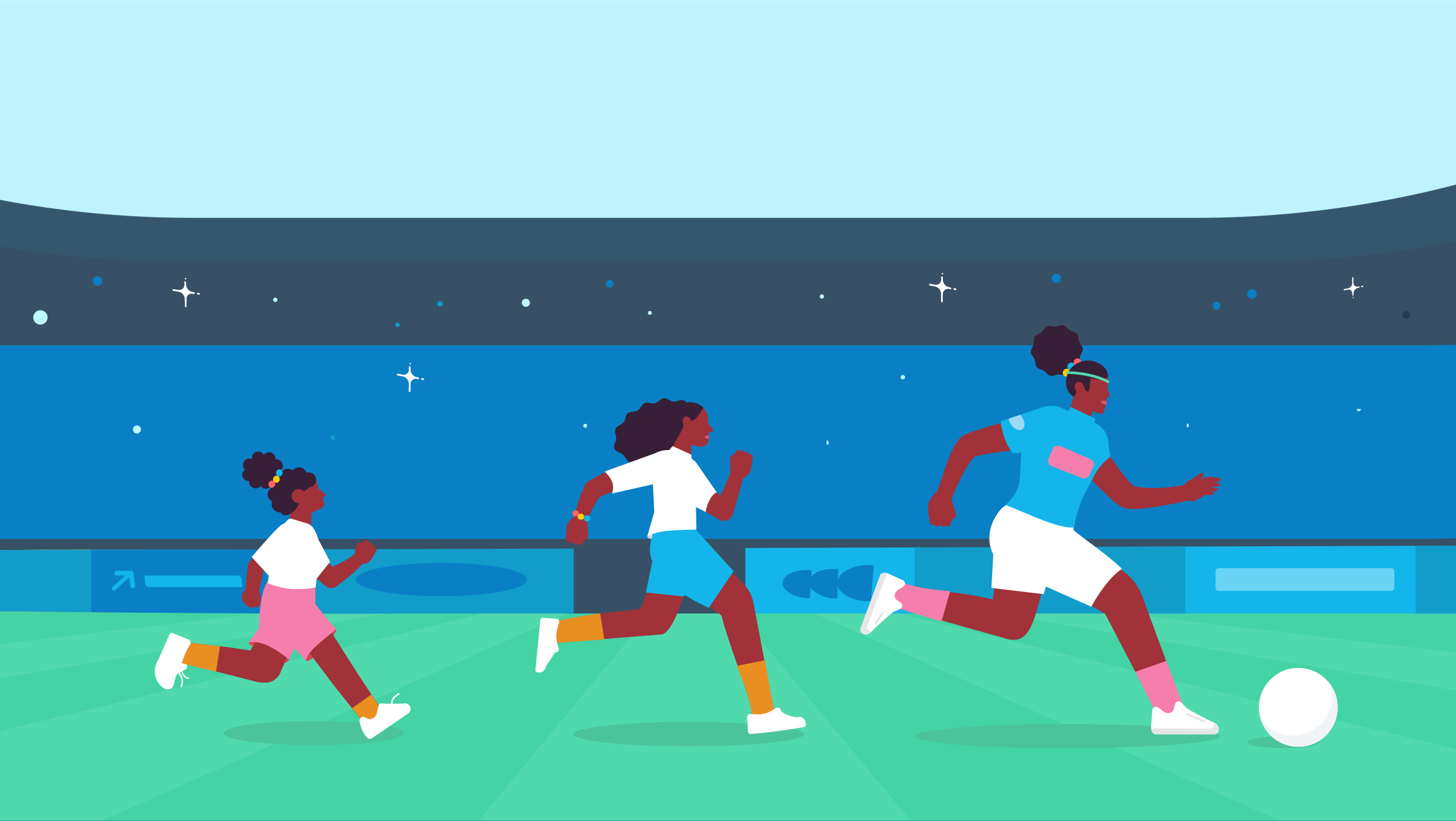 If you've ever tuned into a game or visited your local grounds, you'll know anything can happen in 90 minutes.
But sometimes, the most powerful things happen off pitch – in the towns and villages that community clubs call home. Clubs can have a transformative effect on local people and businesses – inspiring movements and fostering fan friendships.
To learn more about how football clubs can influence their local communities, we caught up with Maggie Murphy, CEO of Lewes FC.
Remove barriers and foster connection
Maggie has seen firsthand how football clubs can use their widespread appeal to foster intergenerational unity – something that's hard to recreate elsewhere in society.
"Traditionally, it was a boy going to a matchday with his dad or his grandad. Now, we're seeing a shift towards children going with parents of all genders, their friends, and their grandparents," Maggie points out. "There's something really powerful about the diversification of crowds. The community is embracing all people rather than one demographic."
In recent times, football has attracted attention for division not unity. Inequality still permeates clubs at all levels, despite increasing efforts to stamp out discrimination, prejudice, and bias. But community clubs are one of the few places where people from all demographics come together for the same reason: to support their team. Maggie emphasises the capacity for intergenerational unity in grassroots teams, where fans have multiple touchpoints with the club.
"Lewes FC juniors wear the red and black stripes. They walk out with the players, who are also wearing red and black stripes. And then they look into the stands and see the fans who are their parents, or teachers, or local business owners wearing red and black stripes," Maggie reflects. "There's something very uniting about intergenerational connection, and knowing that you're part of something bigger than what you do alone."
Coming together can look different from person to person. Some fans might jump at the chance to socialise with their seat mates. Others are happy to quietly absorb the energy around them. Maggie identifies a pressure-free social environment at Lewes FC, that means fans can find connection no matter the size of their social battery.
"It's a fluid environment, so people can lean in and out very easily, no matter whether they've come to a match with friends or alone. That lack of pressure is important for people who might see social environments as something to dread."
When community clubs become a welcoming space for everyone, they can also be used to tackle social issues and mobilise locals around important causes.
"There have been instances where our fans or players have called out behaviour of opposition fans, or even the opposition bench," Maggie recalls. "One of our players called on the referee to stop a game because there was homophobic chanting from the opposition stand. Those are the kinds of conversations that are happening outside of the classroom and formal spaces, and in a place that might have more impact on the way people think."
These conversations are happening off pitch, too. Every year, Maggie and the team at Lewes FC conduct a fan survey to learn more about their feelings and experiences at the club. The data from 2022 revealed how perspectives are changing.
"We asked fans about their thoughts on certain issues," Maggie says. "And 73% of the men's team supporters say they think about gender equality more now than they did five years ago."
The 2022 survey data also shows that 63% of Lewes fans think about the impact of football on society, because of the club. This increased awareness shows that football clubs have an astounding influence over their fans – not just on match day, but in wider society too.
Supporting local businesses
Football clubs are a catalyst for new businesses. They spark opportunities to engage with customers, provide a platform to show off their brand, and connect businesses with a whole new network.
"There have been times when I've left at the end of the day, hoping to grab some food – only to find everywhere that's open is filled with fans from both sides," Maggie says. "We have a support and save programme, where fans get a 10% discount at local independent businesses."
Extending the positive matchday energy beyond the pitch to local businesses can strengthen ties and deepen community relationships. Maggie points out that football clubs aren't an addition to the community – they are the community. Behaving in the best interests of the wider town is a natural extension of running a grassroots club.
"We contribute to the local community, but we also benefit from the local community," Maggie says. "A strong community means a strong football club, so we make sure our suppliers are all local businesses as much as possible. For food, we sell locally produced pies and also rent out a catering hatch to a local loaded fries company. For drinks, we have a partnership with a local brewery. Even the electricians who service our floodlights are locals."
Lewes FC's brewery of choice is Xero customer, Only With Love. Serving a vibrant selection of alcoholic and non-alcoholic drinks, Only With Love is an integral part of every matchday experience at Lewes FC.
"Hearing fans read the names of our products off the board is brilliant," bar manager Bambi Burks says. "The energy and the excitement on people's faces, when they're genuinely refreshed by something completely different, is an amazing feeling. There's scope for our name to be known not just locally, but nationally."
Bambi's comments are echoed by Maggie, who highlights how football clubs can add an extra layer of trust and credibility for local brands building a name for themselves.
"A lot of our businesses buy into sports advertising because they know it's at the heart of the community. There's a validity around that, and a legitimacy," Maggie explains. "It's a trusted space, and they want their brand to be in a trusted space too."
Swathes of home and away fans join Bambi and the bar team for refreshments every week. But the impact extends way beyond sales – Only With Love can gather insights and learn about customer demographics.
"Customer behaviour after the men's and the women's game is completely different. With the men's games, there's a super busy half an hour before kickoff. Half-time is absolutely manic," Bambi reflects. "During the women's game, fans come to the bar throughout the entire day. As a result, we've taken into account the differing customer needs on match days and we tailor our offering accordingly."
Lewes FC has helped bring social issues to the forefront of fans' minds, but the club is also a vessel for businesses that want to demonstrate similar values and collaborate on shared objectives.
"Being associated with Lewes FC raises our profile, but also shows who we are as people. The relationship is one of common values, equality, and social inclusion," Bambi explains.
"We can use the association as a benchmark for what we can offer. When people ask what we do and how we do things, using our work with Lewes FC as an example opens doors to opportunity."
The benefits of club and community collaboration can easily slip under the radar. According to Maggie, it's only when things grind to a halt that the impact becomes visible.
"We hadn't really thought about how important the club was for the local economy until the pandemic hit," Maggie recalls. "Although the club suffered because we didn't have fans coming through the gates, it was also our partners who suddenly didn't have thousands of people to feed each week. It made us realise just how connected the football ecosystem and economic ecosystem is."
Five ways clubs can get involved with local businesses
Big impact is achieved with small steps. Football clubs and local businesses can create lasting impact for the wider community, by finding ways to elevate one another.
Here are five ideas to get you started:
1. Fundraise for a local charity
Find charities that align with your club values, and invite them to host a collection at your next football game. It's a great way to give local charities access to potential donors, and highlight the issues that your team cares about. Be sure to introduce charities to your wider network and connect them with local people and support.
2. Support and save programmes
Lewes FC works with local businesses to provide a 10% discount on goods and services for fans. Work with businesses in your community to come up with a discount or selection of benefits that can be offered to fans on match day, or throughout the year. Small businesses attract new customers, and fans make a saving when they shop local.
3. Focus on relationships
Clubs and small businesses need money to run, but they also need a network of supporters. Maggie recommends focusing on only a few relationships to begin with, connecting with just one or two local businesses, and developing a partnership that's mutually beneficial.
Understand your role within the community and, where possible, support local businesses - whether that's the food and drink you offer in the grounds, or the supplies and services you pay for. Challenge yourself to source as much as possible from the local community.
5. Foster intergenerational unity
The team at Lewes FC creates opportunities for people of all ages to participate. From mascots and ball boys and girls, to older volunteers on the turnstiles welcoming people into the club.
Start using Xero for free
Access all Xero features for 30 days, then decide which plan best suits your business.