Guide
10 content marketing ideas for your firm
Good content marketing on your website is vital if you want to make the most of your firm's potential.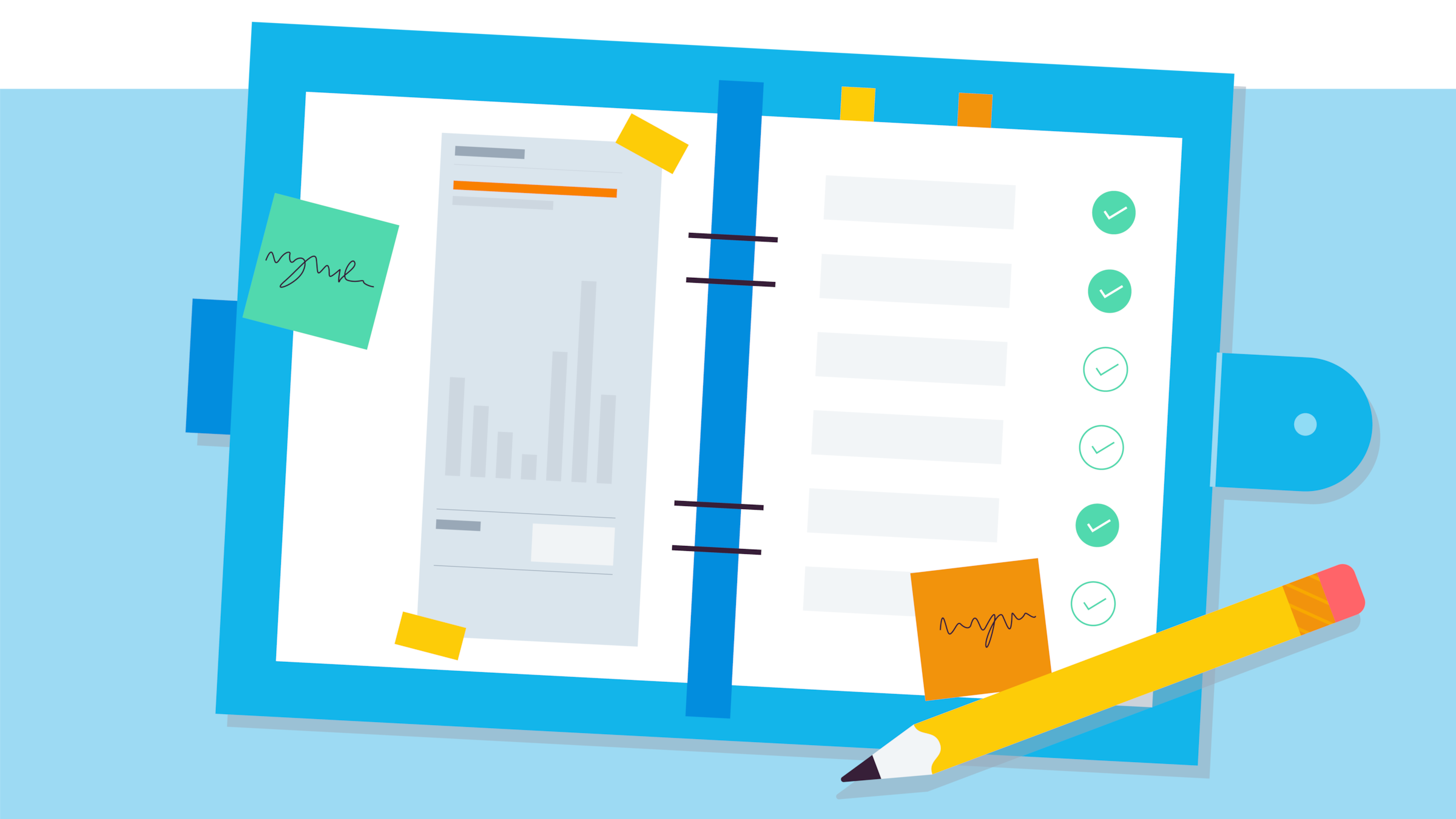 We spoke to Karen Reyburn from The Profitable Firm about content marketing ideas to help you win new customers.
The power of good content
Content is information that you publish and share. For most firms, the website will be the main content hub. This is where you market your services to your clients – and where prospective clients find out more about you.
You may have heard of SEO (search engine optimisation). This involves trying to make your website rank well in search results. SEO can drive people to your website, but as a professional service firm, you're not selling a product, you're proving your expertise. Therefore, sharing good, relevant content will not only keep your visitors reading – it will encourage them to come again and again. Repeat visitors eventually become new leads – and you can turn those leads into paying clients.
In this guide we'll look at 10 content marketing ideas for your accounting firm. The guide is based on a list of 27 ideas drawn up by The Profitable Firm, a marketing agency for accounting firms in the UK.
It's often said that everyone has a novel in them, but an ebook doesn't have to be a long read. What's important is that it's relevant to your target audience.
The advantage of an ebook is that you have your reader's undivided attention. Compared with a website, there are fewer distractions and incentives for them to click away. This means ebook content can be more detailed than your usual web content. But you still need to keep it focused:
Be specific: Cover a single topic in detail

Be unique: There are lots of ebooks out there – make yours stand out with a unique angle or perspective

Be individual: The content should be custom, not off-the-shelf – it should reflect your own voice and expertise

Be knowledgeable: This applies to all content but particularly to ebooks – demonstrate how your knowledge is relevant to your target market
2. Create a business template
Businesses are always pressed for time – especially small businesses. You can make their lives easier by providing templates for important aspects of their work.
You can use your accounting experience to create a template that's attractive and time-saving. It might be a template for a business plan, an investment proposal or a pitch for a new client. Put the template on your website and invite your clients to download and use it. Or you can add a link to templates that you've found (for example, try our free business plan template or business continuity plan template).
This is an example of hard-working content. You create the template once, but it can be used by many of your customers. They'll remember where they got it, and that will help them keep your firm in mind.
3. Invite prospects to complete surveys
Surveys and questionnaires help you find out more about your existing and potential clients. But they have to be done well. If you ask for too much detailed information you'll put people off.
Keep surveys and questionnaires short and focused, to be completed within a few minutes

Don't ask for too much personal information

Offer a reward, such as access to a report, or entry into a prize draw
4. Host live events and seminars
These are great for drawing people together under your firm's brand. Not only will you have a captive audience, you'll also be able to get direct feedback from your target market.
If you're not sure you can organise this yourself, find an event management company to help you. But stay in control of the content. Make sure each event and seminar covers topics that are relevant to your prospects.
A webinar is like a seminar but you deliver it online instead of in person. Find a topic that's relevant to your target audience, then talk about it. Be aware that you may need some training to feel confident speaking in front of a camera – even if it's a webcam. Webinars also take time to organise, market and set up, but once you've done a few you'll feel more comfortable creating them.
The great thing about webinars is they can reach a much wider audience than seminars. This means you could potentially gain clients who live in a different town – maybe a different part of the country entirely.
You can also use webinars to extend the life of your content. Uploading replays to YouTube or Vimeo gives you another weapon in your content arsenal.
Don't expect huge audiences for your webinars. It's a big time commitment for prospective clients to take an hour out of their day. But those who do so will be much more likely to use your services.
6. Host online training sessions
Haven't got time for a full webinar? Then perhaps you could create:
a five-minute video showing your clients how to keep track of the hours they spend on a project
These snippets add value to your website and will be appreciated by existing and potential customers.
An infographic is a visual representation of information. A picture paints a thousand words and an infographic can do that for your business. Infographics work well on social media, and can be used time and again. Take a look at our infographic on starting a business, as an example of what you could do.
Make sure you take advantage of social media channels like Twitter to share your infographic. A prospect might not see your tweet the first couple of times, so retweet the link to the infographic to ensure you squeeze the most out of having one.
8. Use blog posts intelligently
Your blog is where you communicate thoughts and ideas to your customers. Too many firms neglect this part of their website's content. Blogs should be updated regularly – that means weekly, not once every few months. Blog posts can also be sources of other content marketing ideas. For example, the following content types work as stand-alone items as well as blog posts:
Industry guides: Useful information about the industry in which you and your clients operate. Keep it niche and tailored, never generic. You could break these down into bite-sized industry tips too.

Fact sheets: Think of questions and concerns you've heard from your clients. Your prospects will probably have similar questions. You can answer them quickly with a fact sheet.

Expert interviews: Find someone relevant to your target market and interview them. Customers and prospects will be interested in what they have to say. This will help enhance your reputation for thought leadership.

Checklists: Quick and simple list of actions to achieve a specific task. Help your customers complete their work.

FAQs and SAQs: Frequently Asked Questions and Should Ask Questions. These are variations on the fact sheet theme. They are great for helping readers find answers quickly.

Book reviews: A nice way to comment on the work of industry experts – and become associated with them.
Analysis usually comes from market experts. There's nothing to stop you becoming one of those. Consider including content such as:
trending topics in your target market

comparisons of products or services that are of interest to your customers

tips to help your clients navigate changes in regulations
10. Case studies or client interviews
Interviews with existing clients can help you cover topics of interest to your prospects too. Find a willing client to talk about their experiences of business in general – and working with you specifically.
Don't write too much about yourself here. It's important to get across how the client operates. But you can make subtle mention of how your firm is helping them achieve their goals.
This type of content could be in the form of writing or a video – and is great to share on social media.
Use content intelligently: Make it about them, not you
Whatever content marketing ideas you use on your website, make sure you use them intelligently. Here are some quick tips:
Understand your target audience and put yourself in their shoes – or in other words, write for them

The more content you offer, the more you can ask from a prospect, such as personal details and business information

Keep content relevant to prospects and their industry – it should be educational and engaging, so make sure you don't focus on your firm
If you keep these points in mind, your content will – over time – help generate more business for your accountancy firm. And as your reputation and authority grows, so will the number of leads generated from your website.
Disclaimer
Xero does not provide accounting, tax, business or legal advice. This guide has been provided for information purposes only. You should consult your own professional advisors for advice directly relating to your business or before taking action in relation to any of the content provided.
Start using Xero for free
Access all Xero features for 30 days, then decide which plan best suits your business.