Media release

Published on 23 February 2023
Xero data reveals wage pressures easing for Australian small businesses
The Xero Small Business Index has fallen 26 points since November amid slower sales, wages and jobs growth
Melbourne —23 February, 2023 — Xero, the global small business platform, today released its latest data on the health of Australia's small business economy from the Xero Small Business Index. Based on aggregated and anonymised transactions from hundreds of thousands of small businesses, the Index is part of the Xero Small Business Insights program.
The Australian Small Business Index was 93 points in January 2023. This is down 26 points since November, driven by a slowdown across all four sub-metrics. Sales grew 7.2 percent year-on-year (y/y), the same result as December, but down from 11.1 percent y/y in November. Jobs growth slowed to just 1.6 percent y/y, down from 2.8 percent y/y in December. The time to be paid metric rose 0.6 days to 23.8 days, which is the longest time since September 2020. Wages rose just 2.9 percent y/y in January, down from a peak of 4.7 percent y/y in September 2022 and just below the long-run average for this series (+3.0% y/y).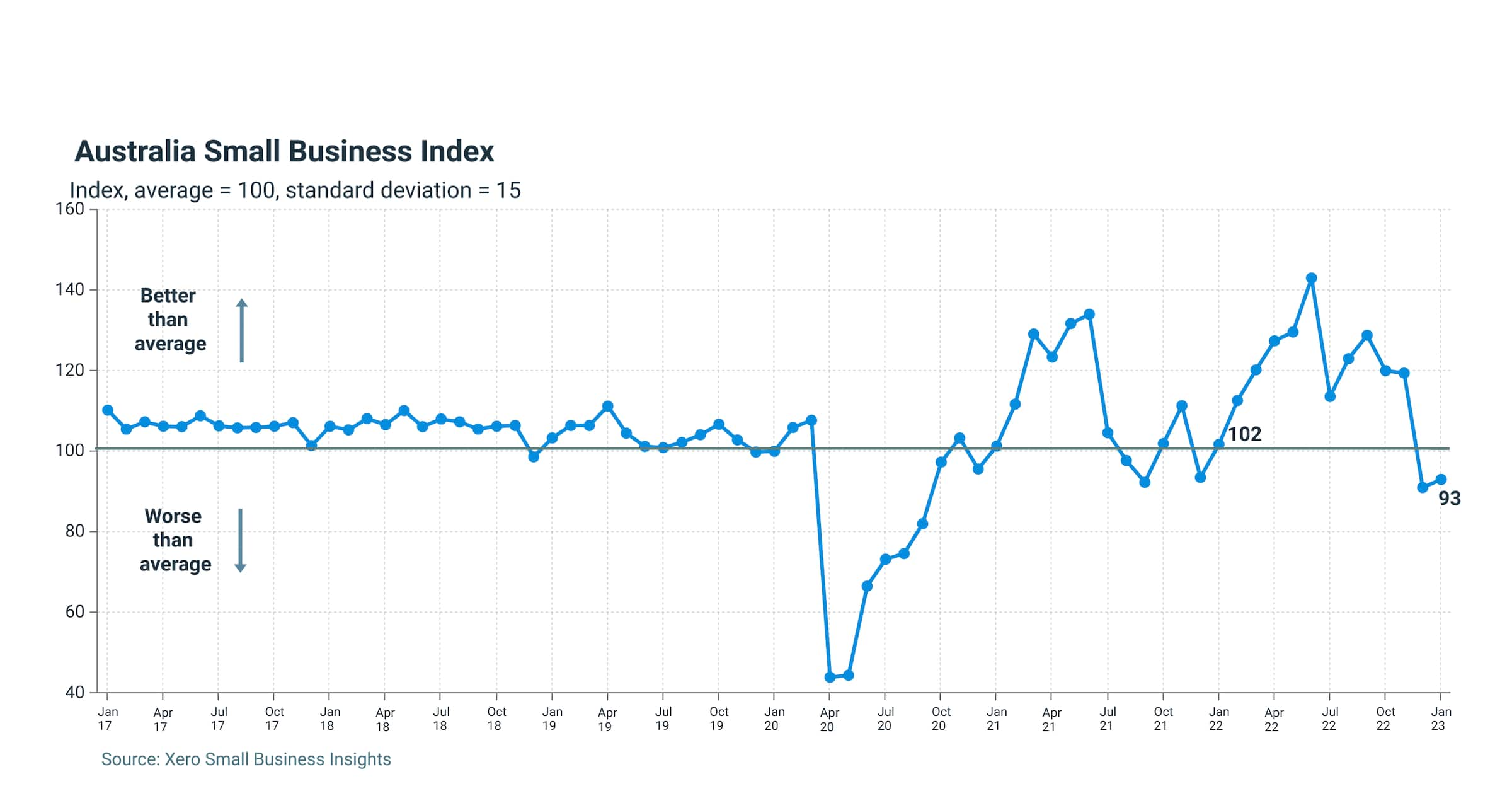 Will Buckley, Country Manager, Xero Australia, said: "This latest data from our Index shows that Australian small businesses are beginning to feel the impact of cost of living pressures on their customers. We are seeing a slowdown in sales that will be putting pressure on small businesses who are recovering from a demanding few years. This then flows through to their capacity to increase wages and attract staff."
Wage pressure continues to ease
Wages rose 2.9 percent y/y in January - the smallest rise since December 2021, and the fourth consecutive month of slowing growth.
The smallest wage rises were in health care (+2.2% y/y), followed by rental, hiring and real estate (+2.4% y/y). The hospitality sector was the only industry to record wages growth above 4 percent (+4.2% y/y).
"Given Australia's current low unemployment rate, there has understandably been a lot of concern around how this will impact wages growth and, in turn, inflation. However, our data suggests that the wage increases being paid by small businesses are not as large as they were as recently as September last year," says Louise Southall, Xero Economist.
"While this may provide some short term relief for small business owners who struggled with balancing above average wage increases and rising costs during 2022, it may result in consumers having less disposable income to feed back into small businesses in the medium term."
Sales volumes decline as prices increase
Sales rose 7.2 percent y/y, the same result as in December but a smaller increase than the 11.1 percent rise in November. However while nominal sales still rose, the volume of goods being sold has likely declined.
"Using the most recent CPI result (+7.8% y/y) as a proxy for prices, sales volumes fell 0.6 percent y/y in January. This shows that small businesses are likely selling fewer goods and services than a year ago. This was also the case in December - which was the first month in 2022 that Australia recorded a fall in real sales," says Southall.
Across the industries, sales growth was led by arts and recreation (+17.1%) and hospitality (+15.7%). The weakest two industries in January were rental, hiring and real estate (-2.5% y/y) and retail sales (+0.6% y/y).
"The two weaker sectors - real estate and retail - are likely a reflection of the ongoing rises in interest rates on housing activity and discretionary spending," added Southall.
All states recorded positive sales growth but only South Australia (+9.8% y/y) and Victoria (+7.5% y/y) recorded stronger sales growth in January than in December. The softest sales result was in Tasmania (+3.3% y/y).
Jobs rose 1.6 percent y/y in January, the smallest rise since May 2022 and around half of the long term average for this series.
Looking at the sectors, education recorded the largest fall in jobs, with a decrease of 4 percent y/y. Construction also now has fewer jobs than a year ago (-0.3% y.y) - the first decline for the industry since May 2022.
Queensland (+2.8% y/y) and South Australia (+2.2% y/y) were the only two states to record jobs growth above 2 percent y/y in January.
Time to be paid increase potentially a sign of emerging cash flow squeeze
The length of time small businesses waited to be paid rose 0.6 days to 23.8 days in January, above the average of 23.1 days in both 2022 and 2021. Late payments also rose 1.2 days to 7.7 days - the highest since July 2020.
"We will be closely monitoring the time to be paid metric over the coming months for signs of emerging cash flow stress amongst small businesses," says Buckley.
"At a time when small businesses are facing numerous economic headwinds, it is crucial for bigger businesses to be paying their invoices on time. If any small business is starting to feel a cash flow squeeze, I encourage them to speak to their advisor and establish a plan for the coming months."
Xero Australia | Tiana Barns | +61 401 343 395 | tiana.barns@xero.com
Xero is a global small business platform with 3.5 million subscribers which includes a core accounting solution, payroll, workforce management, expenses and projects. Xero also has an extensive ecosystem of connected apps and connections to banks and other financial institutions helping small businesses access a range of solutions from within Xero's open platform to help them run their business and manage their finances. For four consecutive years (2020-2023) Xero was included in the Bloomberg Gender-Equality Index. In 2021, Xero was included in the Dow Jones Sustainability Index (DJSI), powered by the S&P Global Corporate Sustainability Assessment. Xero is a FIFA Women's Football partner.
Related

media and enquiries
For all media enquiries, please contact the Xero media team.
Media release

Slowing wages and jobs highlight ongoing economic pressures

Media release

Xero Small Business Insights reveals two slowest sales growth months since the start of 2021

Media release

Xero Small Business Insights shows sales growth at lowest levels in 19 months amid consistently long payment times
Start using Xero for free
Access all Xero features for 30 days, then decide which plan best suits your business.