Tate from Polay + Clark merged maths and music in an accounting firm
Tate Henshaw found a way to showcase both his maths and musical talents as a music industry accountant. (8 min read)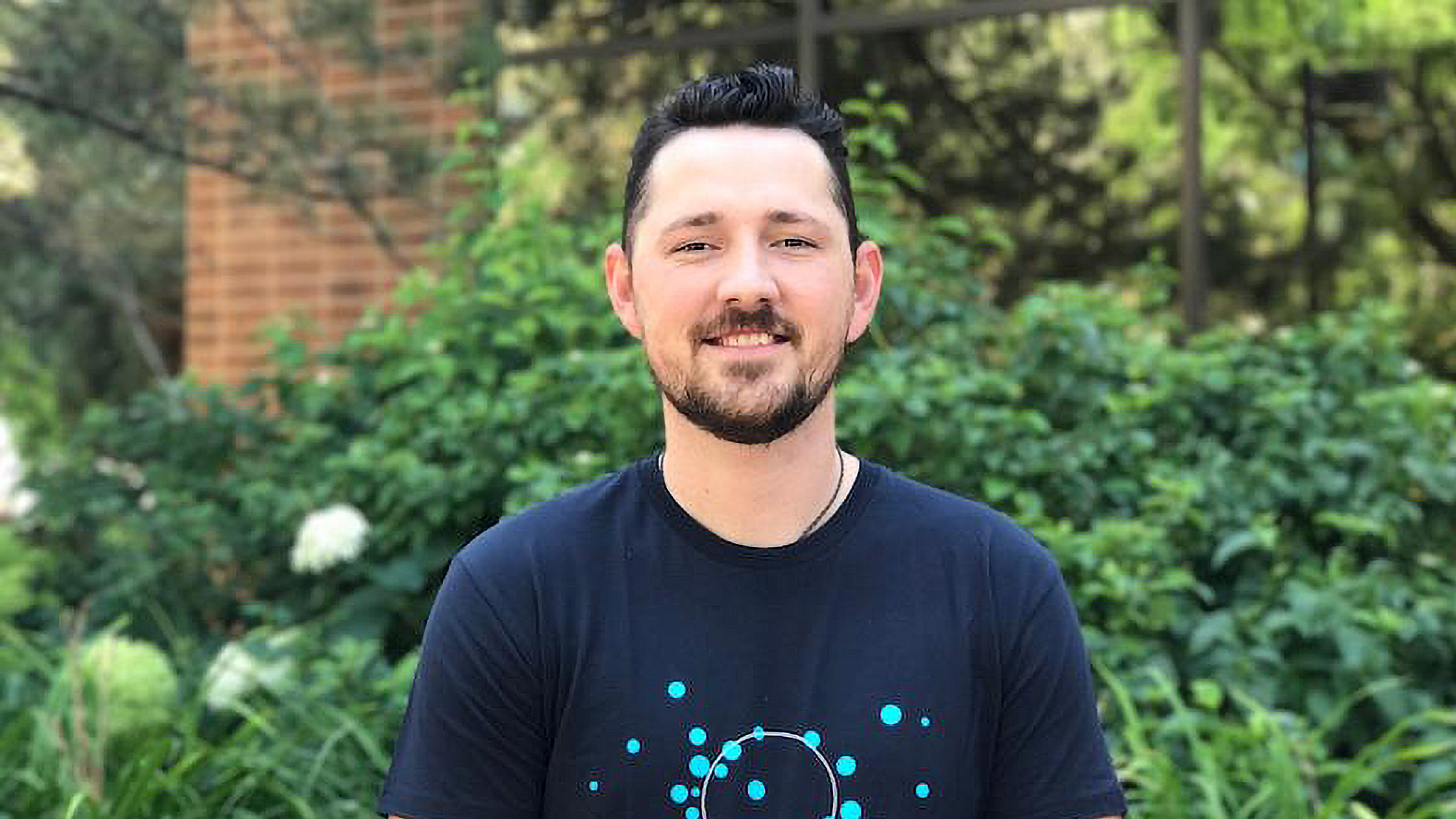 Tate Henshaw had found his perfect job.
Working previously for Polay + Clark, a boutique music business management firm now called Polay + Swann, allowed Tate to combine his love of music with his natural mathematical ability.
"I'm very comfortable with numbers," he says. "Getting a maths degree was one of the best choices I ever made. It's something that teaches you to solve problems."
It's this problem-solving ability that drove Tate in his role at Polay + Clark. He gets huge satisfaction out of making systems perform as best they can.

Tate (right) with friends at the University of Georgia
As a child, Tate had many talents. He played a lot of sports, sang in a concert band, loved reading, and had an aptitude for maths.
"My parents were very supportive of anything I wanted to do," says Tate. "They invested a lot of time in me and my younger brother."
Following in his parent's footsteps, Tate got a place at the University of Georgia (UGA) where he began majoring in maths and computer science. However, he soon got to the point where developing software didn't resonate with him.
"I ended up with a teacher in my second year who only wanted to teach in a dark room with an overhead projector, and I couldn't focus on that at all," says Tate.
He made the decision to drop out of computer science and got started on a finance course in the business school. He did a few accounting courses and became the treasurer of his fraternity.

Tate (right) played in a heavy metal band at university – not his preferred genre
Combining music and maths
Not wanting to give up the music, when two of his roommates said they wanted to start a band, Tate was easily persuaded to get on board.
"I could sing and I had a guitar," says Tate. "One thing led to another and next thing you know I'm in a band playing heavy metal, which was not my preferred genre."
As they began playing more and more gigs around town, Tate took on the business side of the band and started learning a lot about the music industry. So, when UGA started a music business programme, Tate was quick to apply for it.
Through the course, Tate heard from a lot of famous musicians, managers, booking agents and venue owners. And those running the programme were just as interesting to learn from.
"The director of the programme was a songwriter who had written for country music artists in Nashville," says Tate. "And the other person running it was a booking agent and was in a band. It was a really cool experience."

Tate's natural musical ability was part of what made him an attractive hire for Polay + Clark
Rejecting a traditional career path
When it came to graduating, Tate decided the financial part of his degree would lead to more job opportunities than maths. He went for a few interviews at brokerage firms, but one in particular really turned him off that career path.
"The interviewer told me I'd be working about 70 hours a week cold-calling people. Then, after work I'd be going to a soccer league they were sponsoring to network with all the parents. He said that after about two years I'd start making decent money," says Tate. "Well, that sounded like hell on earth to me."
Shortly before graduating, the director of the music business programme got in touch with Tate about an opportunity in Atlanta. A guy named Robert Polay was looking for an intern at his business management firm, Polay Financial Management.
"I had no idea what business management really was," said Tate. "But I did know that it wasn't the other job I'd interviewed for, so I said 'Absolutely!'"
His background in music certainly made him an attractive candidate.
"The niche focus of Polay + Clark (now Polay + Swann) is musicians and entertainers," says Tate. "Knowing how that whole industry works was a big leg up for me. Knowing all the industry lingo and jargon and already having some connections in the industry was a big deal as well."
It worked out well. Tate started at the firm shortly after graduating in 2008, and he remained there until 2020.
Projects and problem solving
Incorporating his degree in maths was easy to do. One of his first projects was to standardise the company's data.
"It was in a huge spreadsheet and it was out of control – there was nothing you could do with it. They gave it to me as an intern and asked me to figure it out," says Tate. "It took me a couple of days to streamline it. I think they thought it was going to keep me busy for a lot longer."
Impressed with his work, Tate was put on more projects. He quickly learned how to do the day-to-day tasks of an account manager, including paying agent commissions, tracking royalty payments, and settling tours when clients were out on the road.
Tate soon moved on to tackling tasks that were outside the scope of day-to-day operations. This ranged from building an internal database to track royalties, to collecting and presenting data to clients in an accessible way.
"My background in maths and problem-solving is what enabled me to do all of those things. I'm not intimidated by a new problem, I'm excited by it."
When Lorne Clark joined the company in 2015, Polay + Clark was born. Clark brought along with him clients from the professional sports industry as well as an eagerness to try out Xero, which he'd seen a firm using in San Francisco.
"We hadn't heard of Xero before," says Tate. "It was really refreshing to have a new project to work with. We started all of Lorne's clients fresh in Xero and over the next few years we converted all our music and small business clients as well."
One of the main benefits of Xero for Tate and his team was being able to work online directly with clients, even if they were based in far-flung parts of the country.

Tate (left) and his band playing a friend's wedding in Rome, Georgia
Giving back to the community
Investing in others is Tate's ultimate goal. And getting other people to connect to causes in their community is something that really drives him.
For his part, Tate worked on the syllabus for an entertainment finance class at Kennesaw State University, where he also sat on the board of the Music Business Programme.
Through Polay + Clark, university students were offered an internship at the business to learn what the music industry offers before they commit to the long term.
After returning to UGA to speak at a music business class, three or four people approached Tate to say how his talk had inspired them. But Tate worried he wasn't going far enough.
"It's really cool," says Tate. "But what about all the other kids that I don't get in front of, and don't realise what's out there? I don't want them ending up in that brokerage job I interviewed for."
Giving back to his immediate community is also important. Tate leads praise and worship with his band at his local church. They also write and perform at community outreach events around the state.
"We recently went to Cartersville and played at an outreach event for a couple of hundred low-income and homeless people," says Tate. "It was very rewarding."

Being there for his young family is incredibly important for Tate
Staying focused on family
For everything he does, Tate is adamant that none of it is as important as being there for his family.
"I became an intern at Polay Business Management in January 2008, and I got hired in March. I took my first pay cheque and put it down as payment on an engagement ring and we were married by July," says Tate. "It's still the best decision I ever made."
And now with two young daughters, Tate and his wife are certainly being kept on their toes.
"Everything I do at work, I do for them, but that doesn't substitute for the time I invest in them," says Tate. "I really think that if you just have success in business and not personally that it counts for nothing. My wife and children come first. If I don't get that right, I don't think the other success really matters."
Become a Xero partner
Join the Xero community of accountants and bookkeepers. Collaborate with your peers, support your clients and boost your practice.