Rory and Hannah of Hunt & Gather Bee Co. started from scratch
They took a risk and started a beekeeping business in Raglan. Two years on and they're starting to reap the rewards.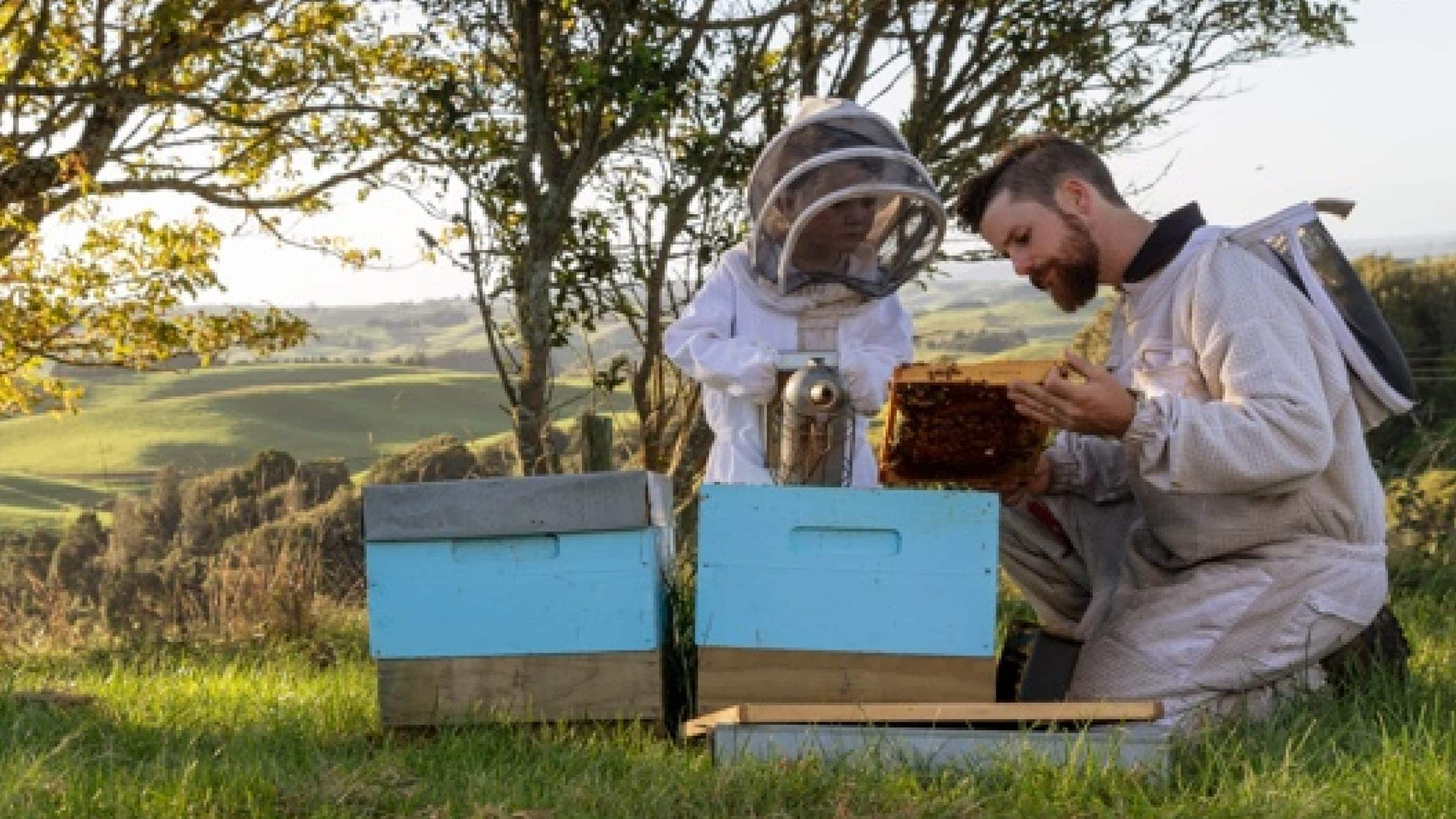 Turning a passion into a business
In 2015, Rory and Hannah O'Brien decided to take a chance on an adventure. With their two-year-old son and a baby on the way, they sold their house, bought some beehives and started their own business: Hunt & Gather Bee Co.
Deciding to start the business was one of the biggest decisions Hannah and Rory had ever made. And after making a pros and cons list, the push to get started came from an overwhelming desire to do something they were really passionate about.
Fuelled by their passion, Rory and Hannah poured everything they had into starting Hunt & Gather. With their first hives bought and ready to go, they hit their first fairly large hurdle: Hannah got stung by a bee and went into anaphylactic shock.
"I started sneezing and coughing and then I stopped breathing. It was gnarly because I was about 37 weeks pregnant," she says. "In hospital, they told me to watch out and try and stay away from bees, and I had to tell them we'd just bought all these beehives."
Having to keep an EpiPen close by and staying away from bees isn't the only struggle Hannah and Rory have had with starting up. It can be hard to keep up with demand, as they tread a fine line between selling out of honey and having enough stock to carry them through the year. And, when cash flow is low and things are tough, Hannah and Rory have wondered if the sacrifices are worth it.
"We have those moments, but we know there's nothing else we'd rather do," says Hannah. "Beekeeping is the perfect job for Rory. From the start he just loved it.
The more he started to learn about bees, the more he'd come home and tell me everything about them."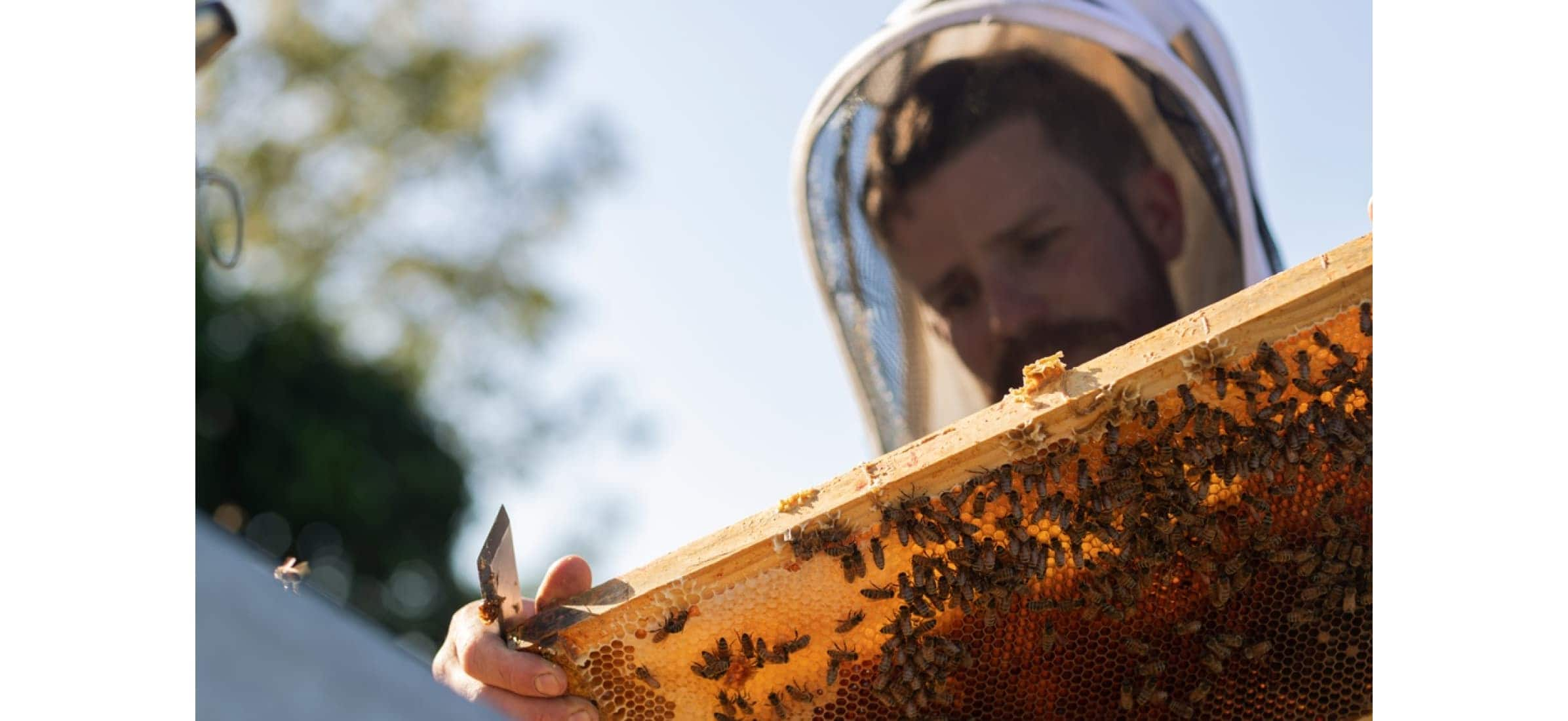 Making sacrifices and reaping rewards
Running an ethical, sustainable business is an important part of the Hunt & Gather ethos and is something Hannah and Rory put at the forefront of their decision making – even if it means making more expensive choices.
"We package our honey in glass jars, we use wooden hives, and we print our labels on paper," says Hannah. "It's more expensive but it's a choice we can sleep well with at night. We're trying to leave the world a better place for our kids and every business has a responsibility to do something about its sustainability."
Hannah and Rory are keen to make an impact on waste reduction wherever they can, including making the most of what their bees can offer. So as well as collecting honey, they're also branching out into other products like reusable beeswax food wraps and a beeswax boot polish.
And being able to create high-quality products in line with their environmental values is important to Hannah and Rory.
"Beekeeping is eco-friendly and bees do no harm to the environment; they're actually good for it," says Rory. "I can sleep well at night knowing the industry I'm in is contributing something positive and sustainable."
Rory and Hannah have learnt a lot about the importance of good collaboration from the bees themselves. All the bees in the hive have different roles to play – from scouting out hive sites to collecting nectar – and they work together to keep the colony alive and well.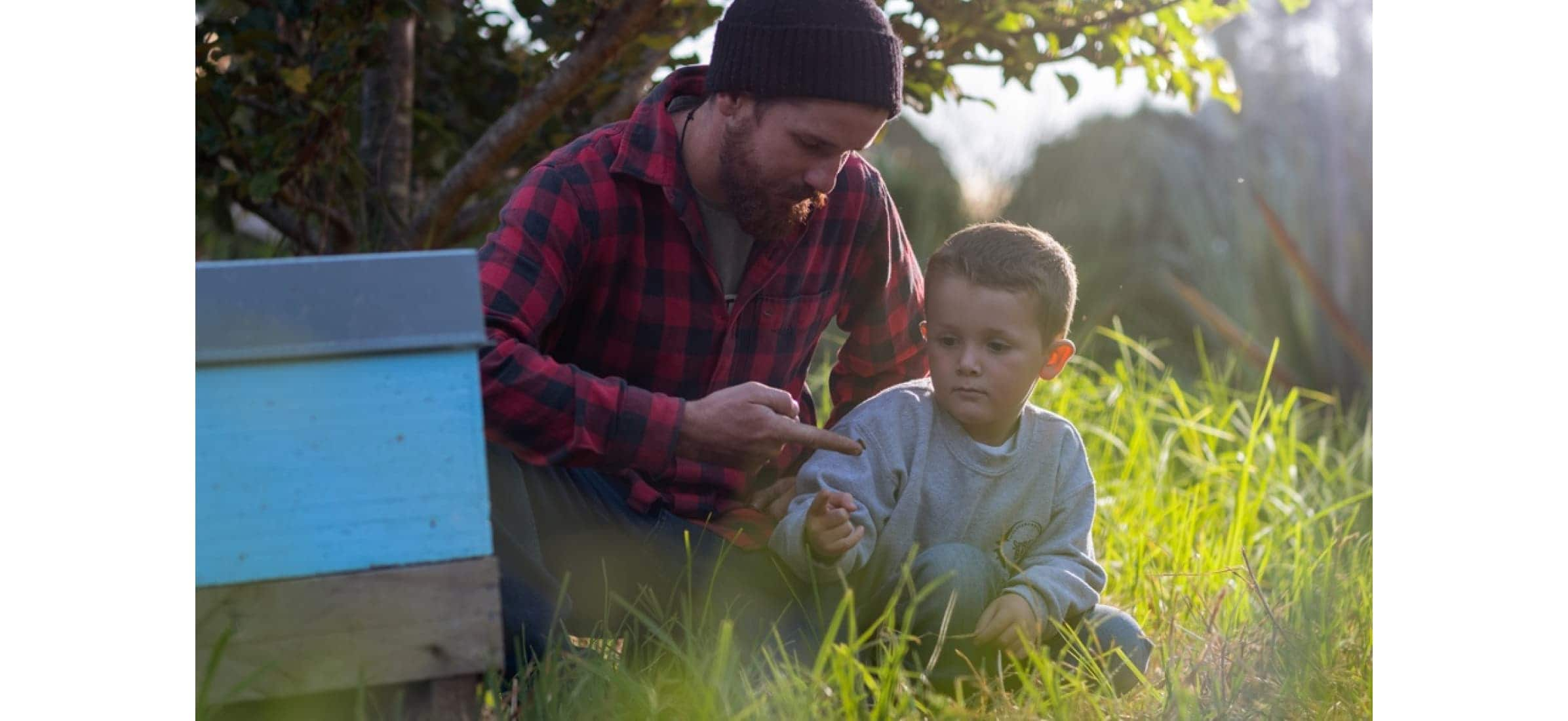 Rory loves getting Kieran involved in the family business.
Working together to achieve a common goal is something that Hannah and Rory have incorporated into Hunt & Gather. Being able to build the business around their lifestyle has meant that they've managed to get their two children involved and hope one day they might be able to pass it on to them.
So far, it's looking like it might happen – at just four years old, their son Kieran joins Rory on his visits to the beehives, carrying the smoker and protected from stings in his own little bee suit.
"It's a cool family thing that the kids can watch over my shoulder and develop," says Rory. "Kieran often asks questions about the bees. He loves looking inside the hive and trying to find the queen."
Their love for what they do has been a driving force behind Hannah and Rory moving the business forward. And despite the ups and downs of getting Hunt & Gather started, they're both convinced they made the right decision to start out on this family adventure.
"We're strong on making a product that's as sustainable as it can be and just trying to do things right," says Hannah. "And when we work together it's really fun, it feels like we can have a life as well as work."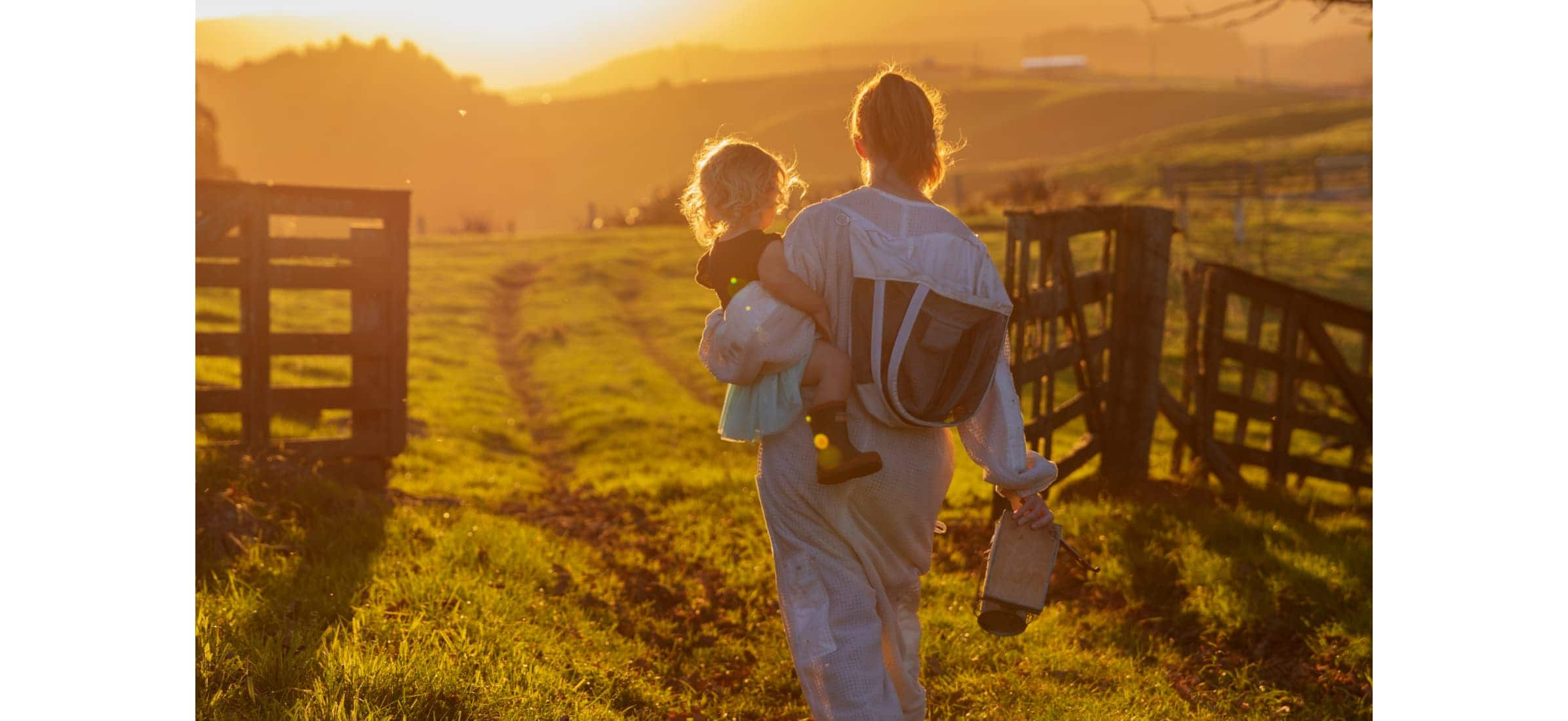 Building a business for the future
While Rory takes care of the beekeeping side of things, Hannah works hard to keep the business running, doing everything from marketing to the accounting. Having seen a demo of Xero at Fieldays last year, Hannah was struck by how much easier it would be to keep track of the business's finances.
And after getting started on Xero this year, Hunt & Gather is already reaping the rewards. Instead of sifting through past bank statements and spreadsheets to find out how much money they were spending on equipment or vehicle costs, Hannah can now see everything on the Xero dashboard.
"We keep a really close eye on the hives and the honey, but the finance side – which is so important – we didn't really know what was happening." she says. "Now we can see what's costing money, what's earning money, and how the business is tracking. It's super helpful to have that all right there."
And being more informed about how the business is doing, where the gaps are, and where they can make effective changes means Hannah and Rory are starting to think about the future of Hunt & Gather.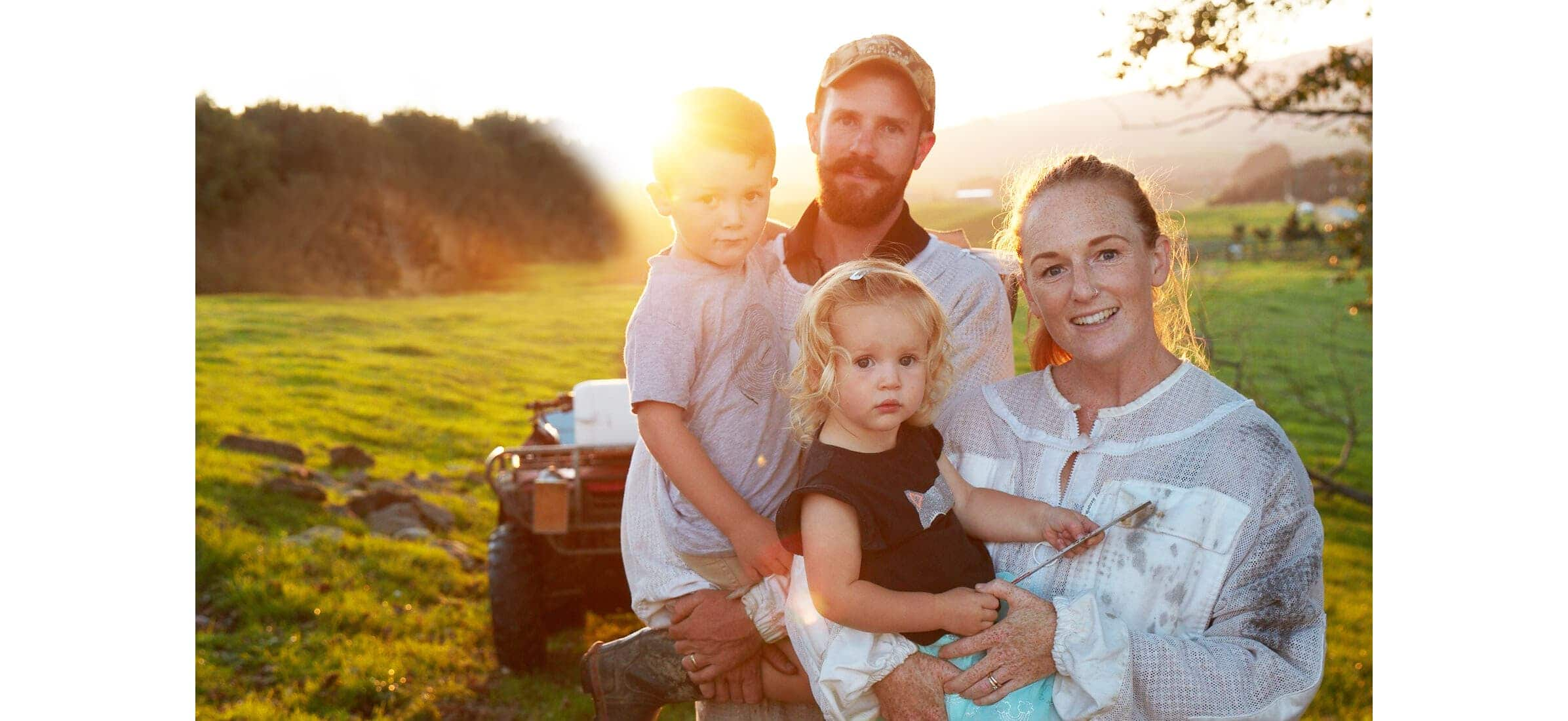 "We got on Xero at a really great time. We're at a point with the business where we need to decide whether to keep trucking along as we are, or to expand," says Hannah. "Now we've got lots of information to show investors and we can confidently say how much we're making, what things cost, and where the gaps are."
With the peace of mind that comes from knowing how the business is tracking, Hannah and Rory are looking forward to considering their options for the future and spending more time with their young family.
"Hunt & Gather is a lifestyle choice for us, we want to keep our good lifestyle, and be able to give back to the community that's supported us," says Rory. "Watching the little company grow is exciting and I'm looking forward to seeing where it's going to go."
See how our customers are making the world a more beautiful place
See how accounting software can work for you
Start using Xero for free
Access all Xero features for 30 days, then decide which plan best suits your business.