Media release

Published on 28 July 2022
Wages and jobs up, sales growth down for Kiwi small businesses in June
Small business owners balancing slowing sales with employee wage demands
Wellington — 28 July, 2022 — Xero, the global small business platform, today released its Xero Small Business Index for June 2022, showing strong wage and jobs growth across Aotearoa despite slowing sales.
In June, wages rose 6.8 percent year-on-year (y/y ), the largest rise since the series began in January 2017. It marks five months of consecutive growth and is now well above the 3.9 percent long-term average.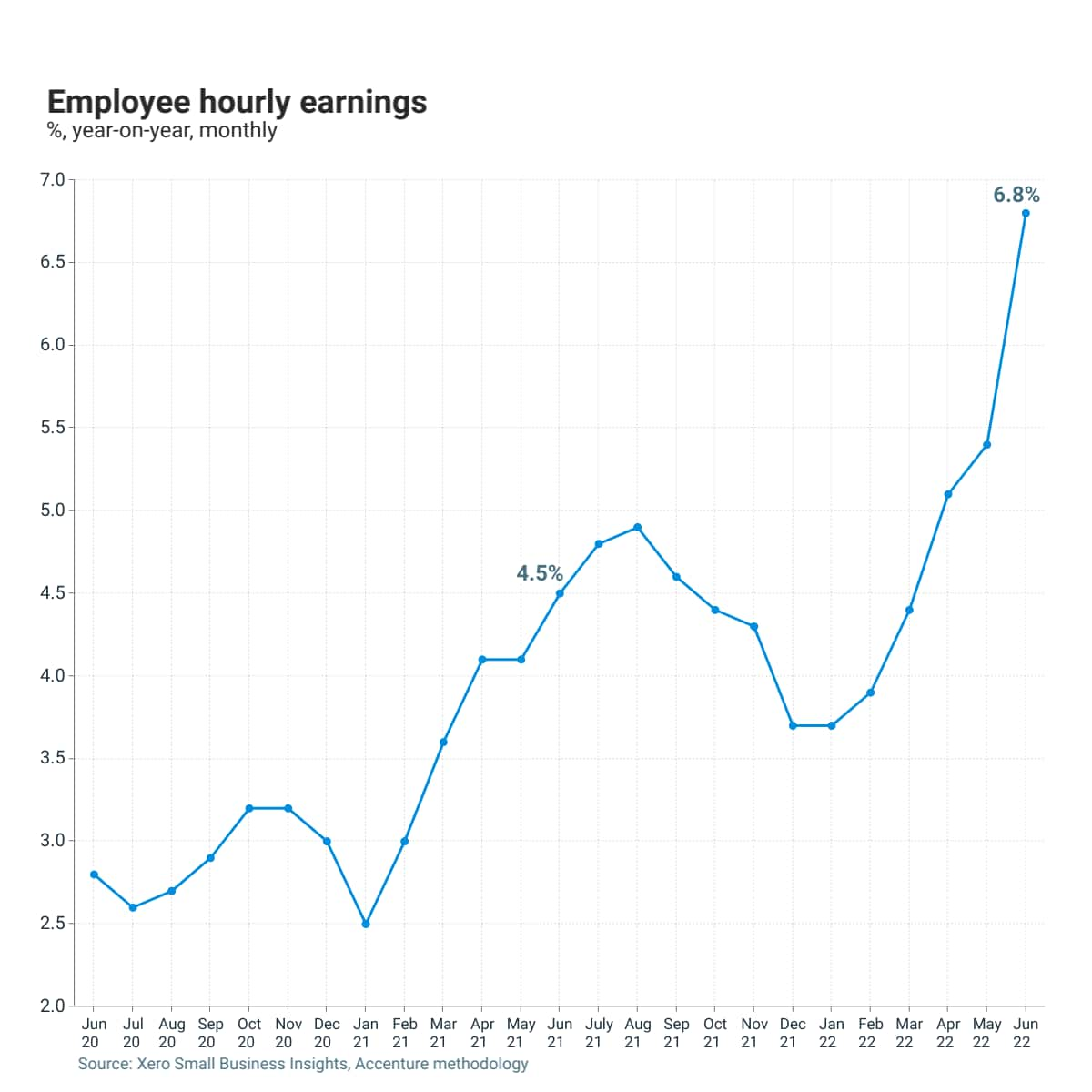 These higher wages are helping small businesses attract more staff. Jobs grew 4.4 percent y/y in June, up from 3.7 percent y/y in May and the third consecutive month jobs growth has accelerated.
Xero's Managing Director for New Zealand & Pacific Islands, Craig Hudson, says despite these strong measures, small business sales only grew 3.3 percent y/y in June – the slowest growth rate since September 2021.
"Strong wages are a good goal for small businesses to aspire to, we want to have a high wage economy. But it's important this growth is matched by sustainable sales growth," says Hudson.
"At the moment, small businesses are able to attract staff – even from larger corporations – through competitive wages. But something they should watch out for is the slowing of sales, which will directly impact profits."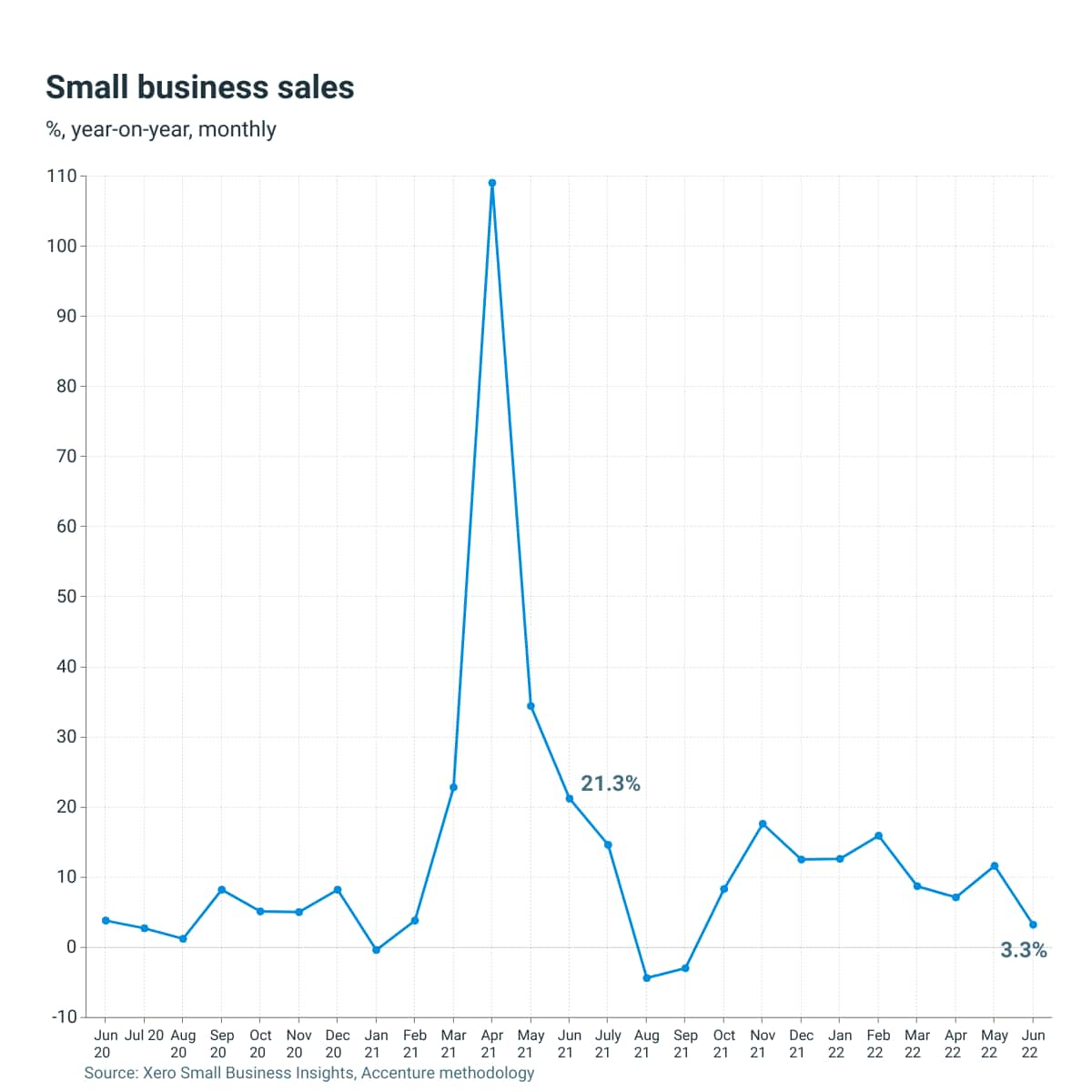 All industries recorded a slower sales growth in the year to June 2022, compared to the year to May 2022, with discretionary spending sectors such as hospitality (-1.5% y/y) and retail trade (-0.2% y/y) recording the weakest results.
Furthermore, once price impacts are taken into account, the volume of sales fell in June (down 4.0% y/y) as Kiwi small businesses sold fewer goods and services in June 2022 than in June 2021.
"In the coming months, we will most likely see small business owners navigating the tightrope of balancing declining sales growth with rising wage demands and expectations," said Hudson.
"It's the human element of being a small business owner. They're close to their staff and want to help them weather the impacts of inflation through good wages.
"At the same time, they're in touch with their customers, which introduces hesitancy to raise prices because of the cost of living challenges facing their community."
The surge in wage growth was led by the construction sector (+8.1% y/y), followed by manufacturing (+7.2% y/y). Regionally, Bay of Plenty, Hawke's Bay, Otago and Waikato all recorded a growth of 7.3 percent y/y.
All industries recorded positive jobs growth, led by professional services (+7.9% y/y) and manufacturing (+7.2% y/y).
Record high Small Business Index
The Small Business Index rose 23 points in June to a record high of 146 points. This rise was driven by the strong upswing in wage growth and the strength of small business jobs across Aotearoa.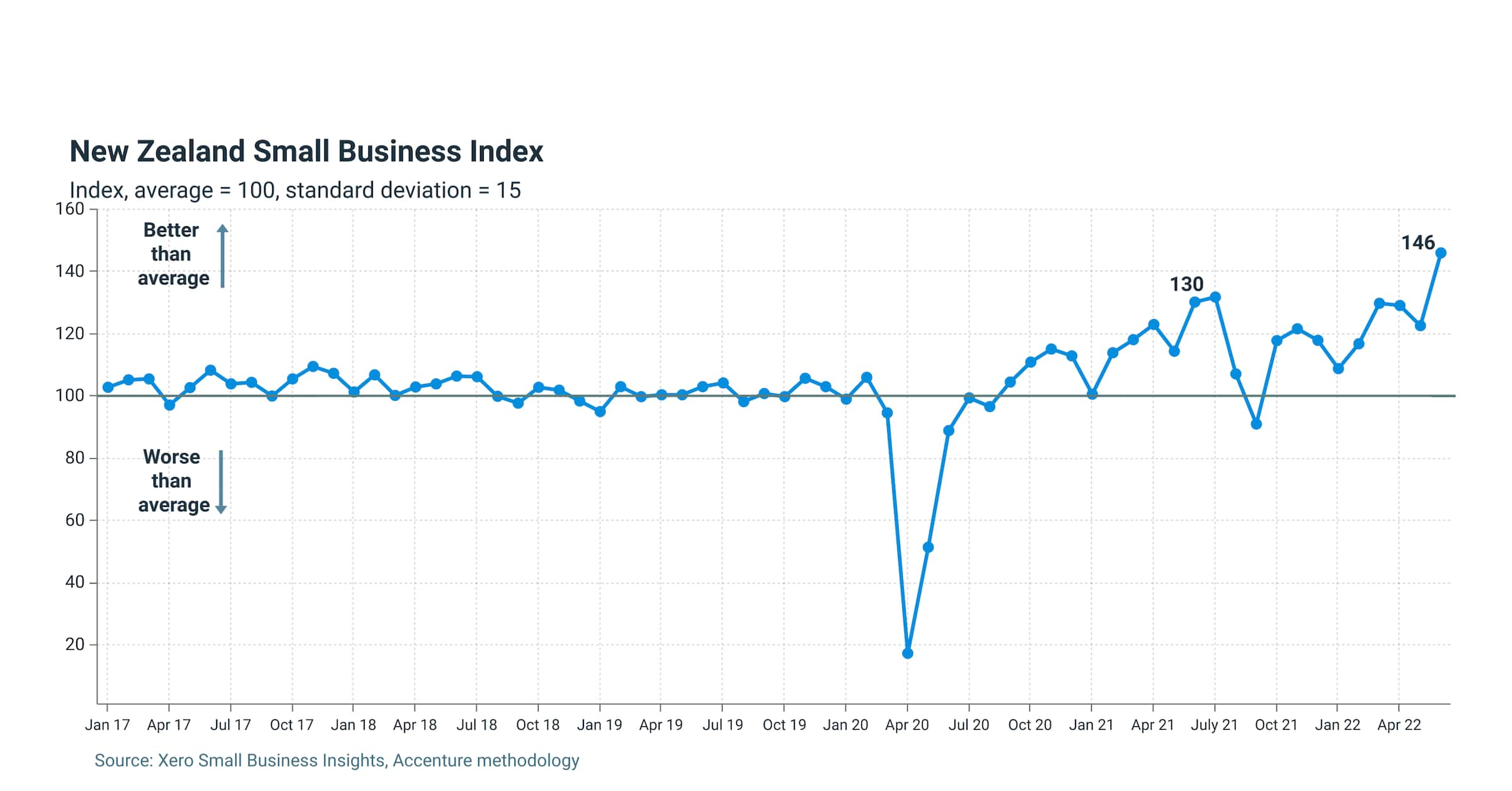 "New Zealand's small businesses are currently attracting staff and able to pay the higher wages being demanded in such a tight labour market, resulting in the strong Index in June," says Hudson.
"However, as inflation continues to climb and finances become tight across the country, these conditions could change in the coming months - especially if sales growth continues to slow.
"This is something small business owners need to prepare for. It's essential they stay on top of their books to maintain this intricate balance."
For further information on the Xero Small Business Insights June 2022 metrics, please refer to the XSBI New Zealand update. To find out more about how the Xero Small Business Index is constructed, see the methodology.
Related

media and enquiries
For all media enquiries, please contact the Xero media team.
Media release

Report reveals 95% of Kiwi small businesses experience at least one month of negative cash flow per year

Media release

Xero report reveals the average UK small business now faces more than four months of negative cash flow stress each year

Media release

Xero Go helps UK sole traders and their advisors prepare for new digital tax rules by digitising financial admin
Start using Xero for free
Access all Xero features for 30 days, then decide which plan best suits your business.