Guide
How to send an invoice (and what to do if it's ignored)
Find out when and how to send an invoice. We also give you ideas for how to handle customers that don't pay.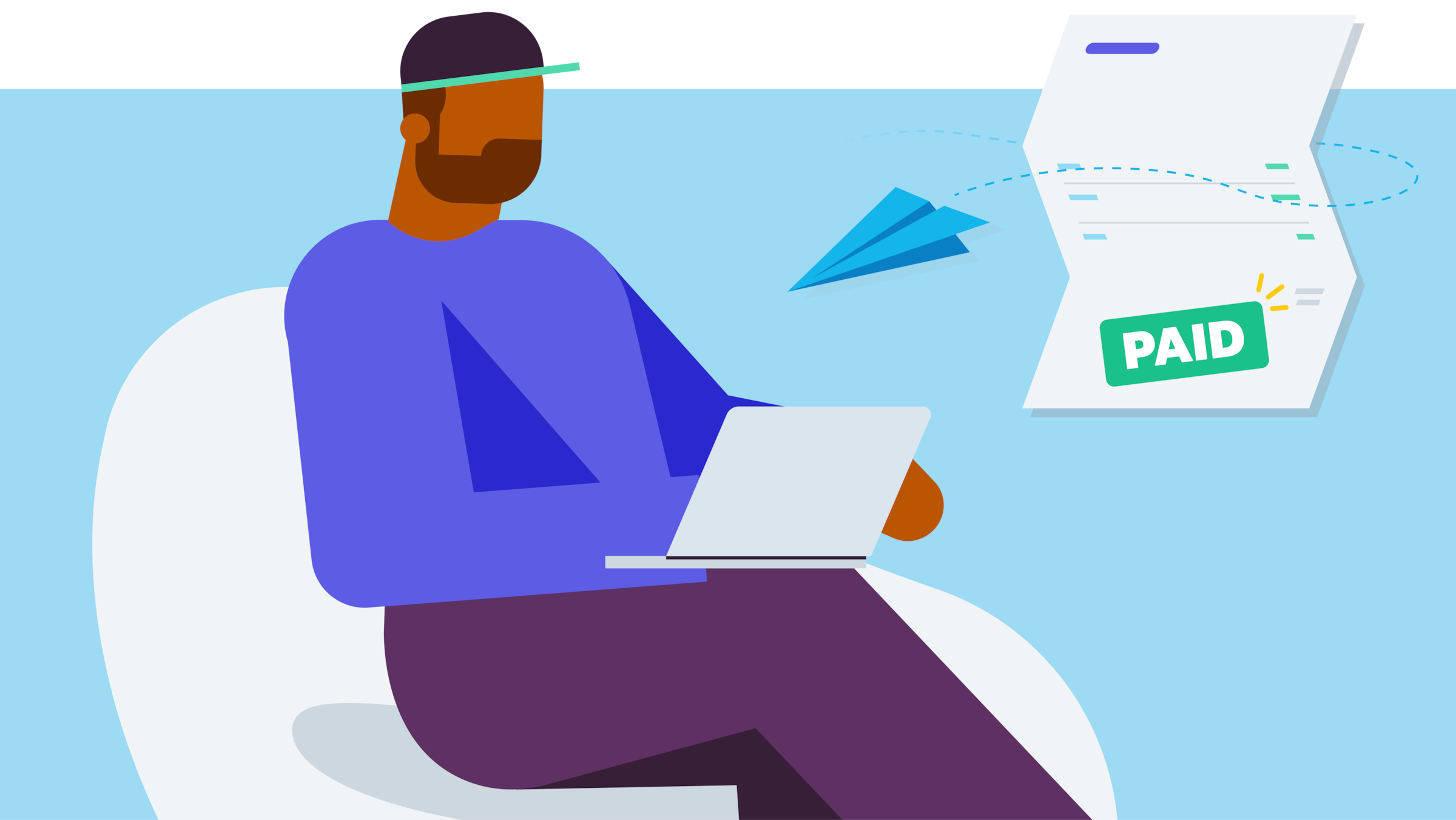 Before you send an invoice
You don't want anything about your invoice to be a surprise to your customer. Just as you discuss pricing before reaching a deal, you should also chat about billing. Set out payment terms explaining when you'll invoice (weekly, monthly, or when the job's done), and how long they'll have to pay. A customer should know when they'll need to part with their cash.
the goods and services sold

the costs (including any taxes you're expected to charge)
Finish with clear instructions on when and how to pay. You can get more information in our guide on how to make an invoice.
It's common to send invoices when orders have been filled, or tasks are completed. If you're working on a big project, you might send interim invoices for the work done to date. And if you've sold a subscription, or you're on a retainer, you'll send a recurring invoice at regular intervals.
Think about your cash flow when you create a billing schedule. If you send all your invoices on the same day every month – and they get paid around the same time – then your bank balance will be full of ups and downs. If the downs stress you out, consider spreading your invoicing over the month.
Do invoicing weekly rather than monthly. Or, if you do odd jobs, send invoices as soon as the work's done. And if you're billing monthly for regular work, consider using software to automatically send your invoice for you so you never have to worry about timing.
Three tips for sending your invoice
Unless there's a really good reason to send your invoice by post, go with email. It will arrive much faster, it can't really be lost, and email addresses are simpler to get right. Just double-check you're sending it to the right contact, and take these precautions:
1. Call after you've sent your first bill
Check they got your invoice and they understand what it's for. This simple follow up will show them you're serious about invoicing.
2. Send your invoice in an un-editable format
Frauds have intercepted emailed invoices and added their bank account to the payment details. It'll be harder for them to do that if you send an online invoice, or PDF invoice.
3. Take your billing completely online
You can post your invoice securely online and send your customer a link. These online invoices allow your customer to pay straight away via a credit card, debit card, or an automated clearing house (ACH). Learn more about online invoicing.
How to write an invoice email
The most important part of your invoice email is the subject line. You might be able to speed up the payment process by quoting a purchase order number, for example. Ask your customer's accounts payable department how they'd like you to set out the email title.
You don't need an elaborate message in the body of the email. Stick with something simple, like: Here's [invoice number], from [company name], which is due on [due date]. Thanks so much for your business.
There will be a more detailed description of the goods or services on the invoice itself.
Overdue payment reminder email (or call)
Now you know how to send an invoice, but what if it goes past due. Almost half do, which means you'll need to prompt your customer. Be polite but act quickly if you don't want bad habits to form.
You can even email them before they're overdue with a message like:
Please remember that [invoice number] is due tomorrow. You should have everything you need to process it, but let me know if any questions come up.
If they've already gone past due, act quickly with a message like:
Invoice [insert number] was due yesterday but we don't have any record of payment. Please let me know when I can expect payment.
Or you could make a phone call:
It can be awkward for you, but it's awkward for them too. That's why it works. You don't need to say a lot. Tell them what invoice is late and let them do the talking. Don't speak to fill the silence.
The gentle reminder email you don't have to write
For many businesses, following up invoices can be soul-crushing work. You can remove yourself from the equation by using an online invoicing system. The software keeps a list of all your invoices and watches your bank deposits for matching payments. When an invoice is still unpaid on its due date, the software will automatically send a pre-written email reminding the customer they owe you. You'll only need to get involved with cases where reminders have been ignored.
The last word on how to send an invoice
When sending invoices, timing is critical. You can't get paid until the customer has the bill. Send your invoice and put the ball into their court as soon as you can. And if the money's not forthcoming, check out our guide on chasing payments.
Disclaimer
Xero does not provide accounting, tax, business or legal advice. This guide has been provided for information purposes only. You should consult your own professional advisors for advice directly relating to your business or before taking action in relation to any of the content provided.
Start using Xero for free
Access all Xero features for 30 days, then decide which plan best suits your business.