Media release

Published on 28 July 2022
Faster payment times and stronger jobs growth help the Xero Small Business Index reach record high
Australian Index rose to 156 points in June, as payment times decline due to EOFY
Melbourne — 28 July, 2022 —Xero, the global small business platform, today released its latest data on the health of Australia's small business economy during June from the Xero Small Business Index. Based on aggregated and anonymised transactions from hundreds of thousands of small businesses, the Index, developed in collaboration with Accenture, is part of the Xero Small Business Insights program.
Xero's Small Business Index for Australia rose 29 points to 156 points, the highest result ever recorded. The increase is largely due to a decline in the average time small businesses waited to be paid, which fell 3.5 days to 20.1 days. The big fall is likely off the back of the end of the financial year, and echoes a similar shift that New Zealand and the United Kingdom saw in March. For the other metrics, wages and sales recorded a slowdown and jobs delivered the best result since November 2021.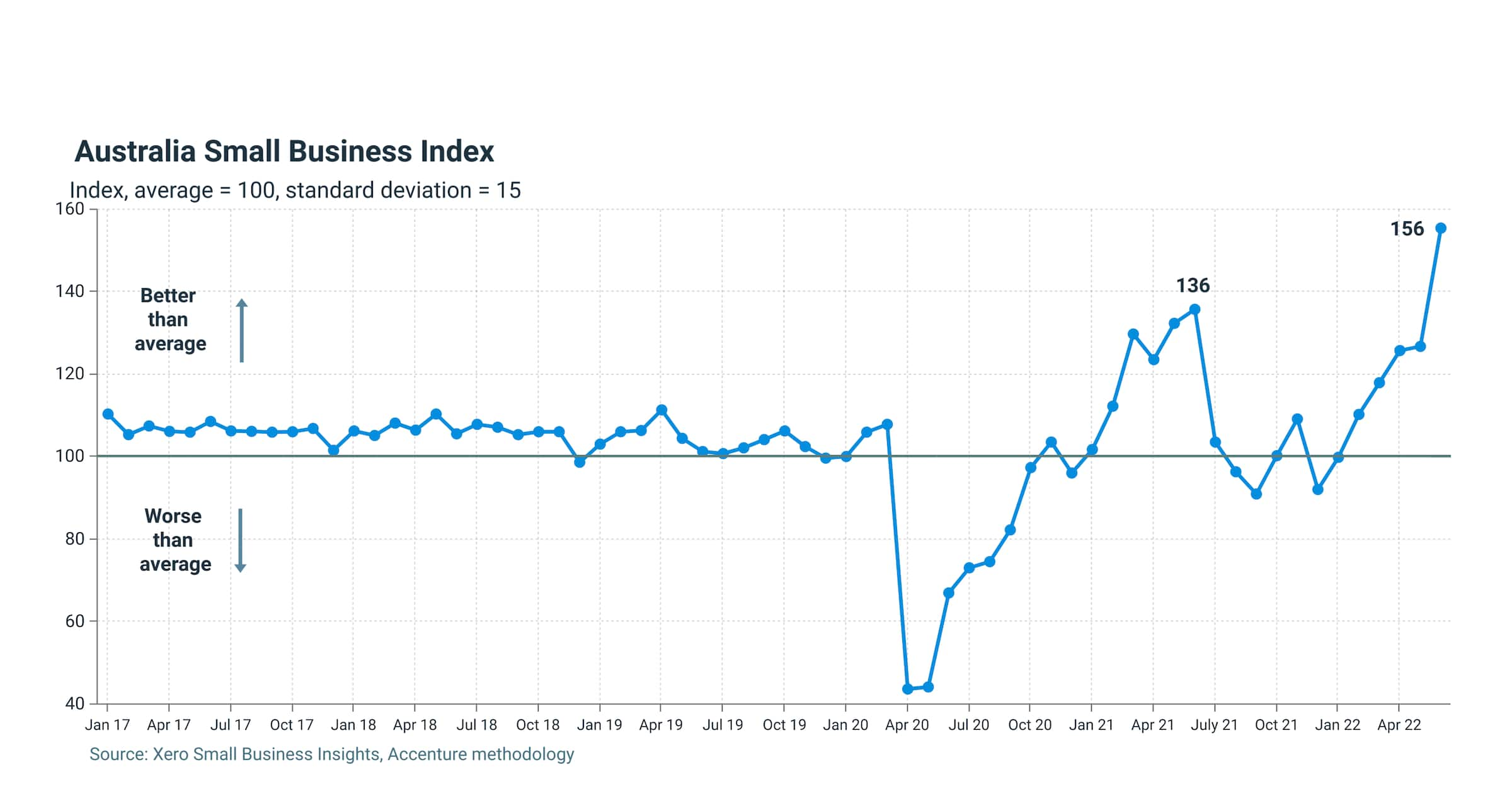 Joseph Lyons, Managing Director Australia and Asia, Xero, said: "The time it takes for small businesses to get paid can massively impact cash flow, so it's encouraging to see a drop in payment times. Although this is a seasonal impact, there is still reason to be cautiously optimistic – after all, healthier cash flow equals stronger small business performance. Despite inflation impacting Australian household spending, sales growth has continued at a double-digit pace."
Sales holding up better in Australia than in New Zealand and the United Kingdom
Despite customers facing cost of living pressures, sales have held up, rising a healthy 10.6 percent year-on-year (y/y). All industries recorded positive sales growth, led by administrative services at +15.9 percent y/y. This is a nominal measure of sales and includes both price and volume impacts. When prices are taken into account, using the June quarter Consumer Price Index, the volume of sales rose a smaller 4.5 percent y/y. But this shows that small businesses still sold more goods and services in June 2022, compared to the same period in 2021.
This is a much better result than the experience of small businesses in the United Kingdom and New Zealand, where sales actually declined in the year to June once the impact of price rises were removed.
"The sales results show that Australian small businesses are continuing to sell more goods and services than they did a year ago, despite customers facing cost of living pressures," said Louise Southall, Economist, Xero. "It's a testament to how our small business economy has continued to show resilience through the current inflation crisis."
Strongest jobs result in 2022
June recorded the strongest jobs result for 2022, increasing 2.0 percent y/y, following a 0.2 percent y/y rise in May. Leading these results were administrative services (+6.9% y/y) and professional services (+4.4% y/y), echoing previous months where industries that facilitate working from home have been better able to grow jobs. Continuing recent trends, education and training (-1.9% y/y), wholesale trade (-0.5% y/y) and agriculture (-0.2% y/y) were the three industries still recording declining jobs.
"The jobs result is hugely positive, and fantastic to see a rebuilding in recent months after a soft start to 2022," said Southall.
The end of financial year improves time to be paid
The average time small businesses waited to be paid fell by 3.5 days in June to 20.1 days. There was also a 2.2 day decline in late payments to 4.7 days – which is a record low for this series which began in January 2017. These improvements, while welcome, are most likely due to the end of the financial year and could be revised up in future months. For example, in June 2021 the initial report was for a 2.9 day decline to 20.1 days but this reading has since been revised up to be 22.4 days.
To download the full June results, including industry and regional breakdowns, go to the website here. To find out more about how the Xero Small Business Index is constructed, see the methodology.
Xero Australia | Sophie McCullen | 0435 913 863 | sophie.mccullen@xero.com
Xero is a global small business platform with 3.3 million subscribers which includes a core accounting solution, payroll, workforce management, expenses and projects. Xero also provides access to financial services, and an ecosystem of more than 1,000 connected apps and more than 300 connections to banks and other financial institutions. Through Xero's open platform, small businesses can connect to a range of solutions that help them run their business and manage their finances. For three consecutive years (2020-2022) Xero was included in the Bloomberg Gender-Equality Index. In 2021, Xero was included in the Dow Jones Sustainability Index (DJSI), powered by the S&P Global Corporate Sustainability Assessment. Xero has been named as a FIFA Women's Football partner under FIFA's new commercial structure.
About Accenture Accenture worked in collaboration with Xero on the design and methodology of the Index prior to February 2022. Accenture is a leading global professional services company, providing a broad range of services and solutions in strategy, consulting, digital, technology and operations. Combining unmatched experience and specialized skills across more than 40 industries and all business functions — underpinned by the world's largest delivery network — Accenture works at the intersection of business and technology to help clients improve their performance and create sustainable value for their stakeholders.
Previous iterations of the XSBI data have listed snapshots of data from the time it was captured. Some of these historical data points change as bookkeepers and accountants finalize their clients' accounts, which can impact the specifics of the percentages.
Related

media and enquiries
For all media enquiries, please contact the Xero media team.
Media release

The Xero Small Business Index fell just one point in May 2022 to 124 points, as wage growth and payment times slow

Media release

Xero report reveals the average UK small business now faces more than four months of negative cash flow stress each year

Media release

The latest in product, ecosystem, partnerships and business at Xero
Start using Xero for free
Access all Xero features for 30 days, then decide which plan best suits your business.