Guide
Freelancer invoicing guide
New to freelancing? Get up to speed on invoicing, with tips from the pros.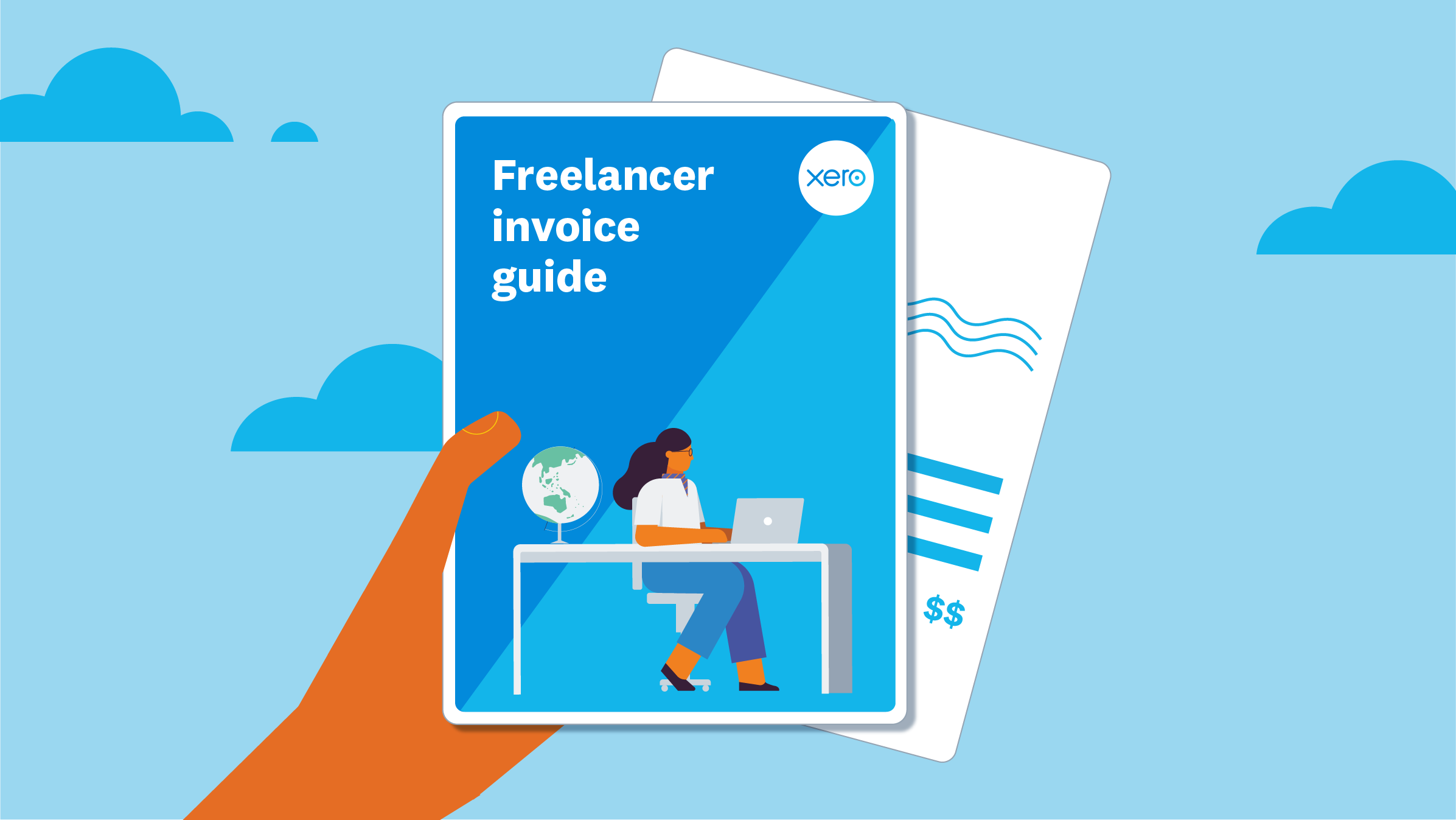 More than 2.6 million Canadians are self-employed, with a labour force survey revealing about a third choose to work that way for the freedom and flexibility it brings. Professionals freelance across multiple industries including design, legal, computing, engineering and scientific services.
Many freelancing newbies don't know how to do an invoice. This guide walks you through it.
Tips for successfully invoicing as a freelancer
1. Set invoice terms: Clarify work and payment expectations upfront to avoid any surprises later on.
2. Speed up payment time: Xero's internal data shows that shorter payment terms can help speed up payment.
3. Fill out your invoice correctly: Ensure your invoice is clear and professional. Use an invoice template, if possible, to speed up the process.
4. Send and follow up: Send your invoice as soon as the work is complete and automate the follow up process.
Have a conversation about your invoice terms and conditions before starting work. Agree in writing when invoices will be sent (weekly, monthly, or when milestones are met), how long your customer will have to pay each invoice, and what types of payment you accept. Work on the principle of "no surprises".
Customize your standard terms if necessary. If the customer requests a discount, you may want to shorten the payment term. For large jobs, consider invoicing weekly (or monthly) rather than at the end of the job.
2. Speed up payment times
Canadian invoice payment times have held steady despite economic uncertainty. The average payment time was 30.0 days in September of 2019, and 30.3 days in September of 2022. Meanwhile overdue invoices are proving slightly trickier to collect, up from 7.3 days late in September 2019 to 9.1 days late in September 2022.

Invoices are getting paid faster than they used to in the USA. In September of 2019, the average US invoice was paid in 26.7 days. By September of 2022, that had dropped to 25.1 days. Overdue invoices were paid about 7 days late in those same periods.

How to avoid late payments
Billing experts told us their top tips for getting paid on time. Here's what they do.
Eliminate avoidable delays
Send the invoice as soon as you've completed the work. Don't delay until the end of the month.
Find out who the customer accounts person is – it probably won't be the person who hired you for the job – and get their email address. Consider phoning them before you send your first freelance invoice to check you have their details right.
Put your contact details on the invoice so the customer can quickly reach you with any queries.
Keep accurate records so that you know which invoices have been paid and which ones are late so that you can follow up on the overdue ones quickly.
Check the customer's history
Look into the credit rating of new customers, especially if it's a big job. For repeat customers, be mindful of their past payment history before booking more work.
Your freelance invoice doesn't have to give generous 30-day payment tems. Many businesses now ask for payment within seven days. This ensures that clients deal with your payment quickly, rather than forgetting.
It's increasingly common for freelancer invoices to charge a 50% deposit, ahead of work starting. This helps to keep clients engaged, which will keep the project moving. It also helps your cash flow.
Make it easy for clients to pay
The easier it is for clients to pay your invoice, the faster you will be paid. Tell customers what forms of payment you accept, and include bank details. Also, consider accepting card payments. Xero's internal data reveals that payments are twice as fast if you accept online payments like a card or ACH (automated clearing house).
3. Filling out your invoice correctly
Incorrect invoices are a common reason for delayed payments. You need to ensure you have the correct information on your freelance invoice.
It's a good idea to find a template that you can use again and again. You can easily download Xero's free invoice template, which appears in the example below.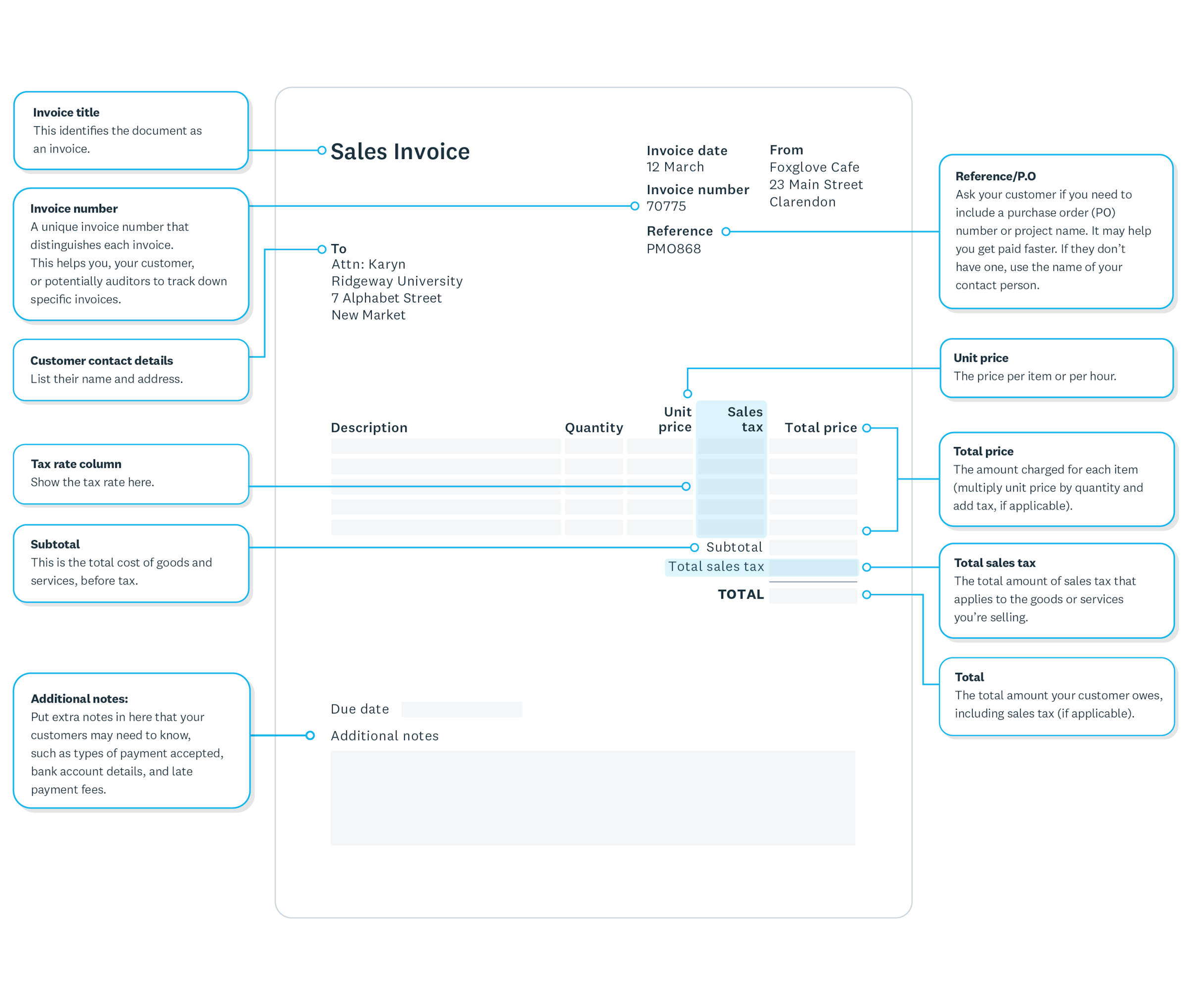 Label it clearly as a sales invoice.
Your client needs to know who they're paying. Put your personal or business name at the top with your address to make it clear.
Include the customer's name and address to send the invoice. Check the following details before you send your invoice:
Find out if you should send the invoice to your contact or the accounts team

Check the legal name of the company or organization as it could be different from the trading name
Say when payment is due. This may be the most important thing you do. And by the way, Xero data confirms that the less time you give customers to pay, the less time they take. Consider 7-day or 14-day terms rather than giving them 3 weeks or a month – but be sure to communicate and agree those terms upfront. Also be sure to show what date you sent the invoice.
Your invoice should have a unique number that differentiates it from other invoices. This helps everyone keep track of specific invoices. The invoice number can be any combination of numbers and letters as long as no other invoice is the same.
Ask your customer if you need to include a purchase order (PO) number or project name. It may help you get paid faster. If they don't have one, use the name of your contact person.
Description of freelance services rendered
You need to describe the services you provided. If there were multiple parts to the job, list them separately.
You put the price per item or hour.
Show the tax rate in a separate column. Sales tax differs from place to place and product to product so check the guidelines for your province or territory.
Multiply the unit price by quantity and add sales tax, if applicable.
Show the total cost of goods and services, before tax.
The total amount your customer owes, including sales tax (if applicable).
Put extra notes in here that your customers may need to know. This can include:
types of payment accepted
4. Sending your freelance invoice (and following up)
Send your invoice straight away and get customers on the clock ASAP. You can't start the countdown to payday until the invoice is in their hands. There are three common ways to send an invoice:
Mail: If your client doesn't use email or accounting software, you should print your invoice and send it in the mail.

Email: If you have created your invoice as a word document, convert it into a PDF. Say "invoice" in the subject line.

Invoicing software: This provides a fast, easy system and includes templates to choose from. It makes it easy for customers to pay the invoice.
Following up on your invoice
Establish a system to follow up on late payments. If you haven't received payment by the due date, take some action.
Just overdue: Send a polite email or letter (if the client doesn't use email) to remind them of the overdue invoice.
Two weeks: If your freelance invoice hasn't been paid after 2 weeks, follow up with a phone call. Check to see if there is a problem (such as a missing PO number they forgot to tell you about). Follow up with an email to put your conversation in writing.
Following up on really overdue invoices
Resend the invoice and confirm:
they received the invoice

it contains all the details they need to process payment

the goods or services and prices were as expected
Work with them to resolve any disputes arising from these questions. If everything is okay but they're struggling with cash flow, see if you can work out a new payment schedule.
Xero online invoicing shows when customers have opened your invoice. It will also send automatic invoice reminders before or after the due date.
Download a free invoice template
Disclaimer
Xero does not provide accounting, tax, business or legal advice. This guide has been provided for information purposes only. You should consult your own professional advisors for advice directly relating to your business or before taking action in relation to any of the content provided.
Start using Xero for free
Access all Xero features for 30 days, then decide which plan best suits your business.