Guide
Why SEO is crucial for accountants and bookkeepers
Here's how you can use Search Engine Optimization (SEO) to improve your search result rankings – and grow your practice.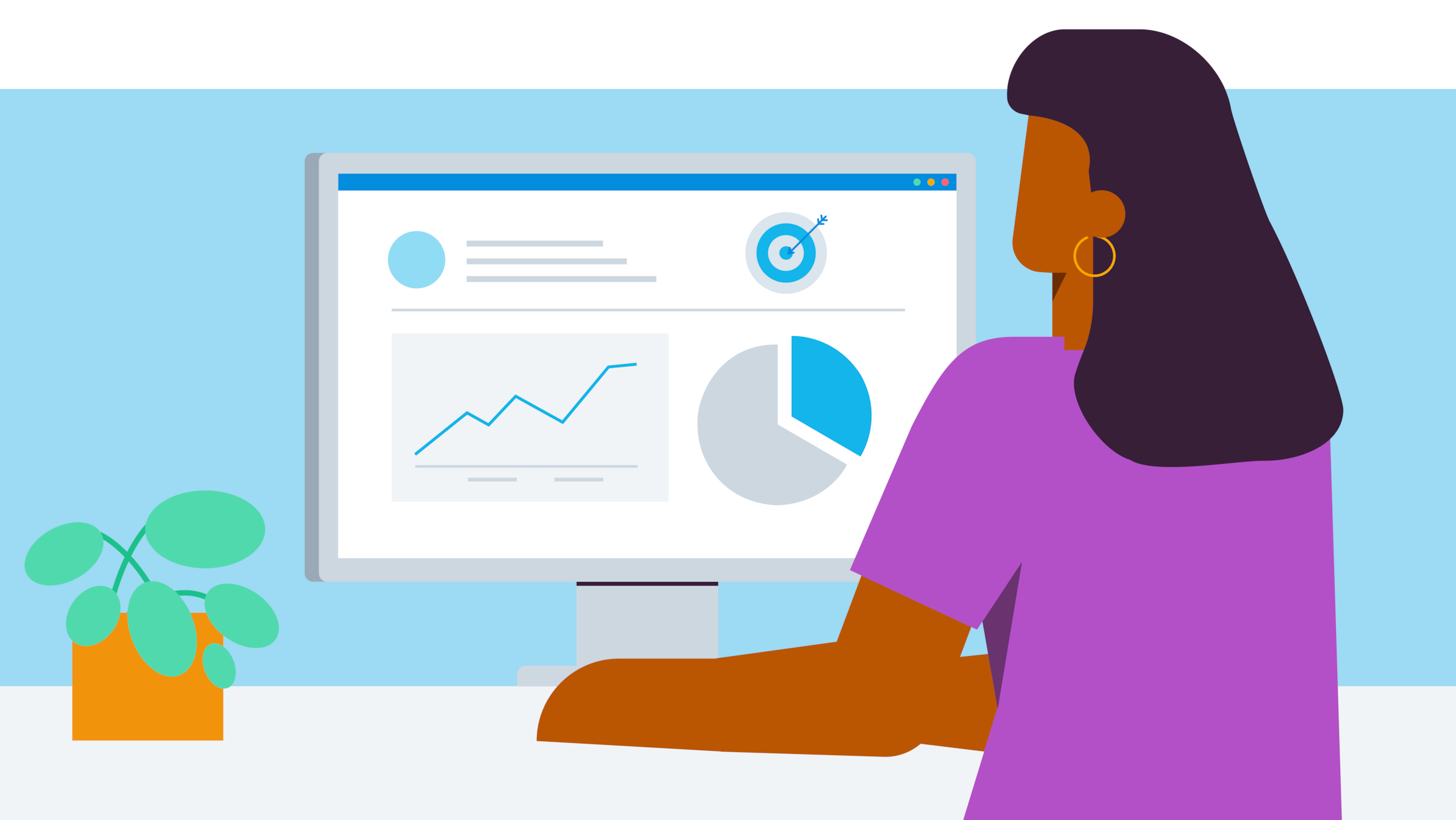 When it comes to marketing, search engine optimization (SEO) is essential. If you want to expand your client base, you need to know about SEO.
Small businesses have more options than ever in terms of who they hire for their accounting and bookkeeping needs. If you rank above your competitors in search engines, it makes it easier for potential clients to find your website first.
You might be wary, especially if you've already tried conventional marketing. Perhaps you didn't see much of a return on your investment. But SEO is far more democratic than traditional marketing. You don't need a big budget to succeed.
The great thing about SEO is that it levels the playing field. That's because a favourable ranking can't be bought. Instead, it's entirely dependent on the value that your site offers to online searchers.
SEO is one of the only forms of marketing that gives small startup businesses the opportunity to compete alongside large companies with big budgets. In fact, SEO is technically free – at least in direct terms. You may have to pay for web design and development, or content writing resources, but that shouldn't cost too much.
However, you do need to invest time and effort if you're going to run a successful SEO campaign. You'll need to make a commitment to produce content regularly, and analyze your results. And you'll have to wait patiently for improvements.
Think of SEO as like going to the gym to get into shape. Success won't happen overnight or even in the first few months. But a little time and effort each day can lead to great results in the long term.
SEO means making a website appealing to Google and other online search engines. The goal is to be one of the first websites listed when someone searches for words related to your practice. The higher your site appears in search engine results pages (SERPs for short), the more visitors your site is likely to get. And, of course, visitors can be converted into paying clients.
The inner workings of search engines are complex. Automated search engine robots – also known as "crawlers" or "spiders" – move across the web. They collect information on every accessible website that exists. This is a process called "indexing".
When someone searches for a specific term, the search engine processes all the indexed information and creates a page of results. Google and other search engines try to put the most relevant and authoritative sites at the top of SERPs.
If you want to learn SEO, you need to know what Google wants from you. The company's philosophy is that the web is a place where information is freely exchanged.
This philosophy might seem to conflict with your goals for your website. Many business owners see their website as a channel for new business – not a medium to educate people.
But as you learn more about SEO, you'll come to realize that providing valuable information is a great way to win new clients.
By offering valuable information on your website, you can impress search engine crawlers and the visitors to your site. You'll achieve favourable search engine rankings and also highlight your expertise to potential customers.
Before we dive into the details of SEO, let's touch on some of the main themes in this guide:
Relevance: You'll want your website to appear when people search for keywords that relate to your firm. So it's important to be clear about the services you offer, the industries you serve and the software you work with. Your website should be simple and easy to access. That way, search engine crawlers can clearly understand what its purpose is. And potential clients can understand how you can help them.

Authority: Sites that are an authority on a particular subject tend to rank better than those that aren't. You should try to present yourself as an expert on all the topics relevant to your practice.

Quality: Your site should provide visitors with a pleasant experience and a good response to their search query. You will drive humans and search engine crawlers away if your site is of poor quality.
Although other search engines – such as Yahoo and Bing – may work in slightly different ways to Google, the principles are the same. With SEO, what works for one should also work for the others.
Good SEO means continuously turning out great content. Your site's content should showcase your firm's specialities, bearing in mind the search queries that lead visitors to your site.
Content is a comprehensive term that covers page text, blog posts, articles, videos, case studies and infographics. It's really anything that provides value to visitors and is accessible to search engines.
Your content strategy should follow these guidelines:
Publish frequently: Updating your site on a regular basis lets Google know that it's still active. Content quickly gets stale, so don't let too much time go between updates.

Make content that's relevant to your firm: Stick to your area of expertise and make sure your content is logical for your audience. If you stray too far from your core area of speciality, you may confuse the search engine algorithm.

Create unique content: The content on your site shouldn't exist anywhere else on the web. Never copy and paste text from another site onto yours. It can trigger a Google penalty that can cause your site to drop in search rankings. It may also get you into legal trouble for breaching someone else's copyright.
The importance of inbound links
Inbound links (links from external sites to yours) are crucial for SEO. As previously mentioned, Google believes the internet is an arena for the exchange of valuable information. Links are the medium for this exchange.
When one site links to another, it's essentially saying, "Check out this website, it has great information on this topic." Remember, you want to be seen as an authority on your firm's specialities. Inbound links represent votes of confidence in that authority.
Having lots of inbound links can be helpful, but a single link from a quality, high traffic website can be even more beneficial. Search engines understand that websites differ in terms of quality, relevance and authority. That's why they place greater importance on links from respected websites.
For example, an inbound link from one of the following would be more valuable than dozens of links from minor blogs or unrelated websites:
A prominent accounting website

A publication that serves your clients
However, inbound links from major sites are hard to come by. So you should welcome any you get from lesser-known sites too.
As you learn more about SEO, you'll come across lots of different link-building strategies. Be careful which ones you use. Many of Google's recent algorithm updates are in response to poor-quality and over-used linking practices.
The topic is too complex to cover fully in this guide, but the key is to naturally earn inbound links. This doesn't mean you can't ask another website to link back to yours, of course. But you should never buy or force a link just for SEO purposes.
Good content drives good links
Let's go back to the importance of quality content here. The key to earning inbound links is to produce great content. Profound blog posts, entertaining videos, beautiful infographics and informative white papers are ideal. They will naturally get shared and linked back to.
Sure, it requires a lot of time and energy to produce sharable, link-worthy content. But this is where your SEO efforts will either succeed or fail. The benefits of great content include:
showing search engine crawlers what keywords you should rank for (direct SEO benefit)

naturally generating inbound links – or "votes of authority" in the eyes of search engines (direct SEO benefit)

positioning your firm as an expert to prospective clients and within the accounting industry (general business benefit)
The role of website usability
In addition to having an informative website, you also need to provide visitors with a great experience. If your site is hard to read or navigate, most people will go elsewhere. Search engines know this, and their algorithms take some aspects of site usability into account:
Site speed: Crawlers measure how long it takes for web pages to load. Your site should have clean code and reasonable-sized images. That way your visitors won't have to wait too long for pages to appear.

Minimal 404 errors (missing pages): Landing on a page that no longer exists is like hitting a dead end while driving down the street. 404 errors occur when a page has been deleted but links to it still exist. In these cases, use a 301 redirect to send visitors to an updated page. Make sure you only use 301 redirects if there's a relevant alternative page. Google will forgive the odd 404 error – but it's worth designing a 404 page so that you can explain to the user why they can't find the page.

Easy navigation: It should be easy to find and move between pages on your site. Sites with complicated navigation don't impress search engines – or visitors.
A properly structured website makes navigation easy. Think of your website like a blueprint for a house. There are different rooms that people can end up in but they need hallways in order to navigate between all the rooms.
So consider creating overview pages that list all the services, industries and software relating to your business. From these "hallway" pages, you can send visitors (and search engine crawlers) to specific pages that go into greater depth. Include a sentence or two under each item listed in your overview pages. This will give visitors a preview of what's in store when they click on each link.
Making the most of local SEO, social media and customer reviews
SEO doesn't just take place on your website. Having a presence on external sites sends additional signals to Google about your brand. Here are some types of website that every accounting practice should be active on:
Google My Business: A Google My Business profile gives you a strong presence when people search for a local accounting firm. Your brand name, office address, contact info and URL will be displayed in Google search, Maps and on the Google+ social network.

Customer review sites: There are websites that allow customers to review businesses. These reviews send signals to search engines about your business. They also influence potential customers as they move through the buying journey. Positive reviews can help you stand out among your competition.
Remember: with anything local, it's important that the NAP (name, address and phone) is the same across all your local directories and listings. If there are discrepancies, this can be detrimental for your local SEO.
Optimizing your site's code
Your website has several HTML elements that should be optimized. This means they should be formatted correctly and contain relevant keywords.
The following elements help deliver a consistent message to Google, telling it what your site is all about:
Page copy: The text on each web page should clearly express its purpose and how it relates to your business. Use keywords where they make sense but don't overdo it.

Title tags: Title tags are the names for a specific web page on your site. They appear as the clickable link in search results and in the tab or top center of web browsers. The recommended format for title tags is 'Keyword | Brand Name' (hyphens can be used instead of a vertical bar), with a limit of 55 characters.

H1 tags: H1 is the most powerful of the six different heading tags. It acts as the headline for a page since it enlarges and bolds the text it's applied to. There is no specific character limit for an H1 tag, but it's best to use it only once per page.

H2 tags: If the H1 tag is the page headline, then the H2 tag holds the subheading. These can be used multiple times per page. They carry slightly less weight with search engines than H1.

URL structure: Building URLs with relevant keywords is another way to tell search engine crawlers about the main theme of each page.

Images: Search engine crawlers cannot see images. They rely on additional information within the code holding the image. So include a descriptive image file name and alt tag text with all your images. This will help search engine crawlers understand what's being displayed.

Meta descriptions: Meta descriptions are the two lines of descriptive text that appear underneath the clickable title tag and URL in Google search results. They don't count for search rankings but they are still important. Well-written descriptions can encourage searchers to click through by giving them a preview of what's in store.
We've covered a lot of information on the topic of search engine optimization. At this point you might be feeling overwhelmed and wondering how to put it all into action.
Start by optimizing your website's code and creating various social media, review site and business profiles.
Once your website and off-page presence is ready, you can move to on-going content creation. This is where the race to the top of organic search results is won or lost.
Most website owners understand the importance of an optimized website and social media. But they struggle to create good quality content consistently. If you can succeed where your competitors are failing, you'll rise to the top of search engine results for the keywords relevant to your firm.
Try setting aside a few hours each week to write a blog post or record a video. That will help you reach an entire world of potential clients who are looking for the right accounting professional for their business.
Disclaimer
Xero does not provide accounting, tax, business or legal advice. This guide has been provided for information purposes only. You should consult your own professional advisors for advice directly relating to your business or before taking action in relation to any of the content provided.
Start using Xero for free
Access all Xero features for 30 days, then decide which plan best suits your business.