FY24 Xero Awards: FAQs
Got any questions about the FY24 Xero Awards event? Check out our FAQs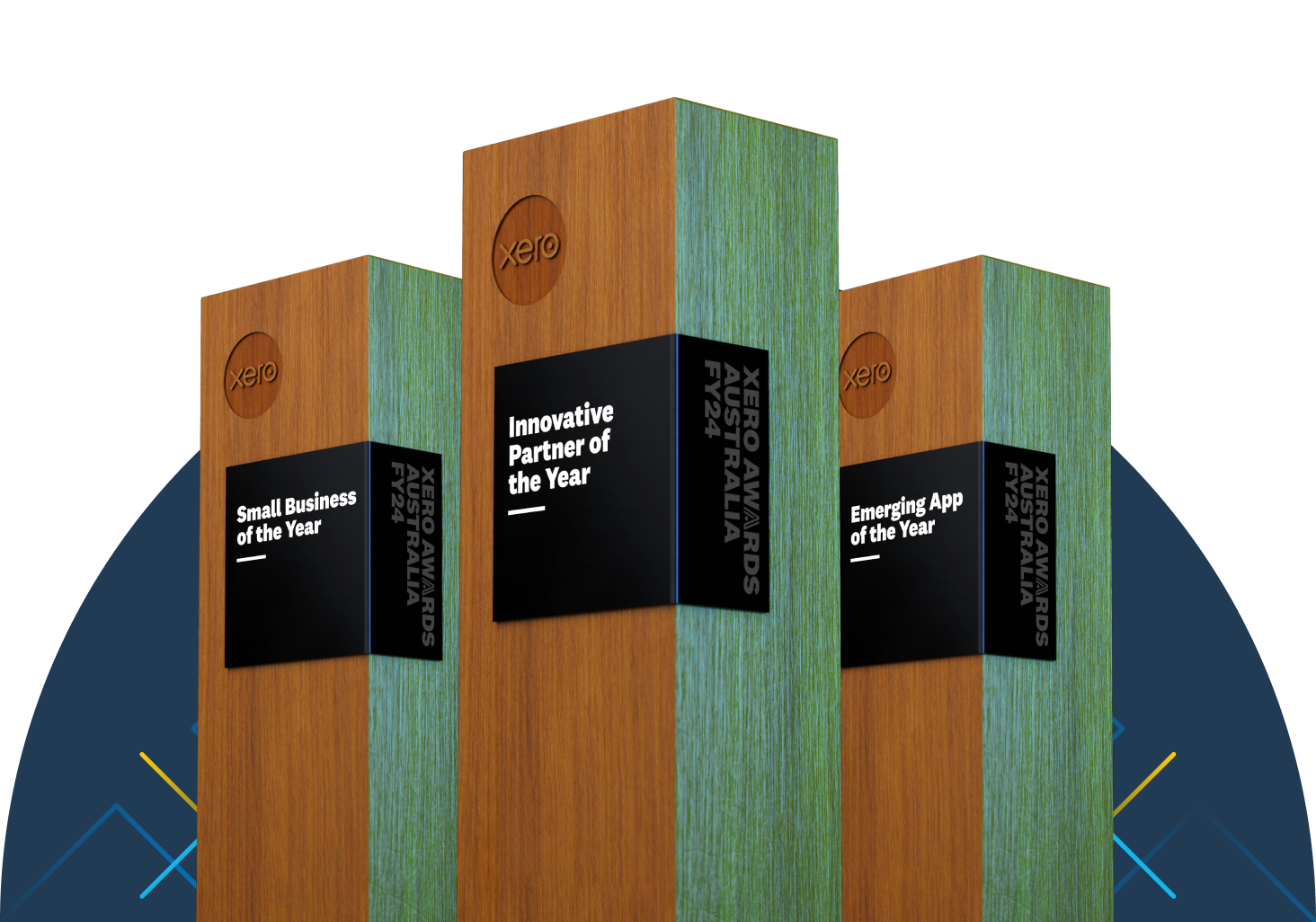 What can we expect at the FY24 Xero Awards Gala?
This year we'll be hosting an awards gala to celebrate and acknowledge the finalists in each category. The finalists will come together for a night of celebration and entertainment, where we'll announce the winners of each category. The night will be hosted by a very special guest host and will be one not to miss! We truly can't wait to celebrate your achievements with you.
Where and when is this being held?
The FY24 Xero Awards Gala will kick off at 6pm AEDT at Luminare Melbourne, on Thursday 23 November 2023. Luminare Melbourne is located at Corner Browns Lane & York Street, South Melbourne VIC 3205.
Luminare is located in South Melbourne where there are many public transport options available near the venue, as well as an easy Uber drop off spot at the front of the venue.
If you are choosing to drive to the event, undercover car parking facilities are available in the Spotlight Centre Car Park on level 2 from 6.00pm on weekdays and all day on weekends. The car park is accessible via York Street.
Who can I bring? Can I bring additional team members?
Each finalist is able to bring one team member to the event. You can submit your attendees on the Jomablue form provided in your finalist email.
What happens if I can't attend the event?
If you're unable to attend the event, we recommend you send another team member to enjoy the incredible evening we have planned for you. Invitations are only valid for the Awards event, and cannot be traded for another gift.
Can I attend the event virtually?
This event cannot be attended virtually. If you cannot attend, we recommend you send another team member to enjoy the evening.
The dress code for the FY24 Awards event is black tie. Come dressed in what makes you feel best to match the stunning evening!
Will my Account Manager or Partner Success Manager be attending? (For partners)
All Account Managers or Partner Success Managers of partner finalists will be invited to the Awards Gala. If for some reason they can't attend, other Xero staff members will be there to chat with you or help you with whatever you need on the night.
I need accessibility access, who do I contact?
As always, we'll be sure to cater to all accessibility requirements. Be sure to add them on your Jomablue form that you received as part of your finalist email.
I have Dietary restrictions, how do I let you know?
Please add any dietary restrictions to your Jomablue form that you received as part of your finalist email, we're always more than happy to cater to your needs.
Will Xero be providing flights and accommodation?
All flights, transport and expenses are at the discretion of the finalist to organise and pay for.
Which hotel should I stay at?
Luminare is located in South Melbourne. If you are planning on staying at a hotel close to the event here are some great picks.
How were the finalists picked and how many?
As always, the caliber of applications was at an all time high. To ensure fairness in our judging process, we implemented a two tier judging process, which includes Xero internal judging, as well as external judges. Three finalists for each category have been selected. Visit this page to learn more about our external judges this year.
Have another question? Reach out to the team at au.events@xero.com
Start using Xero for free
Access all Xero features for 30 days, then decide which plan best suits your business.