Guide
How to start a handyman or handywoman business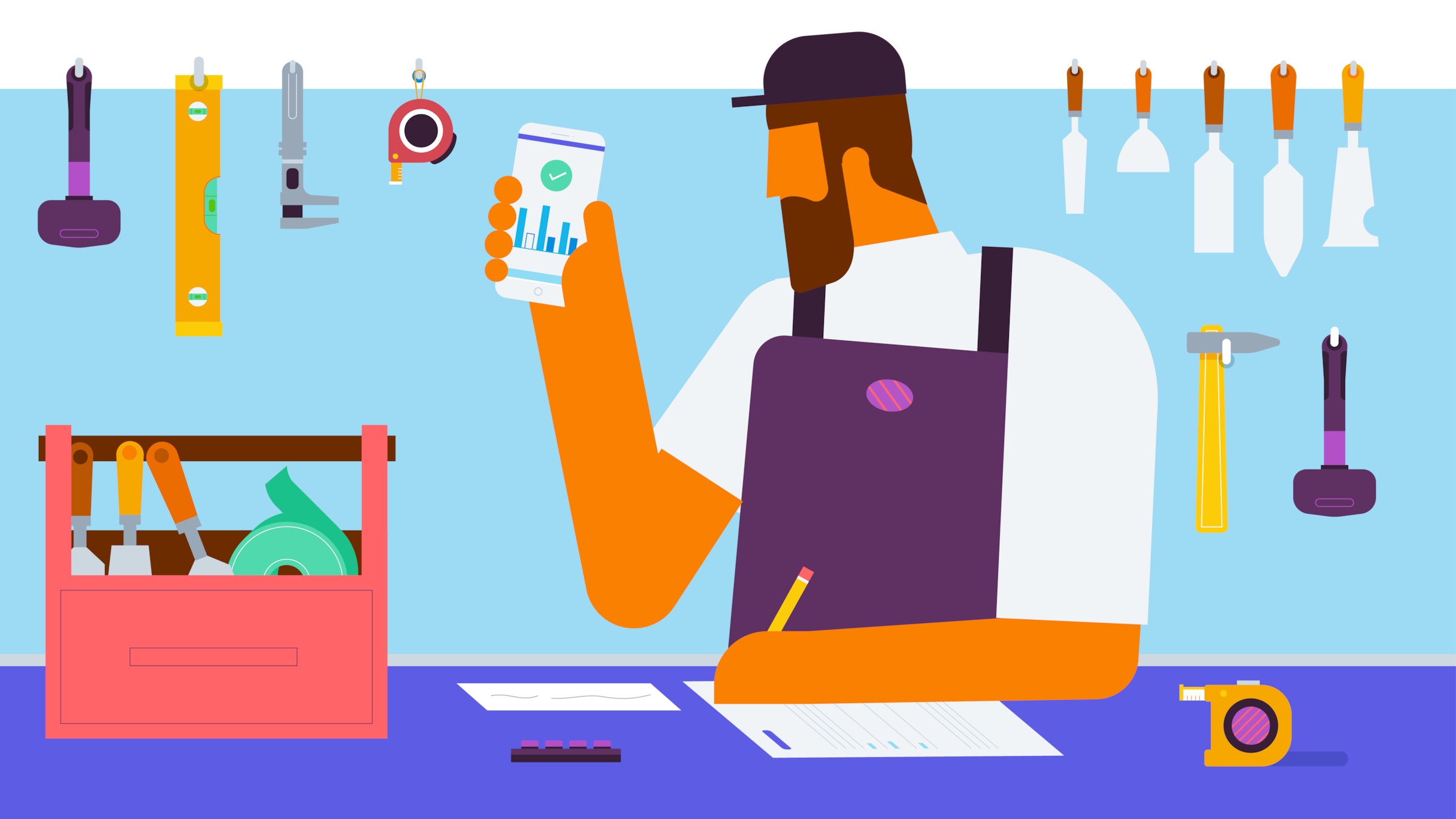 Why start a handyman/handywoman business?
Do you have strong fix-it type skills around your home? Are you the person your friends and family rely on to fix things in their home? Have you ever thought about starting your own handyman or handywoman business? If you have the talent and skills, launching a home repair business can be exciting and rewarding, especially if you're good at fixing things around the house. However, there are some pros and cons that come with the opportunity.
Here's a closer look at the possible advantages and disadvantages of starting your own business in home repair.
The possible pros include:
Relatively low startup costs: The entry costs can be low, particularly if you already own some tools to get you started.

Limited equipment needed: You may already have what you need to get started, so you can get up and running quickly.

Set your own hours: You can decide how much you want to work and whether you want to be full-time or part-time.

Pick the services you want to offer: You can stick to simple tasks around the house like putting up shelves or installing new lighting that are easy to do and profitable.

Choosing your jobs: You can decide on what types of jobs to do, either sticking to the easy ones or taking on more challenging tasks.

Being your own boss: Working for yourself and answering only to your customers.

Job satisfaction: Getting satisfaction from helping customers improve their homes.
The possible cons include:
Involves manual labor: Be prepared for work that can be physically demanding.

Being mechanically inclined: Being handy around the house is critical. You will need mechanical skills and know how to use tools. If this isn't one of your strengths, it may not be a great fit for you.

Expertise and experience required: For some jobs, having professional certifications may be required. For others, having a background working in the trades will be critical to your success.

Finding customers may take time: Running down jobs takes time, effort, and money.

You'll need equipment: You'll need to purchase the necessary tools if you don't already have access to them.

Dealing with customers: Customer skills are required. Some homeowners can be demanding.

Pay can be variable and inconsistent: It may be stressful to make ends meet, especially when starting out, as you will not be on someone else's payroll. Since this is not a 9-to-5 job, you have no guarantees on how much you will make.

Business can be seasonal: Working as a handyman/handywoman can be seasonal, busy in some periods and slow in others.

Licensing costs: There could be red tape and specific permits required for certain jobs.

Working outdoors: Many jobs will be outside where weather conditions are a factor.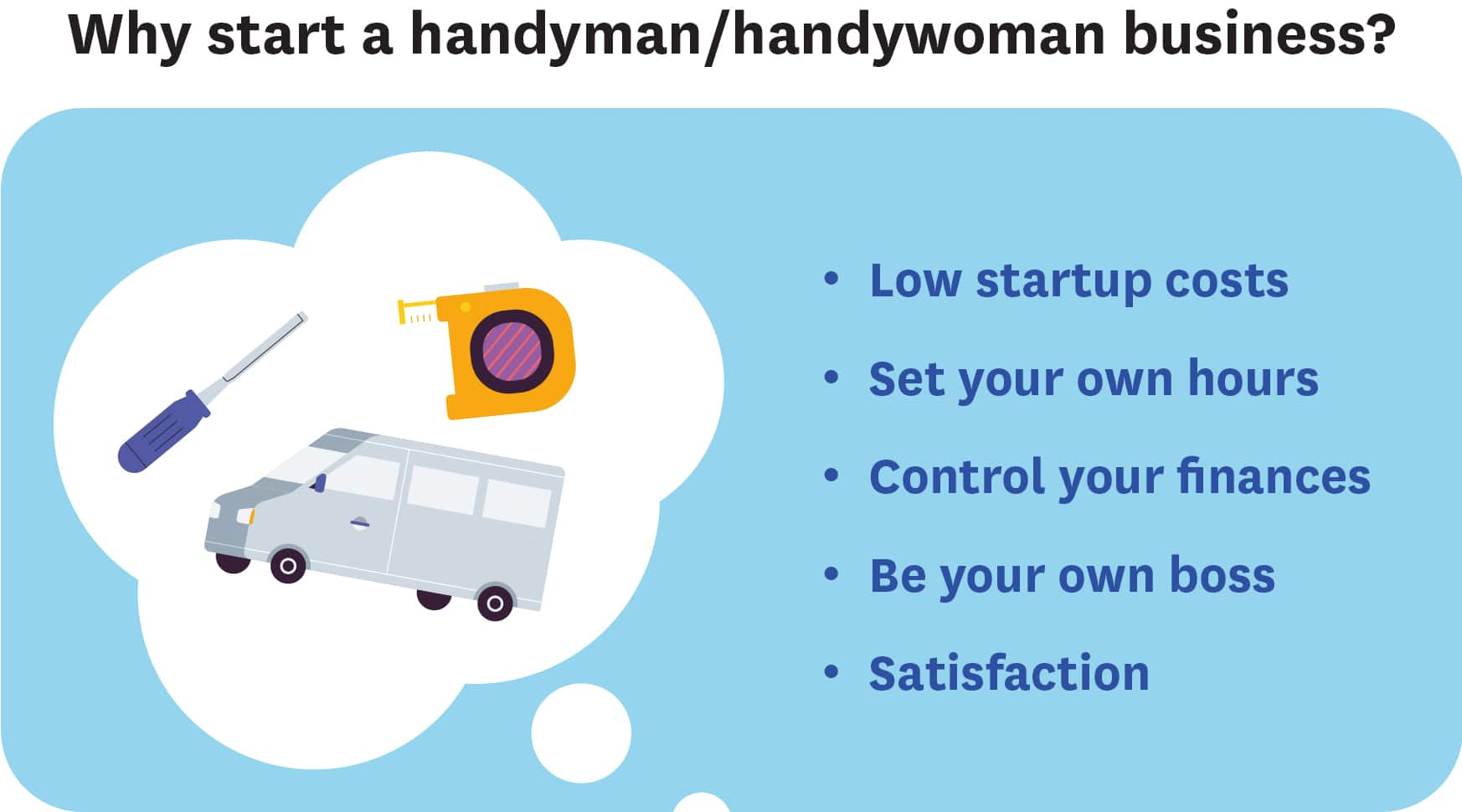 11 tips for starting a handyman or handywoman business
A handyman or handywoman deals with home repair and routine maintenance in people's homes. This is a different career than a general contractor. The average handyman/handywoman has learned their trade through periods of hands-on experience working on different types of jobs.
Depending on where you live, your state may limit the type of jobs you can do up to a specific dollar amount. It is possible that you might need a handyman/handywoman license for some jobs. Those things include skilled trades like plumbing, electrical wiring, or HVAC. If you are looking to set up your own home repair business, here is a step-by-step guide to get started:
1. Research and develop a business plan
If you want to start your own handyman or handywoman business, the first step is to write a business plan. You can write your vision for your business on paper and identify your strengths, weaknesses, and who your competitors are. Your business plan will include:
Executive summary: The plan's basic elements, captured in one page or less.

Company overview: Describing the details of your service business.

Industry analysis: Assessing the target market area of the business.

Customer analysis: Identifying your likely customers and target audience.

Competitive analysis: Evaluating the local competition.

Marketing plan: Picking a business name and expressing your USP (unique selling proposition) and strategy for attracting new customers.

Operations plan: Detailing how your business will operate.

Financial plan: Detailing your plan for financing the business.
For larger jobs, you may want to draw up a service contract for your clients to sign, especially for the larger jobs, to lay out terms and conditions of service, and to establish legal protection for both parties. You should work with an attorney to create this contract. The document should clarify client expectations and minimize the risk of legal disputes by laying out payment terms and expectations for services.
2. Define your target market
It is crucial to identify your target market for customers. Creating your ideal customer profile (or buyer persona) will include such factors as:
Demographics (such as age, income, family status).

Nearby physical location.

Customers' requests that you can assist with.

Sought-after features in a service provider (efficiency and price).
Make sure that your service offering aligns with your customer expectations. For example, customers may be looking for someone affordable who can do quality work at a reasonable price.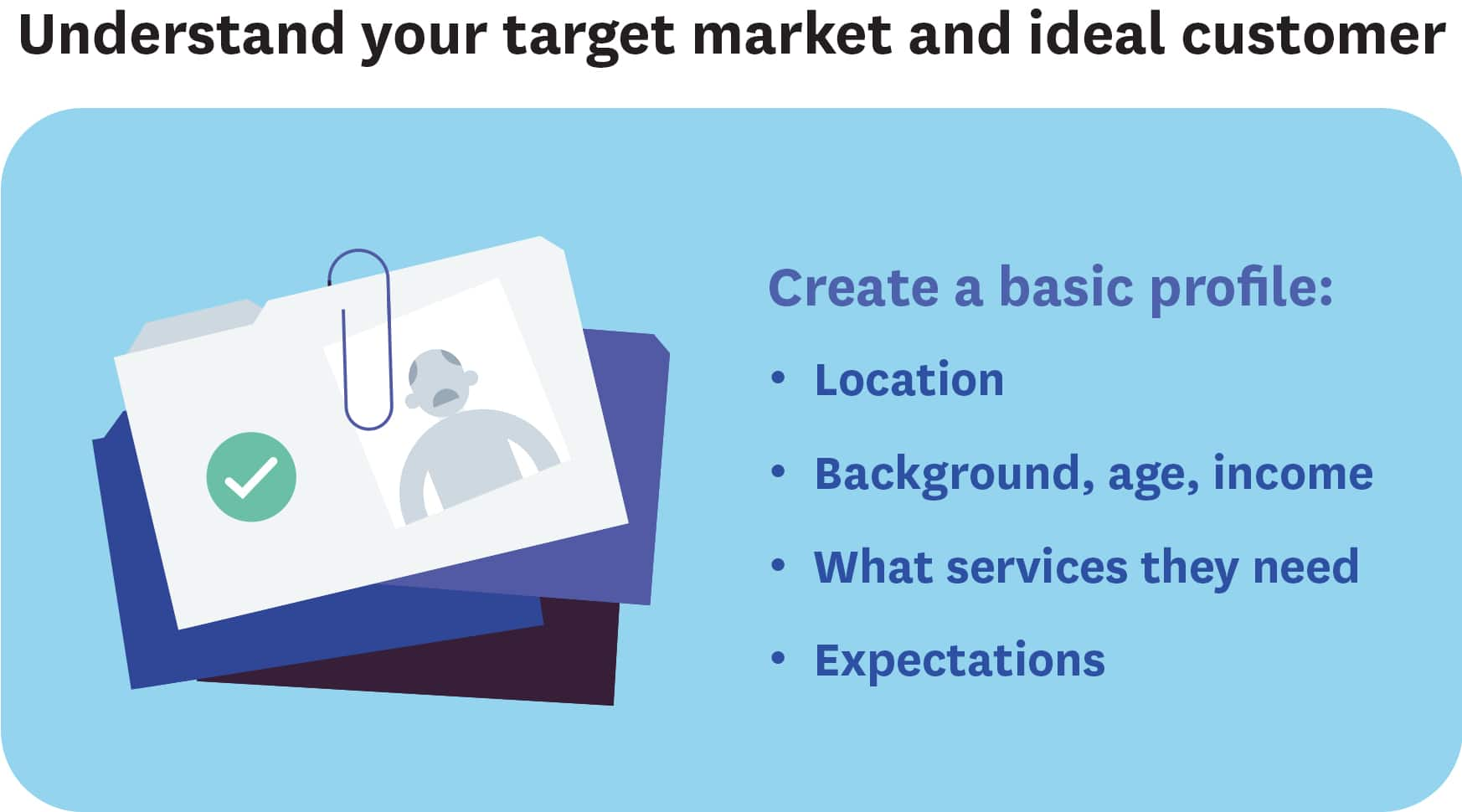 3. Choose a business structure
Choosing the right business structure is one of your most important decisions when starting a business. Here's what you need to know about the most common business structures – sole proprietorships and Limited Liability Companies (LLCs) – their differences and how to choose the one that's right for you.
A sole proprietorship is the simpler one and has very little paperwork for setting up. With an LLC, there's upfront paperwork and costs, but these provide long-term benefits for the business and make your investment worthwhile.
A sole proprietorship is an unincorporated business. It has one owner, and it is the simplest type of business structure. As a sole proprietor, there's no legal separation between your personal assets and your business assets and expenses. As a result, you're personally responsible for all of the debts and obligations of your business.
Individuals doing contract work, such as freelancers or consultants, often choose to file their business taxes as sole proprietors. It is the simplest way of doing it and does not involve the costs of forming an LLC.
Limited Liability Company (LLC)
An LLC is a legally separate business entity created by filing the necessary paperwork with your state. An LLC can have just one owner (known as a "member") or many owners.
Once set up, an LLC is its own legal entity that is separate from you, the owner. Its defining feature is that it provides members liability protection from the debts and obligations incurred by the business. This means that creditors of the business cannot legally target your personal assets if your business is unable to pay its debts.
3. Apply for a business license
As previously noted, you will need to look up your state's laws regarding thandyman/handywomen businesses. There is the possibility you might have to get specific certifications, permits, and/or licenses. For example, if the jobs are related to plumbing, electrical, or HVAC, you might have to have a contractor's license to do them. It is also possible you may have to get a license to do jobs above a certain dollar amount. Learn more about the licensing requirements in your state by visiting the U.S. Small Business Administration (SBA) website for information about registering with federal and state agencies and obtaining the necessary state licenses and permits.
4. Determine which handyman services you will offer
This is one of the most important parts of your business startup checklist – determining what services to offer your customers. Here are some service ideas to add to your list:
Building and assembling furniture, such as IKEA-type furniture.

Anchoring items on walls, such as TVs.

Painting home items, including cabinets and furniture.

Minor painting of walls and fixtures.

Fixing appliances – minor repairs.

Outdoor repairs like fixing mailboxes.

Fixing gates and fences outdoors.

Replacing air conditioning and furnace filters.

Making a home accessible for the disabled.

Hanging up pictures and shelves.

Leaky faucet or pipe repair.

Replacing window screens.

Light fixture replacement, like overhead lights.

Installation of curtains, blinds, and shades.

Kitchen and bathroom tile installation.

Cleaning windows and gutters.
You can decide which services you would like to specialize in, if any. Even something as simple as assembling furniture can be lucrative.
6. Open a business bank account
Keeping personal and business finances separate is important. A business account separates your personal assets from your company's assets and makes accounting and tax filing more straightforward.
7. Determine what equipment you will need
Whatever your client's home improvement project, you will need the right equipment, a roadworthy vehicle, and the necessary supplies to meet your client's needs. These include:
Tools and equipment: You will need basic tools like an extension ladder, basic tool kit, sander, cordless drill, handsaw, and safety equipment for every job.

Transportation: Having your own vehicle in good working order is a must – either owned or rented.

Local suppliers: Having a reliable supplier on hand for items such as nails, paint, and anything else that you may need.
A handyman or handywoman business starts with good financial planning. Make a list of everything your business will need, and how much it will cost. If you don't have sufficient startup capital, there are a variety of funding sources you can consider:
Loan from family or friends

Government funding from SBA

Business loan or business line of credit
It's important to have a price list in place before you offer your services to customers. Do your research to see what your competitors are charging in the local area. There are a number of factors to consider:
Overhead costs: Calculate your hourly overhead by estimating your running costs for marketing, phone bills, transportation, and any other costs.

Labor costs: FIgure out how much to charge with this formula – multiple your hourly labor rate by the hours it will take to complete the job.

Profit margin: After all of your expenses are deducted from your gross earnings, you will know your profit amount.

Taxes: Calculate what income tax bracket you will fall into (plus sales tax, if applicable). Set aside money to pay for your taxes.
10. Get business insurance
There are a variety of insurance plans you should consider as a handyman or handywoman. Handyman insurance may include:
General liability insurance: It protects against both bodily harm costs and property damage.

Commercial auto insurance: If you use a vehicle just for the job.

Professional liability insurance: To protect against work mistakes.
11. Market your handyman/handywoman small business
Marketing your handyman/handywoman business may help you find new customers. Look for your potential customers where they spend time online and in real life. Here are some tips:
Word of mouth: This is the best channel for building a handyman or handywoman business. Ask your customers to refer you to other business, and offer them something in return. Also ask them to support you with positive online reviews.

Social media profiles: Open business accounts on Facebook, Twitter, TikTok, or Instagram where customers spend their time.

Business sites: Set up a

Google Business Profile

. Also list your business on platforms like Yelp for Business and Bing Places.

Local advertising: List your local handyman services in area community newspapers.
Start using Xero for free
Access all Xero features for 30 days, then decide which plan best suits your business.