Chapter 3
How to send an invoice
How you send invoices can have a big impact on how quickly you're paid. Let's look at some of the basics.
Some businesses send invoices every week or every two weeks. Some do it once a month. In fact, it's best to send your invoice as soon as an order is filled or the work is done – that way you don't forget.
Schedule your invoicing to suit your cash flow. (Send interim invoices if necessary.) You want money to come in before you have to pay your bills. Whatever your schedule, make it clear to your customer as early as you can when they should expect it – put it on the payment terms when you quote.
Put all the relevant details on the invoice, including details of the buyer and seller, the products and services, prices and taxes (if applicable), and payment terms.
You have options when it comes to getting an invoice into your customer's hands. Let's look at the pros and cons of each.
Post can still be best for customers that overlook emailed invoices, or don't use email at all. But compared to other methods, post is slow, less secure, more expensive, and harder to get right as addresses often change.
Email addresses are easier to get right and the invoices arrive faster. Plus the invoice can't really be lost. Just double-check you're sending it to the right person or department.
You can create an invoice online and send your customer a secure link to it. It's nice and simple for them, and you can see when they've opened it. Better still, online invoices allow you to include a 'Pay now' button. Customers just click through to pay immediately via credit card, debit card, or automated clearing houses like Stripe or GoCardless.
You can create an invoice in your accounting software and send it directly to your customer's accounting software, where they'll see it as a draft bill awaiting payment. You don't even need to be using the same accounting software for this to work. It's fast and safe: the invoice can't be lost, and it eliminates the need for manual data entry at their end.
You'd normally send a short email message with your invoice. The most important part of your invoice email is the subject line. The customer may pay faster if you give them a reference like the purchase order number. You can ask your customer's accounts payable department what they like to see as the email subject.
You don't need an elaborate message in the body of the email. A greeting and single line message is enough. The invoice itself contains everything else the customer needs to know.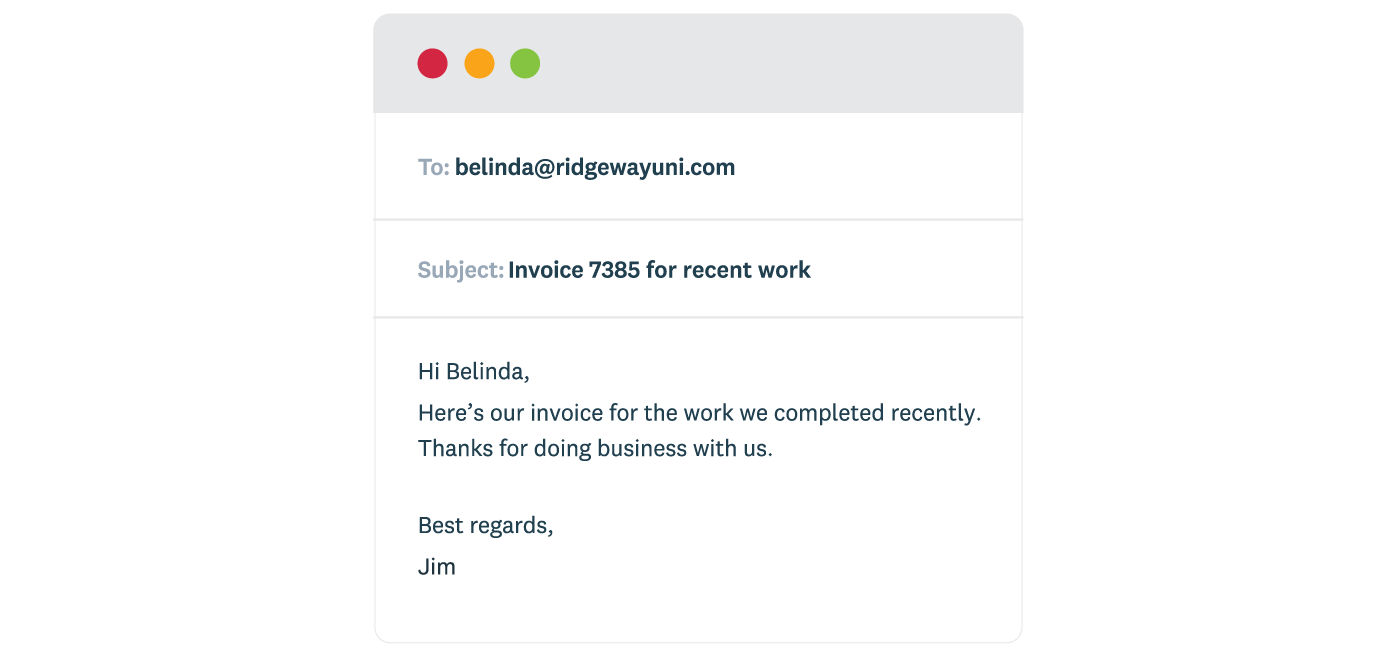 You've sent the invoice but the invoicing process isn't finished. Follow-up action might be needed to get it paid. The next chapter covers tips on the accounts receivable process and collecting payment.
Disclaimer
Xero does not provide accounting, tax, business or legal advice. This guide has been provided for information purposes only. You should consult your own professional advisors for advice directly relating to your business or before taking action in relation to any of the content provided.
How to invoice
Looking for help on making and sending invoices and getting them paid? Check out these tips on the art of invoicing.
Download the guide to

invoicing
Learn how to create and send invoices that get opened, understood, and paid. Fill out the form to receive our invoicing guide as a PDF.
Start using Xero for free
Access all Xero features for 30 days, then decide which plan best suits your business.