Kate from Lune Croissanterie takes perfectionism to a new baking level
Kate Reid, former Formula One aerodynamicist, engineered the perfect croissant. Her business, Lune, bakes 20,000 a week.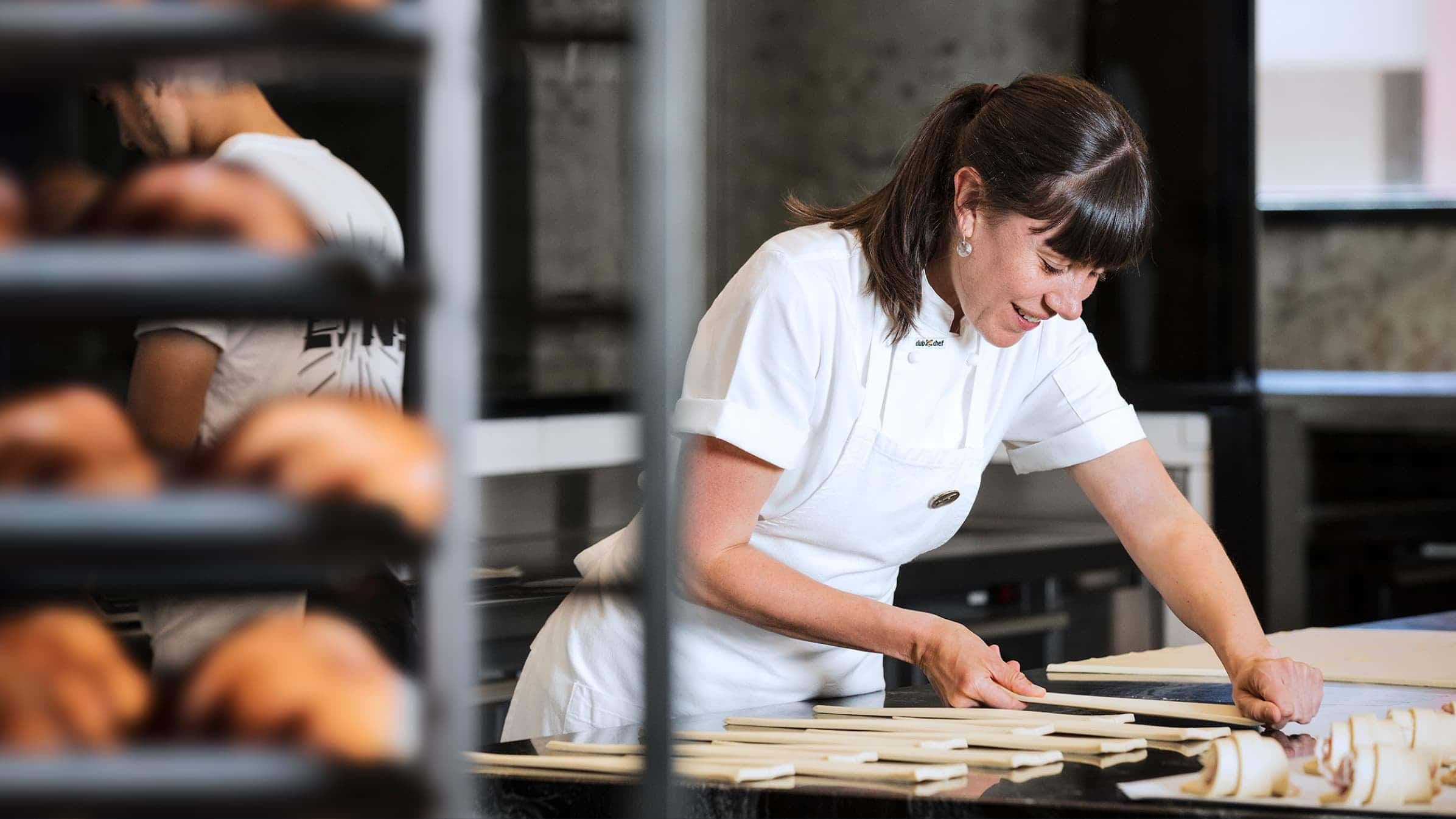 From Formula One to France
When Kate Reid was offered a job in Formula One as an aerodynamicist, it was a dream come true, so she packed her bags and moved from Melbourne to the UK. However, working for one of the most highly-regarded motor racing teams in the world wasn't all it was cracked up to be.
"I'd dreamt of working for Formula One for such a long time, but when I actually achieved it, it didn't meet my expectations," says Kate. "The role just wasn't what I thought it was going to be."
After a few years, the stress had taken its toll and Kate's health was suffering – so she moved back to Melbourne. She got a job in a bakery and began to recover, then one day opened a coffee table book on Parisian pâtisseries to a double page photo of a stack of pains au chocolat. Next thing she knew, she'd booked a ticket to Paris.
"I worked in a boulangerie in the 10th arrondissement in Paris where I learnt how to make viennoiserie – a style of pastry that started in Vienna," says Kate. "I was there for four weeks and worked full-time in a raw pastry kitchen."
When she came back to Melbourne, Kate couldn't find a croissant that met the expectations of what she'd had in Paris, so she decided to make them herself.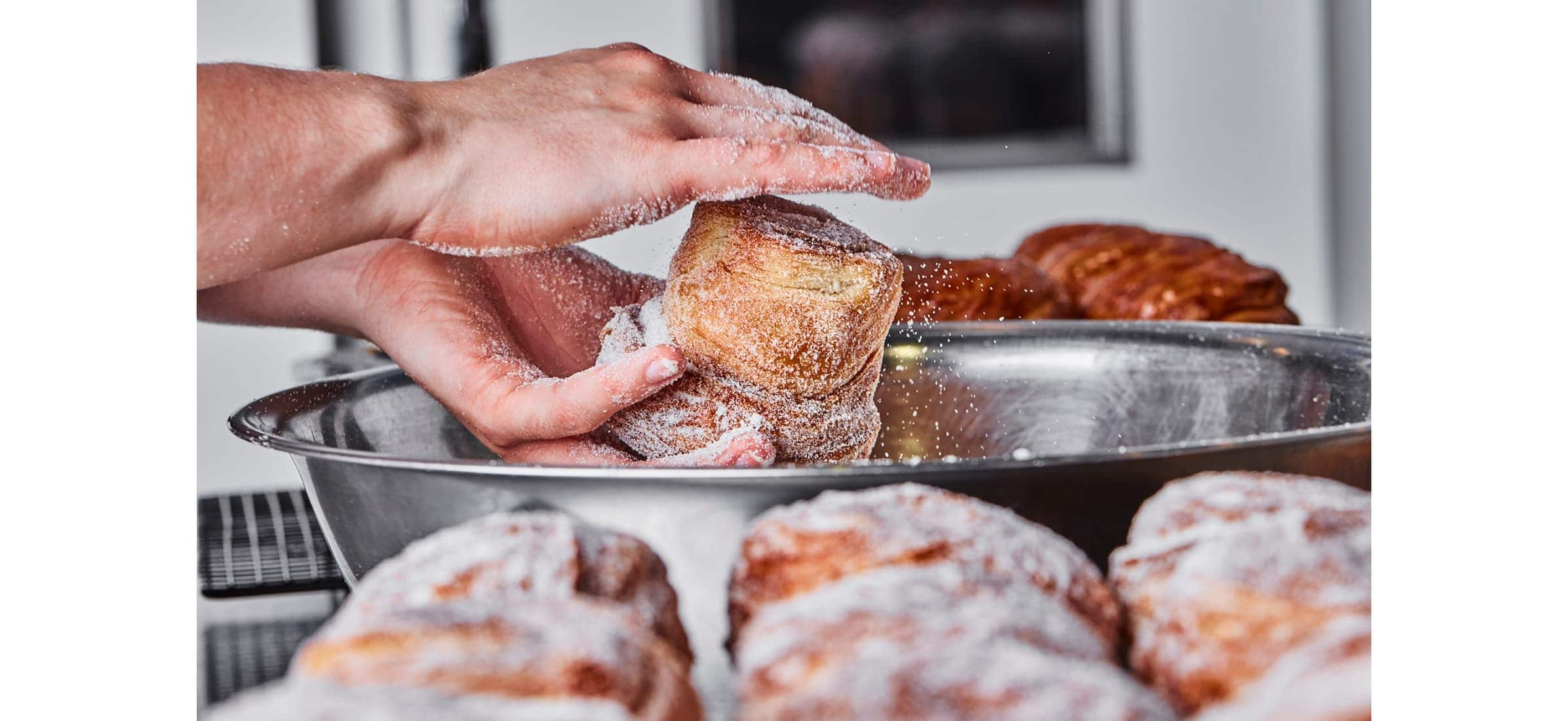 Engineering the perfect croissant
As a perfectionist, creating a 'really good' croissant was a fairly long process for Kate. She bought the minimal equipment she needed, rented a makeshift kitchen and got to work.
"I'd only learnt the raw elements of the croissant making process in Paris, so I made my first batch of dough in the kitchen in Elwood and realised I didn't know what to do next," said Kate. "I realised I could either go back to Paris and learn or I could reverse engineer the whole process using experimentation and testing principles from engineering."
Kate imagined the final product she wanted to achieve. Day by day she would trial a batch of dough, change one variable in the technique, test the quality of the finished product and then start the process again.
"I didn't have the knowledge but I had the ability to extrapolate the information I needed and develop a process to create an end product I was proud of."
It took three months before Kate had a croissant she was happy to take out to customers to sample. She made and supplied croissants to espresso bars around Melbourne for about 18 months, until it became so popular that she was working 90 hours a week and it was too much for her to manage on her own.
"At the time, my brother Cam had just sold a cafe and was looking for the next thing to do, and we came up with the idea of turning the space I was using to make the croissants into a retail bakery," she says.
With Cam on board, renovations began to turn the wholesale kitchen into a shop and as word spread about the croissants, business boomed.
"I was making 1,100 croissants a week and we had lines of people queuing from two or three in the morning," says Kate. "We'd open at 8am to a line of 100 people, we just couldn't meet the demand."
Expanding her business, Lune
Reaching this point in the business meant they could either pare back the business or expand. They decided to take on another business partner, Nathan Tolman – who owned cafes like Higher Ground and Kettle Black – and he offered them a much larger building in Fitzroy.
The croissanterie had suddenly gone from 20sqm to 400sqm and with that came the opportunity to expand and hire staff – Kate and Cam took on two more pastry chefs and hired a small front of house team.
"Xero became a really critical tool for us as soon as we moved to Fitzroy and began to take on more staff," says Kate. "We needed accounting software to assist us in the clean and tight management of the business."
Kate's expertise as a pastry chef is perfectly matched by Cam's expertise in business. "The split of our skill sets is almost perfect," says Kate. "We have little areas where we overlap which is great because we understand the responsibility each of us has and we can come up with informed decisions."
As the business has grown, Lune has increased the number of suppliers to over 100 and the number of staff to over 60 – so being able to manage all of them easily is vital.
"We needed to get those systems in place that streamline and interact with Xero," says Kate. "The more systems that talk to each other, the better. If we didn't have something that so neatly managed the payroll and invoicing, it's safe to say we would spend hours and hours trying to do that manually."
From making just over 1,000 croissants a week, Kate and her team of pastry chefs now make upwards of 20,000 and at the end of 2018 they opened a second shop in Melbourne's CBD. Kate couldn't be happier – with her trusted team of chefs and knowing the business is in Cam's capable hands, she's able to take on some incredible projects.
"I'm developing a new pastry for one of Andrew McConnell's restaurants and I'm doing talks about the Grand Prix because of my unique link with F1," says Kate. "Without Xero I'd probably have to say no to all of that because managing a staff of over 60 would be very time-consuming without really well integrated and user-friendly software."
And as busy as she is, it's clear that Kate really loves what she does. "It's something that makes people happy," she says, simply. "We bake throughout the day so every customer gets handed a warm croissant straight out of the oven. It's a pretty nice feeling to know you've given someone that little moment they look forward to."
See how our customers are making the world a more beautiful place
See how accounting software can work for you
Start using Xero for free
Access all Xero features for 30 days, then decide which plan best suits your business.