Media release

Published on 25 August 2022
Australian small businesses record highest jobs growth in 11 months, despite slowdown in sales
The Australian Index fell 40 points in July to 111 points and now sits around the 2021 average
Melbourne — 25 August, 2022 —Xero, the global small business platform, today released its latest data on the health of Australia's small business economy during July from the Xero Small Business Index. Based on aggregated and anonymised transactions from hundreds of thousands of small businesses, the Index, developed in collaboration with Accenture, is part of the Xero Small Business Insights program.
Xero's Small Business Index fell 40 points in July to 111 points and now sits around the 2021 average. The big swings in the Index over June and July largely reflect volatility in the time to be paid metric, as a result of the end of the financial year in June. July also saw sales growth slowing to 7.5 percent year-on-year (y/y), a 4.1 percent y/y rise in jobs and wage growth marginally higher, at 3.6 percent y/y.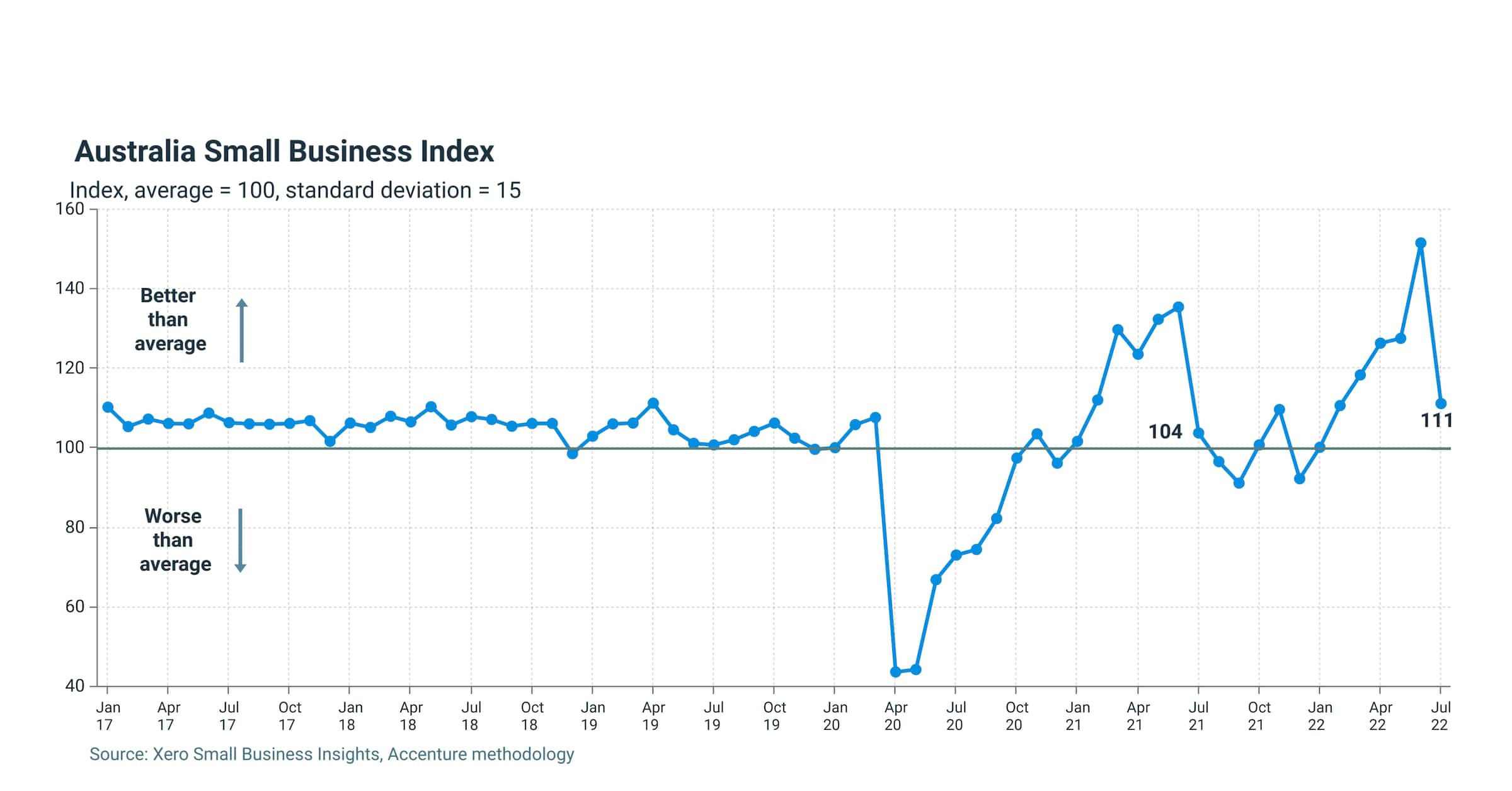 Joseph Lyons, Managing Director Australia and Asia, Xero, said: "Small businesses remained resilient in the face of inflation and other supply chain challenges according to the July index. In fact, we've seen the strongest jobs growth in almost a year, even across industries like hospitality and agriculture, which have recently struggled to find talent.
"While inflation is impacting small businesses globally, our data shows that Australian small businesses are faring slightly better compared to those in New Zealand and the United Kingdom in terms of sales. While this doesn't mean it's smooth sailing for local small businesses – as most can attest to – it's promising to see an overall above-average result, especially for sectors that have been doing it tough," says Lyons.
Strongest jobs result since August 2021
Jobs rose 4.1 percent y/y in July – the largest rise since August 2021. This is above the long-term average of 3.0 percent y/y for the Xero Small Business Index series, meaning jobs growth has now been positive for three consecutive months.
Looking at the states, July saw Tasmania record positive jobs growth (at 1.8% y/y) for the first time in 7 months while New South Wales led all states at 7.7 percent y/y.
All industries reported positive jobs growth, including hospitality (+8.6% y/y), which had recorded falls in jobs for the previous six months. Information media and telecommunications (0.8% y/y) and agriculture (0.2% y/y) reported the lowest figures, while arts and recreation led all industries at 11.1 percent y/y, a significant result given a tough couple of years due to COVID-19 restrictions.
Wage growth did not rise significantly, despite minimum wage increase
Despite the annual increases in minimum wage (5.2%) and award wages (4.6%) that came into effect on 1 July, the wage result suggests that there has not been a material impact on aggregate wage costs. Wages grew by 3.6 percent y/y, up from 3.4 percent y/y in June.
Across industries, health care continues to record the lowest wages growth, at 2.7 percent y/y whereas information media and telecommunications was the leading industry in terms of wage growth, at 4.3 percent y/y.
"July was the first month of the new financial year where the increase in minimum and award wages was in place and we didn't see a significant effect. We will get more award wage information in October when the award wage rise comes into effect for the hospitality industry," says Louise Southall, Economist, Xero.
Cost of living pressures see sales continuing to fall
The main area of concern for July is the slowdown of sales growth, which slowed again to 7.5 percent y/y, from 11.4 percent y/y in June. Many Australians are facing cost of living pressures as prices rise faster than wages, causing a flow of effect when it comes to spending in small businesses across the country.
"When prices are taken into account, using the June quarter Consumer Price Index, it suggests that the volume of sales rose a smaller 1.4 percent y/y (down from +5.3% y/y in June). But this means small businesses still sold more goods and services in July 2022 than they did in July 2021," said Southall.
"This is different to the experience of small businesses in other countries like the United Kingdom and New Zealand, where sales, excluding price impacts, have actually declined for June and July."
New South Wales (12.9% y/y) and South Australia (10.7% y/y) led all states with double digit sales growth. Hospitality (+21.6% y/y) and arts and recreation (+22.6% y/y) were the leading industries in terms of sales in July, again another positive reflection that the arts and recreation sector is returning to full strength.
Time to be paid rose 2.7 days to 23.2 days
The average wait time for small businesses to be paid rose 2.7 days in July to 23.2 days. This follows a 3.0 day fall in June, which was largely due to the end of the financial year when this metric usually experiences a large improvement, hence the reversal is not unexpected.
There was a 1.6 day rise in late payments to 6.5 days after a record low of 4.9 days in June, which was also impacted by the end of the financial year.
To download the full July results, including industry and regional breakdowns, go to the website here. To find out more about how the Xero Small Business Index is constructed, see the methodology.
Xero Australia | Sophie McCullen | 0435 913 863 | sophie.mccullen@xero.com
Xero is a global small business platform with 3.3 million subscribers which includes a core accounting solution, payroll, workforce management, expenses and projects. Xero also provides access to financial services, and an ecosystem of more than 1,000 connected apps and more than 300 connections to banks and other financial institutions. Through Xero's open platform, small businesses can connect to a range of solutions that help them run their business and manage their finances. For three consecutive years (2020-2022) Xero was included in the Bloomberg Gender-Equality Index. In 2021, Xero was included in the Dow Jones Sustainability Index (DJSI), powered by the S&P Global Corporate Sustainability Assessment. Xero has been named as a FIFA Women's Football partner under FIFA's new commercial structure.
Accenture worked in collaboration with Xero on the design and methodology of the Index prior to February 2022. Accenture is a leading global professional services company, providing a broad range of services and solutions in strategy, consulting, digital, technology and operations. Combining unmatched experience and specialised skills across more than 40 industries and all business functions — underpinned by the world's largest delivery network — Accenture works at the intersection of business and technology to help clients improve their performance and create sustainable value for their stakeholders.
Related

media and enquiries
For all media enquiries, please contact the Xero media team.
Media release

The latest in product, ecosystem, partnerships and business at Xero

Media release

New Xero survey reveals the important role large organisations play to help small businesses adopt eInvoicing

Media release

Managing Director for APAC and Country Managers for New Zealand, Australia announced
Start using Xero for free
Access all Xero features for 30 days, then decide which plan best suits your business.