Media release

Published on 31 March 2022
New Xero data shows Australian small businesses on gradual path to rebuild
The Xero Small Business Index rose three points in February as small businesses recover after Omicron outbreak
Melbourne — 31 March, 2022 —Xero, the global small business platform, today released its latest data on the health of Australia's small business economy during February from the Xero Small Business Index. Based on aggregated and anonymised transactions from hundreds of thousands of small businesses, the Index was developed in collaboration with Accenture and is part of the Xero Small Business Insights program.
The Index rose three points in February 2022 to 102 points, a result largely driven by sales, which rose 15.2 percent year-on-year (y/y). This was partially offset by continued weakness in jobs growth, which fell 1.1 percent y/y in February after a 0.6 percent y/y rise in January. This combination of results overall means the performance of small businesses is making a gradual recovery, after a challenging summer, and a slow return to above the long-term average.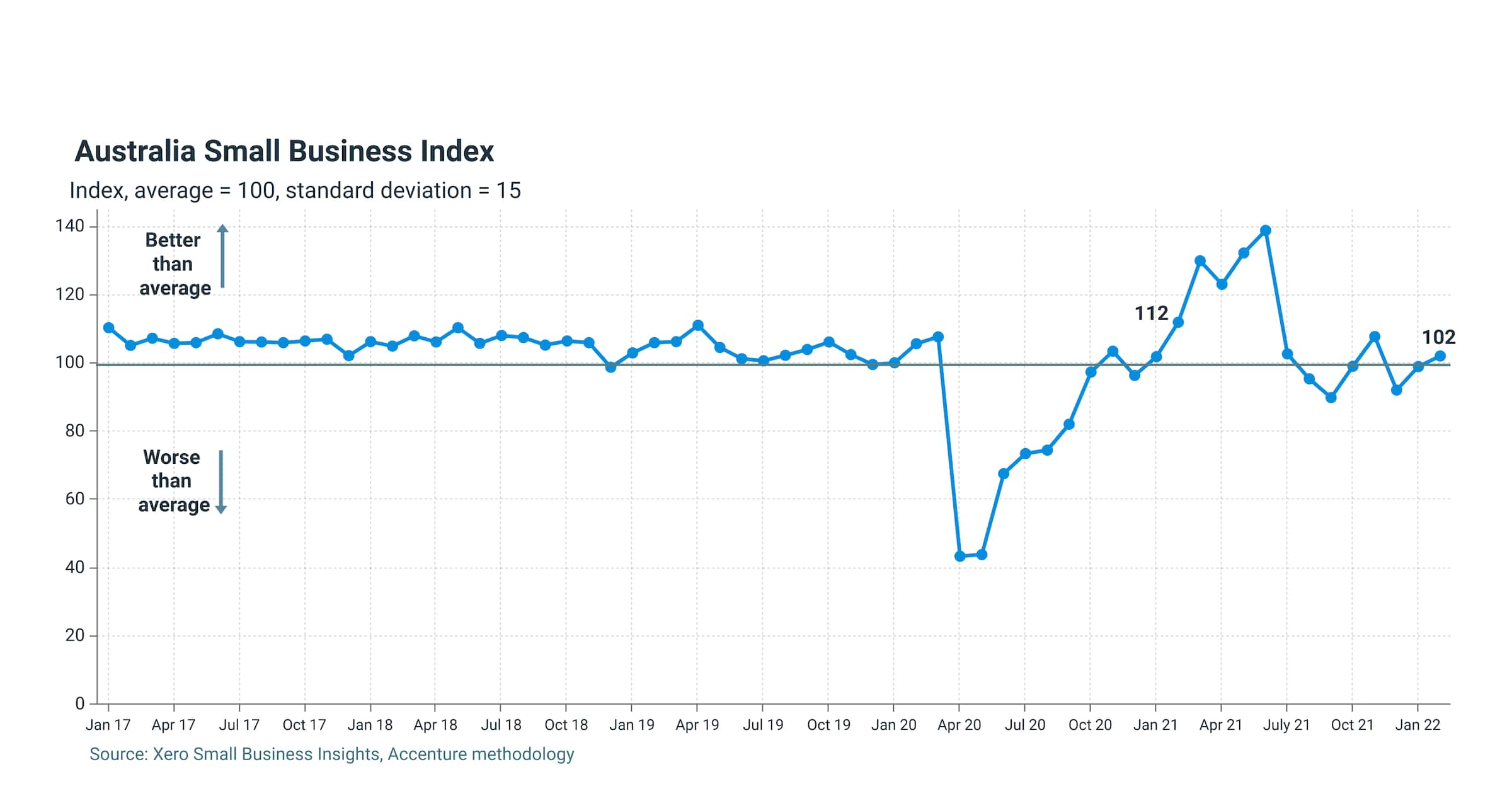 Small businesses are optimistic
The Index's return to long-term above average (100 points) is a positive sign for small businesses. The new results come in the same week as the budget announcement, as small businesses look to assess the policies relevant to them, their business and their recovery. A recent Xero survey revealed that while 32 percent of small businesses still see COVID-19 as a threat to their business this year, they were optimistic that conditions will be better than previous years.
Consistent with positive sales growth in the Index data, over half of the small businesses surveyed (53%) said they were performing about the same as they were before the pandemic.
Joseph Lyons, Managing Director Australia and Asia, Xero, said: "February's Xero Small Business Index results are cause for cautious optimism that the sector is on track for a gradual recovery. That said, small businesses are still navigating the ongoing impacts of the pandemic and continued labour shortages, while also facing a fresh set of challenges in 2022. Those in south east Queensland and northern New South Wales are dealing with the aftermath of the floods, while more broadly we're seeing the effects of inflation and rising costs.
"Time and again, small businesses have proved their resilience, but they'll need to remain top of mind for political parties this budget week and as we edge closer to an election. The health of the small business sector is key to our sustained economic growth," said Lyons.
Jobs the main area of weakness, but sales performing strongly
Although the Index has increased, February saw weaker job growth, which fell 1.1 percent y/y. Jobs were lower than in February 2021 in all states, including Western Australia, reducing by 1.1 percent y/y - its first decline since June 2020 after largely avoiding the worst of the pandemic. Victoria was the best performing state with jobs only down 0.2 percent y/y.
The best performing sectors for jobs were those that could most easily continue working from home such as administrative services (+3.5% y/y) and professional services (+2.6%), while the effect of isolation resulted in a decline of jobs in industries such as hospitality (-4.8% y/y) and retail (-1.1% y/y). The softest sector was education and training, (-7.8% y/y), which is continuing to be impacted by the lack of international students.
Despite the weakness in jobs, February saw sales powering ahead nationally. Sales across Australia were up 15.2 percent y/y, with all states and industries recording growth. The strongest sector for sales was administrative services (+24.6% y/y) although this was partly due to a weak result (-1.6% y/y) in February 2021. Hospitality sales rose a solid 6.7 percent y/y as food and accommodation businesses returned to more 'normal' trading conditions in the larger east-coast states during the month.
February saw Victoria lead with the strongest sales growth at (+18.2% y/y), followed by Western Australia (+17.5% y/y) - despite the rise in COVID cases.
Wages holds onto recent gains
Wages rose 3.3 percent y/y in February, and are little changed from the 3.4 percent growth recorded in January. Hospitality recorded a 4.0 percent y/y rise in wages as this sector continues to struggle to attract staff. The slowest wages growth is in health and arts & recreation, both at 2.8 percent y/y.
"Wage growth is slowly picking up, underpinned by strong demand from employers. This is likely to continue in the months ahead, as recent strong sales growth continues to support the need for more staff in small businesses," said Louise Southall, Xero Economist.
To download the full February results, including industry and regional breakdowns, go to the website here.
Xero Australia | Jessica Brophy | +61 431 268 549 | jess.brophy@xero.com
Xero is a cloud-based accounting software platform for small businesses with over 3 million subscribers globally. Through Xero, small business owners and their advisors have access to real-time financial data any time, anywhere and on any device. Xero offers an ecosystem of over 1,000 third-party apps and 300 plus connections to banks and other financial partners. For three consecutive years (2020-2022), Xero has been included in the Bloomberg Gender-Equality Index. In 2021, Xero was included in the Dow Jones Sustainability Index (DJSI), powered by the S&P Global Corporate Sustainability Assessment and in 2020, Xero was recognised by IDC MarketScape as a leader in its worldwide SaaS and cloud-enabled small business finance and accounting applications vendor assessment.
Accenture worked in collaboration with Xero on the design and methodology of the Index prior to February 2022. Accenture is a leading global professional services company, providing a broad range of services and solutions in strategy, consulting, digital, technology and operations. Combining unmatched experience and specialised skills across more than 40 industries and all business functions — underpinned by the world's largest delivery network — Accenture works at the intersection of business and technology to help clients improve their performance and create sustainable value for their stakeholders.
The Xero Small Business Index is unweighted and comprised of the following four metrics:
Sales - captures a core measure of small business health and a measure of the overall economic activity in the small business economy.

Time to be paid - captures how long businesses are waiting to be paid, providing insight on the financial health of their customers and small business cash flow.

Jobs - captures if small businesses are growing and how small business is impacting on the broader economy and community.

Wages - captures how benefits from small business performance are translating to employees-benefits flowing to the broader small business economy.
These four metrics were selected because they encompass the operating state of the small business (sales and time to be paid) and the contribution small businesses make to the community (jobs and wages).
Related

media and enquiries
For all media enquiries, please contact the Xero media team.
Media release

The Xero Australia HQ officially opens its doors to hundreds of local employees

Media release

The Xero Small Business Index declined six points in January as the 'shadow lockdown' hampered summer results

Media release

Accountants and bookkeepers are preparing for expansion following two years of pandemic disruption
Start using Xero for free
Access all Xero features for 30 days, then decide which plan best suits your business.