Guide
How to find a dropshipping supplier
We share tips and best practices on how to find the best dropshipping supplier for your business.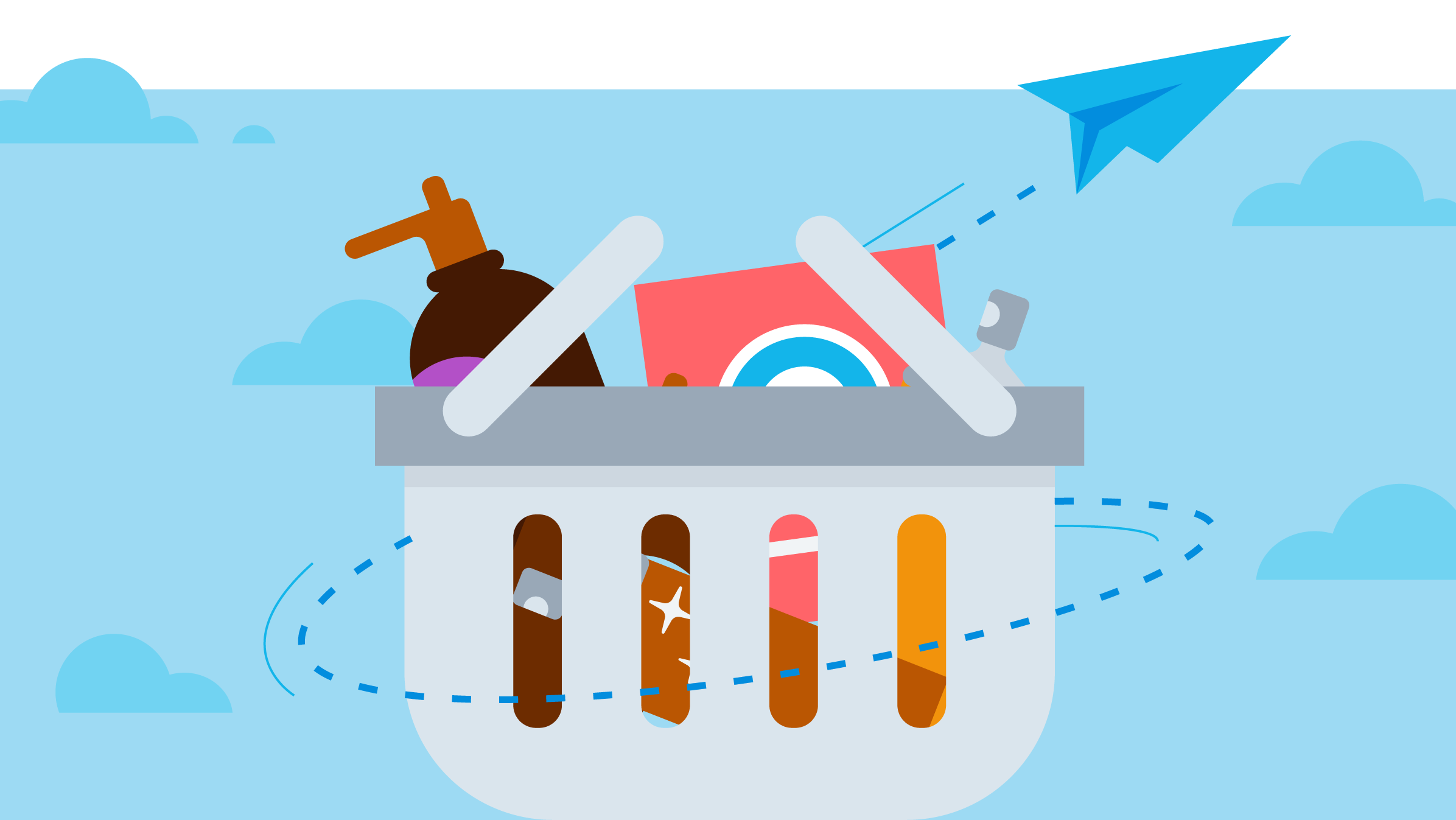 For newcomers to ecommerce, dropshipping is a low cost way to get started in the industry. Dropshippers don't have to buy stock or manage their fulfilment – they outsource this work to a third party. You, the seller, simply provide the storefront, sales process, and marketing to sell those products online.
While the concept is straightforward, outsourcing the procurement, storage, and shipping to a third party doesn't come without risks. And finding the best dropshipping suppliers or companies for you is a tough task.
What are dropshipping suppliers and companies?
Dropshipping suppliers provide the product for sellers, and ship it to customers.
Dropshipping companies provide access to lots of different suppliers and products you can choose from.
You need to work with a supplier so that you have products to sell. Think of them as your backstage hand – managing all the behind-the-scenes activities to move your product from storage to customers' doorsteps.
Every dropshipping business differs slightly, but the relationship between sellers and suppliers who dropship will look something like this:
A customer purchases your product

You receive an order confirmation and this is sent to the supplier

The supplier procures, packages, and ships the product to the customer

The customer receives the product
Dropshipping suppliers and companies exist all over the world. Bear in mind that if you choose a dropshipping supplier from another country, it could extend the delivery time for customers.
As a seller, you'll need to work with a third party dropshipping company that connects you to dropshipping suppliers. Companies such as SaleHoo and Spocket work as dropshipping supplier directories – and list all kinds of suppliers and products to choose from.
Some dropshipping suppliers are manufacturers, while others are wholesalers. Let's look at the difference:
Manufacturers make and sell the products to wholesalers or retailers. But they often require bulk purchases upfront, which can be risky for dropshippers trialling a product.
Wholesalers buy products from manufacturers and sell them on to retailers for a small profit. They stock the product, but they don't make the product. Price per unit tends to be higher with wholesalers, but the risk is lower because you don't need to make bulk purchases upfront.
Best dropshipping companies
To find a dropshipping supplier that's suitable for you, read online reviews and customer feedback about product quality, shipping time, and service.
Here's a snapshot of some of the best dropshipping companies, including the pros, cons, and noteworthy features.
Some of these dropshipping companies work best with specific platforms. Before selecting your dropshipping supplier, make sure you know which ecommerce platform is best for you.
SaleHoo has two offerings for dropshippers: a directory to source reliable suppliers and a store integration for Shopify, so you can directly import products from SaleHoo to your Shopify store.
You can choose from 2.5 million products

You can access over 8000 suppliers who are pre-vetted by SaleHoo

You can import 500 products on the cheapest plan or unlimited products on the Premium plan
Only two pricing plans to choose from: Basic or Premium

No dedicated onboarding account manager with the Basic plan
Spocket connects sellers to a library of products and a supplier directory that you can filter based on location. Paying no commission fees, sellers using Spocket only pay for the products they sell – and a monthly subscription.
You can order product samples to make sure the quality is up to scratch

You can use Shopify, BigCommerce, WooCommerce, and Wix integrations

Suppliers are vetted and verified

You get 24/7 chat support on any of the plans
The starter plan only lets you sell 25 unique products

Spocket handles all communication with the supplier, so you can't get in touch with them directly through the platform
AliExpress is owned by Alibaba, a popular B2B online retail platform based in China. With over 100 million products available, AliExpress offers variety and simplicity for dropshippers worldwide.
No subscription or monthly membership fees

Compatible with a range of platforms, including Shopify, WooCommerce and DSers

The availability of products at cheap wholesale prices offers the potential for higher profit margins
You'll need to invest significant time into researching quality and trending products

Given many suppliers are based in Asia, delivery times may take longer with the free or standard shipping options

Be careful to check the legitimacy and reputation of your chosen suppliers
Worldwide Brands is a long established supplier directory promoting quality wholesalers and verified wholesale products. Having been around since 1999, Worldwide Brands is considered a popular choice for dropshippers.
Suppliers are verified to give you assurance

You get access to 16+ million wholesale verified products

You get lifetime membership
There's an upfront fee of US$299 for the membership, which can be a costly start - even if it is for a lifetime!

Worldwide Brands doesn't integrate directly with other ecommerce platforms

Some US-based suppliers may charge additional shipping fees to deliver outside of the US
Wholesalers buy products from the manufacturers in bulk, at a cheaper price than retail. Often, wholesalers will stock a huge catalogue of products from different manufacturers.
Wholesale dropshipping is where you work directly with the wholesaler instead of going through a directory or dropshipping company. Many wholesalers will require a bulk purchase of stock up front, which isn't always the most cost-effective solution for sellers. Especially if you're trialling a new product in your store – you can end up with a bunch of stock and no buyers.
Wholesale dropshipping can be a great solution once you've established a customer base and a selection of popular products. By working with a wholesaler, you could get a better deal on stock by purchasing in bulk. And you still won't need to worry about storage – the wholesaler will stock, pack, and ship for you.
Is dropshipping worth it?
You can set up a dropshipping business quickly and cost-effectively. Once you have an ecommerce store and a reliable supplier, you're free to start selling.
That's not to say dropshipping is easy. There are lots of moving parts to manage – and from a distance when you're working with an overseas supplier.
Is dropshipping possible in my region?
Dropshipping is possible in many regions worldwide. But it's important to check that it's possible and profitable where you live. You should also be aware of the legal requirements for starting an online business.
Additionally, be sure to check that your chosen products can be legally sold in your country, especially if they're coming from overseas suppliers. When pricing your products, make sure you're complying with local tax laws.
The global dropshipping market is expected to double between 2022 and 2026, which means there's plenty of opportunity to sell online. But you'll need to research diligently in order to stay competitive against other online businesses.
Also, make sure you can find reliable suppliers who are closer to home so that shipping isn't an issue.
How to find dropshipping suppliers
There are many ways you can find dropshipping suppliers. For example, some manufacturers and wholesalers provide dropshipping suppliers and will work with you directly. Alternatively, online directories give you access to a whole library of suppliers to choose from.
Search engines and social media platforms can also help you find dropshipping suppliers, but you'll need to try a combination of searches. Try different terms like 'wholesale dropshipping', 'dropshipping service' or 'dropshipping in my region'.
You can also source suppliers through third party marketplaces like Amazon, eBay, and Etsy. Search for your desired product and sort the results by price: lowest to highest for the cheapest deals. If you find a supplier you like the look of, research them online to see if you can set up a direct relationship.
Another way you can find dropshipping suppliers is by purchasing from companies you believe to be dropshippers. When you receive the package, look up the return mailing address to see who their supplier is.
Don't overlook physical events and networking either. Attend industry trade shows to form personal relationships with potential suppliers, and negotiate deals in-person.
Tips for contacting and negotiating with dropshipping suppliers
Research the supplier: You need to know that your supplier is reliable and trustworthy before entering a deal. Look them up online (even if you found their listing through a trusted directory) to find customer reviews. Look at product quality, shipping times, and pricing so you can negotiate better.

Communicate clearly: Your supplier has a significant role to play in keeping your customers satisfied. Clearly state your expectations, concerns, and requirements to the supplier. Ask plenty of questions so you can create a fair agreement.

Be flexible: Your vision for the business might not align with what's possible for the supplier. Be firm on your expectations, but open-minded about supplier capabilities. Explain your requirements and listen to theirs so you can find a mutually beneficial solution.

Build a long-term relationship: The promise of ongoing custom could encourage suppliers to provide a discount or additional benefits as part of your agreement. In return, recommend their products or refer customers. If you're not ready to enter a long-term contract, suggest a trial period before signing.

Consider the supplier's perspective: Your supplier will have their own targets to meet. Think about how you can help them reach their goals while sustaining your own business. Acknowledge their profit margins and business model before haggling on price.

Be professional: Come to conversations equipped with information and key figures for your business. Be fair and polite with all suppliers, regardless of whether you choose to work with them or not.
Dropshipping with confidence
Having the right dropshipping supplier is crucial for sellers, so make sure you do your due diligence to find the ideal match. These tips will help you source and set up with the right suppliers – so you can build your business with confidence.
Disclaimer
Xero does not provide accounting, tax, business or legal advice. This guide has been provided for information purposes only. You should consult your own professional advisors for advice directly relating to your business or before taking action in relation to any of the content provided.
Start using Xero for free
Access all Xero features for 30 days, then decide which plan best suits your business.