Media release

Published on 23 December 2021
Small business sales soar in November as Australians embrace early festive season shopping
Xero Small Business Index rose six points in November, moving into above-average territory for the first time since July
Melbourne — 23 December, 2021 — Xero, the global small business platform, today released its latest data on the health of Australia's small business economy during November from the Xero Small Business Index. Based on aggregated and anonymised transactions from hundreds of thousands of small businesses, the Index is produced in partnership with Accenture and is part of the Xero Small Business Insights program.
The Index rose six points in November to 104, taking the Index above 100 for the first time since July 2021. This increase indicates small business performance was responding to the further easing of restrictions in NSW, Victoria and the ACT, placing overall small business performance just above the national long-term average. The Index has also risen 15 points higher than its September 2021 low point.
The rise in the Index was largely driven by a surge in small business sales, up 11.1 percent year-on-year (y/y), more than double the 5.1 percent y/y rise in October. Jobs growth remained in positive territory in November up 1.1 percent y/y, however it appears to be slower to recover than sales, and wages growth was marginally higher in November at 2.8 percent y/y.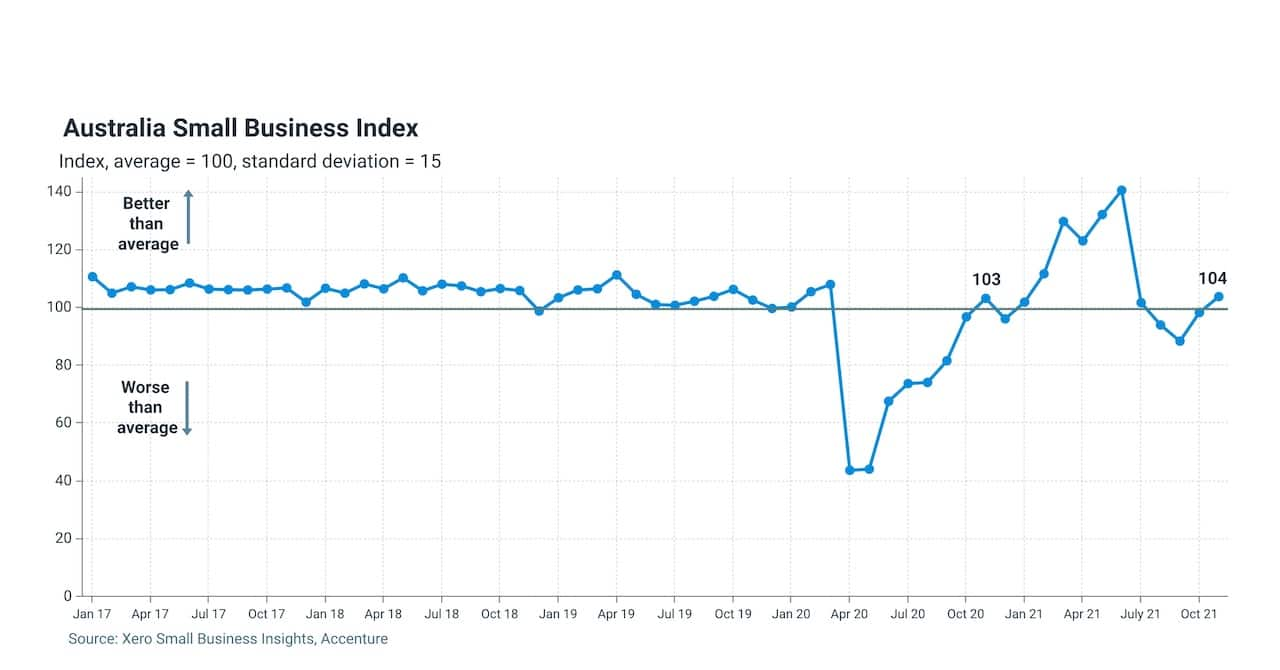 Louise Southall, Xero Economist, said: "It is great to see the November Xero Small Business Index showing an improvement in the overall performance of small businesses. Yet, even though this data is less than a month old, small businesses are once again facing heightened uncertainty as this pandemic takes another turn. Experts are still working out what Omicron means from a health perspective which makes it impossible to predict what the economic impacts will be at this stage. But one thing is clear – small businesses need our ongoing support this holiday period to help them through yet another challenging few months."
Sales soar heading into Christmas
Nationally, the Index showed sales growth of 11.1 percent year-on-year (y/y), adjusting for base effects in November, which is well above the long term average of +7.8 percent y/y. All states experienced above-average sales growth in November, ranging from +8.4 percent y/y in Tasmania to +15.9 percent y/y in Western Australia. The results can be attributed to the ongoing easing of restrictions in NSW, Victoria and the ACT, as well as retailers urging customers to shop early this Christmas to avoid shipping disruptions and delivery delays.
All industries experienced strong sales growth in November with retail sales increasing by +14.4 percent y/y, the strongest result since March 2021, potentially indicating pre-Christmas consumer spending started early this year. Hospitality and arts and recreation recorded positive sales growth, +0.5 percent y/y and +4.7 percent y/y respectively, aer four months of declining y/y sales.
Jobs growth slow to recover
At a national level, small business jobs rose 1.1 percent y/y, adjusting for base effects in November. This shows a stronger result than October's modest rise of 0.6 percent y/y, however this remains significantly lower than growth experienced in the first half of 2021.
Jobs growth remained flat for states emerging from lockdown in November, with NSW experiencing +0.3 percent y/y, +0.2 percent y/y in the ACT and -0.1 percent y/y in Victoria. Tasmania recorded a second month of negative jobs growth, down -0.1 percent y/y. With Tasmania's borders now open to the rest of the country, conditions are set to improve for those small businesses dependent on interstate visitors.
Arts and recreation (-3.4% y/y) and hospitality (-4.2% y/y) are yet to return to positive jobs growth despite an improvement in sales during November. Healthcare (+4.9% y/y) and professional services (+3.7% y/y) continue to be the most job resilient sectors.
Time to be paid remains stable
The time small businesses had to wait to be paid by customers remained relatively stable, at 23.4 days in November, up from 23.2 days in October. The late payments measure, which tracks the average number of days late that invoices are paid, was up 0.1 days to 6.6 days.
Wages rose 2.8 percent y/y in November, up from 2.7 percent y/y in October for the fourth consecutive month of modest growth. There was little difference across the states, ranging from +2.6 percent y/y in ACT and NSW to +3.1 percent y/y in Tasmania. The construction industry remains the sector with the strongest wage growth, up 3.5 percent y/y, while administrative and support services experienced the slowest growth at +2.0 percent y/y.
To download the full November results, including industry and regional breakdowns, go to the website here.
Xero is a cloud-based accounting software platform for small businesses with over 3 million subscribers globally. Through Xero, small business owners and their advisors have access to real-time financial data any time, anywhere and on any device. Xero offers an ecosystem of over 1,000 third-party apps and 300 plus connections to banks and other financial partners. In 2021, Xero was included in the Dow Jones Sustainability Index (DJSI), powered by the S&P Global Corporate Sustainability Assessment. In 2020 and 2021, Xero was included in the Bloomberg Gender-Equality Index and in 2020, Xero was recognised by IDC MarketScape as a leader in its worldwide SaaS and cloud-enabled small business finance and accounting applications vendor assessment.
Accenture is a leading global professional services company, providing a broad range of services and solutions in strategy, consulting, digital, technology and operations. Combining unmatched experience and specialised skills across more than 40 industries and all business functions — underpinned by the world's largest delivery network — Accenture works at the intersection of business and technology to help clients improve their performance and create sustainable value for their stakeholders.
All growth rates quoted in this release are annualised two-year growth to adjust for the base effects due to the low pandemic-impacted results in 2020.
The Xero Small Business Index is unweighted and comprised of the following four metrics:
Sales - captures a core measure of small business health and a measure of the overall economic activity in the small business economy.

Time to be paid - captures how long businesses are waiting to be paid, providing insight on the financial health of their customers and small business cash flow.

Jobs - captures if small businesses are growing and how small business is impacting on the broader economy and community.

Wages - captures how benefits from small business performance are translating to employees-benefits flowing to the broader small business economy.
These four metrics were selected because they encompass the operating state of the small business (sales and time to be paid) and the contribution small businesses make to the community (jobs and wages).
Related

media and enquiries
For all media enquiries, please contact the Xero media team.
Media release

Xero Small Business Insights report reveals small business digitalisation was supercharged by COVID-19

Media release

Gen X and Millennials will lead the festive spending spree as businesses prepare for their busiest weeks

Media release

The latest in product, ecosystem, partnerships and business at Xero
Start using Xero for free
Access all Xero features for 30 days, then decide which plan best suits your business.