Guide
How to come up with a business name
What's in a name? When it comes to the success of your business, everything. Here's how to craft a catchy business name.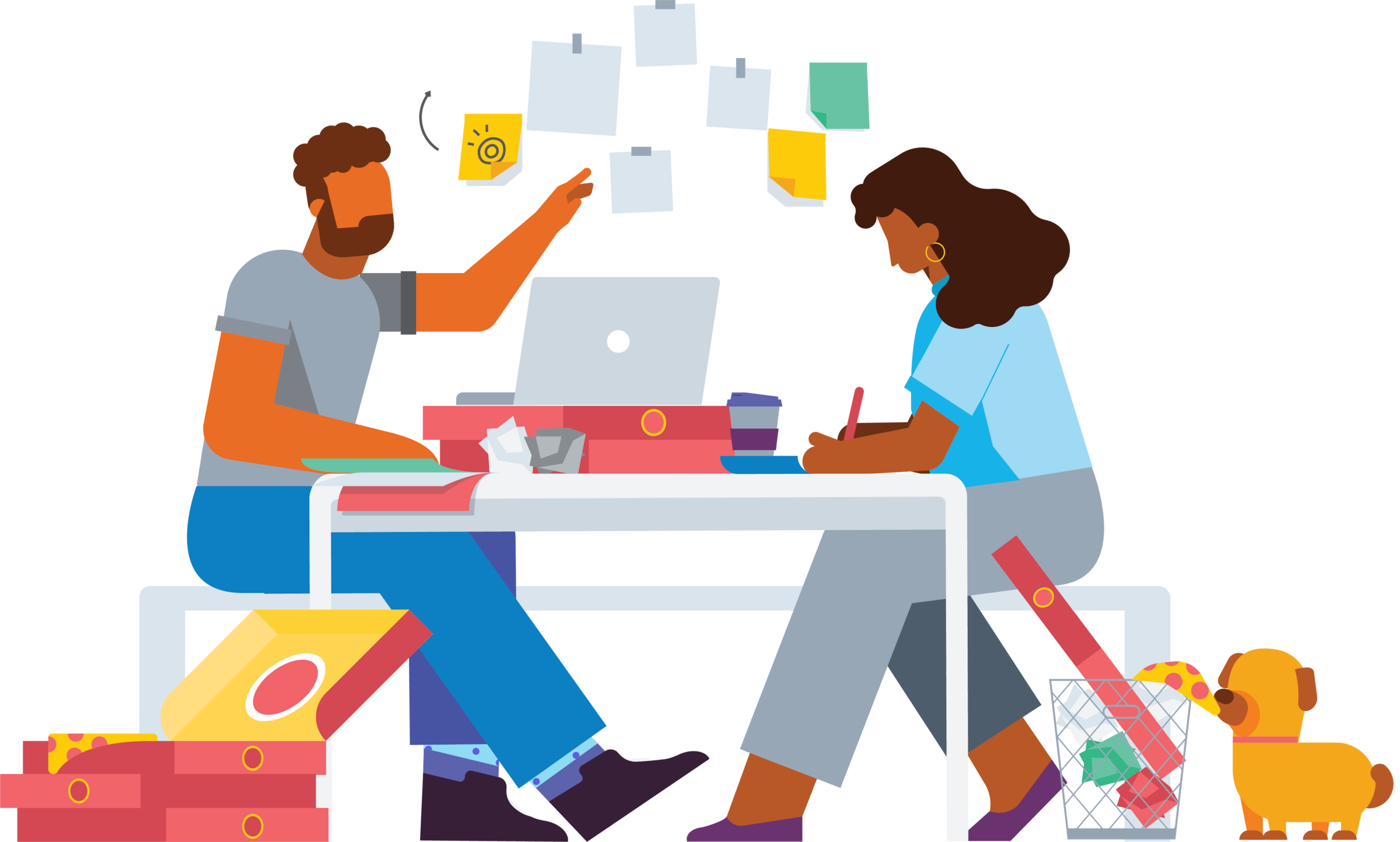 When Shakespeare wrote "that which we call a rose, by any other word would smell as sweet," he wasn't wrong, but he also wasn't trying to stand out in business.
Your business name or company name is your brand name, and your business identity. It impacts how easy it is for customers to find you in the first place , and how easily they remember you next time they need your service or product.
Common types of business name
Your business name and brand name appears on official documents, invoices, website, packaging, and signage. The format of your business name will depend on the form of your business. Business name registration regulations vary by country, which we'll discuss later.
If you're a sole trader, you can use your name, eg, William Shakespeare

Depending on your business structure you may need to add a suffix, eg, Shakespeare Ltd/Co/Corp/Inc

You can trade under a different name, for instance if Shakespeare's business is rose growing, he could register Shakespeare Rose Growers Ltd for administrative purposes and also trade as Sweet Roses

You can use a descriptive name (Shakespeare's Rose Garden) or location (Shakespeare's Stratford Roses)

Wordplay, compound words, alliteration, or anagrams (SweetScents of Stratford) can help you stand out
How to come up with a good business name
A good business name is memorable, distinctive, easy to write and say, and future-proof. The key to crafting one is simple: know your business.
What to consider when coming up with a business name
To begin, consider these 10 golden rules for a business name:
Is it too like other business names in your industry?

Does it reflect your business structure?

Does it meet regulations?

Does it exemplify your brand?

Does it stand out from your competition?

Is it easy to remember, spell, pronounce, and type?

Does it look good as a logo, a URL, and an email address?

Could it be misunderstood or cause offence?
Consider the type of name that will best distinguish your business in the market. Do you want your business name to be more about what you do (eg, Rose Creations), or what your customers want from you (eg, Flower Sales)?
A name like Stratford Rose Sales will be more optimal for search but doesn't suggest anything special. It also limits the business to one product, meaning it's not future-proofed. On the other hand, a business called A Rose By Any Other Name might appeal to customers looking for something special, but doesn't say precisely what it is. The choice depends on your market and marketing strategy, as well as your long term business plan. Search engines and social media are important, but if your business is more niche, you may want to reflect that in your business name.
Business name brainstorming
Prepare some time, paper and pen (or pad), and creativity fuel, like coffee (am) or a glass of wine (pm) along with brain food (both). Invite wordy friends for a brainstorming session to come up with a unique business name. You can use a mood board approach, collecting images, ideas, and quotes associated with your business to stimulate your imagination, an app, a piece of paper – whatever works for you.
Begin by defining your business. Write down:
The 'origin story' of your business

What makes your business unique

Your business and brand values

Your customer demographics

How you want your business and brand to be perceived

How you describe your industry and your work
Write down some cultural touchpoints:
Popular song, movie or book titles, stories, myths or other cultural names or ideas that relate to your business or your own identity

Names you like, such as family or friend names, pet names

Other business names, company names or brand names you like
Using these notes, let your imagination run free:
Break out the thesaurus and dictionary and look up your words, you might find a synonym that works better

Look at patterns of catchy and unique business names

Condense or use compound words, aiming for five syllables or fewer

Compound words can be effective (eg, Airbnb, PayPal)

Acronyms when done right are easy to remember and say (eg, IBM, IKEA)

Inject some fun through alliteration and wordplay (eg, Krispy Kreme)

There's nothing stopping you from making up a word, or intentionally misspelling one (not to toot our own horn, but, for eg, Xero)
Check your business names and get some feedback
Once you have a shortlist of good business names, search them on business name, trade mark and domain name registers (see below) along with a Google search. You don't want to settle on a name only to discover someone else already has!
Run your business names through a language translator or ask someone if you're uncertain. You don't want to set your heart on Rosa Morta only to discover it means Dead Rose in Italian (unless you're in the composting business).
Ask trusted friends, family, and colleagues for feedback on your shortlist. Ask for their favourite, and why. Which name would they remember without writing it down? Which one would they click on during a search for your goods or services?
What restrictions are there on business names?
Specific laws govern business names, varying by country. Typically, a business name must not be identical or misleading, nor imply an association with government, financial organisations, or charities, nor be offensive or obscene or likely to cause offence.
Sole traders, partnerships and companies may have different regulations. For example, sole traders operating under their legal name may not require registration, whereas company names must reflect the liability of members and the company status, typically indicated by suffixes like 'Proprietary Limited' or 'Ltd'.
Laws and rules for business names differ across countries, so check in the country in which you're registering your business to make sure you're in compliance.
Checking the availability of your business name
If you think you might expand into other global markets in future, search those countries as well as the country in which you're registering your business name. Check for domain names, and search on social media for businesses or individuals using the name.
Your government business web pages will usually have registered business or company name searches, along with patent or trademark databases.
Should you register a trade mark?
Trade marks enable you to prevent others from mimicking your brand identity. If you're planning to dedicate substantial resources towards making your brand well known, a trade mark may prove a valuable safeguard.
Navigating the legalities of trade marks can be a thorny business, especially if you venture into overseas markets and discover a business there is using a similar name to yours. It's best to seek advice from a legal professional well versed in this area of law.
At the very least, use trade mark registries (and search engines) to check that no one already has a trade mark for your business name. It's an easy way to save yourself a lot of hassle.
Disclaimer
Xero does not provide accounting, tax, business or legal advice. This guide has been provided for information purposes only. You should consult your own professional advisors for advice directly relating to your business or before taking action in relation to any of the content provided.
Start using Xero for free
Access all Xero features for 30 days, then decide which plan best suits your business.