Guide
Franchise accounting tips
Franchises come with built-in advantages, but also extra risks. Good franchise accounting will help you navigate it all.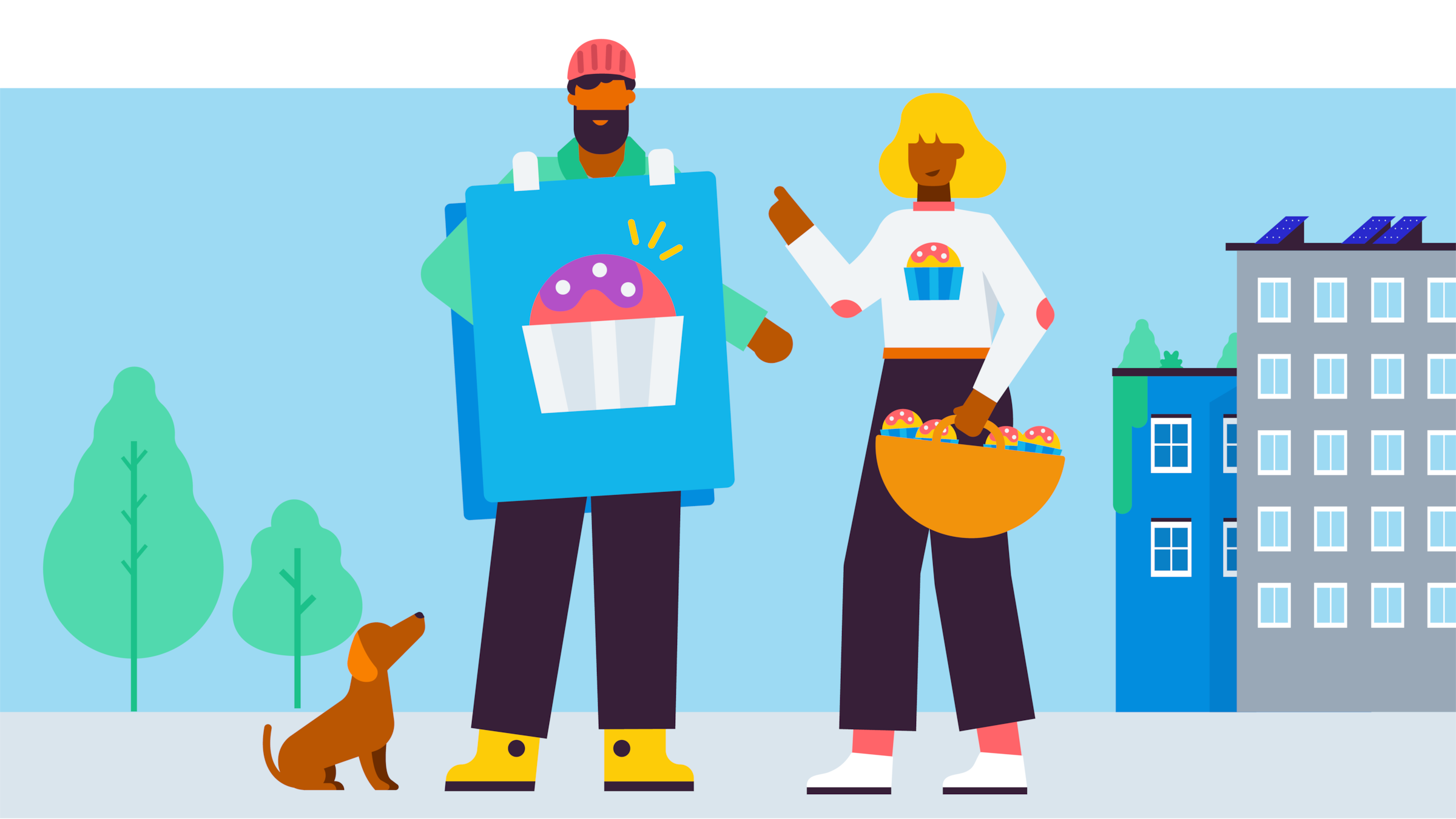 Let's start with the advantages
A franchise is sometimes called a business in a box. It's built on a proven concept and offers products or services that have already been market-tested. In some cases, the franchisor provides detailed manuals to help you.
with setup, training and planning

overcome teething problems

run the day-to-day business
It's like going out on your own, without being on your own.
The longer the franchise has been around, the more data they'll have to share. The franchisor will have seen some franchisees succeed and others fail – and they'll be able to share the lessons with you. That will give you a short list of key performance indicators (KPIs) to focus on when managing the business, which should make your life easier.
You'll probably benefit from some brand recognition from the start, you may get discounted stock, and there could be systems in place to streamline admin tasks.
While you can take confidence from the systems and processes that make a franchise tick, you shouldn't get complacent. Franchises come with risks that you wouldn't encounter with traditional small businesses.
More startup debt: Upfront franchise fees add substantially to your startup costs. Franchises usually come with a bigger payroll bill too.

Staffing from the start: Many small businesses start out as sole proprietors and add employees as they grow. Most franchises will require you to have employees from the beginning, which means you'll need to manage human resources and make payroll.

Extra overheads: You'll have to pay monthly franchise fees as well as wages. Those costs can make it expensive to do business, so you'll need more revenue to

break even

. And you'll need to manage cash flow carefully.

Demanding sales targets: Many franchises succeed by delivering products or services at low cost. These low-margin, high-volume business models don't leave much fat in the budget. If sales start to dip, your earnings outlook can change quickly.
Aims of franchise accounting
Obviously you'll want to control the risks associated with being a franchisee, while making the most of the advantages. That means you'll need strategies for:
staying on top of cash flow

looking after key performance indicators
Debt is one of the biggest enemies of small business and most franchisees start with a big one that includes:
a signup fee for joining the franchise network

a prominent store location (and refit)

wages that have to be paid while employees are trained
All this happens before you earn a cent. As a result, franchisees often start off with more debt than a sole proprietor.
Staying on top of your finance options
There are dozens of finance options these days. Your franchisor may even have provided yours, or maybe they guaranteed your loan. If you're just getting started, and thinking about how to structure your finance, make sure you:
have the flexibility to refinance if better debt options emerge

regularly review your debt with an expert to look for lower-cost options

have the necessary cash flow to service the debt
Most businesses carry debt. You can save yourself a lot of money by actively managing that debt to keep your costs down. It's especially important in franchise accounting, where you also have monthly franchise fees (and other recurring expenses) coming out of your bank account.
Set up systems for your repayments
Make sure you include loan repayments in your budget and ring-fence that money so you won't be tempted to use it for other things. Set up automatic payments so you don't miss any by mistake. Missed payments attract late fees – which can add up – and they extend the length of time you pay interest.
Most franchises are based in customer service industries, which means you'll have employees. You'll need to:
make sure they're paid (and you comply with tax requirements)
Just when you think you've got it sorted, your best employee will take a new job and you'll have to start again. Use systems and business software to automate a lot of the work. For example:
Payroll software

will calculate pay and tax for each employee, automatically fill out tax forms, and pay money directly into their bank accounts.

Scheduling apps allow you to create rosters and share them straight to everyone's phones so employees can see when they're due at work.

Time-recording software

will clock the exact time worked – making it easy to calculate pay. You can install it on employee phones, so they can clock in using their device.
When you automate these admin tasks, you can focus on recruiting the right people, getting them trained, and keeping them happy.
Staying on top of cash flow
Cash flow is crucial to all types of businesses, and most will have trouble at some stage. There will be times when it's tough to buy inventory or make a debt repayment. It can be especially challenging in franchise accounting because payroll and franchise fees are constantly flowing out of your account.
The first step to good cash flow is a budget. You must know your recurring expenses so that you can plan around them. You also need to know how that plan's unfolding from day to day, so you can make decisions as you go. A cash flow statement can help.
Is there enough cash to cover franchise fees this month?

Is revenue strong enough to make loan repayments?

Can you make payroll on Friday?
It's not easy to keep tabs on all these moving parts because:
revenue will ebb and flow from one week to the next

staff expenses will change, especially if you have some overtime shifts coming up

there will be various other expenses like building maintenance

you might place an extra inventory order to cover a busy season
While a cash flow statement is a good start, your best bet is to use a cash flow dashboard to track all your transactions. The smart ones will even show what income and expenses are coming up, so you can see how cash flow will look in the future. Cash flow dashboards work by combining data from your bank account, POS system, payroll, and invoicing software to tell you how much you have to spend.
Looking after key performance indicators
If you have a good franchisor, you'll know the secrets to success. They'll have told you the three, four or maybe five things that separate their successful franchisees from the rest. These will be your key performance indicators and could be things like:
how many people enter the store

how long customers wait to be served

how much of a certain product you sell

how many recurring customers you have

how much do you pay in wages to earn a dollar of revenue
There are literally hundreds of potential KPIs, but a smart franchisor will tell you where to focus. If you get those metrics right, you'll know you're much more likely to succeed. That can make franchise accounting and business management much simpler.
If your franchisor can't tell you the KPIs to use, ask other franchisees in the network, or consult with a franchise accountant. It's important to know where to invest your energy.
It might be obvious how to measure KPIs such as customer satisfaction, employee productivity or cost of goods sold. Others may be more costly or difficult to measure. If you got the KPIs from your franchisor, they should also have systems for measuring them. If they can't help, an accountant probably can.
Once you've picked KPIs and set up systems to measure them, you'll want to:
brainstorm ideas for reaching those targets

come up with a schedule for reviewing progress
If the KPIs keep improving, so should your business outlook. You can keep a close eye on KPIs by using an app like Spotlight , Calxa or Fathom. They'll create graphs and charts that show you how things are tracking – allowing you to check how your business is performing whenever you have a spare moment.
Most franchises offer low-priced goods or services, which means they need a lot of sales to make money. Sales numbers are a huge factor for these businesses.
Given the recurring franchise fees and often high staff costs, a dip in sales can be felt quickly. So make sure you have sales volume and staff costs at your fingertips at all times. This can be integrated into your KPI dashboard or you can pull the data directly from your POS software.
Come up with plans now for what you'll do if sales slow down. Don't wait until you're in a lull.
Why a franchise accountant is a good idea
Because there's so much money involved in buying and running a franchise, most franchisees will hire an accountant. But if you really want to protect your investment, don't stop there – look for an accountant who has specific franchise experience.
Some issues are unique to franchise accounting so it helps to have someone who's been there before. For example, an advisor with franchise accounting experience will know:
how to deal with franchise fees from a tax perspective.

how to manage compliance expenses

what you need to report to the franchisor

where franchisees typically go wrong
An accountant who works for other franchisees in your specific franchise network is even better. They'll know your business really well and can tell you:
the main risks and challenges you'll face

the most important key performance indicators

what successful franchisees do well
And because they've worked with the business for so long, they'll have ready-made fixes for problems that franchises like yours typically face.
Accounting for franchises is about cash flow and KPIs
Franchises generally come with recurring costs in the shape of franchise fees, debt repayment and staff. These will put constant pressure on your cash flow.
Many franchises also come with a well-defined set of KPIs. And if they don't, you can often work with other franchisees and specialist accountants to identify them.
To give yourself the best chance of success, it's important to keep a close watch on cash flow and your KPIs. That's especially true if your franchise relies on a high-volume, low-margin business model.
Consider dashboards to keep the important numbers close and meet regularly with your accountant to review performance and brainstorm improvements.
Disclaimer
Xero does not provide accounting, tax, business or legal advice. This guide has been provided for information purposes only. You should consult your own professional advisors for advice directly relating to your business or before taking action in relation to any of the content provided.
Start using Xero for free
Access all Xero features for 30 days, then decide which plan best suits your business.