Guide
How to write a business proposal
Learn how to write a business proposal that'll stand out from the crowd and increase your chances of success.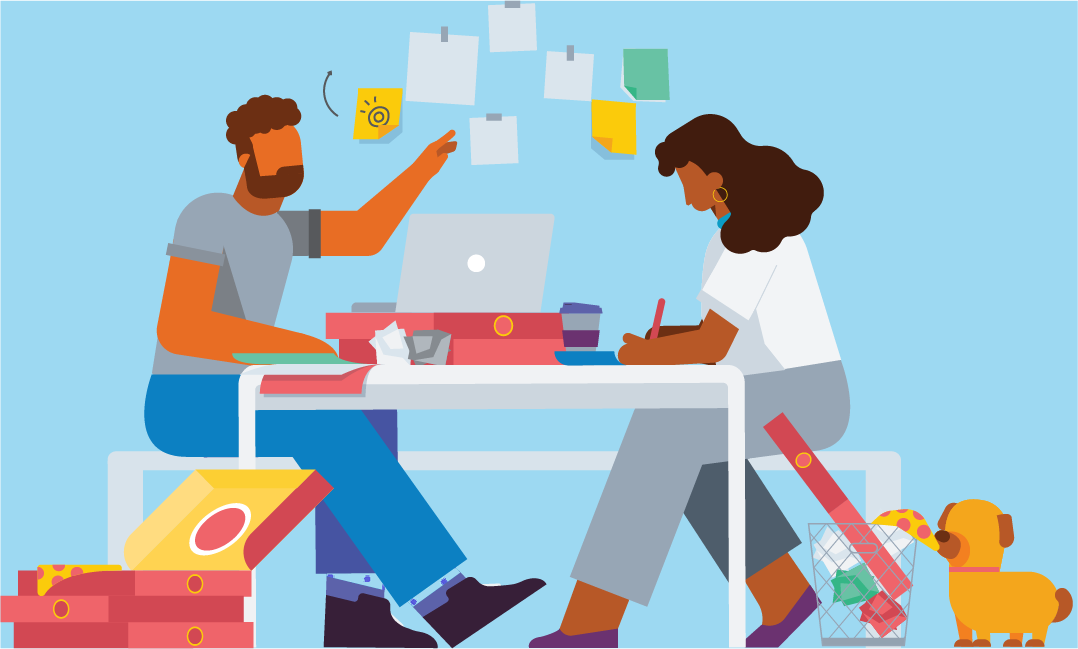 What is a business proposal?
A business proposal is a formal document you send to a prospective client in the hopes of winning a project or making a sale. In your proposal, you outline the service you'll offer and explain why they should choose you.
Types of business proposals
There are two types of business proposals:
Solicited business proposal: This type of business proposal is usually requested by a potential customer. Some companies and government agencies issue an RFP (request for proposal) when looking for bids to complete projects. You'll know the criteria and have most of the information about the potential customer for these types of project proposals.

Unsolicited business proposal: This is similar to a cold pitch. You send a proposal to new clients without an RFP or an established business relationship to attract new business.
The difference between a business plan and a business proposal
A business proposal is a pitch to sell a product or service to a prospective customer. The proposal aims to make the sale and shows the potential of the product or service to solve a problem.
How to write a business proposal
An effective business proposal should solve the three Ps:
Problem statement: What is the biggest pain point of the customer?

Proposed solution: How your business will solve the problem better than anyone else

Pricing: How much the solution costs compared to other solutions
A business proposal has a clear format and should ideally include each of the following sections.
This sets the tone and must look professional. You should include your name, your business's name, the name of the person you'll submit your proposal to, the date submitted and the title of your proposal.
The table of contents allows your potential client to see what's in your proposal and also lets them skim to find the information they consider important.
This is similar to the executive summary in your business plan. Explain why your business meets the client's needs and why you are better than your competitors. It should:
introduce your business and any important team members

give an overview of your business goals and why you are a successful business

outline the benefits of your products and services

showcase milestones and previous clients
Outline the main problem your potential client is wanting to solve. This shows them that you understand their pain points. Use data to back up your argument and be specific.
Here's where you explain in detail your proposed solution and how it'll solve the client's problem. Your solution should be specific and personalised. You should include details of what you plan to provide and the benefits of your proposed solution. If you're pitching for a specific project, share the proposed timeline, and explain how you'll measure the success of the proposed solution. Visual charts and graphs can help illustrate your points.
Use this section to build trust. Explain why your business is the best one for the job and why they should choose you. You can include case studies of previous clients, client testimonials, social media endorsements or praise, relevant industry-specific qualifications, and certifications and years of experience.
If you're pitching for a specific project, outline a clear and realistic timeframe of how and when you'll complete each part of it. Present this in a flowchart or a road map with deadlines and step-by-step actions. If your proposal isn't for a specific project, give an idea of general timeframes your business works to, for example manufacturing or shipping times, or turn-around times for services.
8. Pricing, billing and legal
This is one of the most important sections. How you structure it will depend on the size of your project and the type of proposal.
For smaller projects and unsolicited proposals, a summary of the fees, or potential fees is sufficient. For a larger project, provide a breakdown of costs to show your potential clients what they'll be paying for. You can also provide options to allow clients room to move. Check back on the client's RFP terms if it's a solicited proposal to make sure you meet their requirements.
If there are any permits or licenses required for the project these should be added to this section.
Clarify the terms and conditions and summarise details for the project, including timeline, pricing and payment schedules. This is where you include items such as cancellation policies, deposits, warranties and shipping. Get your terms and conditions checked by a lawyer before you send them to prospective clients.
The final step is to leave a space for signatures. Include a signature box for your client to sign when they accept your proposal. Make sure you include contact information if your client needs to follow up with any unanswered questions.
There's a lot to keep in mind when you're writing your winning business proposal. The following features can help make your proposal stand out from your competitors.
Before you begin writing your proposal, plan out everything in an outline. Ensure you have all of the key information you need and research any you don't have.
To impress your client and set you apart from competitors, use hard data that demonstrates the value of your proposal. Highlight your data in flowcharts, graphs or a table to enhance their presentation.
Include visual images to break up and enhance the text of longer proposals. Examples of visuals that are great for business proposals include infographics, flowcharts, timelines, photographs, organisational charts and comparison tables. Make sure they're relevant and not just decorative. Include captions or explanatory notes with them if it's not obvious what they're about.
If your proposal is online or a PDF, a short video can help to strengthen your proposal and increase engagement with the prospective client. Types of videos that work include:
an introduction to your proposal

a demo or brief explainer of your product or service
Use social proof to add credibility and trust to your proposal. It may help convince your client to accept your proposal if they can see positive reviews or case studies from previous clients. Types of social proof include case studies, testimonials, reviews and rankings, customer stories and previous clients you have worked with. Make sure you have approval to share this information though – you don't want to breach the privacy of customers or previous clients.
Include a call to action so that your audience knows what action they should take after reading your proposal. Ensure you include contact details so they can ask questions or clarify any issues they have.
Provide pricing options, upsell and add on opportunities
Consider your client's budget, if you know it, and provide several pricing options (high, mid, low) with extra provided for the higher price. Use a pricing table to present your options.
Include other services or related products your business provides. It's an opportunity to add on extras to the basic proposal, and gives the client additional information about your business.
Allow your brand's personality to stand out. Demonstrate how you are better and different from your competitors.
Avoid using business jargon and keep your sentences short and simple. There's no ideal length for a business proposal, but it is important to be succinct and clear. Your proposal should provide enough in-depth information to persuade the decision-maker without overwhelming them.
Be thorough and proofread your proposal. Check your spelling and grammar are accurate and there are no typos. Pay attention to the details and make sure your numbers and all information in your proposal are accurate.
Once completed, write a one-page cover letter to send with your proposal and convince the decision maker to read the entire proposal. Your cover letter should include:
a brief introduction to your business and the products or service you provide

concise details about the client's problem and the solution that you offer

a strong conclusion mentioning the main benefit you will deliver

the next steps you want the prospective customer to take
Disclaimer
Xero does not provide accounting, tax, business or legal advice. This guide has been provided for information purposes only. You should consult your own professional advisors for advice directly relating to your business or before taking action in relation to any of the content provided.
Start using Xero for free
Access all Xero features for 30 days, then decide which plan best suits your business.