Guide
Why cloud accounting is good for business
If you want your business to work smarter and faster, cloud accounting software is a wise investment.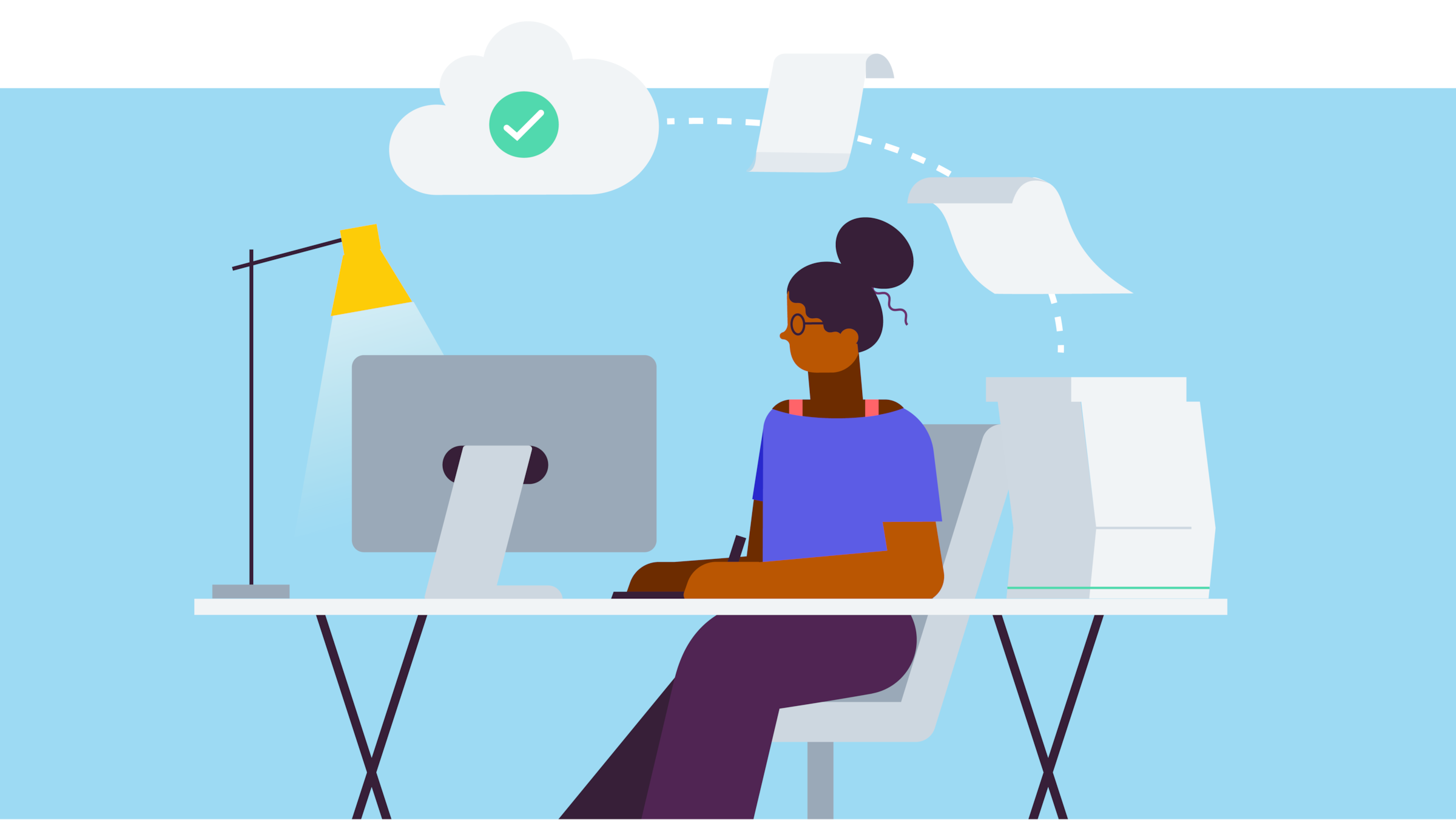 What is this thing called the cloud?
Think about when you use internet banking. Every time you access your bank data, you're using the cloud. The cloud makes data and software accessible online anytime, anywhere, from any device. The hard drive on your computer or laptop is no longer the central hub.
What is cloud accounting?
In the case of cloud accounting, you keep your business books online. That includes records of income and expenses, and assets and liabilities. The information is encrypted, much like a bank's, so only people with the login can view the data. Businesses started using cloud accounting software – also known as online accounting software – in the early 2000s. Most systems come with tools for quoting, invoicing, managing bills and more. Learn more about what cloud accounting software can do.
How cloud accounting works
Users subscribe to an online accounting software solution and move their books to the cloud. From then on, they can access their accounts from any web browser, or from an app on their phone. Most users connect the software to their business bank account, so that banking transactions flow automatically from the bank to the books. This saves them from a lot of data entry.
Benefits of cloud accounting software
Running your business accounts online has many advantages.
Data about your sales or income and purchases can flow straight from your bank to your books so you don't spend hours transcribing them

You can see your current financial position at any time

Multi-user access makes it easy to collaborate online with your team and advisors

It's online software so there's nothing to install or update, and all your data is backed up automatically.

You can set up a dashboard showing important financial information like who owes you money, what bills are due, and how your cash flow is looking
Accounting software shouldn't be a chore to use
Small business accounting software that's not available via the cloud can be tedious. It requires a lot of manual data entry and can suck up far too much of your time and effort. This doesn't add value, and takes the fun out of being in business. Cloud software can save your business time and money.
Problems with traditional accounting software
The data in the system isn't always up to date

It only works on one computer and data gets moved from place to place, for example, on a USB drive – this is not secure or reliable

Only one person has user access which can mean key people can't access financial and customer details

It's costly and complicated to keep backups (if they're done at all)

It's expensive, difficult and time consuming to upgrade compared to cloud accounting software, which updates automatically
Why the cloud and accounting software are the perfect match
You can use cloud-based software from any device with an internet connection. Online accounting software keeps small business owners connected to their data and their accountants. The software can integrate with a whole ecosystem of third-party business apps. It's scalable, cost effective and easy to use.
In the cloud, there's no need to install and run applications over a desktop computer. Instead, you pay for the software by monthly subscription.
Cloud security is world class
As a small business owner, you might be concerned about a cloud service provider storing your data. But the cloud is one of the most secure ways to store information. For example, using cloud software, if your laptop is stolen, no one can access your data unless they have a login to the online account. With cloud software, your data lives online on secure servers – as opposed to on your hard drive.
In the event of a natural disaster or fire, being in the cloud means business productivity doesn't need to be affected because there's no downtime. All of your information is safely and securely stored off site. As long as you have access to any computer or mobile device connected to the internet, you're back up and running.
In addition to this, if you invite users to view your data, you can control the level of access. This is much more secure than the old-fashioned way of emailing your files or sending out a USB stick with your data on it.
Cloud-based software companies ensure that the security and privacy of data about you and your organisation is always airtight. If you use online banking, then you're already primed to use cloud accounting.
Work smarter with accessible data in the cloud
The beauty of online accounting software is the flexibility it gives you to run your business from work, home, or on the go. You can be confident that you have an up-to-date picture of how your business is doing, no matter where you are.
Software updates can be developed and delivered faster and more easily in the cloud. This means you don't need to worry about installing the latest version and you'll get access to new features instantly. With cloud accounting software, you have the option to run your business remotely, from anywhere in the world. And when data is fluid and accessible, the possibilities are endless.
Disclaimer
Xero does not provide accounting, tax, business or legal advice. This guide has been provided for information purposes only. You should consult your own professional advisors for advice directly relating to your business or before taking action in relation to any of the content provided.
Download the guide about

bookkeeping
Find out what bookkeepers do, and get an intro to double-entry bookkeeping. Fill out the form to receive the guide as a PDF.
Start using Xero for free
Access all Xero features for 30 days, then decide which plan best suits your business.