Media release

Published on 24 March 2021
E-invoicing fact sheet
Why Xero is investing in the future of e-invoicing globally
On 24 March 2021, Xero announced it is acquiring Tickstar, an e-invoicing infrastructure business that serves businesses and governments around the world. It was founded in 2007 and consists of a small, talented management and development team with significant experience in e-invoicing technology.
We believe e-invoicing is one of the next big government-supported cloud-based innovations that will help small businesses streamline their accounting work and get paid faster. This acquisition will provide us with continued access to e-invoicing networks, while providing Tickstar with additional resources to service its existing customers and acquire new ones.
Currently, most businesses create an invoice and send the PDF via email, or use a word processing software like Microsoft Word and post a hard copy in the mail. However, the customer still needs to open the invoice when it's received and either scan or manually enter the data into their accounting system.
This is time consuming and can lead to errors, such as entering the wrong invoice amount or bank account, or sending the invoice to the wrong contact. Businesses can spend valuable time chasing customers for payment, which may impact their cash flow.
E-invoicing helps reduce errors and delays, by sending an invoice directly from the business' accounting system into the accounting system of their customer. The invoice arrives as a pre-populated bill, ready to be approved and paid.
When a business sends an e-invoice, it is securely transferred to their customer via an e-invoicing network. To access an e-invoicing network, both the business and the customer need an access point. Tickstar hosts access points that allow businesses like Xero to connect to e-invoicing networks around the world. Our acquisition of Tickstar means we will be able to host our own access points, and not rely on a third-party provider.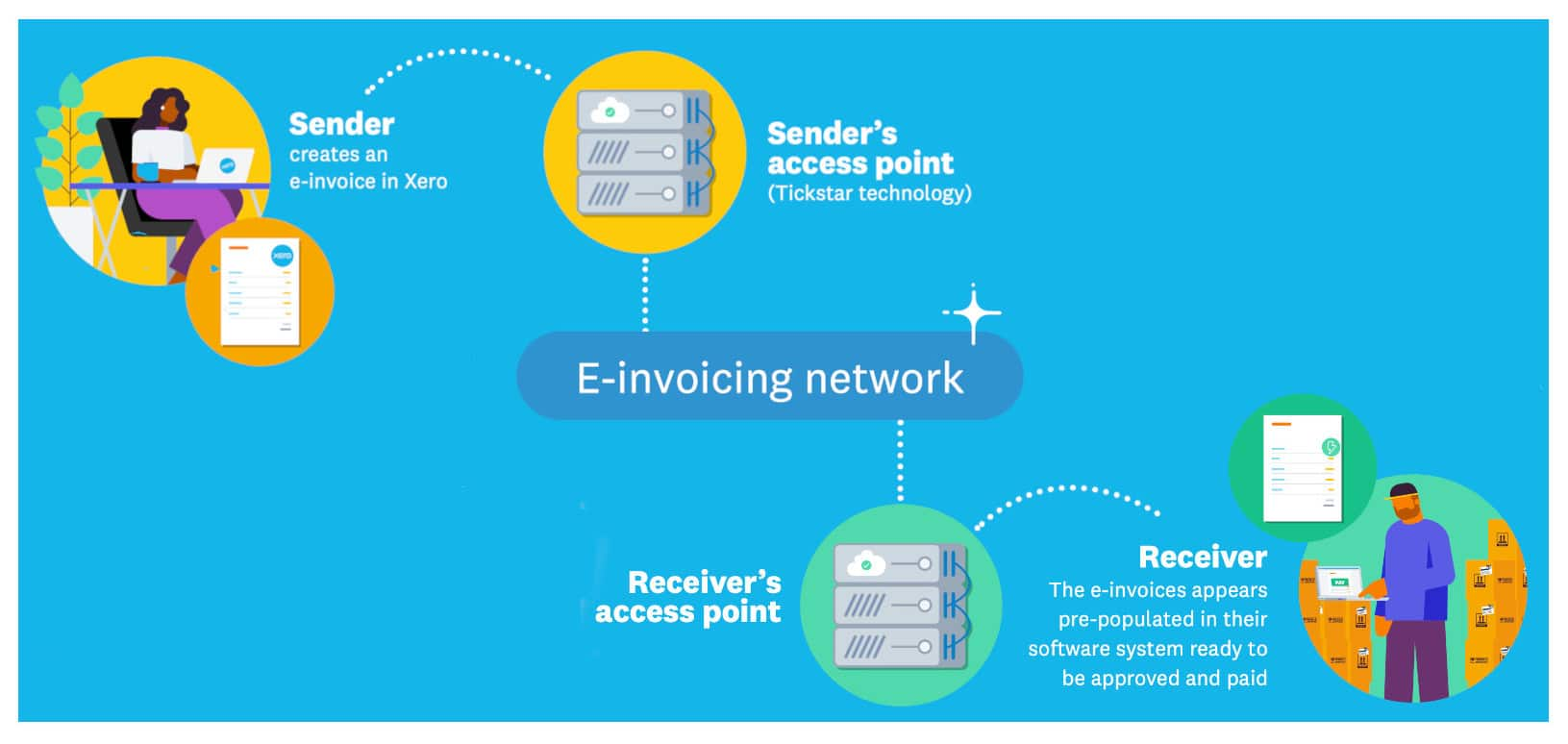 How e-invoicing works: The sender creates an e-invoice in Xero, and the invoice is delivered to the sender's access point on the e-invoicing network (Tickstar's technology). The e-invoice is delivered pre-populated in the receiver's software system ready to be approved and paid.
There are a number of e-invoicing networks globally. Currently, our access points connect us to the Peppol network. Peppol is an open e-invoicing network that has been adopted by Australia, New Zealand and Singapore, as well as many other governments around the world.
E-invoicing is now available in Xero
Xero currently offers e-invoicing in Australia, New Zealand and Singapore. Customers in Singapore can send and receive e-invoices. Customers in Australia and New Zealand can send e-invoices, and will be able to receive e-invoices in April 2021. As other Xero markets adopt e-invoicing, we will be able to quickly create access points using Tickstar's technology and connect to the e-invoicing network in that region. We may also be able to provide consulting and infrastructure to governments hoping to set e-invoicing up in their market.
What's next for e-invoicing
We expect that e-invoicing will eventually become a global best practice standard and a natural part of the cloud accounting process. As adoption continues to grow around the world, we'll continue building a seamless e-invoicing experience in Xero for our customers.
E-invoicing adoption around the world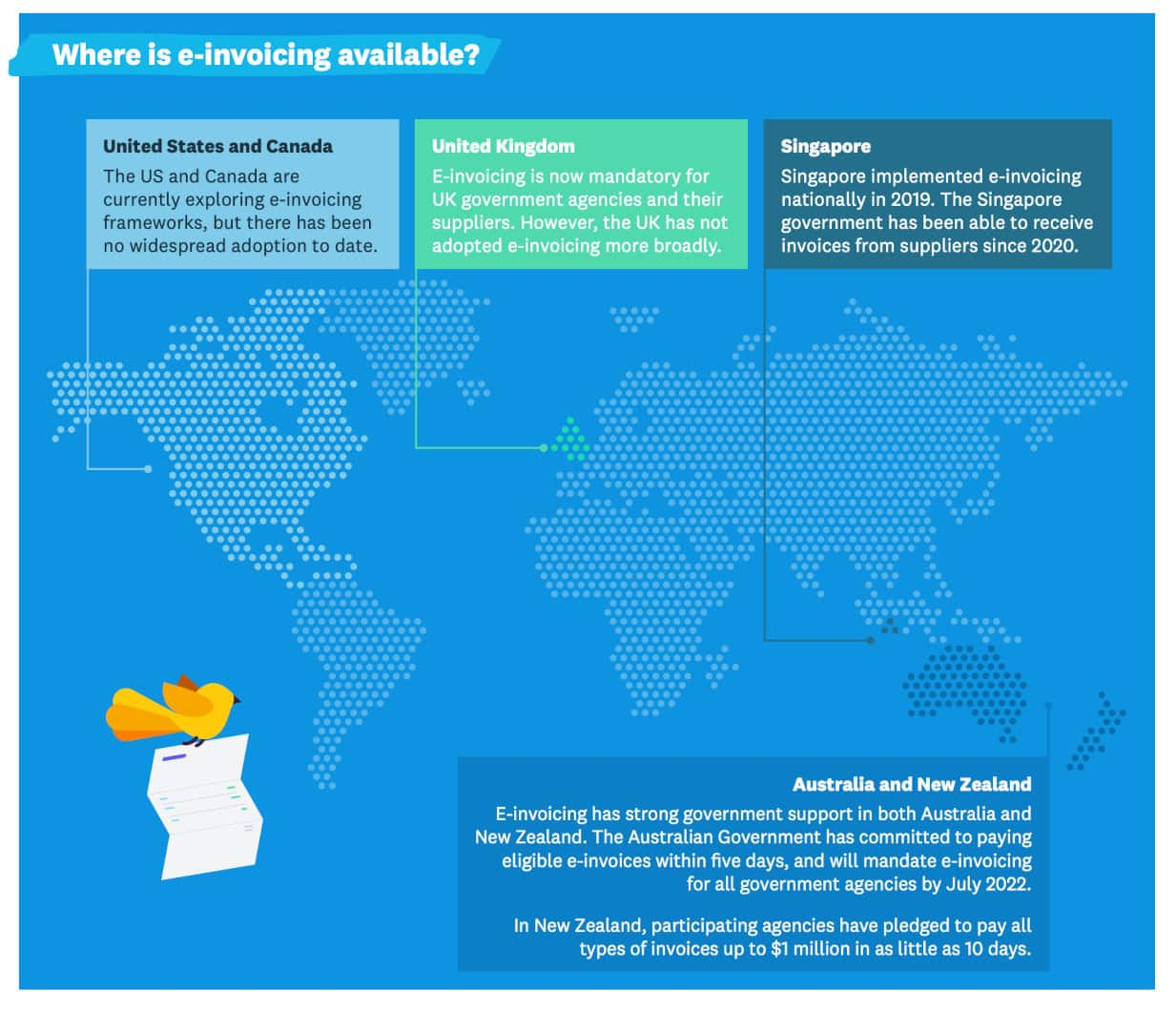 The US and Canada are currently exploring e-invoicing frameworks, but there has been no widespread adoption to date.
E-invoicing is now mandatory for UK government agencies and their suppliers. However, the UK has not adopted e-invoicing more broadly.
Singapore implemented e-invoicing nationally in 2019. The Singapore government has been able to receive invoices from suppliers since 2020.
Australia and New Zealand
E-invoicing has strong government support in both Australia and New Zealand. The Australian Government has committed to paying eligible e-invoices within five days, and will mandate e-invoicing for all government agencies by July 2022. In New Zealand, participating agencies have pledged to pay all types of invoices up to $1 million in as little as 10 days.
Related

media and enquiries
For all media enquiries, please contact the Xero media team.
Media release

Helping small businesses get paid faster using innovative cloud-based technology.

Media release

The latest in product, ecosystem, partnerships and business at Xero.

Media release

New Xero survey reveals the average cost of invoice fraud to small businesses of all sizes
Start using Xero for free
Access all Xero features for 30 days, then decide which plan best suits your business.