Media release

Published on 15 December 2022
Xero data reveals slowdown in sales and jobs across Australian small businesses
The Xero Small Business Index fell three points in November to 116 points but sales volumes still growing
Melbourne —15 December, 2022 —Xero, the global small business platform, today released its latest data on the health of Australia's small business economy from the Xero Small Business Index. Based on aggregated and anonymised transactions from hundreds of thousands of small businesses, the Index is part of the Xero Small Business Insights program.
The Index fell three points in November to 116 points, which was driven by a slowdown across three of the four sub-metrics. Sales grew 7.7 percent year-on-year (y/y), down from 13.1 percent y/y in October. Jobs growth slowed to 2.5 percent y/y while wages grew 4.1 percent y/y, down from 4.2 percent y/y in October. These results were partially offset by a small improvement in the time to be paid measure, which was 23.3 days in November compared to 23.5 days in October.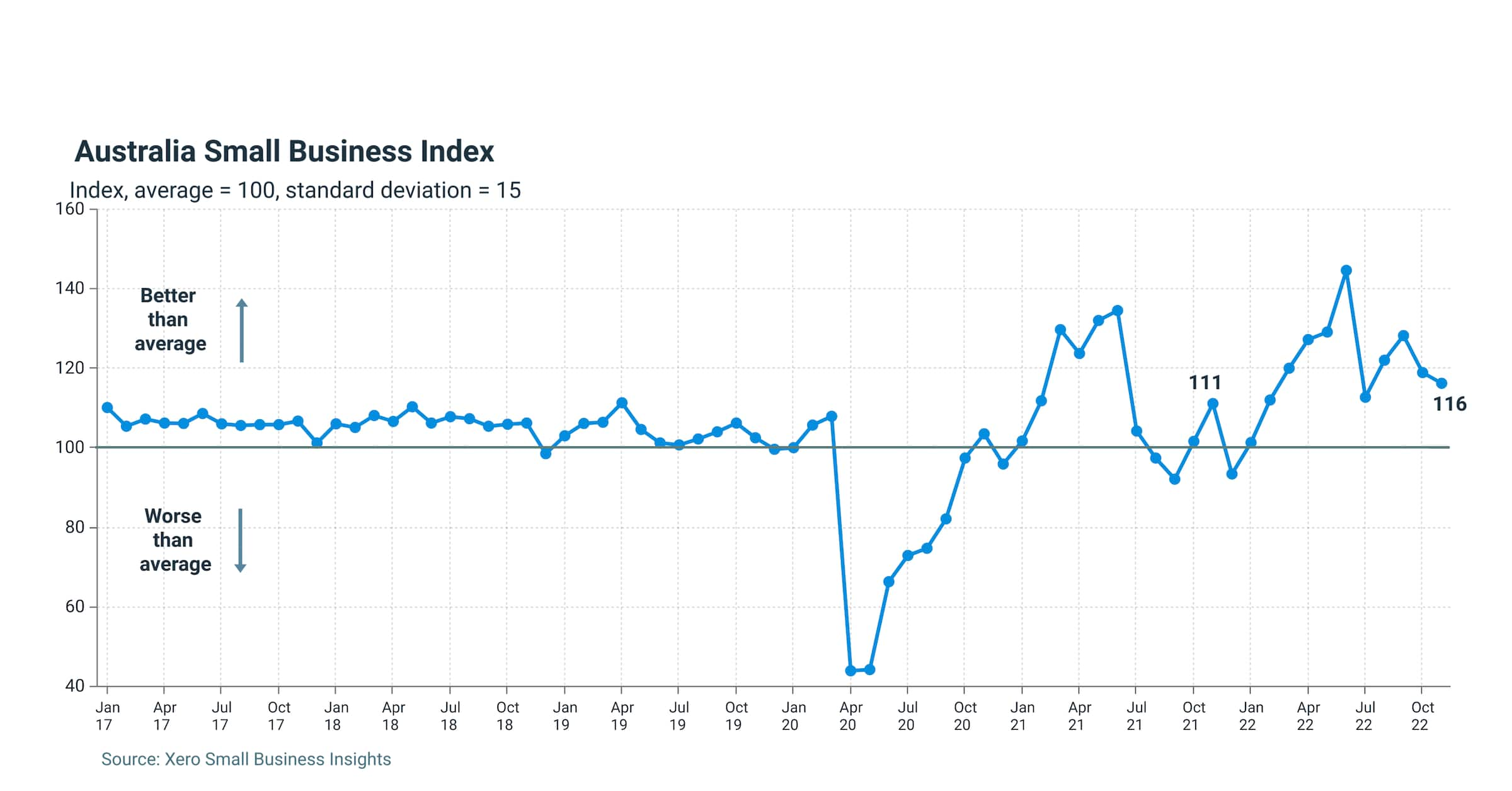 Will Buckley, Country Manager, Xero Australia, said: "The November data has revealed consecutive months of slowdown across sales, jobs and wages.
"While these figures may be unsettling for small business owners, it's important to note that the indicators are still demonstrating a growing economy, but at a slower pace, which is in line with the Reserve Bank forecast as it works to control inflation and avoid recession.
"The reduction in wage growth will be a small but welcome relief for small business owners, as they continue to balance a tight labour market with rising costs."
Jobs growth slows after three months of gains
Jobs growth slowed to 2.5 percent y/y in November, which comes after three months of strong gains across the industries.
Arts and recreation saw the largest increase in jobs (+6.5% y/y), followed by administrative services (+4.9% y/y). Agriculture (-1.1% y/y) was the only industry that had a fall in jobs.
"As summer festivals and events kick off around the nation, it's promising to see the arts and recreation sector continue to rebound – leading the charge in jobs for the fifth consecutive month," says Buckley.
Sales continue to slow as cost of living increases
Nominal sales rose 7.7 percent y/y in November, the third consecutive month of slower sales growth. When using the October CPI (+6.9% y/y) as a proxy for prices, the data suggests small businesses are still selling more goods and services than they were a year ago.
Across the industries, sales growth was led by arts and recreation (+15.3% y/y), construction (+12.6% y/y) and education (+12.4% y/y). Finance and insurance (-7.5% y/y), retail trade (-1.1% y/y) and rental, hiring and real estate (-0.1% y/y) recorded a decline in sales.
"Retail trade sales declined for the first time since April 2020, which suggests increased cost of living pressures, including interest rate rises, have started to impact household spending despite the major sales events in November such as Black Friday and Cyber Monday," says Louise Southall, Xero Economist.
"However, on a global scale, Australia is the only country tracked by the Index that has been able to maintain positive sales volume growth so far during 2022."
Across the states, sales growth was led by the Australian Capital Territory (+13.8% y/y), with Western Australia (+3.1% y/y) recording the smallest rise.
Wage growth continues to ease
November saw a wage rise of 4.1 percent y/y, continuing a slowing trend following September's record increase of 4.7 percent y/y.
"It's promising to see a slowdown in wages this month, which could suggest Australia is avoiding the price-wage spiral the RBA is seeking to avert by increasing interest rates," says Southall.
Across the industries, hospitality (+5.2% y/y) and construction (4.8% y/y) recorded the largest increases in wage growth, with health care recording the lowest (+3.3%).
"It's encouraging to see the Australian economy continuing its resilience in the current economic climate. However, with sales numbers softening, I would encourage any small business that is starting to feel the pinch to speak to an advisor sooner rather than later and come up with a plan to navigate the months ahead," concluded Buckley.
Xero Australia | Tiana Barns | +61 401 343 395 | tiana.barns@xero.com
Xero is a global small business platform with 3.5 million subscribers which includes a core accounting solution, payroll, workforce management, expenses and projects. Xero also has an extensive ecosystem of connected apps and connections to banks and other financial institutions helping small businesses access a range of solutions from within Xero's open platform to help them run their business and manage their finances. For three consecutive years (2020-2022) Xero was included in the Bloomberg Gender-Equality Index. In 2021, Xero was included in the Dow Jones Sustainability Index (DJSI), powered by the S&P Global Corporate Sustainability Assessment. Xero is a FIFA Women's Football partner under FIFA's new commercial structure.
Related

media and enquiries
For all media enquiries, please contact the Xero media team.
Media release

Reminder to support local as reduced spending and increased costs expected to put the squeeze on small business

Media release

The Xero Small Business Index fell 13 points in October to 115 points

Media release

Actions to reduce emissions will focus on renewable energy, considered business travel and sustainable catering
Start using Xero for free
Access all Xero features for 30 days, then decide which plan best suits your business.