Media release

Published on 28 April 2022
Small business performance continues to improve with strong sales growth
The Australian Xero Small Business Index rose nine points in March 2022 to 118 points, its highest since June 2021
Melbourne — 28 April, 2022 —Xero, the global small business platform, today released its latest data on the health of Australia's small business economy during March from the Xero Small Business Index. Based on aggregated and anonymised transactions from hundreds of thousands of small businesses, the Index was developed in collaboration with Accenture and is part of the Xero Small Business Insights program.
Xero's Small Business Index rose nine points in March 2022 to 118 points. While still lower than in March 2021, at 130 points, this is the highest we've seen the index since the Delta wave of COVID-19 hit Australia in July 2021. This is a positive marker for the health of the small business economy and indicates that, across the board, it is making headway in a return to normality.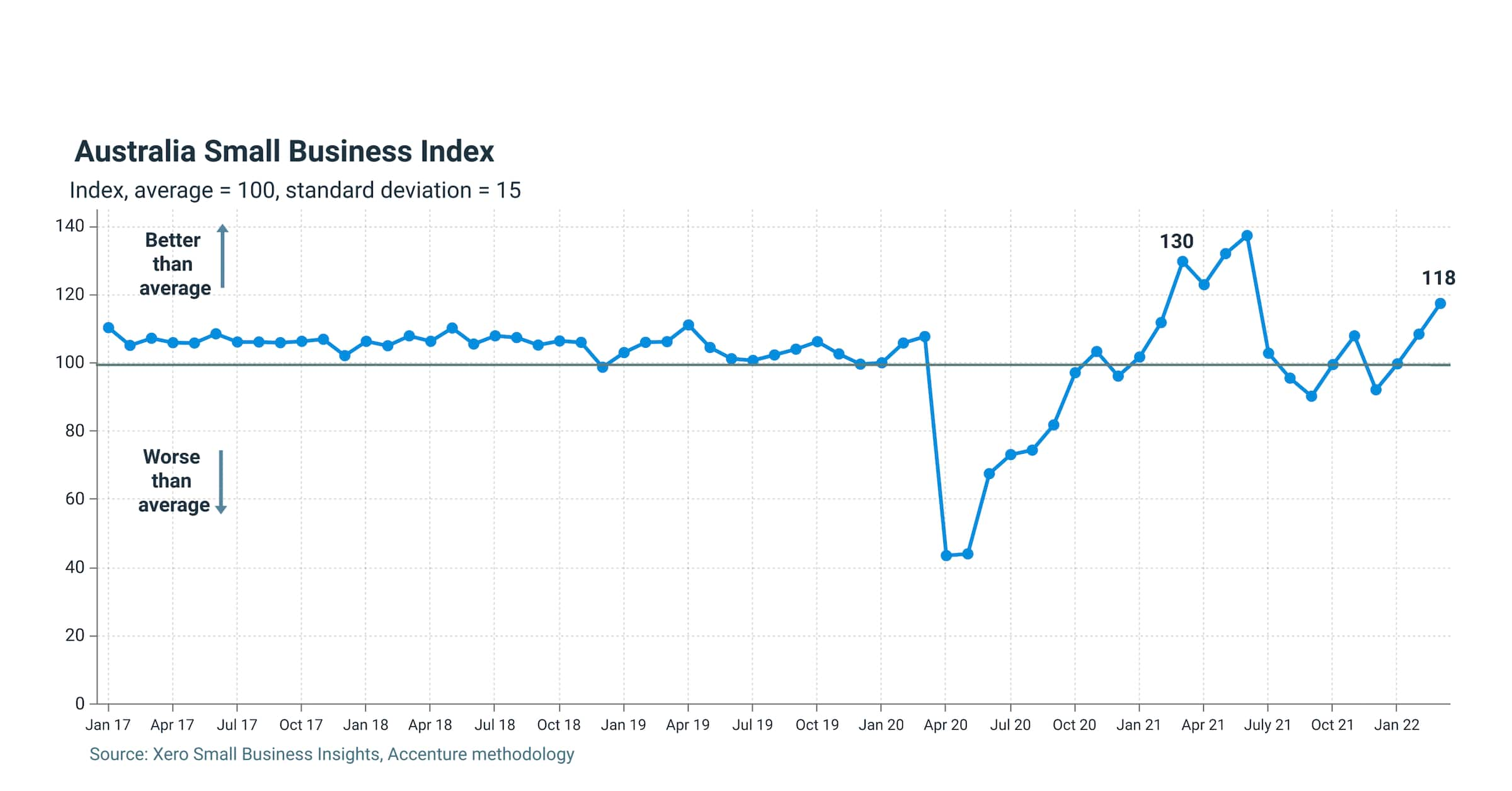 Joseph Lyons, Managing Director Australia and Asia, Xero, said: "The latest data gives us a glimpse into the new normalcy for small businesses – and it's a far healthier reality. While many are still struggling to either find staff or schedule around isolation periods, sales growth continues to be strong across the board. As we make headway into the last quarter of the financial year, this shows promising outcomes for even those industries that have been slower to recover.
"With travel – both domestic and international – very much back on the agenda and restrictions continuing to ease, we hope to see more small businesses find their feet and these figures continue to rise," said Lyons.
Sales were up 10.7% y/y in March, a slowdown from the 16.6% y/y February result.

Jobs fell 1.0% y/y, down from +0.1% y/y in February, continuing the weakening trend of the last seven months.

The best performing industries for jobs in March were those that could easily work from home – administration jobs the strongest, recording a rise of 6.7% y/y followed by professional services (+2.7% y/y).

The average time small businesses had to wait to be paid by customers fell 0.2 days in March, to 23.2 days.

Late payments were also marginally down at 6.6 days, from 6.9 days in February.

The best performing sub-metric in March was time to be paid, which fell 0.2 days to 23.2 days. The weakest sub-metric was jobs growth, which fell 1.0% y/y in March, after just a 0.1% y/y rise in February.
Sales growth continues to stay strong
Sales were up 10.7 percent year-on-year (y/y) in March, a slowdown from the 16.6 percent y/y February result but a sign of continued momentum following the easing of lockdowns last year. ACT (+14.3% y/y) had the strongest growth, followed by Queensland (+13.1% y/y) and Victoria (+12.1% y/y). Tasmania however was the outlier, recording weak sales growth of +1.3 percent y/y, well down from February's result of 14.4 percent y/y.
Sectors that could work from home and weren't as impacted by COVID-related isolation requirements had some of the highest sales growth in March, with administrative services up 18.7 percent y/y and professional services up +12.3 percent y/y. Manufacturing (+13.0%) and construction (+10.9% y/y) also felt this boost.
"We're seeing how staff shortages have taken a toll on small business growth. As international borders reopen, not only will we see more staff available, but a new pool of potential customers that will engage with the economy and allow businesses to open up even further and thrive," says Louise Southall, Xero Economist.
Jobs growth remains soft as illness, isolation and skills shortages continue to take their toll Although the Index increased in the month of March, jobs fell 1.0 percent y/y, down from +0.1 percent y/y in February, continuing the weakening trend of the last seven months. Negative jobs growth was prevalent across all Australian states, as COVID-19 illness and isolation, combined with skills shortages in some sectors, kept staff out of the workplace.
The best performing industries for jobs in March were administration, recording a rise of 6.7 percent y/y, followed by professional services (+2.7% y/y). Real estate (+1.2% y/y) and information media and telecommunications (+0.7% y/y) also recorded positive growth. Hospitality was the weakest sector, (down 5.2% y/y) while agriculture and wholesale trade both posted job declines of 4.0 percent y/y.
Stalling wages lag behind other markets
The continuing trend of stagnating wages growth is an anomaly for the Australian market. Small business wages in Australia are growing slightly faster than they were a year ago (3.2% y/y March 2022 versus 2.9% y/y March 2021), reflecting tighter labour markets and a lack of international talent. However, small business wages are not growing as fast as in other comparable markets like New Zealand (4.3% y/y in March 2022) or the United Kingdom (4.2% y/y).
"While we're seeing a lack of wage growth in small businesses, it's not limited to that sector – it's an economy-wide policy challenge that we're seeing reflected in national level private sector data too," says Southall. "Hopefully as we see the economy continue to recover over the next few months, we'll see wage numbers lift too."
To download the full March results, including industry and regional breakdowns, go to the website here.
Xero Australia | Sophie McCullen | 0435 913 863 | sophie.mccullen@xero.com
Xero is a cloud-based accounting software platform for small businesses with over 3 million subscribers globally. Through Xero, small business owners and their advisors have access to real-time financial data any time, anywhere and on any device. Xero offers an ecosystem of over 1,000 third-party apps and 300 plus connections to banks and other financial partners. For three consecutive years (2020-2022), Xero has been included in the Bloomberg Gender-Equality Index. In 2021, Xero was included in the Dow Jones Sustainability Index (DJSI), powered by the S&P Global Corporate Sustainability Assessment and in 2020, Xero was recognised by IDC MarketScape as a leader in its worldwide SaaS and cloud-enabled small business finance and accounting applications vendor assessment.
Accenture worked in collaboration with Xero on the design and methodology of the Index prior to February 2022. Accenture is a leading global professional services company, providing a broad range of services and solutions in strategy, consulting, digital, technology and operations. Combining unmatched experience and specialised skills across more than 40 industries and all business functions — underpinned by the world's largest delivery network — Accenture works at the intersection of business and technology to help clients improve their performance and create sustainable value for their stakeholders.
The Xero Small Business Index is unweighted and comprised of the following four metrics:
Sales - captures a core measure of small business health and a measure of the overall economic activity in the small business economy.

Time to be paid - captures how long businesses are waiting to be paid, providing insight on the financial health of their customers and small business cash flow.

Jobs - captures if small businesses are growing and how small business is impacting on the broader economy and community.

Wages - captures how benefits from small business performance are translating to employees-benefits flowing to the broader small business economy.
These four metrics were selected because they encompass the operating state of the small business (sales and time to be paid) and the contribution small businesses make to the community (jobs and wages).
Related

media and enquiries
For all media enquiries, please contact the Xero media team.
Media release

Landmark research from Xero reveals one million new jobs will be supported by small businesses over the next 10 years

Media release

March growth slowed compared to February but remained positive year-on-year

Media release

Small businesses across the UK are struggling to fill job vacancies, according to Xero
Start using Xero for free
Access all Xero features for 30 days, then decide which plan best suits your business.