Media release

Published on 29 September 2022
Improvements in sales, wages and jobs show resilience of Australian small businesses
The Xero Small Business Index rose 7 points in August to 119 points
Melbourne — 29 September, 2022 — Xero, the global small business platform, today released its latest data on the health of Australia's small business economy during August from the Xero Small Business Index. Based on aggregated and anonymised transactions from hundreds of thousands of small businesses, the Index, developed in collaboration with Accenture, is part of the Xero Small Business Insights program.
Xero's Small Business Index in Australia rose seven points in August to 119 points. The increase can largely be attributed to strong jobs growth (+6.6% year-on-year) that's been accompanied by an uptick in wages (+4.1% y/y), as well as sales (+16.3% y/y). Time to be paid, however, increased 0.5 days during the month of August.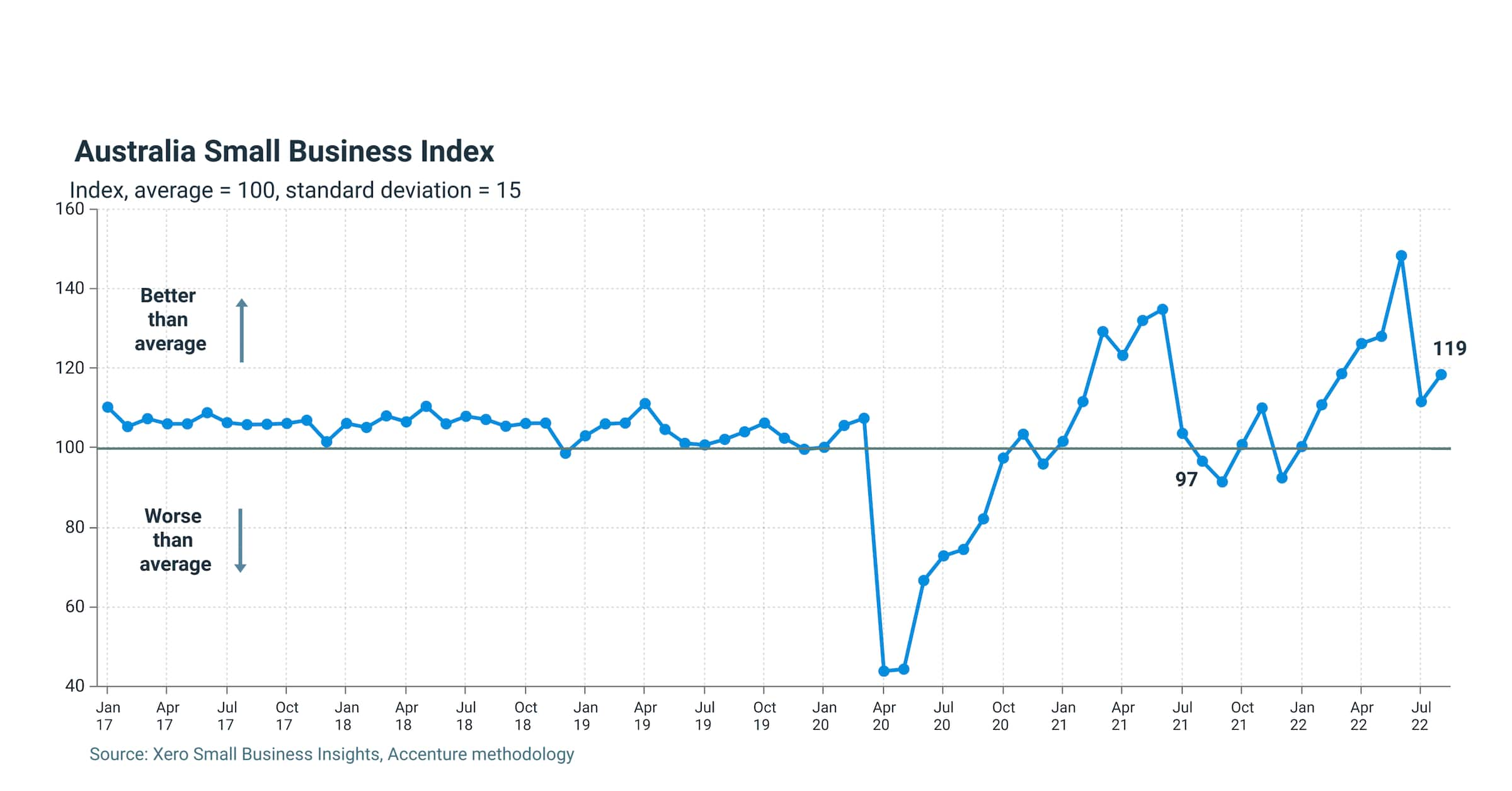 Joseph Lyons, Managing Director APAC, Xero, said: "The August result demonstrates that small businesses are successfully navigating a period of increasing inflation and cost of living pressures. It's also encouraging to see post-pandemic recovery for the hospitality and arts and recreation industries - two industries that were the hardest hit over the last couple of years."
Jobs results indicates small business confidence
The August jobs results demonstrate that small businesses are still hiring new staff – jobs rose 6.6 percent y/y, which is more than double the average growth for the Xero Small Business Insights series, and the strongest result since August 2021.
"The Index has revealed four consecutive months of positive jobs growth, which is promising to see in such a tight labour market. It is a strong indication of the strength, resilience and health of small businesses across the nation," says Lyons.
All states and territories recorded positive jobs growth, led by New South Wales (+13.6% y/y). Agriculture was the only industry to report a negative jobs result (-0.8% y/y), with all other industries reporting positive growth. In particular, arts and recreation (+18.9% y/y) and hospitality (+14.4% y/y) led the pack.
Faster wage growth attracts staff
Wages rose 4.1 percent y/y in August, the second highest result since the series began in January 2017. Across the industries, wages growth was led by construction (+4.7% y/y) and manufacturing (+4.5% y/y), with health care (+3.1% y/y) recording the slowest growth.
"Wage increases can be simultaneously positive and negative for small businesses. Whilst faster wage increases add to running costs, higher wages also reflect the underlying health of the small business sector, as well as its capacity to compete for staff against larger organisations" says Louise Southall, Economist, Xero.
"Paying higher wages also supports employees as they navigate their own cost of living pressures and in turn, allows them to spend more with small businesses," says Southall.
Strongest sales growth since February
Sales rose 16.3 percent in August - the largest rise since February 2022. Similarly to jobs, Australia's sales results were led by arts and recreation (+47.1% y/y) and hospitality (+41.3% y/y) - two industries that struggled the most during the pandemic period.
The Australian Capital Territory recorded the strongest sales growth (+33.9%) – in part reflecting a weaker August 2021 result caused by COVID restrictions. This was followed by New South Wales, which recorded an increase of 24 percent y/y.
"The rise in sales isn't solely due to higher prices, it also reflects more goods and services being sold. Based on the most recent Consumer Price Index (June 2022) of 6.1 percent y/y we can see nominal sales are growing faster than inflation," says Southall.
Time to be paid rises to 23.6 days
The average wait time for small businesses to be paid rose 0.5 days in August to 23.6 days. This is the highest reading since August 2021, and above the 22.8 day average for the first six months of 2022.
Xero Australia | Sophie McCullen | 0435 913 863 | sophie.mccullen@xero.com
Xero is a global small business platform with 3.3 million subscribers which includes a core accounting solution, payroll, workforce management, expenses and projects. Xero also provides access to financial services, and an ecosystem of more than 1,000 connected apps and more than 300 connections to banks and other financial institutions. Through Xero's open platform, small businesses can connect to a range of solutions that help them run their business and manage their finances. For three consecutive years (2020-2022) Xero was included in the Bloomberg Gender-Equality Index. In 2021, Xero was included in the Dow Jones Sustainability Index (DJSI), powered by the S&P Global Corporate Sustainability Assessment. Xero has been named as a FIFA Women's Football partner under FIFA's new commercial structure.
Accenture worked in collaboration with Xero on the design and methodology of the Index prior to February 2022. Accenture is a leading global professional services company, providing a broad range of services and solutions in strategy, consulting, digital, technology and operations. Combining unmatched experience and specialised skills across more than 40 industries and all business functions — underpinned by the world's largest delivery network — Accenture works at the intersection of business and technology to help clients improve their performance and create sustainable value for their stakeholders.
Related

media and enquiries
For all media enquiries, please contact the Xero media team.
Media release

New product features help small businesses and advisors predict future payments and spend less time in the back office

Media release

Xero unveils its suite of employee management tools and announces first Australian beta from Planday acquisition

Media release

Almost half of all invoices owed to small businesses in 2021 were paid late; 10 percent paid more than a month overdue
Start using Xero for free
Access all Xero features for 30 days, then decide which plan best suits your business.