Media release

Published on 27 April 2023
Xero data reveals small business owner wellbeing lags general population
Global market forces most influential when it comes to small business owner wellbeing
Wellington — 27 April, 2023 — Xero, the global small business platform, has today launched a report revealing overall small business owner wellbeing is currently below that of the general population, serving as a reminder of the myriad challenges small business owners are dealing with in 2023 – including high inflation, slowing economic growth, concern about staff wellbeing and general uncertainty about the future.
The report, The global state of small business owner wellbeing, found that of the seven countries surveyed from November 2022 through to February 2023, only South African and Singaporean small business owners reported higher levels of wellbeing than the general population results in the 2023 World Happiness Report. New Zealand small business owners reported the highest level of life satisfaction, closely followed by South Africa and Singapore. Their United Kingdom counterparts reported the lowest level of life satisfaction.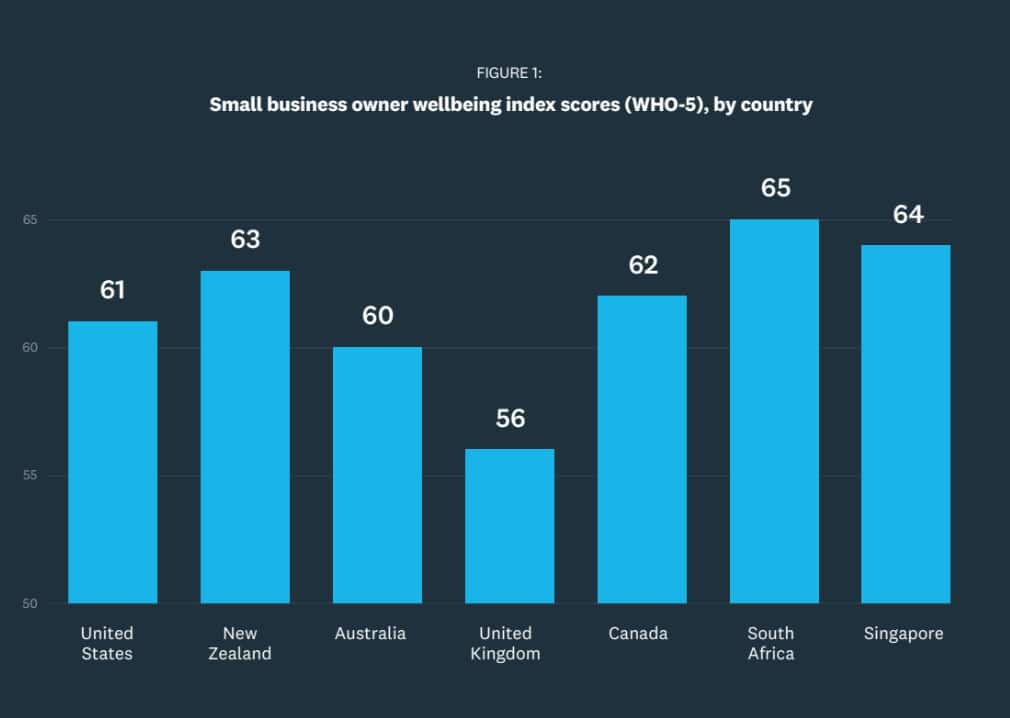 The global state of small business owner wellbeing drew on responses from more than 4600 small business owners in seven countries – Australia, Canada, New Zealand, Singapore, South Africa, the United Kingdom, and the United States – to better understand how small business ownership affects different aspects of one's wellbeing.
"Despite rising awareness of wellbeing in all facets of our lives, there has been little data about small business wellbeing beyond financial measures," said Rachael Powell, Chief Customer Officer, Xero. "Our research highlights what we already suspected – that small business owners are experiencing many wellbeing challenges at the moment, coming at them from a variety of sources."
Among the findings, which reference to Xero's own research as well as respected global frameworks, was the prominence of global factors over national ones. Despite small businesses in different countries facing local stresses of varying severity, small business owners in most countries reported fairly similar overall levels of wellbeing and life satisfaction, suggesting a greater level of influence from common global issues rather than national issues.
Other themes identified as contributing to small business owner wellbeing include business-related stress spilling over into personal lives; the ability of a small business owner to take time to rest and recover; undertaking fulfilling work; and access to affordable counselling or peer support.
The Xero research also highlighted differences between younger and older small business owners. In all seven countries studied, small business owners under 30 were more likely to be experiencing financial distress than small business owners over 50. Similarly, small business owners under 30 are likely to feel more stressed about their employees' wellbeing than owners over 50.
Local stresses not always a dampener
The report suggests local and regional factors may be less influential on wellbeing in small businesses than global factors. This is demonstrated by the similar results for wellbeing across the countries we studied despite the obvious differences in local conditions. Small business owners in six of the seven countries all scored within a five point range for overall wellbeing using the WHO-5 approach.
In addition, small business owners in South Africa - a country that has an unemployment rate above 30 percent - reported the highest level of wellbeing across our study.
"In some countries, small business owners appear to have developed a stronger tolerance for persistent local stresses like scarce financing or an inability to take time off," Powell said. "As a result, wellbeing policies and programs that focus on the local impact of global challenges, rather than local market conditions themselves, may result in greater long-term benefits for small business owners."
Innovation and learning aid small business wellbeing
The study examined factors such as whether or not small business owners find their daily activities interesting and if they benefited from adopting a cheerful, calm, and grateful mindset.
"Our research was clear that small business owners who find their work fulfilling and interesting have greater levels of wellbeing. By embracing innovation such as automation and digitalisation, small business owners can outsource the tasks that bring them less joy, freeing them up to do more of what they love," Powell said.
Report offers four recommendations
Investment in policies that encourage small business innovation, learning, and upskilling

Training and guidance in addressing the root causes of employees' mental health issues

Counselling and peer support networks to help small business navigate their challenges

Exploring ways to achieve restedness that intentionally set business matters aside
To download the report, go to the Xero website. To find out more about how the data was collected, see the methodology section in the report's appendix.
Xero is a global small business platform with 3.5 million subscribers which includes a core accounting solution, payroll, workforce management, expenses and projects. Xero also has an extensive ecosystem of connected apps and connections to banks and other financial institutions helping small businesses access a range of solutions from within Xero's open platform to help them run their business and manage their finances. For four consecutive years (2020-2023) Xero was included in the Bloomberg Gender-Equality Index. In 2021 and 2022, Xero was included in the Dow Jones Sustainability Index (DJSI), powered by the S&P Global Corporate Sustainability Assessment. Xero is a FIFA Women's Football partner.
Related

media and enquiries
For all media enquiries, please contact the Xero media team.
Media release

The latest in product, ecosystem, partnerships and business at Xero

Media release

Current Chief Product Officer, Anna Curzon takes sabbatical due to personal and family health reasons
Start using Xero for free
Access all Xero features for 30 days, then decide which plan best suits your business.