Guide
How to dropship
Learn how to start dropshipping to build your online business and keep your operational costs to a minimum.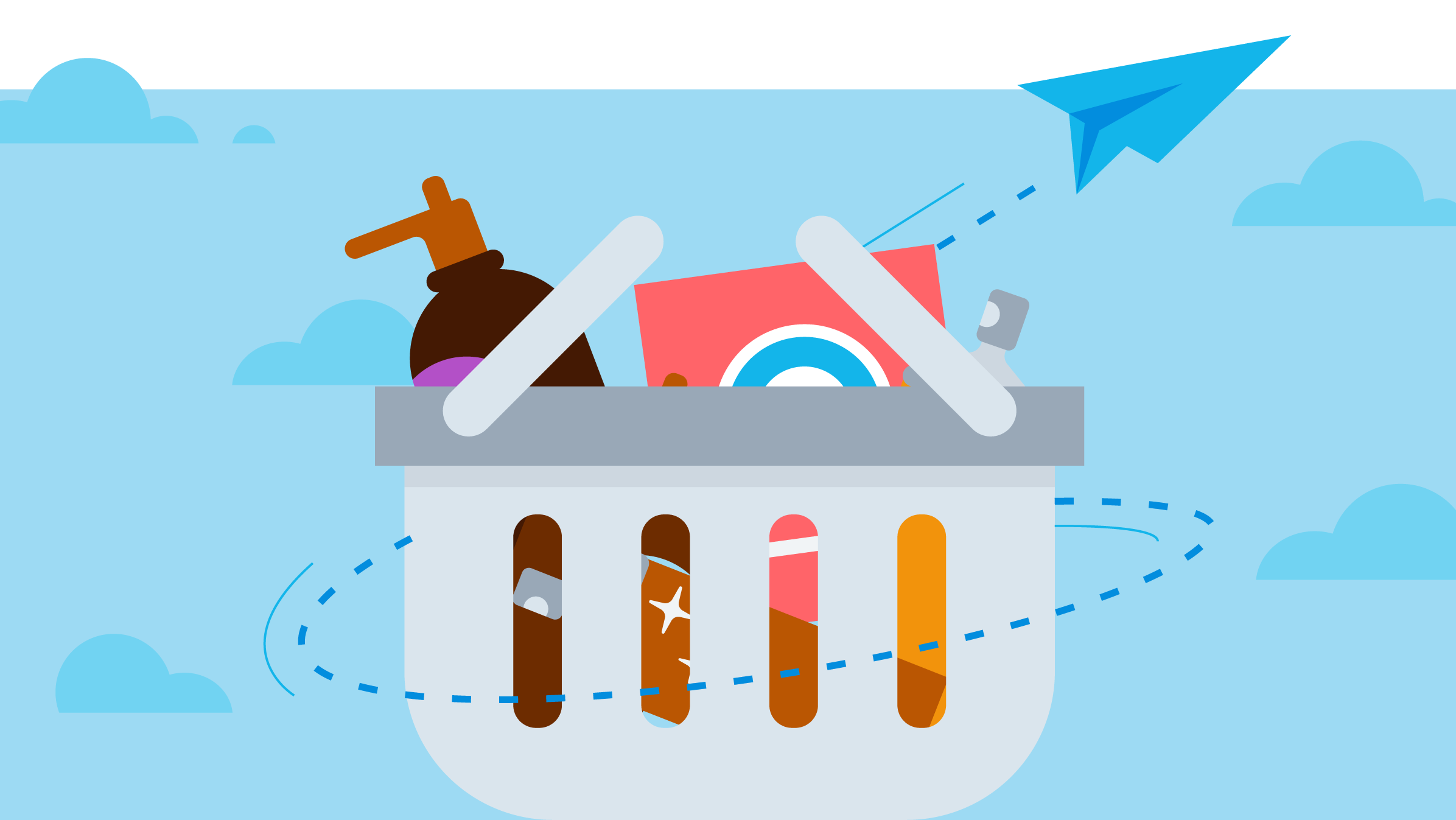 Dropshipping involves selling products online that you don't keep in stock. When customers make orders through your online store, you forward those orders to a supplier who ships the products directly to your customers.
This means online sellers don't manage their own inventory or shipping logistics. Dropshipping is considered popular because it can reduce operational costs and allow sellers to focus on marketing and customer and supplier relationships.
How does dropshipping work?
Here's how dropshipping works:
As an online seller, you'll choose a dropshipping supplier to partner with, and agree on prices and the logistics around shipping

You list the products in an online store at marked up prices, so you can make money from the sale

A customer purchases a product through the online store, creating the order

You (or your website) will forward the order to your supplier

The supplier ships the goods directly to your customer

You pay the supplier the agreed price, and keep the balance
How to start dropshipping
To become a dropshipping seller, find a reliable supplier of your chosen products and then create your business and online store to sell them from.
While dropshipping sounds convenient, and offers flexibility to work from home, you'll need to set aside substantial time for in-depth research and planning in order to get started.
Can I start dropshipping for free?
There's no set amount you should start with to become a dropshipper. While it is possible to start a dropshipping business for free, starting with zero budget may limit your access to ecommerce technology and tools, and reduce your marketing ability.
You don't need to pay upfront for the products you're selling, but you should budget for:
setting up your ecommerce store

registering the business and paying tax

advertising and marketing your products
Choosing a dropshipping idea
It's important to start with a clear and workable business model. Do your research to find a suitable product idea for your dropshipping business.
You'll want to make sure there's enough market demand – and a reliable supply – for your product in order for the business to be profitable.
It's also a good idea to choose a niche that aligns with your own interests, as you'll be investing significant time into developing the business. You don't want to hate what you're doing!
When researching, identify who your target audience is for your products and who your competitors are. A good competitor analysis will help you with your business planning and marketing when you're ready to sell.
How to choose dropshipping suppliers
As a dropshipping seller, you don't control the supply chain. However, you are responsible for managing the relationship with the customer if something goes wrong.
So it's essential that you find a reliable supplier that stocks quality products you have confidence in.
Online directories and reviews are a helpful way to learn about the available dropshipping suppliers and companies operating regionally and worldwide.
Take time to understand the strengths and weaknesses of different suppliers, and find one that best suits your needs. Be sure to review:
reputation and credibility – including reviews, returns and dispute policies

availability and responsiveness to your communication

dispatch and delivery times, and options for tracking orders

shipping location – be aware that working with overseas suppliers may increase shipping costs

minimum sales amounts or order sizes

product pricing and fees (per order and for account setup) – some suppliers may also have additional monthly charges

quality of product information and images

compatibility with your online store – some platforms may integrate better than others
Once you've found the right supplier for you, spend time establishing your relationship to build trust and keep things running smoothly.
Building your ecommerce store
Your store should showcase your products well and be easy for your customers to use. Choose a platform for your ecommerce store that best suits your specific business niche.
Online reviews are helpful for understanding which platforms provide the best functionality for dropshipping. For excellent customer service, consider platforms that allow you to automate your business operations – such as automatically forwarding customer orders onto suppliers.
Platforms like Shopify, Wix, BigCommerce or WooCommerce are popular options. Remember that some platforms are more compatible with certain dropshipping suppliers.
Finally, consider how your chosen ecommerce platform displays content. Online content will play an important marketing role for your business, so check that you can publish information about your products easily. People won't buy what they can't see.
Business structure and registration
Next, register your business and choose a business structure that's appropriate for you. The different available business structures will have varying requirements from you as the business owner.
Know your legal obligations
Learn about regulations governing online businesses, collecting sales taxes, paying taxes, and the rights of your customers when buying from you.
Be aware of any safety or industry-specific regulations for the products you've chosen, and how to comply with them. Make sure you have the right to reuse product images, logos and trade marks in order to uphold intellectual property laws.
Remember, you don't have to know all of this off by heart. You can consult legal and accounting professionals as you go for additional oversight and support to meet these obligations.
Marketing your dropshipping business
Ready to start selling? A good marketing plan is key to attracting customers to your online store.
There are many opportunities to market your business and products – but you don't need to pursue all of them at once. Learn about digital marketing basics and develop a strategy that invests your time wisely and reaches your specific target audience.
You should regularly review your marketing efforts to find the right channels and messages that connect with your customers.
Testing and continuous improvement
Continuous improvement helps you stay competitive against other businesses. Regular testing and optimising ensures your product offering remains relevant, and your marketing efforts engage people.
Be disciplined in your research to understand emerging or seasonal trends, and test new products in your industry.
Don't be afraid to jump on opportunities quickly and try something new – be responsive to the market and move on quickly if something isn't working.
Disclaimer
Xero does not provide accounting, tax, business or legal advice. This guide has been provided for information purposes only. You should consult your own professional advisors for advice directly relating to your business or before taking action in relation to any of the content provided.
Start using Xero for free
Access all Xero features for 30 days, then decide which plan best suits your business.