Media release

Published on 23 February 2023
Sales flat for small businesses across Aotearoa in January
Slowing wages and jobs highlight ongoing economic pressures
Wellington — 23 February, 2023 — Xero, the global small business platform, today released its Xero Small Business Index for January 2023, revealing the weakest sales result for Kiwi small businesses since September 2021.
Overall small business sales were flat in January 2023, with the largest year-on-year (y/y) declines in agriculture, (-7.2% y/y), retail trade (-5.1% y/y) and professional services (-2.4% y/y).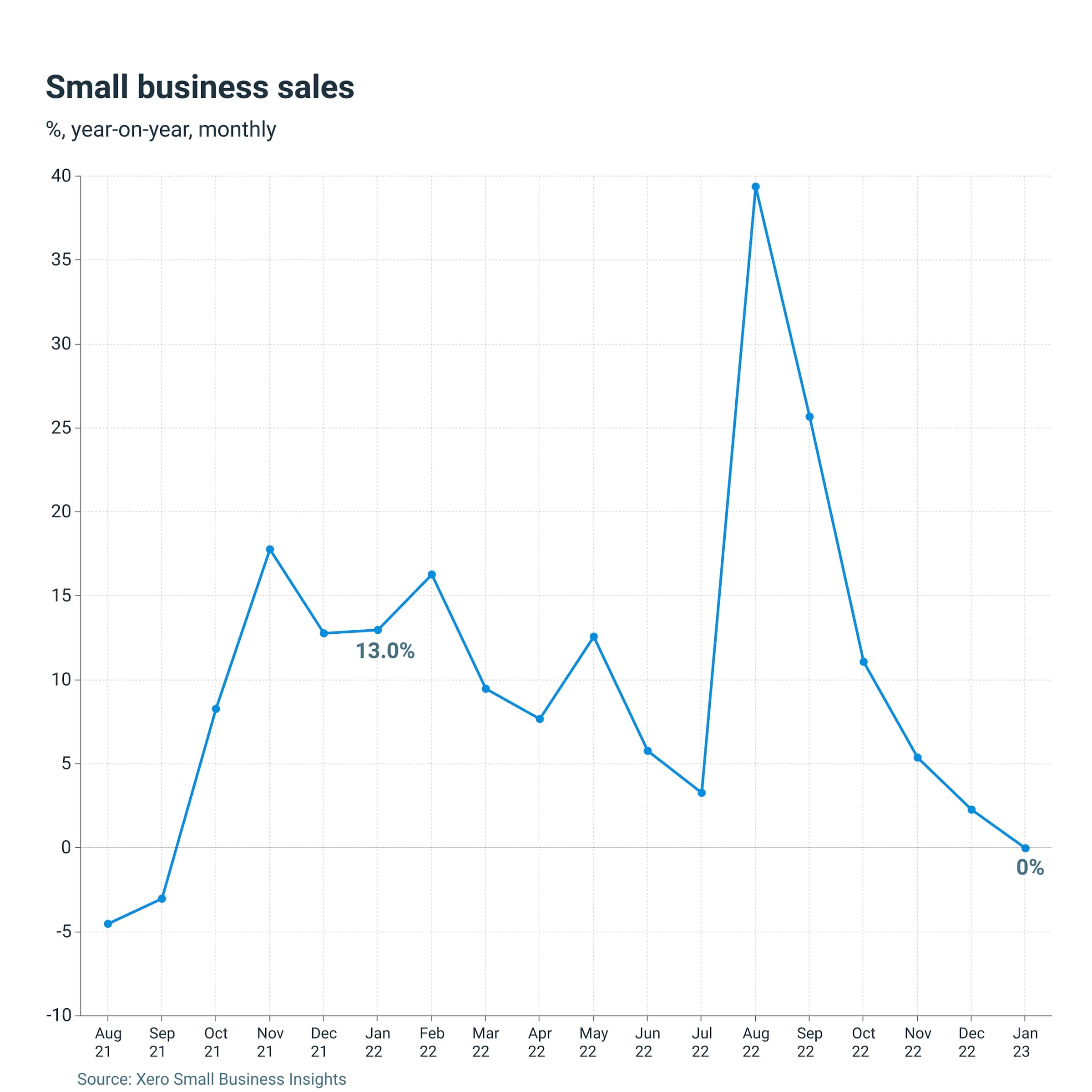 These declines were offset by strong hospitality sales (+16.2% y/y) as the sector continues to recover following challenging years of downturned activity due to COVID-19 lockdowns.
Xero Country Manager, Bridget Snelling, says while overall sales are flat, the reality is most businesses are falling behind.
"The falling sales numbers are worse when you factor in inflation. Using the CPI as a proxy for prices means the average Kiwi small business is currently operating with their sales volume down 7.2 percent," says Snelling.
"The cost of living crisis is a big part of this slowdown as small businesses continue to sell fewer goods and services than a year ago."
While spending has slowed, so has wage growth. After reaching a record high of 6.7 percent y/y in June 2022, wage growth has slowed to 4.6 percent y/y in January 2023, the smallest rise since March 2022 (4.4%).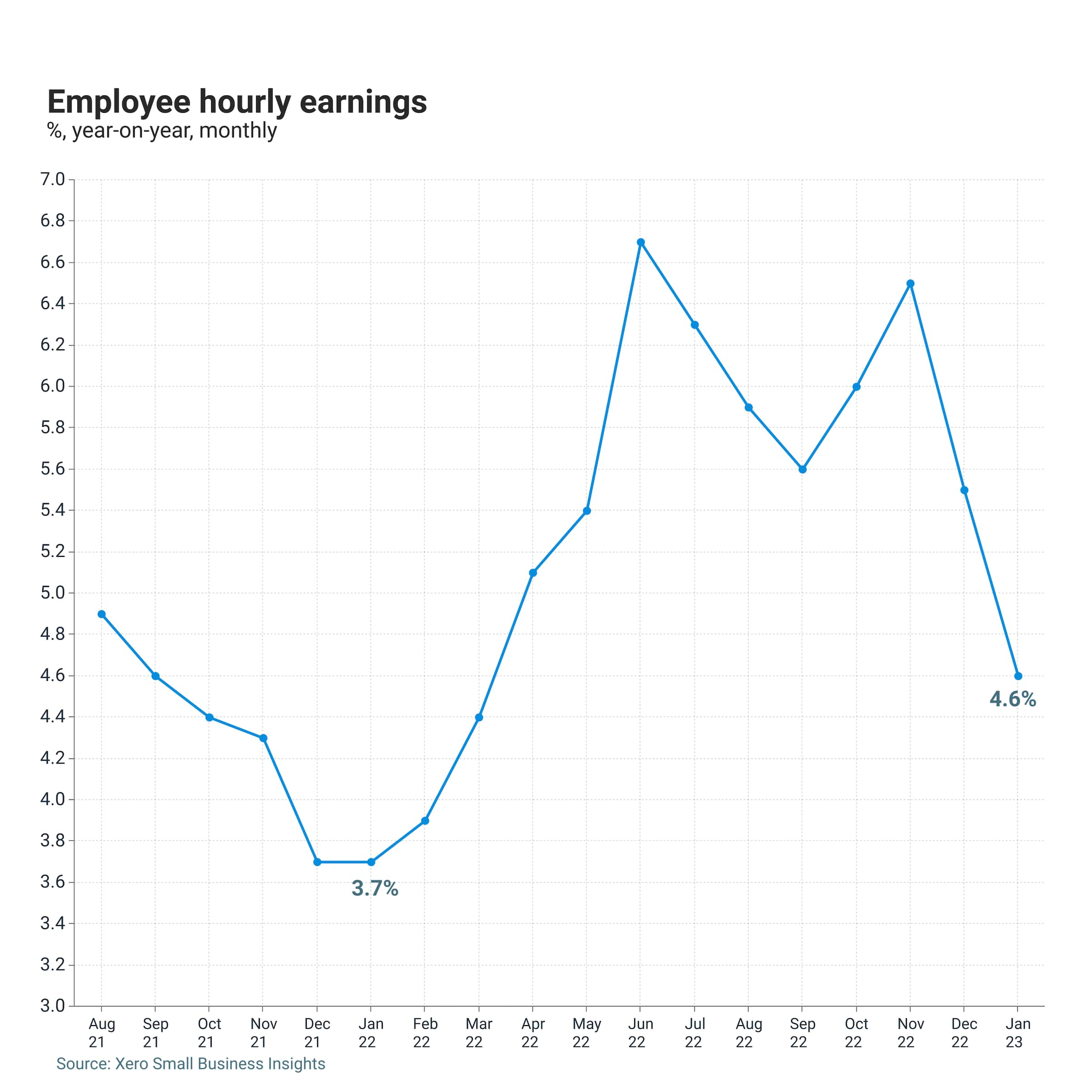 "While wage growth remains above the long-term average (3.9% y/y), this slowdown in the New Year will likely be a welcome reprieve for many small business owners who are juggling their operating costs with downturned sales," says Snelling.
This wage growth slowdown was recorded across all sectors, with the largest wage rise in construction (+5.1% y/y).
Additionally, small business jobs slowed for the third consecutive month, rising just 4.7 percent y/y in January 2023. However, this figure still remains above the long-term average (3.0% y/y).
"Continuing the ongoing recovery story, hospitality saw the largest increase in jobs in January (+7.6% y/y), followed by professional services (+6.5% y/y)," says Snelling.
"And despite having the highest wage growth of all industries in January, the construction sector saw the smallest growth in jobs (+2.7% y/y), which points towards ongoing labour shortages in the industry.
"Furthermore, retail jobs saw 3.5 percent y/y growth in January, but only time will tell how long this will last if sales in the sector continue to decline."
Small Business Index decline
The New Zealand Small Business Index was 105 points in January 2023.
This is down 38 points since November amid slower sales, wages and jobs growth, and a rise in payment times. It shows New Zealand's small business economic performance is currently close to average.
"We saw the ongoing economic challenges facing Kiwi small businesses impact the Index in January, including a slight uptick in the time for small businesses to get paid (0.6 days slower, 24.5 days overall)," says Snelling.
"But while the Index is trending downwards, it's encouraging to see it remains above the average of 100.
"We know it's likely to be a challenging year for many, but it remains important for Kiwi consumers to buy locally where possible to help support Aotearoa's small business community through 2023."
For further information on the Xero Small Business Insights January 2023 metrics, please refer to the XSBI New Zealand update. To find out more about how the Xero Small Business Index is constructed, see the methodology.
Xero is a global small business platform with 3.5 million subscribers which includes a core accounting solution, payroll, workforce management, expenses and projects. Xero also has an extensive ecosystem of connected apps and connections to banks and other financial institutions helping small businesses access a range of solutions from within Xero's open platform to help them run their business and manage their finances. For four consecutive years (2020-2023) Xero was included in the Bloomberg Gender-Equality Index. In 2021 and 2022, Xero was included in the Dow Jones Sustainability Index (DJSI), powered by the S&P Global Corporate Sustainability Assessment. Xero is a FIFA Women's Football partner.
Related

media and enquiries
For all media enquiries, please contact the Xero media team.
Media release

Xero Small Business Insights shows sales growth at lowest levels in 19 months amid consistently long payment times

Media release

Xero Small Business Insights reveals two slowest sales growth months since the start of 2021

Media release

The latest in product, ecosystem, partnerships and business at Xero
Start using Xero for free
Access all Xero features for 30 days, then decide which plan best suits your business.