Optimise your advisor directory listing
Thousands of businesses search the Xero advisor directory each month. Here's how to attract the right ones.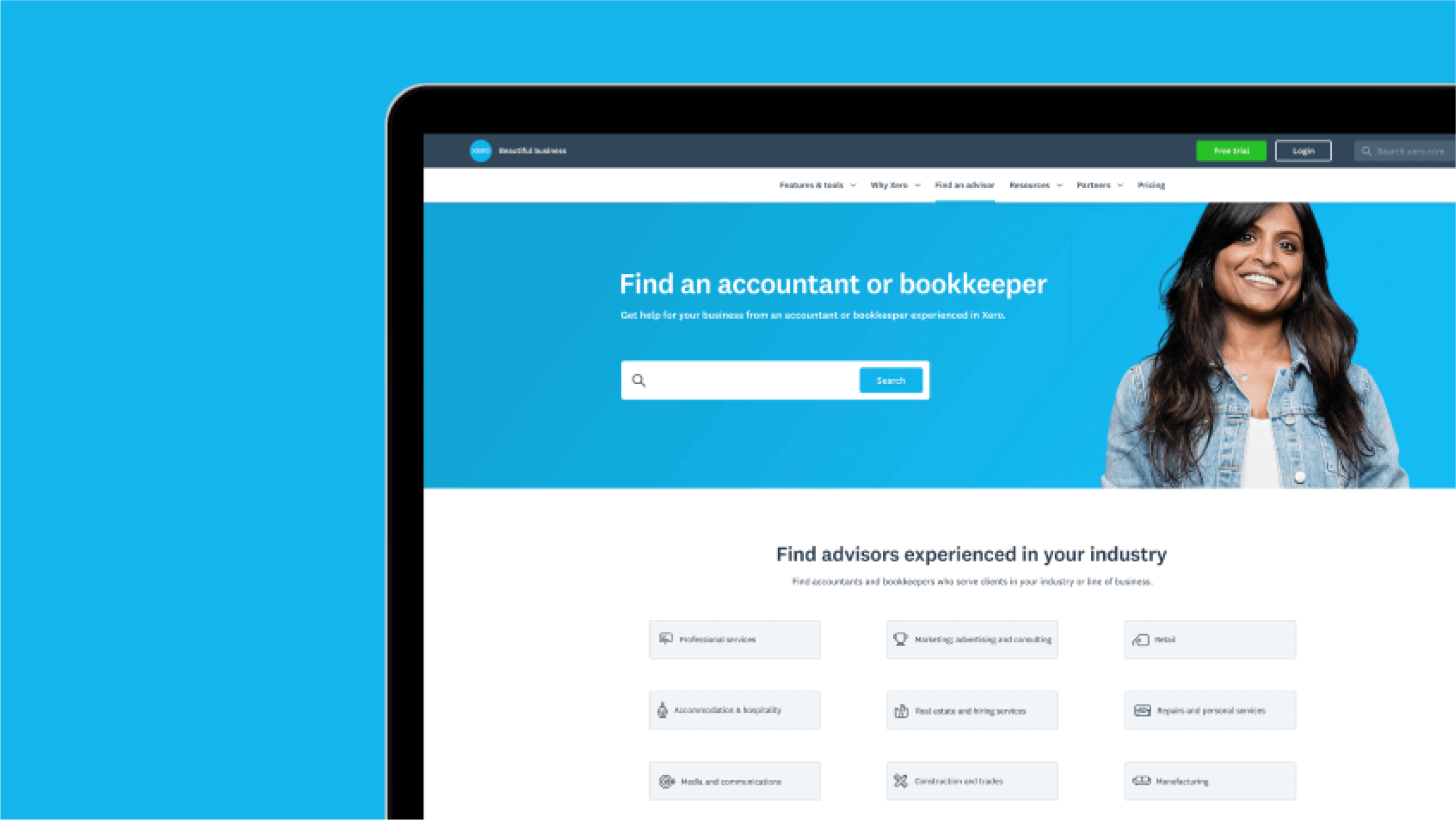 Create a Xero advisor directory listing in Xero HQ, under the Practice tab. To be eligible for a listing and keep it active, your practice needs to maintain Xero bronze partner status or above and have at least one Xero-certified staff member.

2. Shine a brighter light on your listing
Top tips for showing higher up in the directory
Geotagging all your clients influences the search results. To update all your clients location details, simply head to the Practice tab in Xero HQ, and click the "Add location details" button.

In Xero HQ Explorer, tag all your clients with their industry code. These tags also influence the search results.

Include the geotagged address and contact details for all your office locations – there's space for up to ten.

Work towards a higher partner level – from bronze to silver, gold or platinum – and aim for Xero champion status.

Fill in all the details in Xero HQ so we can better match your practice with potential clients.
When a business owner arrives at the advisor directory, they can search by location and select the industry they're in. The results list shows advisors with the industry experience and location that best match the search criteria. Even if the person searching doesn't enter a location, the directory will recognise where they're from.
How the search results display
Those with the strongest combination of partner status and location match are displayed at the top of the list. If two or more practices are otherwise identical, then practices with the most Xero certifications are displayed first. Results can be filtered by industry, accountant or bookkeeper, Xero certifications, partner name and firm size.
Research findings show that a clear concise description can set you apart from the rest. Keep your listing brief – no more than 820 characters. Be conversational, express the character and personality of your practice, and highlight what you offer that's special.
Add a high-quality image of your logo. Adjust the size in Xero HQ so it stands out but doesn't dominate. Include professional quality staff headshots that are a good likeness with a friendly expression. Crop photos so the head and shoulders fill most of the frame. A simple background and solid colour clothes are best.
For optimum results, we recommend using 520px by 520px square images in PNG or JPEG format. Note that your Xero partner status badges are automatically displayed.
Make the most of your partner status
With each partner status, come partner rewards. The more points you earn, the higher you feature in search results. If you become a Xero champion you'll unlock even more exposure, including higher placement and a premium listing that can include a video.
Boost your profile with social media
Add links from your listing to your other social media channels to promote your practice even more widely. For optimum results, we recommend using a 520px by 520px square image in PNG or JPEG format.
If you haven't already created a listing, Xero HQ will walk you through the process.
Making the most of your listing
Xero accountant & bookkeeper guides
Which listings get the referrals?
People interested in optimising their listing also looked at
Become a Xero partner
Join the Xero community of accountants and bookkeepers. Collaborate with your peers, support your clients and boost your practice.