Media release

Published on 25 November 2021
Small business economy shows positive outlook to beat Autumn furlough fears
Xero's Small Business Index reaches a 19-month high in the UK
London – 25 November, 2021 – Despite the end of the government's furlough scheme in September, the outlook for small businesses is increasingly positive as they continue to recover from the Covid-19 pandemic, according to the latest UK data from Xero's Small Business Index.
The Index, produced in partnership with Accenture, is based on anonymised and aggregated data from hundreds of thousands of small businesses. The Index rose four points in October to 95 points – its highest level since the first national lockdown in March 2020.
This boost has been driven in part by a steady increase in small business wages in recent months, now at the highest level since February 2020. Wages rose by 2.7 percent year-on-year in October, after a 2.5 percent year-on-year rise in September. However, this is still below pre-pandemic growth and is yet to be impacted by the current spike in inflation.
This wage uplift was strongest in the information, media and telecommunications (+3.6% year-on-year) and manufacturing (+3.0% year-on-year) sectors.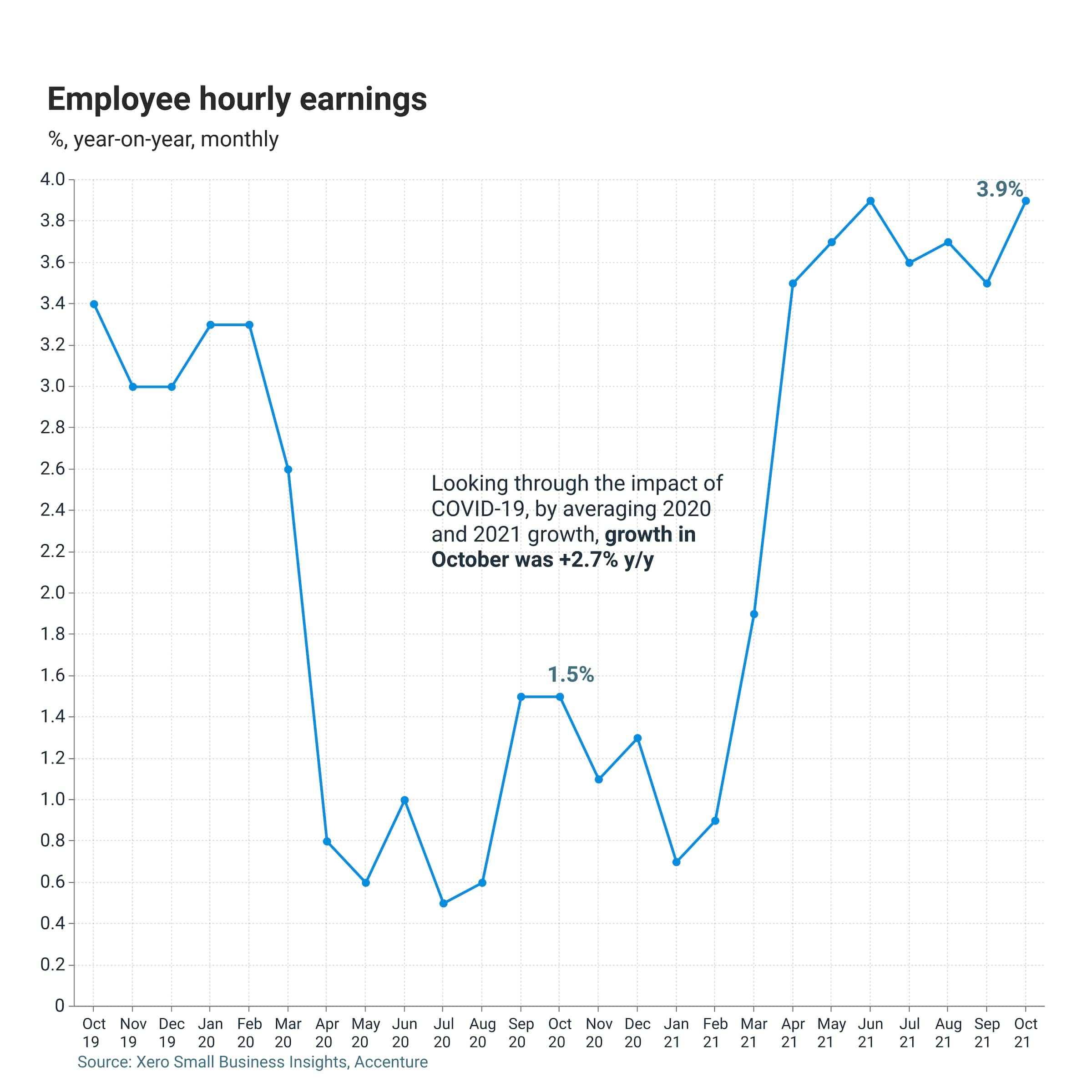 Employee hourly earnings from October 2019 to October 2021
Although small business jobs fell by 1.3 percent year-on-year in October, this is still an improvement on the 1.8 percent year-on-year decline in September. This improvement, however small, suggests that the removal of the furlough scheme for 1.1 million workers hasn't had the negative impact that was originally feared.
Job stability was particularly evident in London (+2.5% year-on-year) and Scotland (+2.1% year-on-year), two of only three regions to record positive jobs growth in October. Retail jobs also grew for the first time since July (1.5% year-on-year).
The October Index indicates the hospitality sector, however, continues to struggle, with small business jobs declining by as much as 8.3 percent year-on-year. This is in contrast to the latest statistics from the Office for National Statistics (ONS), where employers added 160,000 more workers to their payrolls in October.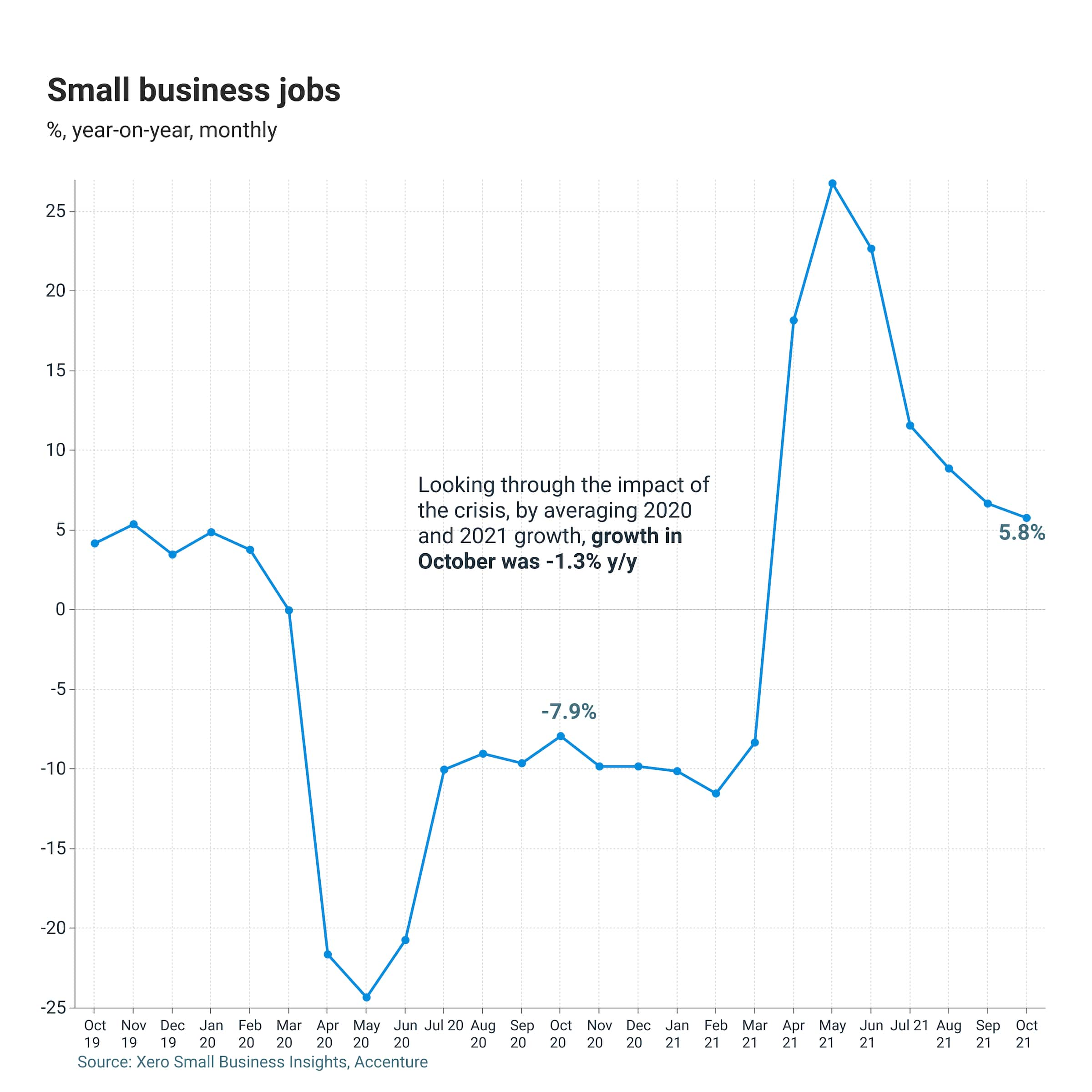 Small business jobs from October 2019 to October 2021
Sales figures dipped slightly in October, down to 4.3 percent year-on-year growth compared to 7.1 percent year-on-year growth in September. UK small businesses also waited 29.5 days on average to be paid - this has risen for three consecutive months and is at the highest level since February 2021.
Glen Foster, Director, Small Business and Accounting Partners at Xero said: "It's encouraging to see positive signs of small recovery, with wages and jobs moving in the right direction and beginning to reflect the resurgence of the economy. However, as we enter the peak festive trading season for small businesses there are challenging times ahead.
"Many are struggling with supply chain issues, rising costs, the continued impact of Brexit, and recovery for the hospitality sector is still slow as they struggle with job vacancies. Small businesses will need all the support they can get in this next phase of recovery."
Xero has identified the key areas small firms will need greater support to rebuild. The Road to Small Business Recovery includes recommendations on technology access and the creation of a growth economy to help small firms in their recovery. You can read this manifesto here.
Xero is a cloud-based accounting software platform for small businesses with over 3 million subscribers globally. Through Xero, small business owners and their advisors have access to real-time financial data any time, anywhere and on any device. Xero offers an ecosystem of over 1,000 third-party apps and 300 plus connections to banks and other financial partners. In 2021, Xero was included in the Dow Jones Sustainability Index (DJSI), powered by the S&P Global Corporate Sustainability Assessment. In 2020 and 2021, Xero was included in the Bloomberg Gender-Equality Index and in 2020, Xero was recognised by IDC MarketScape as a leader in its worldwide SaaS and cloud-enabled small business finance and accounting applications vendor assessment.
Related

media and enquiries
For all media enquiries, please contact the Xero media team.
Media release

Xero's premier event for accountants and bookkeepers returns after lockdown

Media release

The latest in product, ecosystem, partnerships and business at Xero.

Media release

Risk aversion and technology 'confidence gap' causing almost a third of UK SMEs to delay investment in new tech
Start using Xero for free
Access all Xero features for 30 days, then decide which plan best suits your business.