Guide
When you should hire an accountant
Accountants can help out at various stages during the growth of a small business. So when should you hire an accountant?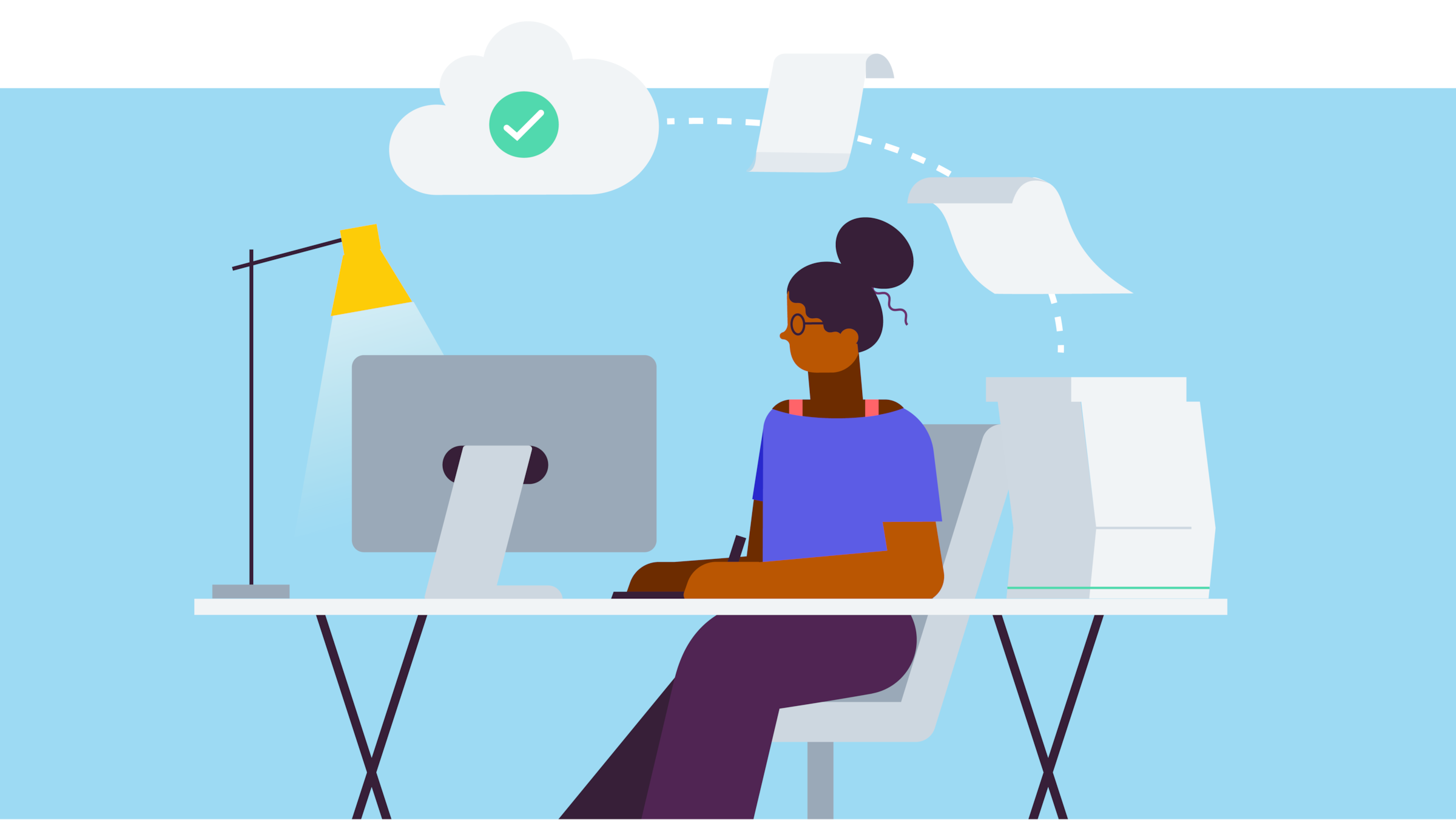 Challenges for growing small businesses
There are good reasons for hiring an accountant at different stages of your company's growth. From a business plan to company formation, loan application to government audit, an accountant can make life easier for you at each step.
That doesn't mean you always need to employ an accountant full-time or hire one on a retainer basis. Sometimes just a couple of hours of their time will be enough.
Like all small business owners who are looking to save money, you may think you can't afford an accountant. But look at how long it would take you to do certain tasks (such as taxes), and ask yourself, is that a good use of your time?
For example, let's say it takes you 10 hours to do your taxes, and your time is worth $100 an hour. That's a cost of $1000 to do your taxes yourself. And there's always the risk you've made errors – especially if you're multitasking like most business owners.
However, if you get an accountant to take care of time-consuming tasks like taxes, it's quite likely they will cost less per hour than you would pay yourself. You'll not only have extra time to free you up to generate revenue, but you'll have peace of mind that an expert is taking care of the details.
So what other moments during the life of a typical small business, might you want to hire an accountant to help you?
You'll need advice when you write a business plan
If you involve an accountant while you're writing your business plan, they will be able to use accounting software to add financial projections and other reports to it. This will help you create a business plan that's realistic, professional and more likely to succeed. Our business plan template can help you get started.
Hiring a professional at this early stage will mean you get the benefit of their financial knowledge and advice right from the start. That could save you time and money compared with hiring one later.
You'll need advice about your company's legal structure
Not all businesses have the same legal structure – there are different types that are determined by a number of factors. Some might be called limited companies, limited liability partnerships or corporations, others could be sole traders or proprietors. These vary from one country to another.
You should carefully consider each type before deciding which one best suits you. For example, you may do business as a sole trader or sole proprietor, working on a self-employed basis and invoicing under your own name. If this is the case, you might be able to offset some of your living expenses against tax.
However, this also means you could be held personally liable for any business-related obligations. If your business fails to pay a supplier, defaults on a debt or loses a lawsuit, the creditor could legally come after your house or other possessions.
With a limited liability company structure, it's different. As the name suggests, the liability of the business is limited to the assets owned by the business, not you personally (though there may be exceptions in some circumstances).
An accountant can explain the legal business structures available and help you choose the one that best suits you.
You'll need an accountant to help with the finances
Small business accounting can quickly become complex if you do it on your own. If you feel you're losing control of who owes you money and how much, an accountant can help you get back on track.
You may also want to measure key business metrics, such as the ratio of salaries and other employee payments to total revenue. An accountant can help here by managing your payroll and producing graphs so you can see how the ratio changes over time.
If your accountant uses cloud-based accounting software, they'll be able to share your business accounts with you quickly and easily. And they can produce tables and charts that will help you understand your company's current financial situation at a glance. This will help you monitor the pulse of your business and keep track of important things like cashflow.
Hire an accountant when you're ready to delegate
As a small business owner, no doubt one of the things you like best is that you have control. You can set your own working hours, craft your business strategy, regulate your workload (at least to some extent) and determine your own finances. And being the master of all of these things is a wonderful and liberating feeling.
But sometimes it can stop you from delegating. Business owners can feel overworked, partly due to a reluctance to allow other people to help out. You might feel that no one can possibly know your business as well as you do, therefore nobody can handle any part of your business as well as you can.
Inability to delegate can mean you're left feeling overworked and stressed. At some point you will have to let go, and learn to trust other people to handle some parts of your business so that you can look after the rest.
Delegating your company's financial affairs is a good start. You need to choose the right accountant and make sure you trust them with your company's financial information. Once you've handed over your company's finances to someone more experienced in accountancy than you are, you will have more time to concentrate on other aspects of your business.
Some of the most successful business owners in the world are experts at delegating work to the right people – so try to learn from them.
Hire an accountant when you have to deal with the government
It can be daunting dealing with government paperwork when you run your own business. This is why so many small business owners hire an accountant when the first tax filing is due.
But they can also help you cope with more than just tax returns. They can help your company interact with the government in other ways.
A good accountant will be able to:
complete and file the required legal and compliance documents for your business

keep your company up to date with the latest tax laws

prepare annual statements of accounts

keep your company's status updated in the government's company register

maintain records of directors and other administrative personnel

organise and record share/stock allocation, such as when the business is formed, when a business partner leaves or a new partner joins

handle your payroll and ensure that all employees' tax codes and payments are recorded correctly
Preparing your tax documents correctly could save you money – perhaps more money than your accountant charges you. And a good accountant will use their knowledge of tax laws and legislation to suggest ways you can free up cash flow, save money and raise capital for expansion.
Hire an accountant in case you're audited
It's statistically unlikely that your company will be audited, because there are so many small businesses and relatively few government auditors. But if it does happen to you it can be expensive, stressful and time-consuming.
If you don't already have an accountant at this point, it's a good time to hire one. They can give you advice on how to work within the auditing process. They can also help ensure you don't violate any tax laws afterwards – because the government will almost certainly be watching.
But it's better to hire an accountant before an audit ever happens, especially if you can find one who will offer audit insurance. Audit insurance covers the fees you would have had to pay if your business needed to respond to an official enquiry, review, investigation or audit by a tax department. An accountant who offers audit insurance means they won't charge any extra for the considerable amount of work they'll have to carry out during the audit process.
Good accounting software incorporates an audit trail. This makes it easier for you and the government to see exactly what transactions have taken place over time – and who authorised them.
You'll need an accountant when you apply for a business loan or overdraft
Banks like to know they'll get back the money they lend out. Since the credit crunch, lending to small businesses has dropped in most countries. This makes it all the more important that you have a sound business case when you apply for a loan or overdraft.
An accountant can help improve your chances. Even the fact that you have an accountant might sway the bank in your favour, as it implies you're serious about your business. With good accounting software, your accountant can present facts and figures that back up your application for funding. They'll also be able to answer any questions your bank might have about revenue projections and expenses.
Your accountant can also help you choose which loan to go for, and tell you whether your bank's terms and conditions and interest rate are favourable to you.
When your company is growing, hire an accountant
Companies don't always grow at a steady rate. A new client or a big project can mean you need to grow your business more quickly than expected.
An accountant can help you handle growth transitions, such as hiring employees or taking on more office space. They'll look after the detail (payroll, employee tax management, property tax, utility payments and so on), leaving you free to look at the bigger picture of the way your business is growing.
An accountant can also use accounting software to analyse your cash flow, inventory management and pricing. They can also provide insight into how to properly grow your business through financial analysis. They could even help determine when is the best time to introduce a new product or service offering to your range.
Get an accountant's advice before you take on a franchise
Taking on a franchise is a popular method of starting up in business, especially in areas such as car grooming, cosmetics supply, lawn-mowing, courier delivery operations and fast-food restaurants. With a franchise, you can still be your own boss, yet in return for a share of the revenue or business equity, the franchise company will support you with brand marketing, sales, product supply and other important matters.
This can take some of the risk out of starting a new business. But on the downside you will have less commercial freedom and increased overheads, because some of your income will go to the franchise parent company. Franchise contracts vary, so the amount you pay and keep will also vary.
It can be hard for someone new to running a business to tell whether it's worth taking on a particular franchise. That's where an accountant can help. They can look through the franchise contract to find out the fees and percentages charged, then help you estimate your likely income after those costs have been deducted.
Only you can decide whether you then want to take on the franchise or not. But armed with detailed knowledge of the finances, you can make that decision with greater confidence.
Get an accountant's advice before you buy a business
Some people start their new business from scratch, others prefer to buy one that's already up and running. You should always consult an accountant before buying an existing business. They will be able to look into the company's accounts in detail and find out if anything looks wrong.
For example, they can check whether the company's assets (like equipment) are fully owned or leased or part-paid for, and whether the company has any outstanding debt.
It's a good idea to consult a lawyer too. Working together, your accountant and lawyer should discover all there is to know about the company you intend to buy and run. This will give you peace of mind that you're getting everything you're paying for.
Get advice from an accountant before you sell your business
It's unlikely that you'll have run your business for years without employing the services of an accountant. But if you have, you should seriously consider hiring one before you sell up.
An accountant will put your company's financial records in order and produce statements of accounts that you can show to prospective buyers. Using high quality accounting software they can create useful charts and tables to show your company in a good light. They can also talk to any potential buyers' accountants during the due diligence process, which is often a legal requirement when a business is being taken over.
And, perhaps most importantly, an accountant can help you structure your financial affairs so that you get the most money from selling your business. Depending on how the sale is structured, the amount of money you receive after tax can vary considerably. For example, a lump sum might be less tax-efficient than monthly payments over a period of years.
Every company sale is different, and a good accountant will help you get the best result when you sell up.
Accountants can help you every step of the way
As you can see, accountants can help you out during every stage of your company's development. That doesn't mean you have to hire one, but the right accountant should make life easier for you, so you can concentrate on what you love doing.
Your speciality is running your business. Leave the financial details to an accountant. If you and your accountant use cloud-based accounting software, you'll be able to keep track of what your accountant does, and always be able to see your company's financial situation at a glance.
Disclaimer
Xero does not provide accounting, tax, business or legal advice. This guide has been provided for information purposes only. You should consult your own professional advisors for advice directly relating to your business or before taking action in relation to any of the content provided.
Download the guide on how to do

bookkeeping
Learn about the eight core bookkeeping jobs, from data entry to reporting and tax prep. Fill out the form to receive the guide as a PDF.
Start using Xero for free
Access all Xero features for 30 days, then decide which plan best suits your business.