Guide
How to build a great small business team
Hiring the right employees is important, but it's not enough. You'll have to shape those employees into a winning team.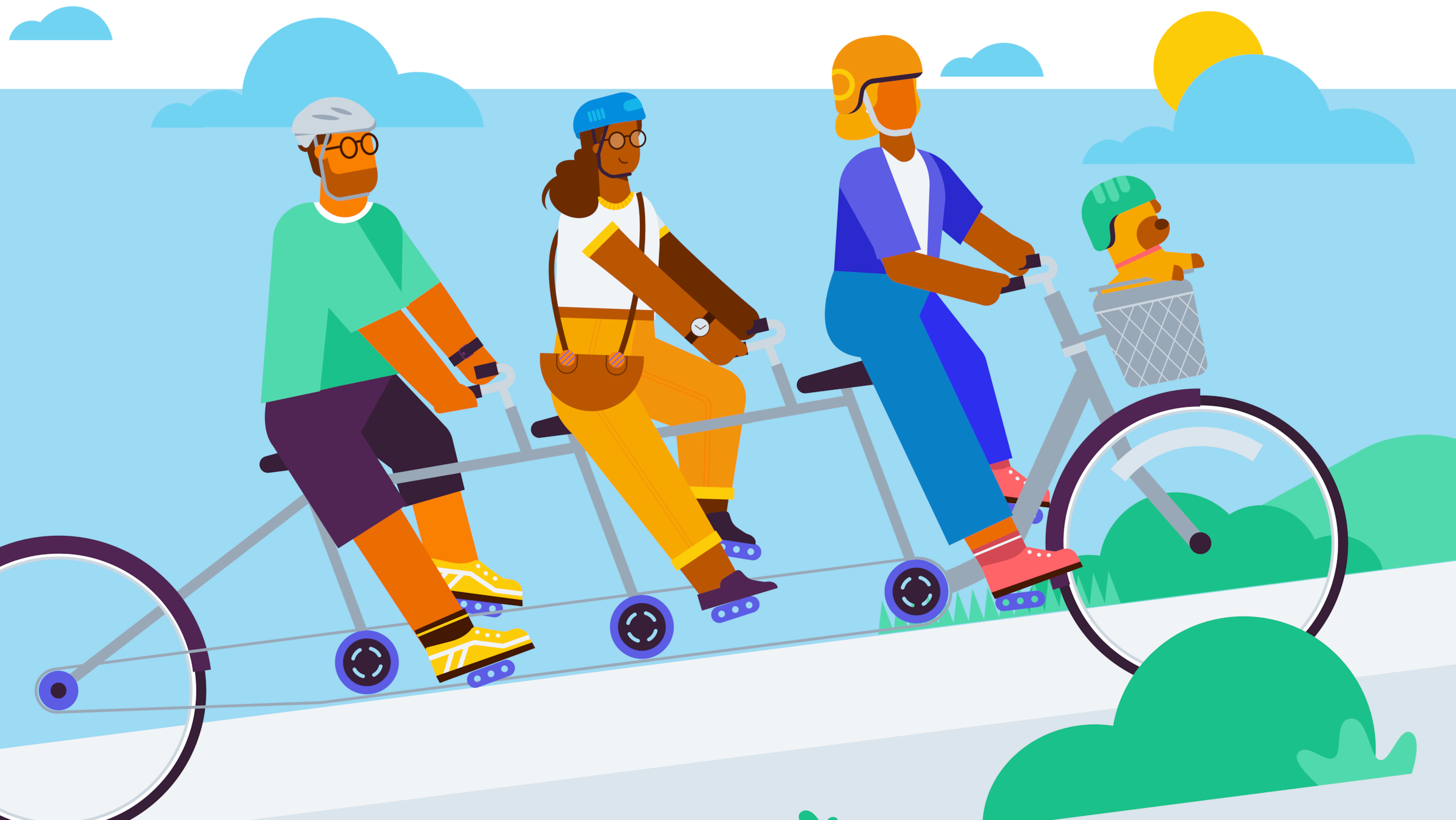 Understand the strengths of each individual
It's likely that your new employees will have come from a variety of backgrounds. They'll have different personalities and therefore different ideas about how to do their jobs. If you're a manager, it's important to recognise this because having a deep understanding of people is worth its weight in gold. If you can enable each employee to channel their strengths and shine in a way that benefits your business, then you're on the right track.
Here are some tips on turning a group of individuals into a cohesive successful team that will help your business reach its full potential.
Explain your business vision
Start by setting the scene for your employees. Let them know what they're aiming for and help them to understand the goals of your company.
Talk about the culture you want to build: Plant the seeds of your business culture in your workers' minds so it grows and flourishes. Get them excited about being part of the team and the environment.

Describe your future plans: Create a vision of where your team should be, six months, a year and two years from now. Use your accounting software to draw up realistic financial forecasts and share these with your employees.

Explain the environment of customers, prospects and partners: Use diagrams if necessary to show the interaction between all the people around your company.

Use 'we' instead of 'I' when talking about your business: It's a common startup mistake to associate yourself with your business, but if you want your employees to feel part of a team then you'll need to include them too.
These points will help your employees feel settled and give them a feeling for the situation in which they're working. Once that's done, you can start to bring out the best in them.
Get your employees involved
It's important to quickly get your employees involved in the day-to-day running of your business. Keep them active and use their strengths to help them integrate and develop.
Give them tasks right away: On the first day, your new employees should already be doing useful work. Get them engaged right from the start

Challenge them: Help your employees to push themselves – use timelines or specific goals (with their input) for them to strive for

Acknowledge their successes: Use the carrot, not just the stick and always reward success with praise

Mentor your new hires: Partner your new employees with someone senior on the team – the more mentoring you do, the faster your team will take shape
Explain to your employees that the more effort they put in, the quicker the company will grow and the better their rewards will be. This could be in terms of promotion, salary and benefits.
Everyone needs to know their job – what's expected of them and what's not. If you don't make this clear, the morale of your employees will suffer, and progress and efficiency will be affected.
For example, if one person is waiting for another to finish a task, but the other person doesn't believe that task is part of their job description, progress will grind to a halt.
So be sure to update roles and task lists frequently. Then your employees will know what they're supposed to be doing.
Consider team-building exercises
Small businesses are often fast-paced environments. That means you need to get your team working together quickly. Team-building exercises can help, but there are some important points to consider:
Budget carefully: Days off work will cost you money in terms of lost productivity, plus the cost of the team-building event itself. Good accounting software will keep your accounts up to date, so you can see at a glance what you can afford.

Examine all the options: Paintballing? Go-karting? Building log bridges over rivers? Ask your employees which options they might prefer, but be prepared for many different answers.

Don't forget the simple things: Something as low key as providing drinks and snacks for the last hour of a Friday afternoon might work well. Not everyone wants to crawl through undergrowth in camouflage clothing.
Recognise the value of diversity
Complementary skill sets can mean contrasting personalities. For example (as a general rule only), sales people tend to be extroverts while programmers and developers tend to be more introverted. That reflects the type of person drawn to each role and also the demands of the role itself.
Trying to fix these differences so everyone's the same will not work. In fact it's likely to backfire badly. At best you'll annoy your employees, at worst you'll breach diversity and equality legislation.
Accept that people are different to you – maybe even very different. Ethnicity, gender, sexuality and personality differences are irrelevant. What really matters is how good people are at their jobs.
Extend your team beyond your business
Think beyond the four walls of your business premises. Your team can be more than the people you hire directly. Make the most of your outside contacts:
Extend your team beyond your business
Think beyond the four walls of your business premises. Your team can be more than the people you hire directly. Make the most of your outside contacts:
Ask guest speakers to meet with your team: Talks on anything from organisational psychology to technical matters can help inform your team and improve their skills

Share development ideas with customers and key business partners: If you're gearing up for major investment, make sure your customers and business partners are ready for it and get your staff involved with these discussions

Invite customers and key partners to staff meetings: Give them the chance to provide feedback and take questions from your team, but do this carefully to avoid giving out confidential business information

Have a team coach: Consider using the services of someone who can provide real-time feedback on how your team is working together
Getting an outside perspective can also help prevent groupthink, where employees become subdued and unwilling to challenge the norms of your business. Keep your staff thinking positively and creatively at all times.
Let your team know that you value them
This is important and quite straightforward. You simply have to take an interest in your staff.
Show them you care: Learn about things like their family, personal life or hobbies.

Focus on personal growth: Think about enhancing your employees' skill-sets and management skills. Know their career goals and help them get there.

Invest in your employees: Give them the support and tools they need to be successful. This could include things like a healthy working environment, a supportive team or the right software or technical equipment.

Celebrate the little victories: Reward every success, no matter how small it might seem. The goodwill generated will pay you back many times over.

Be positive and stay positive: Don't lose your cool or lose control, as that will set a bad impression and affect morale.
You may have people who are having (or causing) problems in your organisation. The reasons for this might include issues with their home life, financial problems, or other personal hardships.
In this situation you must tread carefully and follow all local laws, especially those relating to privacy and employment rights. Seek professional advice if necessary.
Sometimes people just won't fit into your culture, which is again why making the right employee choice is so important. Firing people should be a last resort if you've tried every other option including third-party mediation services and verbal and written warnings. Be sure to follow local legislation if you're forced to take this option.
Understand negative team dynamics
There are other influences that can prevent a team from becoming successful. These include:
Unwillingness to change: A fixed mindset, for example: "But we've always done it this way."

Inability to work together: Resolving personality clashes is one of the hardest tasks for management

Too many individual projects: People who like to excel will feel unmotivated if they have to spread their abilities widely

Too much individual recognition: Favouring some team members above others will cause resentment

Competing agendas: If there's a lack of consensus, productivity will drop

Top-down talk and micro-management: Saying "Do this, do that" is usually less effective than setting a goal and letting the team achieve it on their own
Be aware of the potential for these problems to arise, and do what you can to prevent them.
Use your people skills to build your team
For your team to thrive you must be approachable, friendly, authoritative and responsible. In other words, a good manager and leader.
You may need training to help you become a better manager and there's no shame in that. Running a business is a learning process – and just like your employees, you can learn and improve.
After all, the better you are at managing people, the better your team will perform and the faster your business will grow.
Disclaimer
Xero does not provide accounting, tax, business or legal advice. This guide has been provided for information purposes only. You should consult your own professional advisors for advice directly relating to your business or before taking action in relation to any of the content provided.
Download the guide to

hiring

employees
Learn how to hire employees and how to handle the admin that goes with it. Fill out the form to receive this guide as a PDF.
Start using Xero for free
Access all Xero features for 30 days, then decide which plan best suits your business.