Guide
Online business ideas
Learn about small online business ideas, get tips to generate your own idea, and find out how to make it a reality.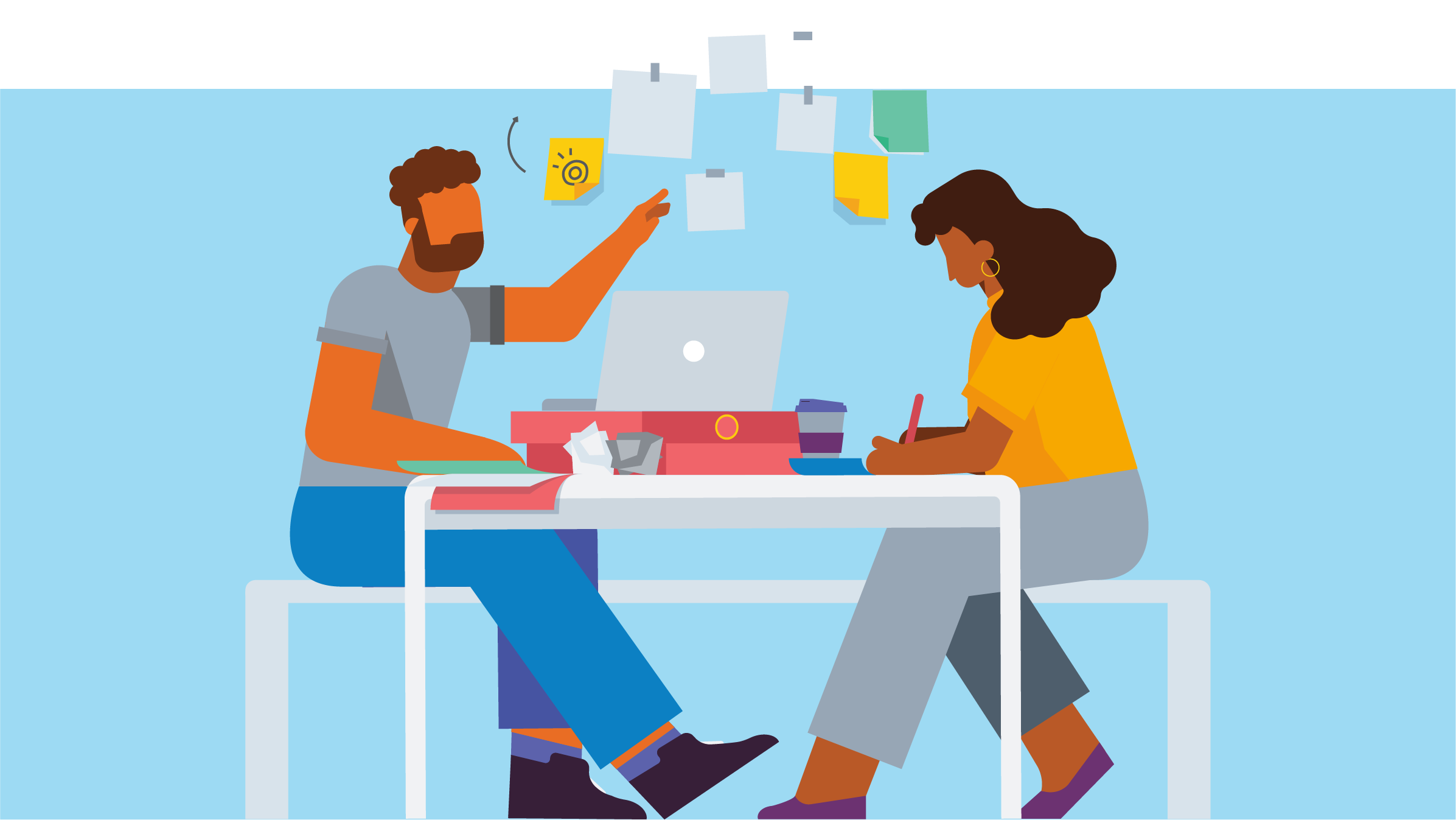 Waiting for a Eureka moment
Sick of sitting in the bath – or standing in the shower – waiting for that brilliant online business idea? You know you want to do something different, become your own boss, or have a better work-life balance. But you just need some inspiration. Grab a towel and keep reading.
Where to find online business ideas and inspiration
Here are a few sources of inspiration for an online business idea:
Trending items on big online marketplaces like Amazon, Etsy, eBay, Google Shopping, Facebook Marketplace and AliExpress

Social media platforms like Instagram, Facebook and Pinterest: Use a hashtag to search for your areas of interest

Crowdfunding sites like Indiegogo and Kickstarter: See what small online business ideas others have had and think about how you could do something even better

App stores: Check out the top sellers and new releases to see what problems or needs are being solved

YouTube and podcast sites: Take a look and listen to what people are creating, selling and talking about
What type of online business could you set up?
Online businesses usually take one of these forms:
Retail: You sell a product through an online shop or marketplace

Services: You provide a service remotely: train, teach, consult, create, manage

Apps/SaaS: You create an app or software for sale or subscription

Content and media: You create online content for sale or subscription or that attracts sponsors and advertisers like podcasts, videos, blogs, music, books
Online retail business ideas
A recent Xero survey of online small businesses showed these are the most common retail categories globally.
1. Fashion and clothing (25%)
4. Groceries and food (17%), toys, hobbies and crafts (17%), health (17%)
Source:Xero eCommerce January 2021
You could make something yourself
Maybe you have a hobby or passion project that you can monetise online. Got photography skills? Create an online gallery of your work, sell cards or calendars or other items with your images on them. Love knitting? Make pullovers for poodles – no really, there is a market for that.
If you're not the crafty, creative or handy type, get someone else to make a product that you're excited about selling. You can work with manufacturers to customise existing products, or you could even design something from scratch. Contract manufacturers can do a small batch of a product for a reasonable cost, making your small online business idea a reality easier than you thought.
You can also take the more traditional retail model and buy products from others to resell. But put your spin on it. If you're selling the same product as lots of other people, then do something to set yourself apart. You might create a cool brand for your shop, or crank up your marketing so you become the first stop for certain types of customer.
If your idea of an online business is less hands on, then you could try dropshipping. Customers order from your store and you pass that order along to the supplier to ship. There's no inventory and fewer logistics to manage. Dropshipping is really for people whose skills lie more in the marketing side of business.
How to compete with big brands
No matter how good your online business idea is, you're probably not going to out-market or out-price big retailers.You can, however, take market share off them if your individual story stands out.
Ecommerce consultant, Marc McKeown of FortBrave, recommends finding something unique about your brand and shouting about it.
"Put as much of your own story into your product and branding as you can," he says. "Customers will gravitate to you because of your authentic story, even if they have to pay a little bit more."
"And continue that through into your packaging and shipping. Differentiate yourself from the corporate experience. Package products nicely and put a personal note in. Amazon can't compete with that."
Taking that extra care might even get your product starring in an unboxing story on social media.
Don't be afraid to do something hyper-specific or even weird. You're not restricted to just selling locally – something that might not fly in your town could soar online.
McKeown says online shopping habits have given new life to new and unusual business ideas. "Niche shopping has been enabled by the internet. It's much easier to find out-of-the-ordinary products online than to traipse around town for it, so that's what people do."
Online services business ideas
Can you turn existing expertise, or parts of your current job that you really love doing into an online business? Perhaps you're a brilliant administrator; consider becoming a virtual assistant. If you're a teacher, turn that into online tutoring.
Growing an online service business out of your day to day
As with a traditional service business, it's common to set out with one or two foundation clients and grow from there.
Olivia Park moved her personal training business online in this way. She had been a traditional in-person trainer in Taiwan but agreed to work virtually with her clients after moving to South Korea. Simultaneously, the health and wellness content she distributed on social channels grew in popularity. She was soon able to market online group programs that helped Olivia Park Coaching serve more clients.
"It's allowed me to create more products with different tiers of service. Some people are happy to do the online courses on their own. Others ask for customised routines. And others want one-to-one time. But the upshot is that I'm able to deliver twice as much service online as I could when limited to in-person training."
Building your reputation is just the same online
Just like any service business, word of mouth is one of the keys to the success of an online business idea. Michael Yared says referrals drive most of the new business at his fully online app development agency, Echobind.
"We spun off with one anchor client and built up from there. It was tough for the first couple of years because we never knew if the projects would keep coming. But we just kept asking for referrals and it's still our biggest source of new work."
Echobind eventually grew to be an agency with 40 fully remote staff.
Online app and software business ideas
Online apps and software automate tasks for people or businesses. They can end up in the hands of millions of users, which makes for a lot of potential earnings.
There are actually dozens of categories of consumer apps inside big app stores. On the business side, Xero accounting software integrates with over 1000 business apps, which do everything from tracking overdue bills for gyms to figuring out which cows are most productive on a farm.
The point is that there's lots going on in the world of apps, so marketing needs to be a core part of your plan. We asked app development agency, Echobind for more tips, which you can find in the guide to making money from an app.
Online content and media business ideas
You're probably not going to make your fortune but you might be able to get some advertising income or possibly even sponsorship from YouTube videos.There are particular types of YouTube content that attract high numbers of subscribers and eventually make money, often with sponsorship: gaming and how-to demonstrations are a couple of those. But it's a crowded market so maybe don't give up your day job just yet.
Podcasting or blogging are other content forms that can bring in some income through subscriptions, advertising, or affiliate marketing. Affiliate marketing is when an online retailer pays commission to the content creator for traffic or sales generated from their referrals.
Successful and lucrative content ideas depend strongly on excellent marketing, a compelling concept or niche, and often a big personality to attract an audience.
Turn your online business idea into reality
With today's technology, there's no reason why you can't make your online business idea happen from your lounge, spare bedroom, garage or garden shed. And you don't have to restrict yourself to your home. Imagine being able to run your business from anywhere in the world. See the pyramids in the morning, sell some products or services online in the afternoon.
Feeling keen? Dried off from the shower? Get dressed. It's time to do some thinking, research and planning to refine your online business idea.
Disclaimer
Xero does not provide accounting, tax, business or legal advice. This guide has been provided for information purposes only. You should consult your own professional advisors for advice directly relating to your business or before taking action in relation to any of the content provided.
Start using Xero for free
Access all Xero features for 30 days, then decide which plan best suits your business.