Media release

Published on 30 June 2022
New Zealand small business wages and jobs up in May 2022, outpacing Australia and UK
Inflation remains key concern for local small business economy
Wellington — 30 June, 2022 — Xero, the global small business platform, today released its Xero Small Business Index for May 2022, which revealed Kiwi small business wages and jobs grew in May - bucking the international trend.
Wages grew 5.3 percent year-on-year (y/y) in May which is the fastest pace since the series began in January 2017. Simultaneously, jobs growth increased to 4.1 percent y/y in May after a 2.4 percent y/y gain in April.
In comparison, despite rising wages (5.0% y/y) in the United Kingdom, small business jobs are down -5.0 percent y/y.
In Australia, wage growth slowed to 3.7 percent y/y in May, down from 4.3 percent in April. This is coupled with 0.3 percent y/y job growth in May after two months of negative results.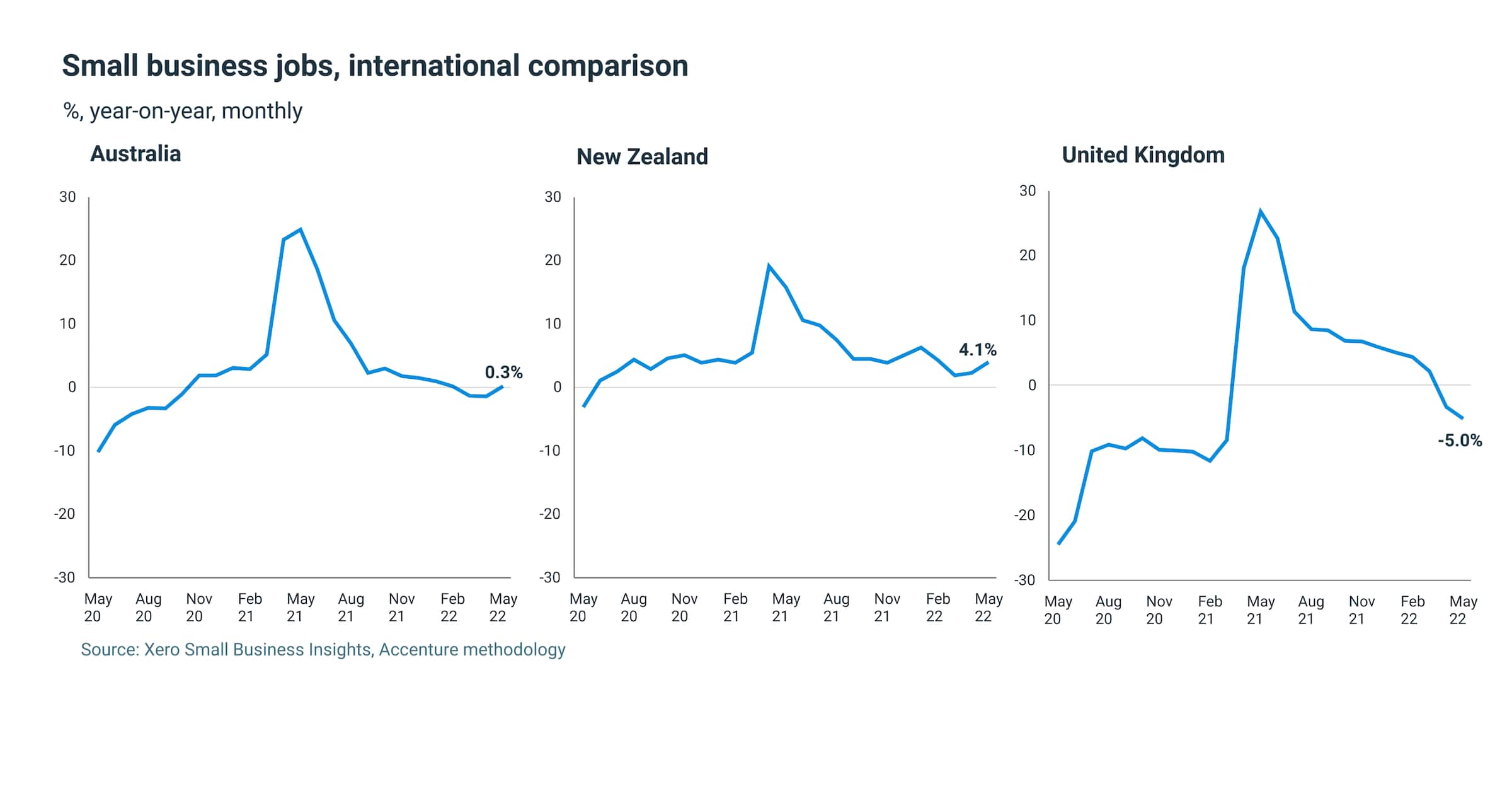 Xero New Zealand Director of Business Growth Charlie Nicholls says small business job growth in Aotearoa points to a small business market successfully competing with larger corporations for talent.
"These higher wages are helping small businesses to attract more staff in a very tight labour market. It can be extremely hard for small businesses to compete with the salaries of big businesses, but this job growth data shows so far our local small business economy appears to be faring well," says Nicholls.
"With more talent, the local small business economy can continue to push forward, but higher wages do come with their own set of challenges for Kiwi small business owners and more pressure to increase sales.
"Despite this, looking internationally New Zealand's small business economy appears to have struck a balance between wage and job growth - an encouraging sign for the future, especially as our tourism and hospitality industries start to reap the benefits of increased international travel."
The largest wage increases were seen in the construction sector (6.6% y/y), followed by manufacturing (+5.6% y/y) and hospitality (+5.4% y/y).
Furthermore, all regions across Aotearoa now have wage growth above 5.0 percent y/y - with Bay of Plenty, Waikato and Hawke's Bay all recording the strongest result at 5.8 percent y/y.
"Despite this strong rise in nominal wages, it is still not keeping up with inflation (+6.9% y/y in the March quarter), which implies real wages are still declining," says Nicholls.
The rise in wages is fuelling job growth across the country. The strongest jobs growth was seen in professional services (9.5% y/y), manufacturing (6.7% y/y) and construction (5.9% y/y). But some sectors continue to struggle to attract staff, such as agriculture (-2.6% y/y) and hospitality.
"Despite the growth in wages, Aotearoa's hospitality sector jobs are down 6.7 percent y/y. This is an ongoing issue for an industry heavily reliant on international workers. As the borders continue to open, hopefully these businesses can fill their vacancies," says Nicholls.
Declining sales impacts Small Business Index
Despite the faster wages and jobs growth in May 2022, the impact of slower sales growth saw the Small Business Index fall 9 points to 119 points in May, still well ahead of the average score of 100.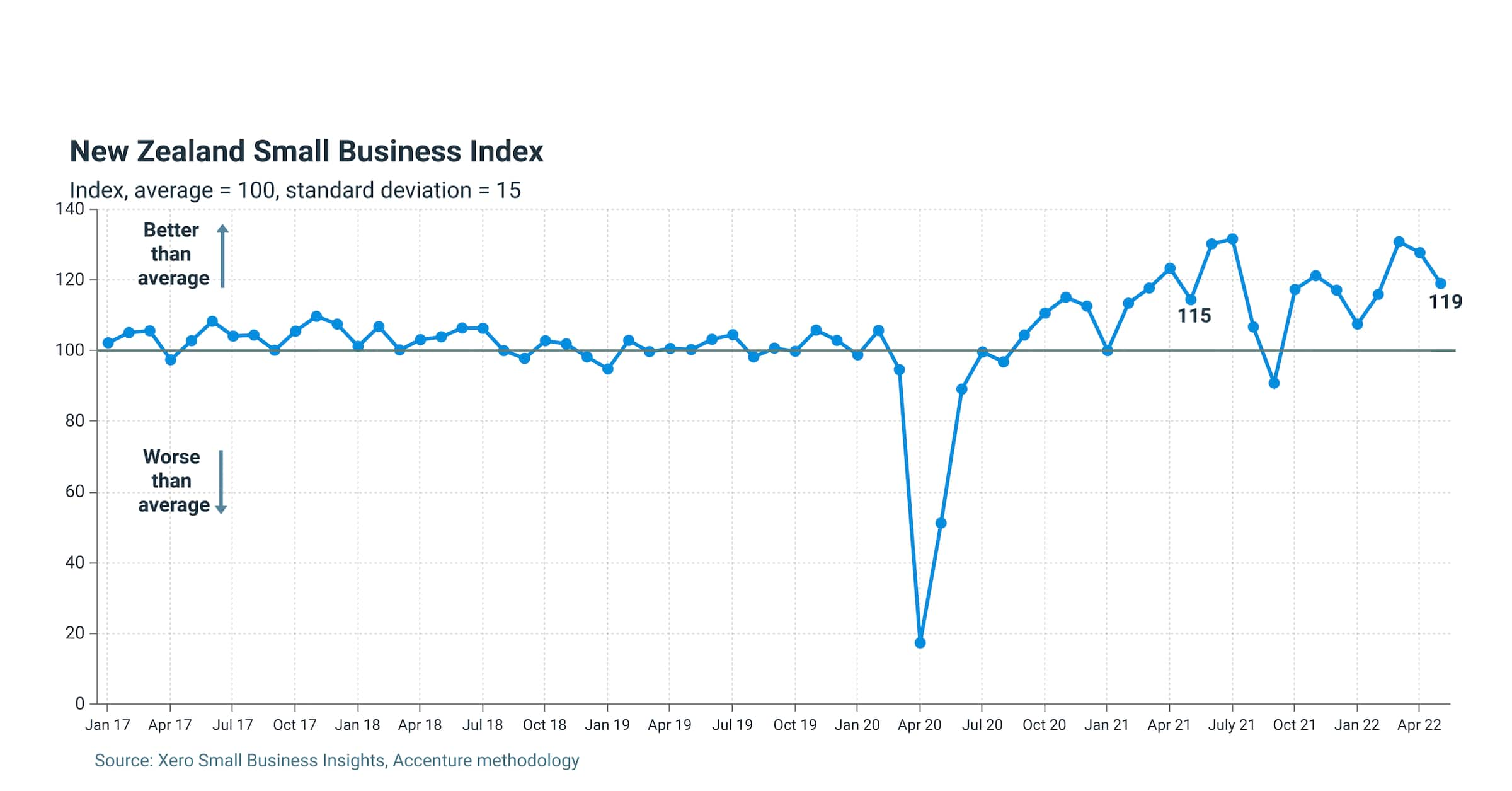 Annual sales growth is still positive at 5.7 percent y/y, but this is the smallest rise since September 2021 and discretionary industry sales such as retailers and hospitality are only just above where they were a year ago.
Despite the strong job results, New Zealand sales lagged behind both Australia and the UK in May 2022 (10.8% and 14.3% respectively).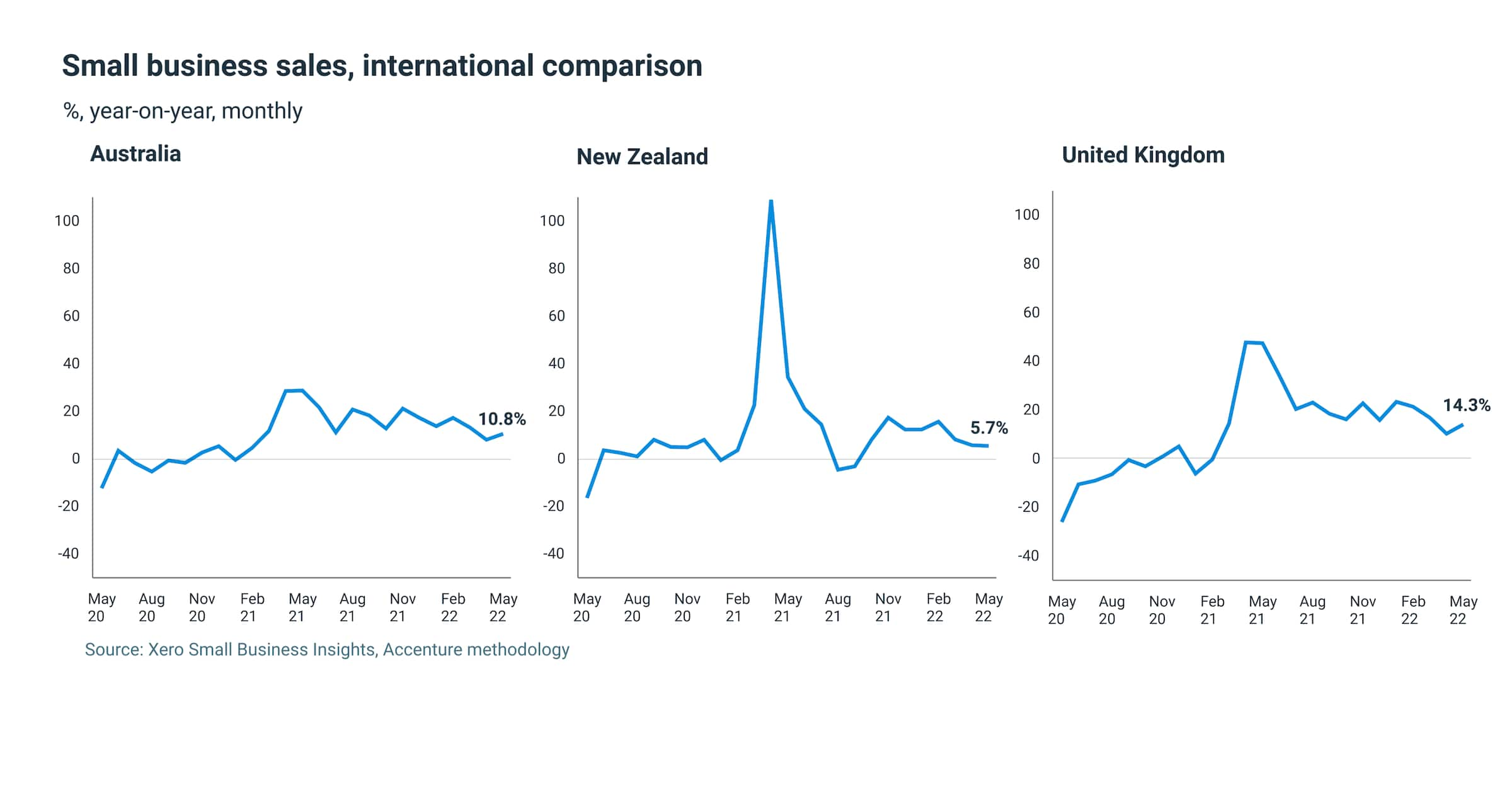 "The weakest industry was professional services, where sales actually fell 0.5 percent y/y. Hospitality sales rose, but only 0.6 percent y/y, and retail only recorded 2.9 percent y/y sales growth," says Nicholls.
"For both these industries these results were slightly better than in April but are still soft. This weakness is likely - at least partly - due to consumers altering their spending patterns where they can, away from discretionary purchases.
"As inflation continues to impact Kiwis and their spending habits, it's likely sales will remain muted as we navigate these tricky economic times. Where possible, Kiwis should buy locally to help support their local small business community and endeavour to pay their invoices promptly."
For further information on the Xero Small Business Insights May 2022 metrics, please refer to the XSBI New Zealand update.
Xero is a global small business platform with 3.3 million subscribers which includes a core accounting solution, payroll, workforce management, expenses and projects. Xero also provides access to financial services, and an ecosystem of more than 1,000 connected apps and more than 300 connections to banks and other financial institutions. Through Xero's open platform, small businesses can connect to a range of solutions that help them run their business and manage their finances. For three consecutive years (2020-2022) Xero was included in the Bloomberg Gender-Equality Index. In 2021, Xero was included in the Dow Jones Sustainability Index (DJSI), powered by the S&P Global Corporate Sustainability Assessment. Xero has been named as a FIFA Women's Football partner under FIFA's new commercial structure.
Accenture worked in collaboration with Xero on the design and methodology of the Index prior to February 2022.
Accenture is a leading global professional services company, providing a broad range of services and solutions in strategy, consulting, digital, technology and operations. Combining unmatched experience and specialised skills across more than 40 industries and all business functions — underpinned by the world's largest delivery network — Accenture works at the intersection of business and technology to help clients improve their performance and create sustainable value for their stakeholders.
Previous iterations of the XSBI data have listed snapshots of data from the time it was captured. Some of these historical data points change as bookkeepers and accountants finalise their clients' accounts, which can impact the specifics of the percentages.
Related

media and enquiries
For all media enquiries, please contact the Xero media team.
Media release

Sales growth declines as Kiwis grapple with rising cost of living

Media release

March growth slowed compared to February but remained positive year-on-year

Media release

New Ultimate plan offers tools to help small businesses manage their business and people processes
Start using Xero for free
Access all Xero features for 30 days, then decide which plan best suits your business.